Dreaming of a Disney Cruise Line cruise? So are we! One of my must-dos on a Disney cruise is buying some merchandise! Thankfully, we can now purchase Disney Cruise Line merchandise at a new pop-up shop at Disney Springs. Learn more below.
Here are all the details from Disney Cast Member Kelsey Madison:
In case you missed it, last week Disney Cruise Line reached a big construction milestone on the Disney Wish and it already has me dreaming of voyages to come in the future. When I think about getting ready for a vacation or a special trip, one of the most exciting parts is planning and figuring out what I'm going to wear. Disney Cruise Line always has the most adorable merchandise and fashionable finds on board and today, I'm excited to share a broad assortment of Disney Cruise Line merchandise is taking a trip shore side for a limited time at Disney Springs!
Now through early September, guests can stop by Marketplace Co-Op to shop exclusive collections including the traditional Disney Cruise Line Wave and Sail Away Minnie Mouse collections, as well as a selection from Castaway Cay, Disney Cruise Line's private island in The Bahamas. Be prepared to sail away with trendy and nautical-themed spirit jerseys, T-shirts, and even matching styles for adults and kids so you and the family can all match.
Pack your perfect getaway essentials in these adorable Disney Cruise Line Loungefly bags or with a classy luggage set. Looking for gifts for Disney Cruise Line fans? You'll discover everything from mugs, magnets, luggage tags, hats, photo frames, and more. (There is truly something for every Disney cruiser or aspiring cruiser!)
While you're shopping be sure to check out the ship models for an up close and personal look of the Disney Dream and Disney Fantasy ships.
Just across the way at Dockside Margaritas, adults can sip on Strawberry Daiquiris and Pina Coladas in the traditional Disney Cruise Line embarkation glass to add more vacation vibes to their Disney Springs visit. (Available while supplies last.)
Finally, top off your excursion at the Disney PhotoPass Studio and capture your favorite tropical memories with a themed digital background, also available for a limited time.
Keep an eye out on the @disneysprings social media channels for more exciting announcements and enhancements coming soon to the shop over the coming months. And follow @disneycruiseline on Instagram and Facebook for the latest news. Don't forget to tag your photos with #DisneySprings and #DisneyCruiseLine for a chance to be featured. Bon Voyage!
RELATED ARTICLE: Pirate Night on the Disney Cruise Line – What You Need to Know
By Chad and Cindy Nykamp
"Yo ho, yo ho, a pirate's life for me!" Disney is known for its fantastic entertainment, and that extends to Disney Cruise Line. An offering that you'll find on no other cruise line is Pirate Night! On most itineraries, guests will eat, dance, and party like a pirate on the high seas. We've enjoyed two different pirate nights on the Disney Magic and Disney Dream. Both were fantastic evenings we enjoyed very much. Keep reading for what you need to know about Pirate Nights on the Disney Cruise Line.
Editor's Note: Disney Cruise Line has suspended all Disney Dream, Disney Fantasy and Disney Wonder departures through June 2021 and Disney Magic sailings through October 9 are suspended. We present this article for future cruise planning.
1 – A Pirates Life for Me
The very popular Pirate Nights are on select itineraries on the Disney Cruise Line. If you are sailing to the Caribbean, your cruise will almost surely have a Pirate Night. Not surprisingly, you won't find a Pirate Night on an Alaskan Cruise. When searching for a Disney Cruise, you can check the itinerary to see if a Pirate Night is offered.
2 – Dress the Part
Before our cruise, we received word from the cruise line that we would be enjoying Pirate Night. Disney highly encourages guests to dress up and participate. On our first cruise, I was able to scrounge up an old Pirate Mickey T-Shirt I had. For our second cruise, I stepped it up and found a white and blue striped shirt to go with some jean capris for a decent Mr. Smee outfit. You'll find that guests' costumes will range from nothing at all to unbelievably elaborate. So, if your next cruise includes a pirate night, you may want to do some shopping ahead of time to prepare. But if you don't, no worries, Disney provides each guest a pirate bandana that can be tied on for some pirate flair. This way, every guest has a little something to wear.
3 – Consider The Pirates League in Advance
The Pirates League packages are available at Bibbidi Bobbidi Boutique on the Disney Cruise Line, and they are only available on Pirate Nights. There are packages for both adults and children. If you are interested in booking one of these, our tip is to do it as soon as possible, as they are popular and will likely sell out ahead of your cruise.
First Mate Package (Adult and Child)
Price: $44.95
Choice of pirate facial effect
Sword and sheath
Bandana
Earring
Eye patch
Tattoo
Unique coin necklace
Empress Package (Adult and Child)
Price: $44.95
Shimmering makeup
Face gem
Nail polish
Bandana
Earring
Eye patch
Tattoo
Unique coin necklace
Deluxe Maiden Package (Child)
Price: $99.95
Shimmering makeup
Face gem
Nail polish
Bandana
Earring
Eye patch
Tattoo
Unique coin necklace
Choice of select costumes
Pirate's League Captain Package (Child)
Price: $99.95
Choice of pirate facial effect
Sword and sheath
Bandana
Earring
Eye patch
Tattoo
Unique coin necklace
Choice of select costumes
All package components and related information, including costume sizes, experience duration, and prices, are subject to change without notice. Guests must be three years of age or older to participate. Children between the ages of 3 and 12 must be accompanied by an adult 18 years of age or older during the entire experience.
4 – Family Trivia & Games
Get the party started early with a fun family game show in the afternoon. Kids can enjoy pirate-themed activities at the youth clubs such as crafts, games, scavenger hunts, and Pirate Prep.
5 – Pirate Character Greetings
Another exclusive offering for Disney Cruise Line is the ability to greet Disney characters in pirate attire. We had an absolute blast meeting our beloved characters in their pirate costumes. It was great. The character greetings were offered twice throughout the evening to allow everyone time to meet the characters in their pirate attire. Other character greetings include pirate favorites such as Peter Pan, Captain Hook & Mr. Smee, and Captain Jack Sparrow.
Check out our Instagram post of the Disney characters in their pirate attire by clicking here from our first cruise on the Disney Magic.
6 – Eat Like a Pirate
The Pirate Party extends to a fabulous pirate-themed dinner at each of the main dining restaurants. On the Disney Magic, we enjoyed a menu that looked like an old treasure map that included options such as Davy Jones' Locker Rock Crab Cakes, Master Gibb's ½ Pint of Shrimp Cocktail, Jack's Treasure-of-the-Seas, and King George's Roasted Privateer Strip Loin. There was also a bit of entertainment included with dinner, including some visiting pirates and a limbo!
7 – Mickey's Pirates IN the Caribbean Deck Party
You don't want to miss Mickey's Pirates IN the Caribbean deck party, a family-friendly interactive show featuring the famous Disney characters. Guests become members of Mickey's Pirate Crew as they participate in a series of pirate-themed musical numbers. We noticed that the show on the Disney Magic was a bit different than the show on the Disney Dream, however, both were a lot of fun.
Tip: Make sure you show up early to get a good spot for the deck show. Even 10-15 early, should give you a decent viewing location. There is usually a reserved spot for younger children to watch the show just in front of the stage.
Watch Mickey's Pirates in the Caribbean Show from the Disney Dream below:
8 – Fireworks at Sea!
Later in the evening, Jack Sparrow from the "Pirates of the Caribbean" films makes a special appearance on deck in "Hunt Fer Jack," a thrilling live-action pirate showdown which culminates in "Buccaneer Blast" —a spectacular display of piratical pyrotechnics that is choreographed to a dramatic score featuring songs from the "Pirates of the Caribbean" movies.
Disney does amazing fireworks on land, but nothing beats fireworks on the high seas. Disney does a great job with the show. It was truly incredible to be in the middle of the ocean and getting watch a pretty fantastic firework show!
Tip: The fireworks are always launched off the starboard side of the ship (right side if you are facing forward). We think the best place to watch is on the upper deck on the starboard side for an unobstructed view of the show. Watching "Buccaneer Blast" from the upper deck also gives you a good spot for the show, and then you're all set for the fireworks.
9 – Club Pirate
After the fireworks, a high-tech, open-air dance party on the upper decks of the ship heats up as guests unleash their inner pirate and dance their boots off during "Club Pirate." Many people were dancing, and it was a lot of fun.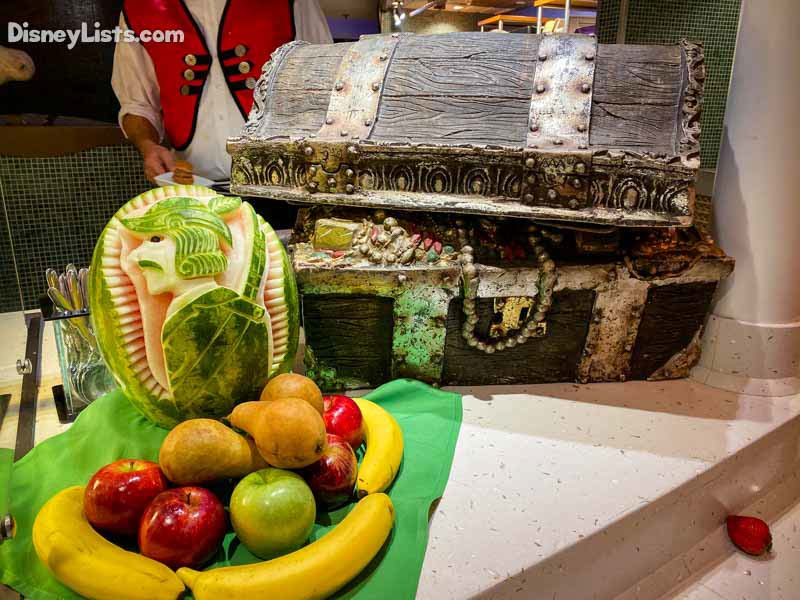 10 – Pirate Buffet
Finally, Cabanas hosts a "Pirate Buffet" from 10:30-11:15 pm (times may vary) for pirates looking for some late-night eating. Be sure to check out and enjoy some pirate-themed food sculptures and decorations.
For a no obligation, FREE Quote on a Disney vacation package, please contact our travel partner Magical Vacation Planner at 407-442-0227 (407-442-0215 for Spanish). You can also request a FREE quote online by Clicking HERE.