A new gelato location is opening in the Italy pavilion at EPCOT and we're so excited to check it out. Learn more below.
Here are all the details from Disney Cast Member Karen McClintock:
We have some sweet goodness to announce! A new gelato location is opening in the Italy pavilion at EPCOT – Gelateria Toscana. Opening in May, this walk-up window will offer gelati, sorbetti, gelati floats, and much more!
Gelati in a Waffle Cone or Cup – Chocolate, vanilla, pistachio, cookies 'cream, stracciatella, strawberry, or tiramisù
Sorbetti in a Waffle Cone or Cup – Lemon, raspberry, mixed berry, or mango
Gelati Floats – Fior di Latte gelato with your choice of root beer or Coca-Cola
Coppa del Nonno – Fior di Latte, chocolate, and cookies 'n cream gelati with chocolate sauce, whipped cream, and amaretti cookies
Coppa Amicizia – Fior di Latte, cookies 'n cream, and strawberry gelati with whipped cream
Coppa Delizia – Fior di Latte, strawberry, and cookies 'n cream gelati with strawberry sauce and whipped cream
"Affogato" Espresso Gelato – Fresh Italian espresso poured over Fior di Latte gelato with an amaretto cookie
Cannoli al Cioccolato – Crisp pastry filled with sweet ricotta, chocolate, and candied orange
Zeppole –  Soft fried Ricotta cheese fritters dusted with powdered sugar
Mocha Tiramisù – Mascarpone cream, espresso coffee, savoiardi biscuits, and chocolate
Specialty non-alcoholic beverages along with cocktails, beer, and wine are also available
RELATED ARTICLE: The Italy Pavilion at Disney's Epcot – 6 Things You Need to Know
by Mike and Jamie Sylvester
While strolling through Epcot's World Showcase, it's hard to pass by the gorgeous Italy Pavilion without taking a good look at the sights, tasting the delicious food, and picking up a few fantastic Italian souvenirs. Here are 6 things to know about the Italy Pavilion so you don't pass it by the next time you find yourself in Epcot's World Showcase.
1 – Italian Architecture
Located between the Germany and American Adventure Pavilions, the Italy Pavilion stands beautifully with structures designed with Venetian, Florentine, and Roman architecture in mind. The bell tower that greets guests upon entrance is a re-creation of Saint Mark's Campanile, which is a bell tower outside of St. Mark's Basilica in Venice, Italy. It's amazing to do your homework or talk with Cast Members to better understand all of the meanings and replicas that present themselves in the Italy Pavilion. Besides the bell tower, another favorite piece is the Neptune Fountain located near the back right on the Pavilion. This fountain is reminiscent of Rome's Fontana del Moro in Piazza Navona. Snap a few pictures in front of this fountain, and friends won't be able guess you were at Disney World – not actually Rome, Italy!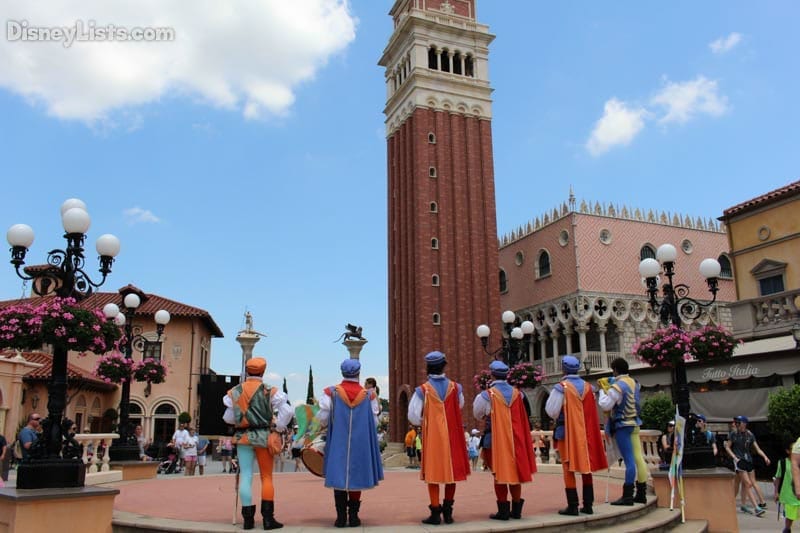 2 – Via Napoli Ristorante e Pizzeria
Enjoy what real authentic Italian cooking tastes like! The 3 wood-burning ovens are named after the 3 active volcanoes in Italy – Mount Etna, Mount Vesuvius, and Stromboli. The pizza that comes out of these ovens is delicious! Plus, did you know the water used to make the pizza dough is imported from Pennsylvania to simulate authentic Neapolitan dough?! It's the special touches such as this that make Via Napoli a great place to dine for a romantic occasion or as a family. If pizza isn't a family favorite, the salad, pasta, and many more options on the menu will surely have something for everyone in the family. Voted Critic's Choice for "Best Theme Park Restaurant" by the Orlando Sentinel, guests choosing to dine at Via Napoli certainly won't be disappointed.
3 – Italian Merchandise
The Italy Pavilion has three main shops located within the pavilion. The La Bottega Italiana shop is probably our favorite with Venetian masks, cookware, decorative items, and Italian food merchandise. The Il Bel Cristallo holds Italian merchandise such as Murano glass, porcelain, crystal, chic handbags, clothing, and accessories. The Le Gamma Elegante neighbors Il Bel Cristallo and has some Italian fragrances which makes this shop exude with a strong, yet wonderful aroma.
4 – Double the Tutto
Another excellent place to dine in Italy without Via Napoli reservations would have to be the Tutto Italia Ristorante. We especially love the outside patio available for dining, or dine in air conditioning inside the restaurant. Delicious platters of chicken, fish, handmade pasta, lasagna and more are what's on the menu. Of course, don't forget to order some yummy gelato for dessert! When the meal has ended, head to the Tutto Gusto Wine Cellar. Here guests can delight in over 200 flavors of Italian wine and beer. Simple, yet amazing, Italian appetizers are also available at Tutto Gusto Wine Cellar. Double the pleasure for your taste buds by simply doubling the Tutto!
5 – Bravo, Bravo!
Editor's Note: During the phased reopening of Walt Disney World, Sergio is not performing. It is unclear when Sergio will return to EPCOT.
Check out Sergio, a master juggler, that entertains guests of all ages in the Italy Pavilion several times throughout the day. While his outfit resembles the red and white stripes we grew up with as we searched for Waldo in "Where's Waldo?" – Sergio is easy to spot as he typically takes center stage in the middle of the Italy Pavilion. A large crowd gathers around him and the comedy behind his show is worth the under 20-minute performance!
6 – Sweet Treats
Anyone up for some Italian gelato? Stop by the gelato kiosk called Gelati. Gelato is several up in several forms, plus other desserts are available such as a cannoli and tiramisu. Italian wines, coffee, and refreshing beverages, including frozen alcoholic drinks, are available. If gelato isn't sounding like it will hit the spot, the Italy Pavilion also has an Ice Cream Cart located as you start your journey into the American Adventure Pavilion. So many sweet treats – it's hard to pick a favorite!
Do you have an Italy Pavilion experience you'd like to share? If so, we'd love to hear from you!
For a no obligation, FREE Quote on a Disney vacation package, please contact our travel partner Magical Vacation Planner at 407-442-0227 (407-442-0215 for Spanish). You can also request a FREE quote online by Clicking HERE.