Disney Springs is the shopping and dining district located within Walt Disney World.  The area has over 150 different venues for guests to enjoy and various themed areas within Disney Springs.  Here are ten facts and secrets that you will definitely want to know about Disney Springs:
10 – The area has had multiple names.
The area wasn't always called Disney Springs.  It has received a few different names and theme changes over the years in order to suit the changes going on at Walt Disney World.  Previous names that the area has had have been:  Lake Buena Vista Shopping Village, Walt Disney World Village, and Downtown Disney.
9 – The entire area for Disney Springs is HUGE.
With the change to Disney Springs, the area is the biggest that it has ever been.  The area now spreads across 120 acres in the more eastern area of Walt Disney World.  It will be amazing to see if there is more expansion over the coming years.
8 – Like the name suggests, the area has a lot of water.
Disney Springs indicates that there will be springs located within the area.  This is definitely the case.  The springs course their way through the Town Center area and contain 1.2 million gallons of water.  The distance of the course for the springs is the same distance as it would be if you walked from the start of Main Street, USA all the way to Cinderella Castle.  The area is also next to one of the large lakes on property with boat transportation available.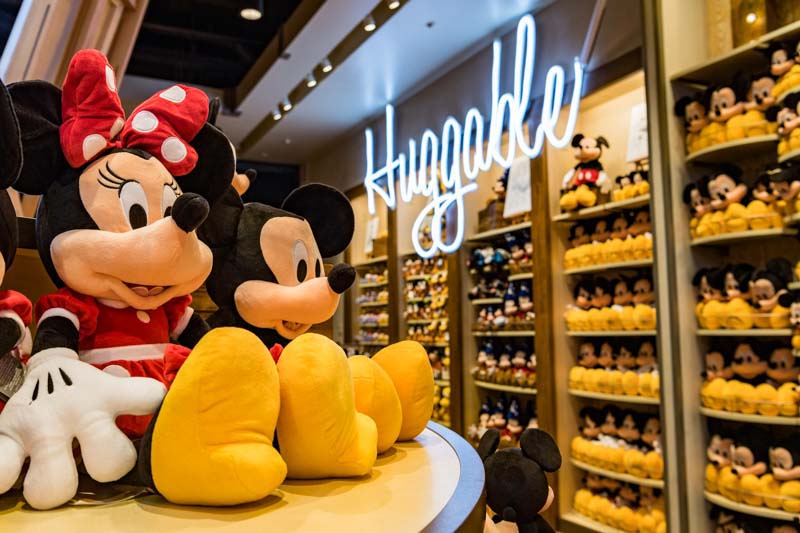 7 – Disney Springs completed a major makeover and added more venues.
Disney Springs began the conversion from Downtown Disney a couple of years ago.  The new theme for the area is that of a waterfront town directly out of the early 1900s.  The story is that early Florida settlers were attracted by the springs and their natural beauty. "In Disney Springs, you enter more than a place to shop and dine," said Keith Bradford, Vice President of Disney Springs. "You enter a story–as only Disney can tell it."  This total makeover more than doubled the number of venues that are located at Disney Spring.
6 – There is a ton of different entertainment, daily.
The area isn't just known for shopping and dining.  There is also a lot of great entertainment ranging from musical acts, DJs, stage performances, and more.  There are a total of 25 different acts performed on a given night, so there is definitely something for everyone.
5 – There is a cupcake ATM.
Yes, you read that right, an ATM that dispenses cupcakes.  Sprinkles bakery in Disney Springs has a pink cupcake ATM that operates 24 hours a day, even when the bakery is closed.  If you get a hankering for a cupcake in the late night or early morning hours then you can satisfy those cravings with some of your favorite cupcake flavors.
4 – Recycled bricks were used in The Landing
Disney is big on conservation and adding history to its development projects.  When The Landing was being built, more than 57,000 recycled bricks were used.  They were from Rollins College which was located close to the area.  They were used in the hardscape for the area.
3 – Special care was used to bring out the Spanish Revival architecture in the Town Center area.
When Disney has a theme or vision in mind, they commit to it and look at every detail.  The architecture that was the inspiration for Town Center was a Spanish Revival architecture.  In order to bring this design and concept to life, there were 15 shades of white paint used.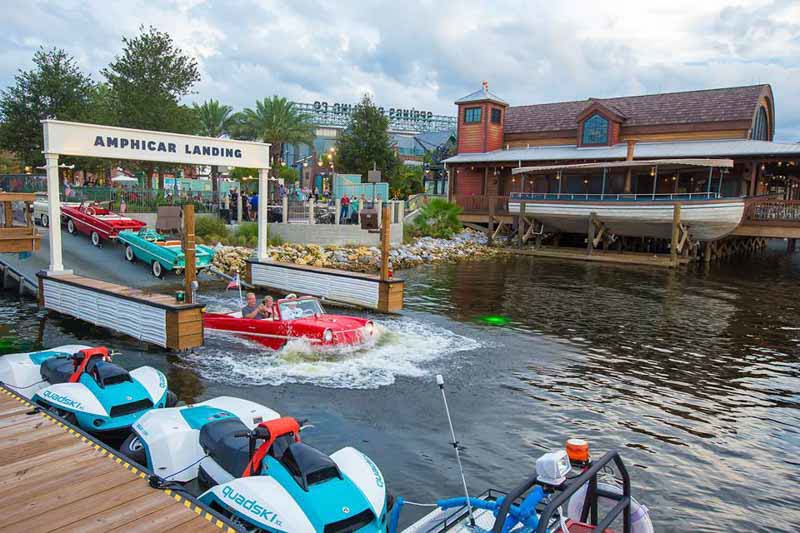 2 – There are a variety of boats that boat lovers will go crazy for.
The Boathouse is home to a variety of antique and luxury boats.  There are actually 19 different boats that are docked at the marina.  Only two of the boats are operational and get chartered to guests.  The boats that are available are The Venezia, a 40-foot wooden Italian style boat, and the Lady Rose, a steamboat. There are also amphicars there to that guests can take a ride around the area on.
1 – There are restaurants featuring menus from award-winning chefs.
If you are a foodie, then Disney Springs is definitely the place for you.  There are multiple restaurants that were created by award-winning chefs.  Some of the chefs and locations are:
Art Smith: Chef Art Smith's Homecoming Kitchen and Southern Shine
Rick Bayless: Frontera Cocina Mexicana
Masaharu Morimoto: Morimoto Asia
Wolfgang Puck: Wolfgang Puck Bar and Grill
Jose Andres: Jaleo
With new restaurants scheduled to open in Disney Springs, this number is only going to go up, too!  You definitely have to work your way around the dining locations at Disney Springs.
For a no obligation, FREE Quote on a Disney vacation package, please contact our travel partner Magical Vacation Planner at 407-442-0227 (407-442-0215 for Spanish). You can also request a FREE quote online by Clicking HERE.