Of the four theme parks in Walt Disney World, many guests spend the majority of their vacation time enjoying the Magic Kingdom. The park opened with Walt Disney World in 1971 and is full of themed lands that feature amazing attractions, entertainment, dining, and shopping. With so many things to see in the Magic Kingdom, guests often love to spend entire days there enjoying all that there is to see. Since Walt Disney World is located in Central Florida, temperatures can be extremely high in the summer months. Intense heat combined with strong sunshine and high humidity can leave guests feeling exhausted by the early afternoons when they are in desperate need of a break from the heat. Luckily, the Magic Kingdom is full of plenty of ways to remain cool on hot days in the summer months. Here are the best ways to keep cool in the Magic Kingdom in order to enjoy a full day there!
1 – Splash Mountain
The easiest way to cool down in the Magic Kingdom is to enjoy a ride on Splash Mountain in Frontierland. The attraction invites guests along on an adventure with Br'er Rabbit as he constantly tries to outrun Br'er Fox and Br'er Bear. After boarding logs and leaving the loading area, Splash Mountain brings guests through a series of cheerful scenes with singing audio-animatronics and down a series of slippery slopes that cool guests off with refreshing splashes of water. The final drop on Splash Mountain brings guests straight down Chick-A-Pin Hill into the Briar Patch where they are guaranteed to get wet and cool down on a hot day in the Magic Kingdom. Those looking to really soaked should request to sit in the front row when boarding.
2 – Hall of Presidents
Liberty Square is home to an attraction that offers both cooling air conditioning and a lesson in American history. The Hall of Presidents brings guests into a patriotic brick building with a lobby featuring artifacts and historical representations of the Presidents of the United States. In the center of the lobby is even the Presidential Seal on the carpet which can only be found elsewhere in the Oval Office. Once the show begins, guests are treated to a presentation where each President can be found in an audio-animatronic form on the stage, united as one. Guests who are looking to cool off in the Magic Kingdom should definitely visit the Hall of Presidents for a wonderful show that can be enjoyed while sitting down in refreshing air conditioning.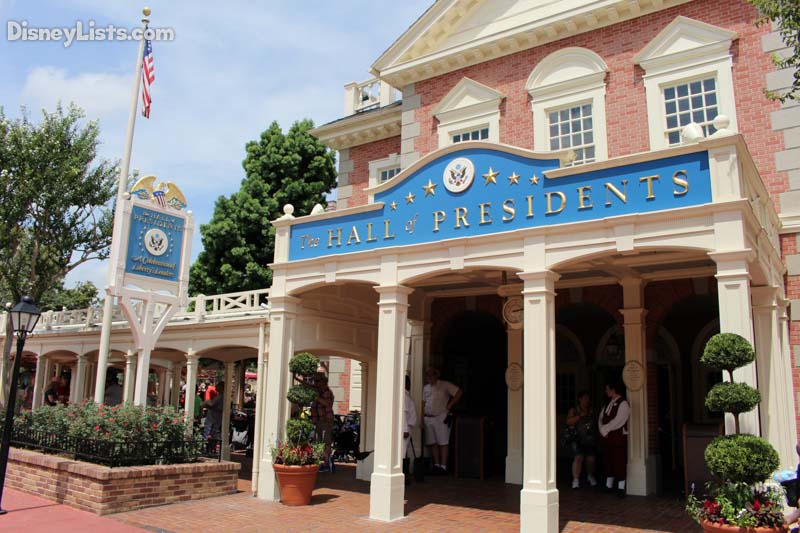 3 – Tomorrowland Transit Authority PeopleMover
One of the best ways to enjoy the breeze in the Magic Kingdom can be found in Tomorrowland high above the walkways and attractions. The Tomorrowland Transit Authority PeopleMover is the highway in the sky that features an open-air track that whisks guests through the land for beautiful views and glimpses into attractions like Space Mountain and Buzz Lightyear's Space Ranger Spin. Guests who enjoy the attraction can kick back and relax while enjoying the breeze high above the crowds of Tomorrowland.
4 – Walt Disney's Carousel of Progress
Also found in Tomorrowland is a classic Disney attraction that dates back to the 1964 New York World's Fair. Walt Disney's Carousel of Progress brings guests into a unique circular theater that actually rotates from scene to scene. Guests follow the same family from the beginning of the century to modern-day to discover how progress has made life more convenient. For those looking to cool off, the twenty-plus minute show offers the opportunity to sit down in air conditioning and take a load off for a while.
5 – Haunted Mansion
Perhaps no attraction in the Magic Kingdom is as chilling as the Haunted Mansion! The attraction invites guests to enter into the spooky manor house for a tour narrated by the disembodied Ghost Host who shares that nine hundred and ninety-nine happy haunts lurk in the halls. While the Haunted Mansion might chill guests with its eerie special effects and happenings, it also helps cool guests down with dark and cool scenes that guests move through in their Doom Buggies.
6 – Walt Disney's Enchanted Tiki Room
Another show which is sure to help guests both feel entertained and cooled down can be found in the heart of Adventureland. Walt Disney's Enchanted Tiki Room brings the spirit of the tropics to life as guests sit in a cool theater filled with birds, plants, and tikis. The show occurs overhead as all of the characters bring the room to life with catchy songs and music. Guests are sure to find themselves singing along by the end as well as feeling refreshed to head back out into the park.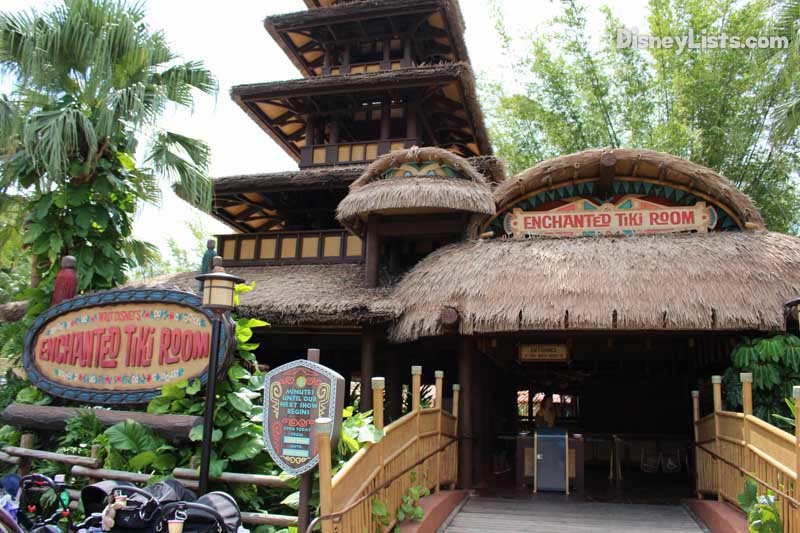 7 – Country Bear Jamboree
The Country Bear Jamboree in Frontierland invites guests into Grizzly Hall for a show which is sure to leave them stomping their feet. Hosted by Henry the bear, guests can kick back and enjoy a musical revue featuring lovable bears like Big Al, Teddi Berra, Trixie, and Liver Lips McGrowl. Guests will love watching the bears put on an amazing show while relaxing in the air conditioning for sixteen minutes. After the show-stopping finale, guests are sure to find themselves rejuvenated and ready to head back out into the Magic Kingdom to keep exploring.
8 – It's A Small World
One of the most classic attractions in all of Walt Disney World can be found in the Magic Kingdom's Fantasyland. It's A Small World brings guests on the happiest cruise that ever sailed to celebrate countries from around the world through dolls and beautiful settings. Enjoying a ride on It's A Small World is a great way to beat the heat while in the Magic Kingdom as the queue is covered and the attraction lasts for ten minutes as guests sail through air-conditioned scenes. While guests might leave with the classic song "It's A Small World (After All)" stuck in their heads, they are sure to be cooled down!
For a no obligation, FREE Quote on a Disney vacation package, please contact our travel partner Magical Vacation Planner at 407-442-0227 (407-442-0215 for Spanish). You can also request a FREE quote online by Clicking HERE.