News
NEWS: Disney Announces Limited-Time "Halfway to Halloween" Treats (and Provides Recipes!!!) at Disney Springs and Downtown Disney District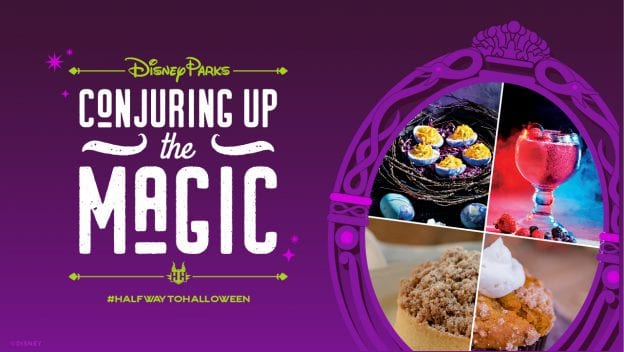 Disney is celebrating Halfway to Halloween by sharing some amazing Disney Parks recipes and offering some yummy limited-time treats at Disney Springs and Downtown Disney District. We can't wait to check them out. Learn more below.
Here are all the details from Disney Cast Member Karen McClintock:
We are Conjuring Up the Magic for our #HalfwaytoHalloween takeover and treating you to four wickedly delicious recipes – perfect for when you socialize with your own grim grinning ghosts! We have autumnal pumpkin and apple recipes plus Disney villain-inspired deviled dragon eggs and a delicious, healthful smoothie.
Also, check out the scary good limited-time treats offered at Black Tap Craft Burgers & Shakes(Downtown Disney District) and The Ganachery and Gideon's Bakehouse (Disney Springs) during our Halfway to Halloween celebration! Grab them before they disappear like a ghost!
Bad has never tasted so good! These first two recipes are from the soon-to-be-released Disney Villains: Devilishly Delicious Cookbook, where the iconic villains from Disney's film library are the inspiration for the recipes.
Hades from Disney's animated feature film, Hercules, inspired the recipe for Underworld Smoothies. This smoothie plays off Hades' two moods: blue flames for hair when he's calm and red flames when angry. You mix a blue and red smoothie separately, then pour both into the same glass for a healthful dose of Hades' feelings! Click here for a print-at-home version of this recipe.
Even Maleficent would approve of these Deviled Dragon Eggs! Cleverly using red cabbage water to create the unique coloring of these eggs, this recipe takes a bit of time, but the "terrifying" results are sure to impress! Click here for a print-at-home version of this recipe.
You now have the opportunity to pre-order this cookbook featuring these two as well as other devilish dishes. Why not make it a Disney movie night complete with matching your movie choice to a Disney villain recipe? Sounds like a wickedly good time!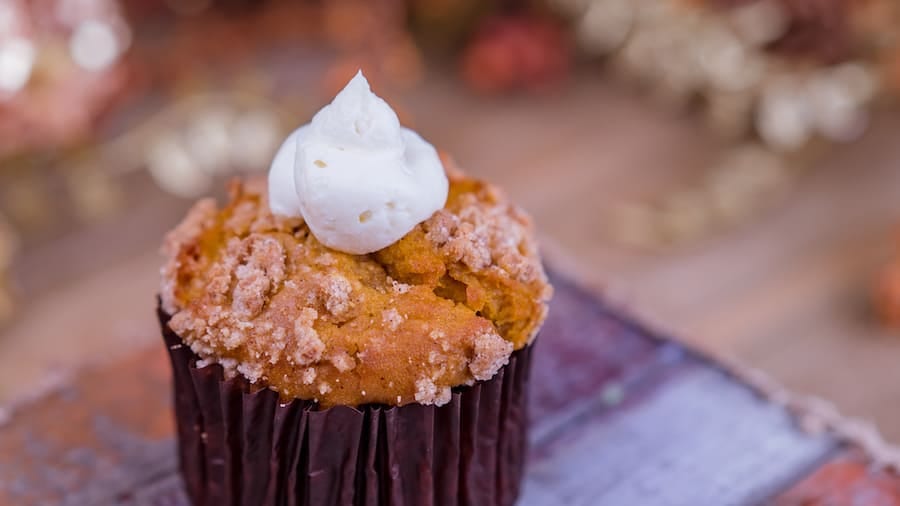 Our Pumpkin Muffin recipe comes from the recipe vault at Disneyland Park. Served at past Halloween Time celebrations at Jolly Holiday Bakery Café, these perfectly pumpkiny muffins get a sprinkle of streusel on top for that right hint of sweetness. Happy fall, y'all! Click here for a print-at-home version of this recipe.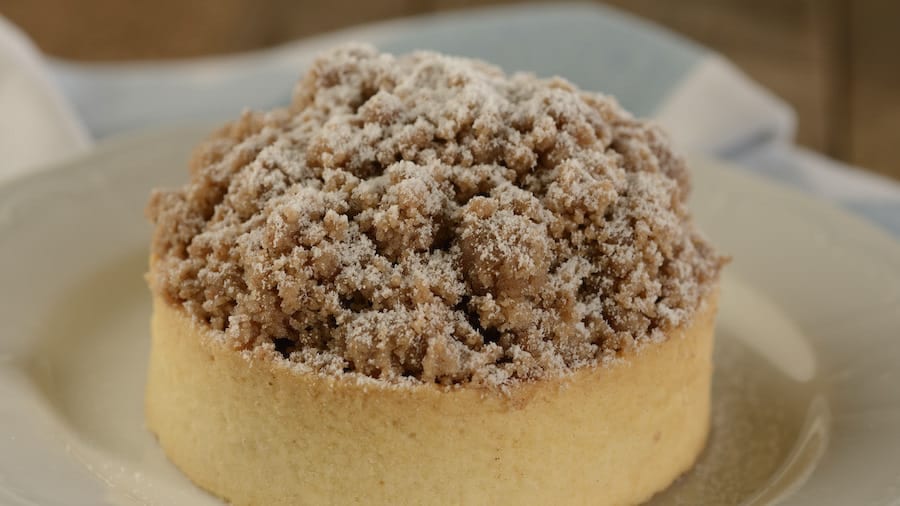 Promise this is not a trick but a delicious treat – an exclusive recipe for Disney Parks Blog readers! We coaxed our festival chefs to give us a preview of an autumnal recipe from the upcoming EPCOT International Food & Wine Festival (starting Jul. 15 and running through Nov. 20), and they sent us a recipe for Apple Crumble Tarts. My foodie pal, Katie, made them (you know, for me to make sure they are perfect for this post!), and we both can attest they are REALLY good and REALLY cute! Who can resist a tiny apple pie with crumble topping? Not me!
Click here for a print-at-home version of this recipe.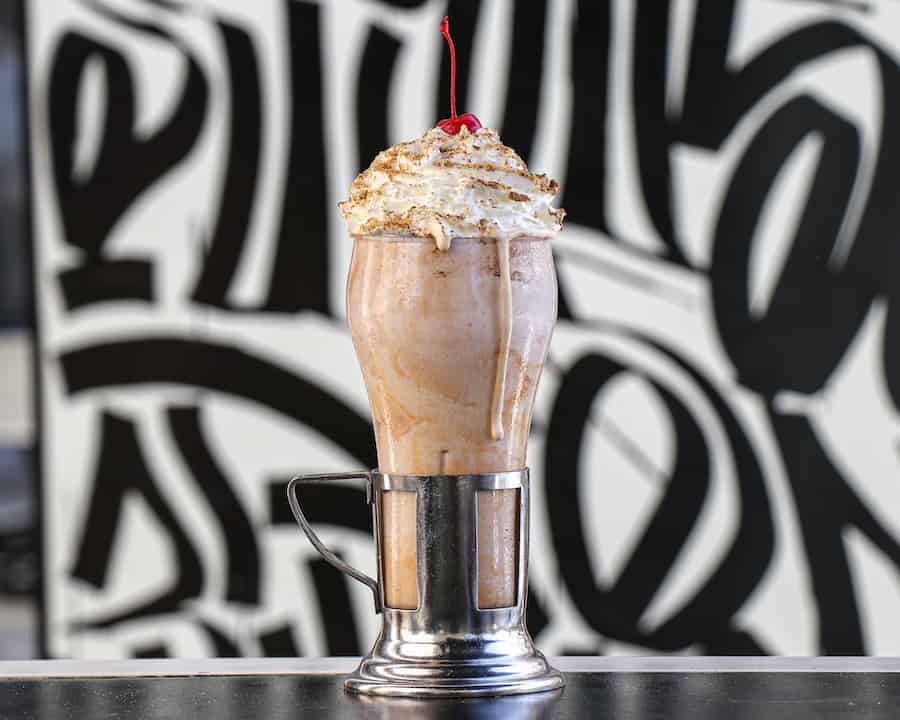 Here is a sneak peek of the delicious limited-time specialty offerings brewing in our cauldrons for Halfway to Halloween – from pumpkin pie milkshakes to creepy-cool cookies!
Black Tap Craft Burgers & Shakes at Downtown Disney District
The Classic Pumpkin Pie Shake – Black Tap's take on fall flavors with a pumpkin pie shake topped with whipped cream, graham cracker crumbles, and a cherry (available May 7-9)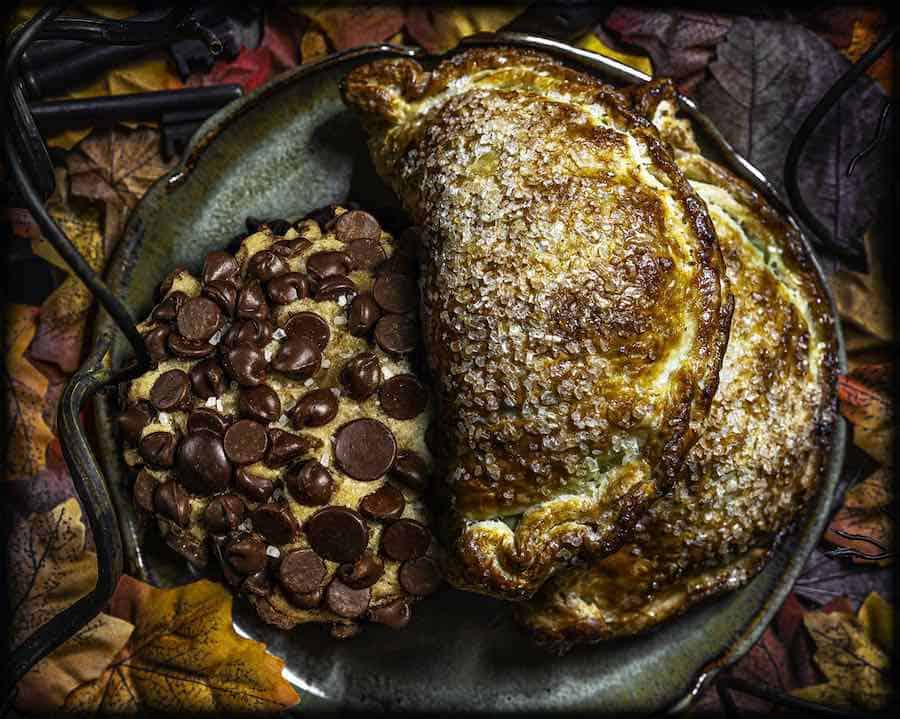 Gideon's Bakehouse at Disney Springs
You may already know Gideon's Bakehouse cookies are mysterious and delicious, but did you also know they are masters of disguise? That's why, as part of the Halfway to Halloween takeover, a selection of their dreadfully good confections will masquerade themselves as hand pies. Don't be fooled by their flaky, buttery crusts – once you take a bite, you'll recognize the rich, decadent flavor of a Gideon's Bakehouse cookie baked inside!
Gideon's Hand Pies – A handmade Gideon's Bakehouse Chocolate Chip Cookie baked inside a flaky, buttery pie crust (available May 10-12 while supplies last; limit two per person)
The Ganachery at Disney Springs
Pssssst … to get this frightfully delicious treat, check @disneyparks on TikTok throughout Saturday, May 8, to learn the secret, scary phrase to order!
Cauldron Cocoa Bomb – Dark chocolate cauldron filled with hot cocoa mix and green marshmallows topped with an edible image of the Sanderson Sisters and a chocolate broom stirrer (available May 10-12 while supplies last; limit two per person)
Be sure to share the magic with other Disney fans using the hashtag #HalfwaytoHalloween and #DisneyMagicMoments. Happy Conjuring Up the Magic!
RELATED ARTICLE: 8 Things You Might Have Missed at Disney Springs
by Mike and Jamie Sylvester
Disney Springs is the place to be for the trendiest merchandise, top-of-the-line eateries, and superb entertainment. With all the recent changes, it's easy to overlook some of the simplest, yet fascinating things at Disney Springs. Check out these top 8 things that you might have missed – but will hopefully have a chance to check out on your next visit to Disney Springs!
1 – Coca-Cola Polar Bear
Who wants to give a great big bear hug to the Coca-Cola Polar Bear?! Well, now you can. Standing 7-feet tall and grinning from ear to ear, the Coca-Cola Polar Bear is now available for a meet and greet in the new Coca-Cola shop located in Town Center – near the Orange Parking Garage. He's located on the second floor and totally worth a break from shopping for a great photo opportunity!
2 – Amphicars
It's hard to miss the lovely BOATHOUSE waterfront restaurant in The Landing portion of Disney Springs. You've likely heard of their incredible food and hopefully have had a chance to taste it! We're surprised to learn that many people pass this spot by before getting a glimpse of the Amphicars. What are Amphicars you say? They are cars that can drive on land and act like a boat in water! It's fascinating to watch really. A great spot to catch a glimpse of a Amphicar tour is the Waterview Park neighboring the BOATHOUSE.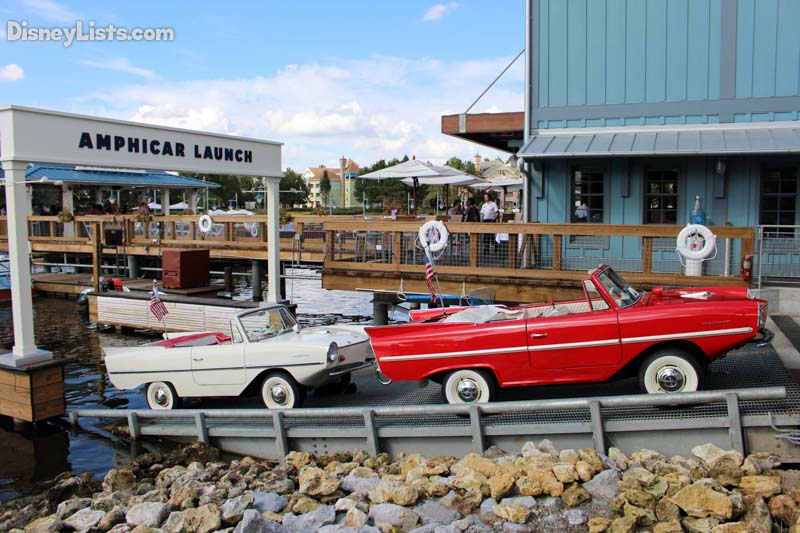 3 – Cupcake ATM
You may have heard by now of the incredible gourmet cupcake shop located in Town Center of Disney Springs known as Sprinkles. Sprinkles serves their deliciously famous cupcakes, ice cream, and more from their cute, yet trendy corner shop nestled next to the water. But, don't rush in just yet! As you are about to enter the main doors, look to the right. Here you will notice a pink Cupcake ATM. The best part – it really works! Select a cupcake of your choice, scan your card for payment, and out comes an incredible cupcake. This is especially wonderful to enjoy when Sprinkles is closed during the late hours or early morning hours – because it's never too early to eat a cupcake while at Disney Springs!
4 – Happy Hound
Because we all love our furry friends as much as Mickey Mouse loves Pluto – check out a little kiosk called the Happy Hound located in the Marketplace. Somewhat tucked away and off the main path, look for Happy Hound behind the Little MissMatched shop. This kiosk if full of fun accessories for the dog in your family with items such as custom collars, tags, outfits, and toys.
5 – Breakfast and Brunch
When stepping foot into Disney Springs, chances are you are prepared to shop and snag a few snacks and possibly a meal while you stroll. Well, did you know one way to get a great head start at Disney Springs is to enjoy one of their breakfast or brunch offerings before the rush even arrives? Wolfgang Puck Express (Marketplace) has a great breakfast menu daily, Raglan Road Irish Pub (The Landing), Chef Art's Homecoming, and City Works offer a Saturday and Sunday brunch for guests to enjoy, and even House of Blues (West Side) has a brunch! Take a look at the Disney Springs breakfast and/or brunch dining options and start your day off with the most important meal of the day – Disney Springs style.
6 – Water Wheel
Located in Town Center between ZARA and Antropologie, and in front of the Disney Springs Welcome Center, take note of the short bridge and water scenery. Once you start looking, it's easy to notice the industrial style machine known as the "water wheel". Spin the wheel and you'll see you are pulling water from the small pond below. Switch to the other side over the bride and have someone else spin the wheel to get a neat look at the mechanics of it all. This is just a simple spot our children especially love spending a couple of minutes at.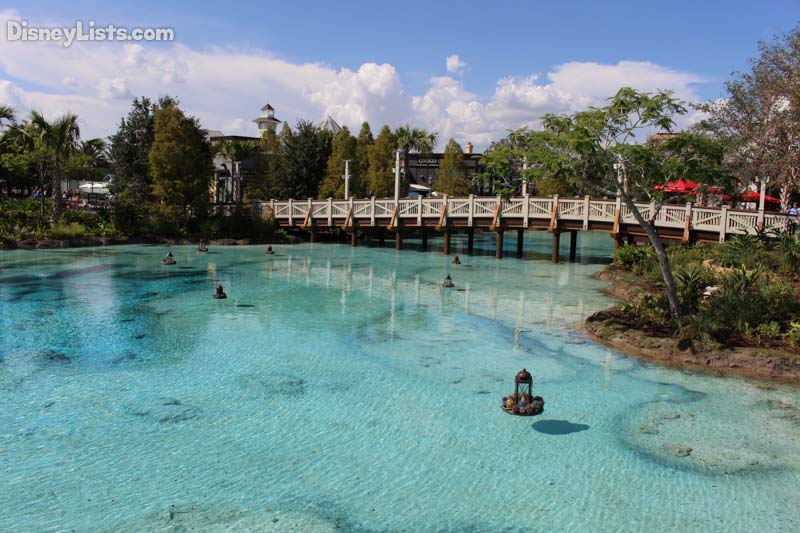 7 – Top Scenery Spots
It's tempting to rush from shop to shop at Disney Springs, but something that you might miss by doing so are excellent spots to check out the scenery at Disney Springs. Sometimes filled with entertainment venues and other times a quiet place to take in all the beautiful scenery, Disney Springs has a few spots we feel are frequently overlooked. Our top picks are Exposition Park (West Side – watch the Aerophile balloon take off), Riverboat Square (The Landing – favorite place to people watch), Springs Overlook (Town Center – a quiet nook), and Waterview Park (The Landing – best place for water views).
8 – Holiday Entertainment
Each holiday is celebrated at Disney Springs to its fullest potential – but we especially appreciate how Disney Springs goes big for Christmas! Sure, they offer a 2-Day Black Friday weekend and merchandise discounts as one would expect – but they take it one step further so everyone can enjoy the gift of Christmas at Disney Springs. Some of these special Holiday entertainment options include: holiday performances and musical entertainment at the Marketplace Waterside Stage; Santa Claus at Santa's Chalet at the Christmas Tree Trail for kiddos to ask for their wish list; and Christmas Tree Trail in the Marketplace to browse multiple themed trees.
It is impossible to see and do all at Disney Springs which is why we keep going back regularly for more! What is your favorite "thing you might have missed" at Disney Springs? We'd love to hear from you!
For a no obligation, FREE Quote on a Disney vacation package, please contact our travel partner Magical Vacation Planner at 407-442-0227 (407-442-0215 for Spanish). You can also request a FREE quote online by Clicking HERE.