News
NEWS: Disney's Animal Kingdom Welcomes Baby Zebra – It's a Boy!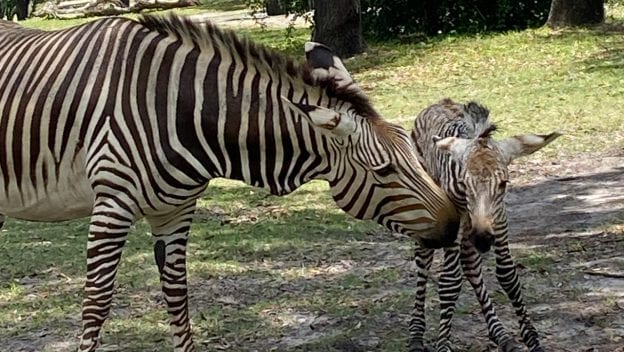 In the last year, several baby animals have been born at Disney's Animal Kingdom. This week the park welcomed a Hartmann's Mountain zebra foal to Kilimanjaro Safaris. Learn more below.
Here are all the details from Dr. Mark Penning, Vice President, Animals, Science and Environment, Disney Parks:
Guests riding Kilimanjaro Safaris today got to see the miracle of birth and the magic of nature in stunning reality. Some lucky guests got to see the birth of a Hartmann's mountain zebra foal that was born on the savanna this morning. Estimated to weigh about 65 pounds, the healthy baby boy has long legs and was standing and nuzzling with mom within minutes of birth.
Mom Heidi is a parenting pro – staying close to her baby to bond and nurse. Bonding is especially important, as a young zebra will imprint on its mother's scent and memorize the unique markings on its mother's hind legs to tell her apart from others in the herd. In the coming weeks, the pair will rejoin sister Asha and the rest of the herd on the savanna.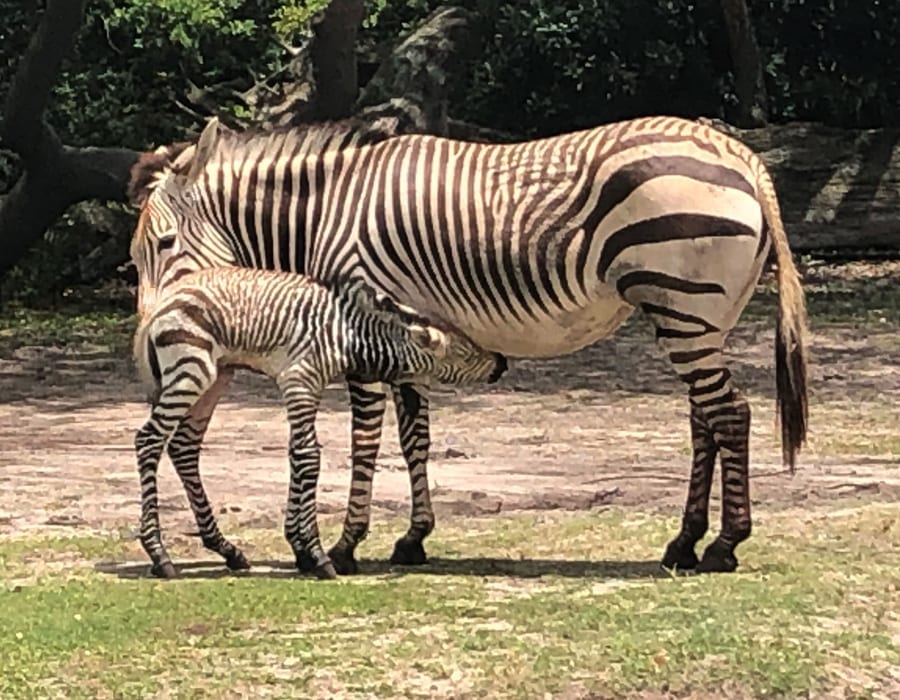 The foal was born as part of the Species Survival Plan program, which is overseen by the Association of Zoos and Aquariums and ensures responsible breeding and genetic diversity of hundreds of animal species.
Today's joyful arrival marks the first zebra birth at Walt Disney World this year. The resort is home to three distinct types of zebra: Hartmann's mountain zebra, Grevy's zebra and plains zebra. Though zebra may all be defined by their stripes, there are distinct stripe patterns that define each type. Hartmann's mountain and Grevy's zebras have stripes that stop right at the edge of their bellies, while stripes on common zebras wrap around the whole body. You can tell a Grevy's zebra from a Hartmann's mountain zebra by looking at their ears. They are larger on the Grevy's zebra.
Hartmann's mountain zebras are found in sub-Saharan Africa and are a vulnerable species due to habitat loss and hunting. To learn more about zebras and other species we are working to protect, visit DisneyAnimals.com and follow me and my amazing team on Instagram: @DrMarkAtDisney.
RELATED ARTICLE: Kilimanjaro Safaris – 8 Fun Facts You May Not Know
by Jenn S
Kilimanjaro Safaris is an attraction at Disney's Animal Kingdom theme park where guests will board a safari truck which takes them into the Harambe Wildlife Reserve to view free-roaming animals. Every safari is different, and guests may see hippos, giraffes, baboons, elephants, lions and more during this approximately 27-minute ride. Have your camera at the ready and hang on because it can get a little bumpy! Here are 8 fun facts about the Kilimanjaro Safaris Attraction.
8 – Walt's Vision Comes to Life
When Walt Disney was designing the original concept for the Jungle Cruise at Disneyland, he wanted to use real animals. This idea was quickly scrapped in favor of audio-animatronics versions of the animals due to the many factors involving the use of live animals. Decades later when Imagineers began the concepts for Disney's Animal Kingdom theme park, they knew they would finally have an opportunity to bring Walt's vision and love of animals to life with Kilimanjaro Safaris.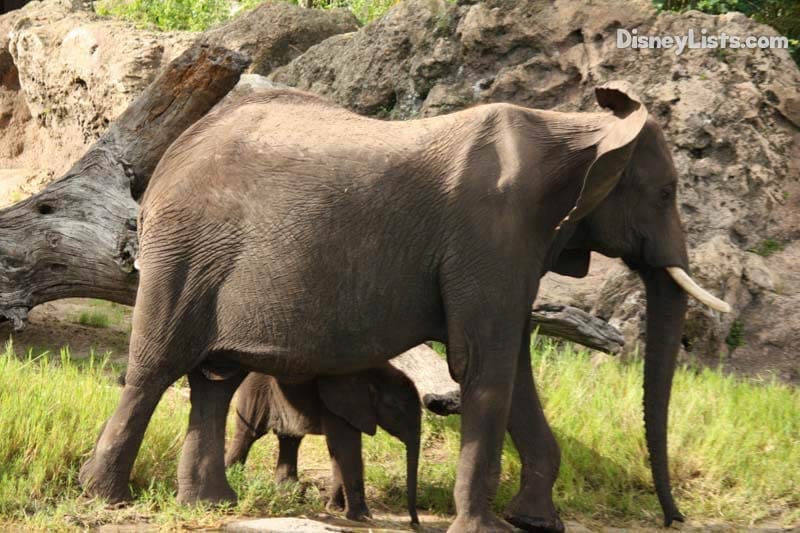 7 – Size
Kilimanjaro Safaris is the largest attraction at Walt Disney World. So large in fact that the entire Magic Kingdom could fit inside the attraction.
6 – Hidden Mickey
If you are looking for hidden Mickey's, take a look at the island that the flamingos congregate on. This will be just past the elephants and located on the left-hand side of the truck. The island is shaped like Mickey if you look at it from above.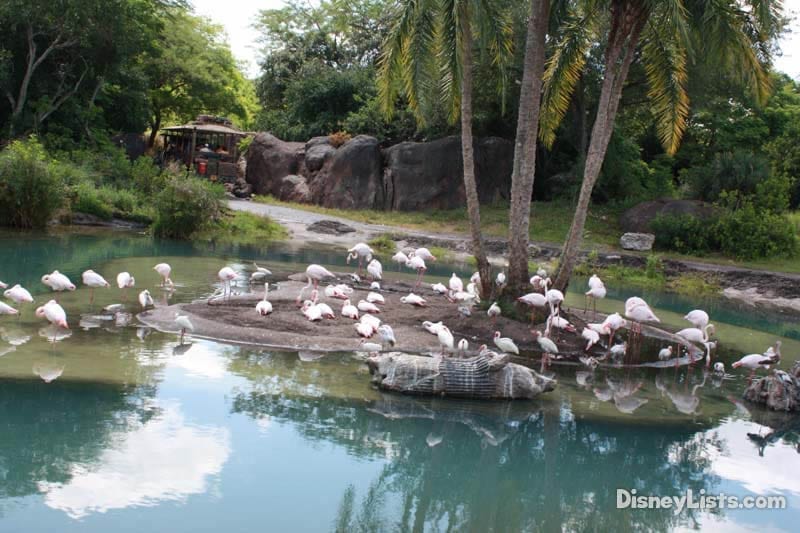 5 – Storyline Has Changed from Original Concept
The storyline of the attraction led guests on an adventure to stop poachers who had trespassed onto the Harambe Wildlife Preserve and rescue "Little Red," a baby elephant. Before the park opened, the attraction included a scene where "Big Red" the mother elephant, killed by poachers could be seen. This was removed from the attraction before opening due to negative responses during tests.  The storyline to save Little Red remained, with guests finding her rescued at the end of the attraction. Eventually, the storyline was removed, and the focus of the attraction is the animals themselves and a conservation message.
4 – Yes, They Are Real Trucks
The safari vehicles are GMC trucks that have been converted to run on propane.  These trucks are actual free moving vehicles, and they do not run on a track, the driver is responsible for your safety as well as the safety of the animals while out on safari. This is why from time to time your ride vehicle may stop unexpectedly. If an animal is on the ride path, the driver must wait for the animal to clear the area before proceeding. This causes all trucks behind this vehicle to stop as they must remain at a safe distance from each other.  At the end of the day, the trucks are driven off the ride and parked in a lot where they can be serviced before the next day.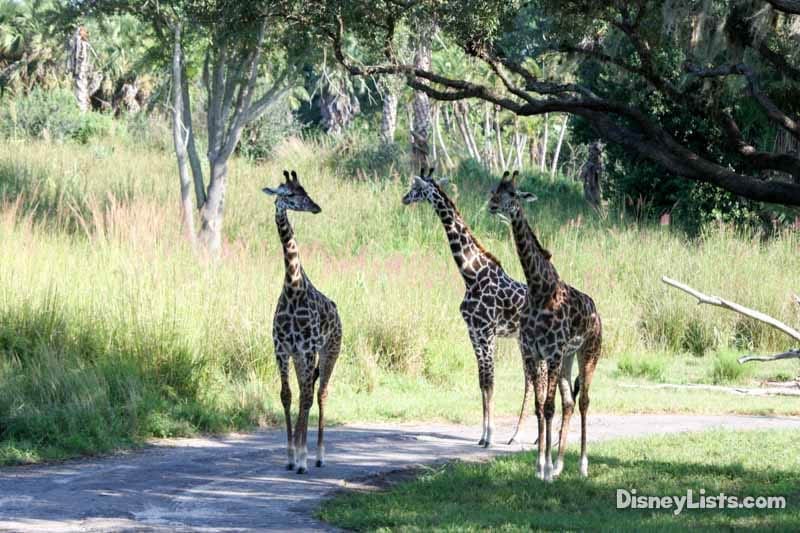 3 – The Landscape Isn't Always Real
While you are on Kilimanjaro Safaris, the landscape looks incredibly real. You may forget for a moment that you are actually in central Florida. The flat-top Acacia trees that are common on the African Savannah are actually just Southern Live Oak trees that they trim to look like Acacias. The animals do not seem to mind though. And the Baobab trees, which have massive trunks and look as if they are upside down as their branches are leafless and resemble roots are not real trees. The ones on the attraction are made of concrete; however, you can see a real one near the Tusker House restaurant in Harambe Village before you enter the ride.
2 – Animals Are Real, But Are Contained
While the animals you see on Kilimanjaro Safaris appear to be free roaming, they are contained to their specific ecosystem by camouflaged walls, water barriers, and cattle guard chains on the ground. The lions are kept in their location by an 18-foot deep and 21-foot wide moat that separates them from the ride vehicles. Disney has done an incredible job of hiding many of these features, so it appears the animal habitats are connected. Animal keepers place food and toys in areas where the animals will be seen from the ride path, this way guests have the best chance of viewing the animals while on safari.
1 – Animals Get Time to Rest
The animals do not stay on the attraction overnight. Each night they return to their barn located behind the scenes to rest and receive veterinary care.  The Animal Keeper team has trained each animal to return to the barn when it hears a specific sound, some returning to a tambourine, a triangle or a bell, among many other sounds.  The animals also do not go out on the safari every day as they rotate to allow each animal proper time for rest, care, and enrichment.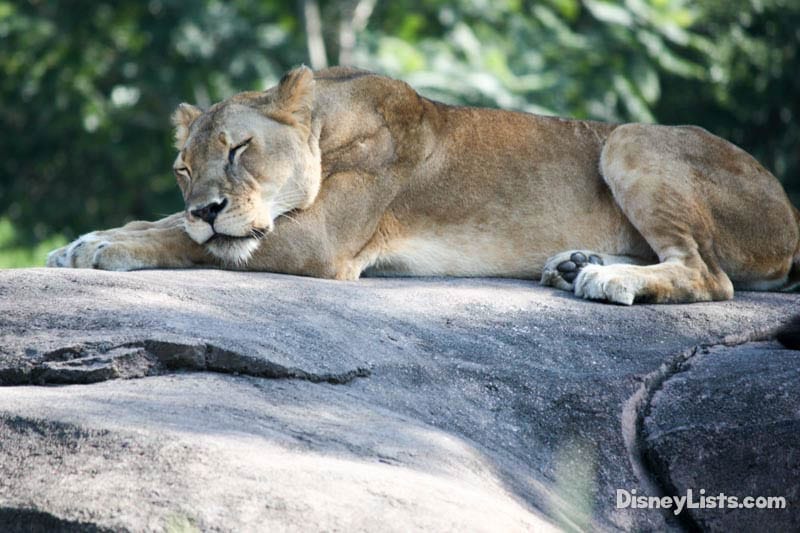 Disney's Animal Kingdom theme park offers many different animal viewing attractions and locations, but one of the best attractions is the Kilimanjaro Safaris. While many guests make this the first stop of the day while visiting the park, animals are active and can be seen throughout the day. This popular attraction can have a long wait time so be sure to choose it as one of your FastPass+ attractions.  If you've been on Kilimanjaro Safari, what animal was your favorite?
For a no obligation, FREE Quote on a Disney vacation package, please contact our travel partner Magical Vacation Planner at 407-442-0227 (407-442-0215 for Spanish). You can also request a FREE quote online by Clicking HERE.