Jock Lindsey's Hangar Bar is a welcome addition to The Landing area in Disney Springs. Located next to The Boathouse, the Hangar shares a prime waterfront location and has (as usual) spectacular theming. The menu features food and drinks inspired by Jock's (Indian Jones's pilot) globe-trotting to all continents. We recently visited the Hangar Bar and had a fantastic time. Here are the six things you need to know about Jock Lindsey's Hangar Bar.
6 – Relaxing Atmosphere
The Hangar Bar exudes a fun atmosphere with the story being center stage. The friendly staff adds to the storytelling of Jock's travel tales. In fact, we were told the Hangar was Jock's old bar and was recently "re-opened" by the staff. The story goes like this. Jock made a home at this waterfront property in the 1940s after discovering the charming little town while flying Indiana Jones over the Sunshine State in search of the elusive Fountain of Youth in 1938. As a member of the Society of Explorers and Adventurers, Jock often welcomed his globetrotting friends to his hangar for a drink and fun times. Now, Jock and Indy may be gone, but his legendary adventures live on at this exotic watering hole. And that's what gives the place its charm and a creative menu of adventurous tastes.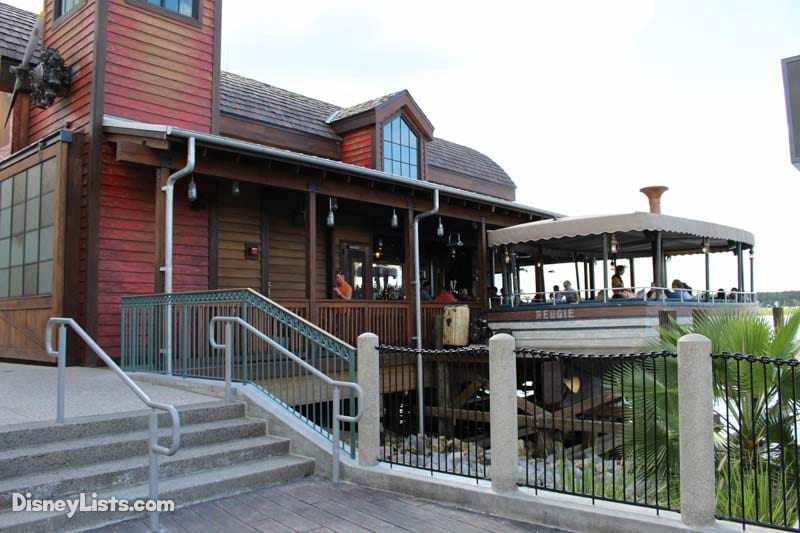 5 – Family Friendly
Since the Hangar is a lounge, you may be surprised to learn that the Hangar Bar is very family-friendly. Unlike Trader Sam's where children are not allowed after 8:00 pm, children are welcome at the Hangar at all hours. Also, strollers are welcome in the outdoor seating area. We saw a number of strollers parked next to tables.
4 – Plentiful Seating and Sights
The 150 seat lounge features an indoor and outdoor seating area. The indoor seating area has a great cozy feel with many options from seating at the bar to tables for two, a secluded table for a larger party, and a couch area for mixing with other guests.
Inside the Hangar, you'll find airplane parts as well as relics of Jock's travels around the world. Be sure to look for special mementos from the Indiana Jones movies. Check out the display near the bathroom for the medallion Indiana used to locate the Ark of the Covenant.
The outdoor seating area features excellent views of the water, fans, heaters (for the 3 days it gets cold in Florida) and is very enjoyable, except for one problem–the metal chairs outside are brutal on the hind parts. There is an outdoor bar with seating and tables for up to four people. Also, there is seating (with cushions) on Reggie's Boat which is a very cool space.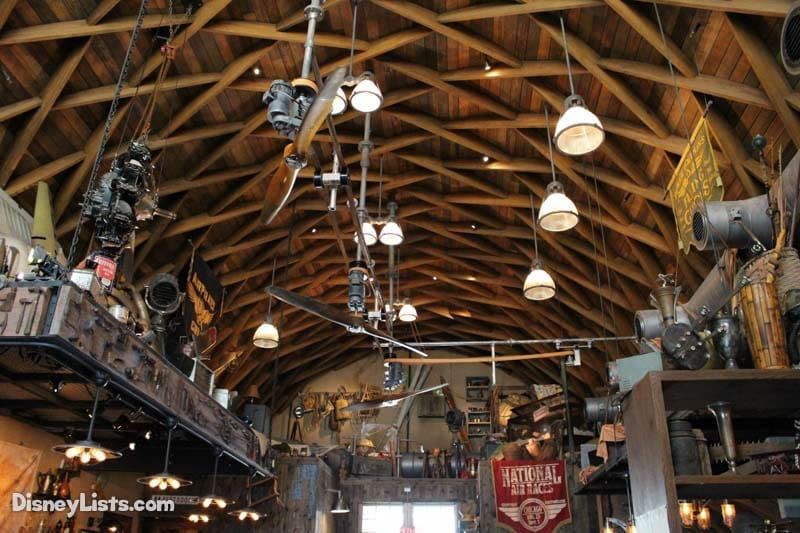 3 – Delicious Food
Since the Hangar Bar is a lounge and not a restaurant, there is not a full lineup of food. (Also, because it is a lounge you cannot make seating reservations ahead of time). What does exist at the Hangar, is a fantastic offering of appetizers that are perfect for sharing with a group. We first enjoyed the Tanis Tacos. These are three different taco options. The tacos were delicious with just a little bit of heat from the sauce. Other appetizers include Snakebite Sliders, Doctor Astorga's Questo Fundido, and Air Pirate's Cargo Loaded Pretzel, though, the menu is updated from time to time.
2 – Creative Mixed Drinks & Great Selection of Beers
The drinks at the Hangar Bar showcase more of Jock's travels. The menu itself is more like a travel logbook. You'll find each section of the menu is connected to a continent that Jock visited. Mixed specialty drinks are served on the rocks, and there is a very respectable selection of beers.
We tasted the Cool-Headed Monkey, which "according to the locals, this chilled concoction makes a fine punch." The drink is made of Starr African rum, Van Der Hum tangerine liqueur, fresh lime juice, watermelon, and pineapple juice. It was sweet and delicious and did not have an overpowering taste.
We also enjoyed Reggie's Revenge. Jock tells us that this drink is, "My signature jocktail with an extra little kick from my pet snake Reggie." Made from Florida cane 'Orlando orange' vodka, Midori melon liqueur, white cranberry ice, and fresh lime juice, it was very light and a bit sour. Perfect for a summer drink, you'll taste the melon and lime.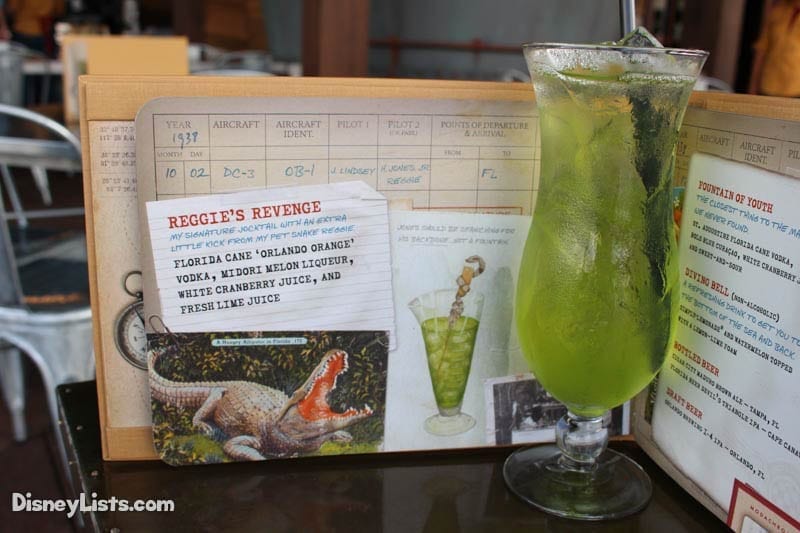 1 – Great Alternative to Trader Sam's
If you've been to Trader Sam's, you can't help compare the two lounges. Both are heavy on story, but the experiences couldn't be more different. While we enjoyed both, the Hangar Bar wins on a relaxing atmosphere and location. It will also appeal to adults with younger children who would like to enjoy a lounge without wondering what they can do with their children. With more private seating, the Hangar Bar is also more enjoyable for a long afternoon drink or two. Overall, we are thrilled with this addition to the Landing are in Disney Springs!
For a no obligation, FREE Quote on a Disney vacation package, please contact our travel partner Magical Vacation Planner at 407-442-0227 (407-442-0215 for Spanish). You can also request a FREE quote online by Clicking HERE.