Tremendous shopping for shopaholics to simple window shoppers; Irresistible dining for foodie gurus to sticky-fingered toddlers; and outstanding entertainment for music groupies to passersby. Disney Springs… a mecca of all things above and what we call the "unofficial 5th park" located on Walt Disney World property. It's no wonder that as Disney Springs gains popularity, the questions about it increase as well. Check out these top 15 questions and answers that we hope will help make your Disney Springs experience an enjoyable one!
1 – How Much Does It Cost To Visit Disney Springs?
Zero! Zilch! Nada! Parking (minus valet) and admission are totally free at Disney Springs. You can explore Disney Springs all you want and not spend a dime if you'd like. That would be a challenge, however, as shopping and dining beckon around every corner!
2 – What Days/Hours Is Disney Springs Open?
Disney Springs is typically open Sunday through Sunday (so, every day of the week) from 10:00 am to 12:00 am. Keep in mind hours do vary per establishment. For example, even if you are allowed into Disney Springs at 10:00 am, you likely won't be able to grab a bite to eat from many table, and quick service locations until closer to 11:00 am. Disney Springs also operates much like a Disney Park, where it is open for holidays.
3 – What Do The Different Sections Within Disney Springs Mean?
Much like the Disney Parks, Disney Springs has four different sections, which include Marketplace, The Landing, Town Center, and West Side. Each of these areas holds different shopping, eateries, and entertainment. The Marketplace is usually more familiar to people as it holds much of the same restaurants and shopping from when Disney Springs was Downtown Disney. The Landing edges the water and has incredible lounge and dining intermingled with a few shops. Town Center is the place for shoppers to be with a couple of great dining options. West Side is known as the entertainment hub and night crowds… much like The Landing. These areas flow into one another beautifully, and many don't even notice they've entered into a different themed area.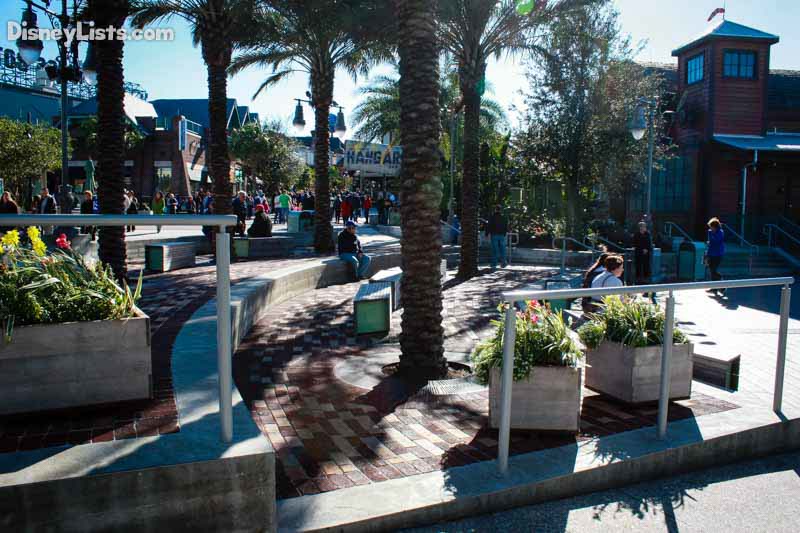 4 – Where Do I Park?
If you are driving into Disney Springs for the first time, chances are you'll be impressed with how well Disney laid out their parking! From very noticeable directional street signs to named parking garages and lots, we've been delighted with parking. Two parking garages are available, which include the Lime Garage (Marketplace) and Orange Garage (West Side). The West Side of Disney Springs also has ground parking available in lots called Grapefruit, Watermelon, and Strawberry. Our favorite locations are either of the two garages, as they are centralized to Disney Springs as a whole.
5 – What Are My Disney Resort Transportation Options?
If you are a Disney Resort guest, Disney offers bus transportation to and from their resorts for guests needing the lift. If you are staying at Disney's Old Key West Resort, Port Orleans Riverside, Port Orleans French Quarter, or Saratoga Springs Resort, you can also catch a boat to and from Disney Springs!
6 – Can I Park At Disney Springs And Take A Disney Bus To The Park?
Editor's Note: At this time, Disney buses do not go from the park to Disney Springs. We hope these routes return.
Unfortunately, no. The Disney transportation out of Disney Springs only goes to Disney Resorts and not to the parks. If you are, however, already at a Disney Park and would like to go to Disney Springs, Disney transportation will take you from the parks to Disney Springs… but it's a one-way trip.
7 – Are Disney Gift Cards Accepted?
Mostly, yes! Disney Gift Cards are accepted at most venues located at Disney Springs. If there is a specific restaurant, shop, or entertainment venue you are planning to use your Disney Gift Card at, we recommend checking with that location in advance. While this is Disney property, several of the venues are independently owned.
8 – Can We Use Our Disney Dining Plan To Pay For Meals?
Editor's Note: At this time, Disney Dining Plans are temporarily suspended. 
Numerous table and quick service locations throughout Disney Springs accept the Dining Plan. Just like the Disney Gift Card, we'd recommend checking with your restaurant destination of choice before dining to be sure they accept your Dining Plan.
9 – Are Magic Bands An Option As A Method Of Payment?
If you are a Disney Resort guest and have set up your Magic Band to act as your wallet, you will be pleased with the number of places you can tap your Magic Band to pay at Disney Springs! Most locations offer this easy way of paying for shopping, dining, and entertainment.
10 – Are Coupons And/Or Discounts Available?
If you are an Annual Passholder, Disney Vacation Club member, or Disney Visa/Chase Cardholder, you can sometimes expect discounts on merchandise, dining, and entertainment! Some of the independent retailers will run special deals or offer coupons available at their websites or on their apps that can be used in the shops at Disney Springs.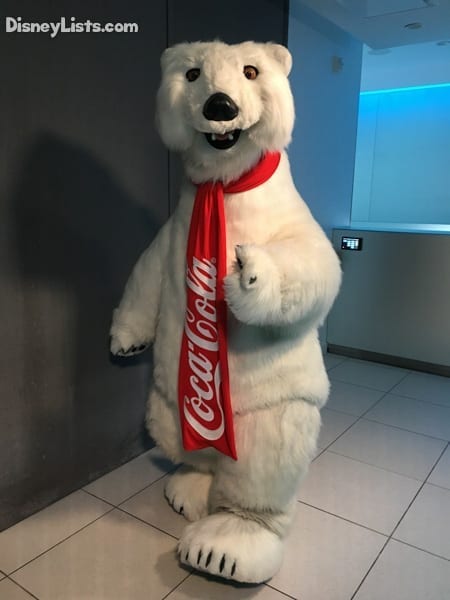 11 – Are Disney Characters At Disney Springs?
On a rare occasion, Disney Springs will roll out the red carpet for special character appearances. At the present time, however, Disney Springs does not have any regular character meet and greets as you'd find in the theme parks. While there are no Disney characters, the Coca-Cola Polar Bear is available for pictures at the Coca-Cola Store, and the pictures will show up in your MyDisney Experience App.
12 – Is All Merchandise Available Disney-themed?
No, not at all! Actually, we wish Disney Springs had even more Disney-themed merchandise! You can expect to find most of the Disney-inspired shopping in the Marketplace section, which includes World of Disney and the Art of Disney, to name a couple. The Town Center shops offer more of an outlet feel with trendy, name-brand boutiques.
13 – What Is The Best Restaurant?
Ugh! Don't make us choose! While we can't decide on one absolute favorite restaurant, we will say we can't get enough of Jaleo, Morimoto Asia, Raglan Road, Earl of Sandwich, The BOATHOUSE, and Blaze Fast-Fire'd Pizza. Our kiddos would say T-REX is their favorite, but not so much for us parents!
14 – What Are The Best Snacks?
If you have a sweet tooth, check out Sprinkles… especially their Cupcake ATM! You can't go wrong with the covered in goodness fries available at The Daily Poutine. And if you want a beverage to go with your snack, check out our favorite beverage stop – Dockside Margaritas.
15 – What's New?
This is the ever-changing question that is hard to keep up with all the growth Disney Springs has and is undergoing. Cirque du Soleil just opened Drawn to Life, a fantastic option for families! A new specialty ice cream shop is now open as well!
We hope we've been able to answer some of your questions about Disney Springs. #ThePlaceToBe!
For a no obligation, FREE Quote on a Disney vacation package, please contact our travel partner Magical Vacation Planner at 407-442-0227 (407-442-0215 for Spanish). You can also request a FREE quote online by Clicking HERE.