News
NEWS: 20th Anniversary Gingerbread Design Revealed for 2021 Haunted Mansion Holiday Gingerbread House at Disneyland Park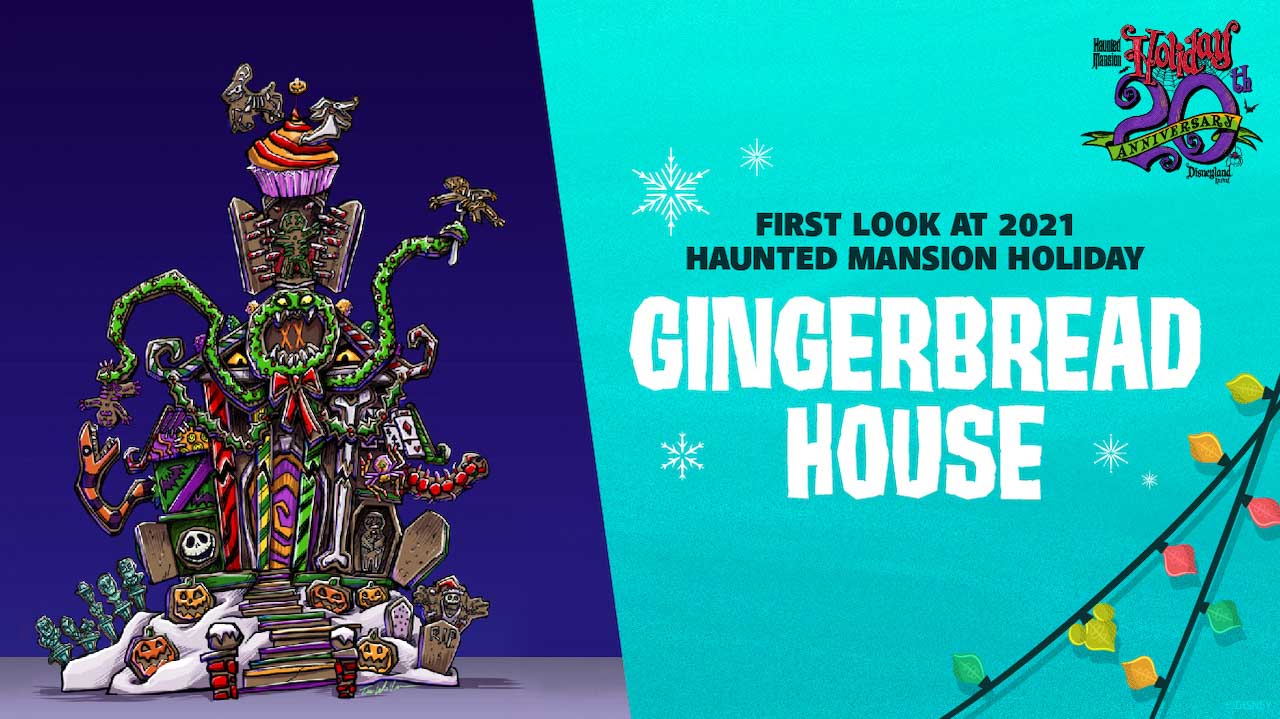 Fan favorite, Haunted Mansion Holiday at Disneyland is making its way back for its 20th season. Disney has released a first look at the gingerbread house design for 2021. Learn more below!
Here are all the details from Disney Cast Member Michael Ramirez:
Season's Screamings! As we announced last week, the Halloween season will once again return to life at the Disneyland Resort from Sept. 3 – Oct. 31. We are pleased that Haunted Mansion Holiday will also return for its 20th season! This merry makeover of the eerie estate, inspired by "Tim Burton's The Nightmare Before Christmas," celebrates the collision of Halloween and Christmas.
A favorite tradition is the yearly changing gingerbread house, which graces the mansion's Grand Hall. Since today marks our Halfway to the Holidays, we're excited to give you a first look at this year's gingerbread house!
We chatted with Tim Wollweber, associate art director for Disney Parks, who designed this year's house. For 2021, the team decided to pay homage to all previous houses in celebration of this beloved tradition's 20th anniversary. Tim mentioned, "we went back to the graveyard to dig up all of our ideas from the past 19 years. This year's Franken-house stitches together favorite elements from the previous 19 houses!"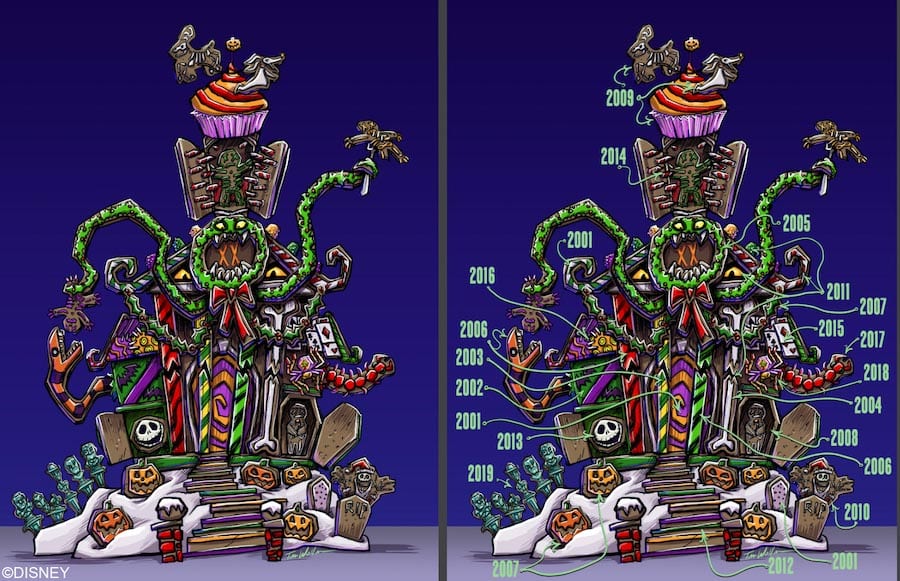 The houses seem to get more elaborate each year, and for 2021, it's no exception! As you can see in the rendering above, a piece from each house is represented in this year's house to create a visually chaotic, yet perfect Dr. Finkelstein-esque mashup! Tim's favorite element? The giant man-eating wreath from 2005!
2001 – Monster House
2002 – Present House
2003 – Giant Oogie Boogie House
2004 – Zero's Dog House
2005 – Giant Man-eating Wreath House
2006 – Monster-infested House
2007 – Jack-in-the Box House
2008 – Giant Gingerbread Coffin House
2009 – Scary-Go-Round House
2010 – Pop-Up Sandy Claws House
2011 – Mimic Monster House
2012 – Jack Skellington's House
2013 – 13 Days of Christmas House
2014 – Gingerbread Zombie House
2015 – Gingerbread Card House
2016 – Stitched-Up-Patchwork House
2017 – Oogie Boogie Bug-infested House
2018 – Giant Gingerbread Spider House
2019 – Haunted Mansion 50 Years of Hauntings House
2021 – Gingerbread Franken-House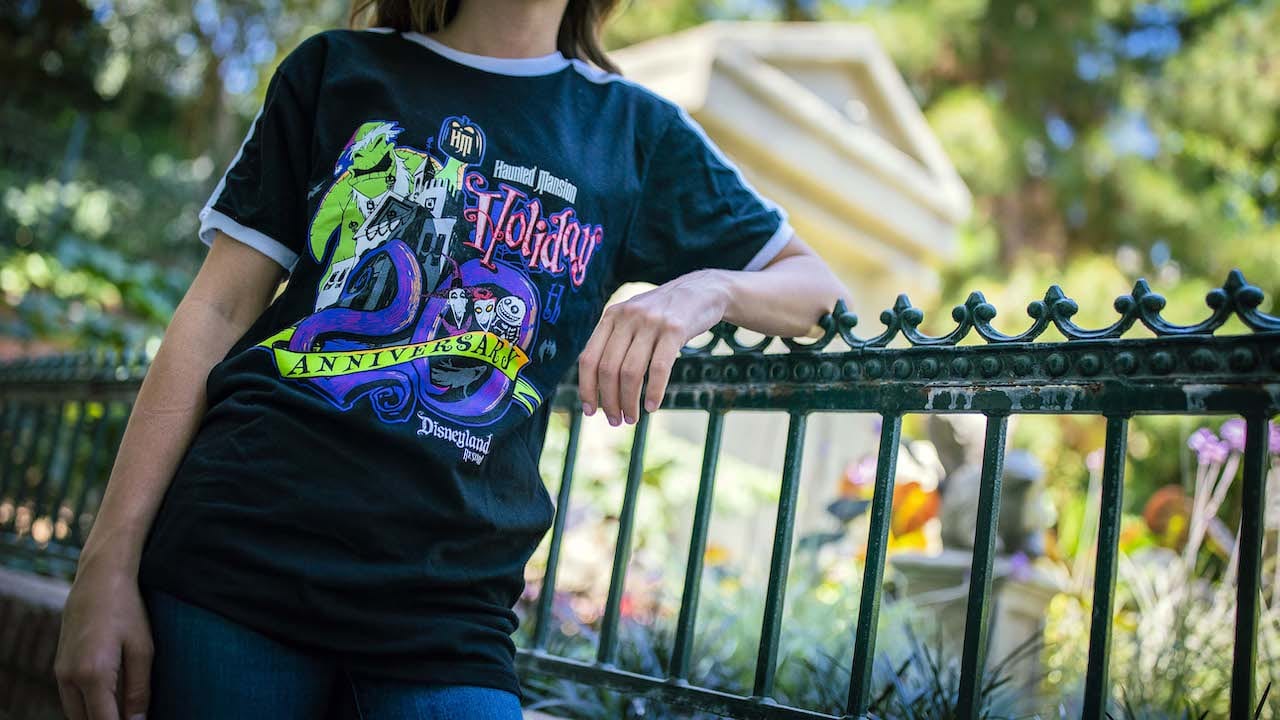 One more scar-ific surprise! There's no better way to commemorate 20 years of screams than with all-new merchandise honoring the Haunted Mansion Holiday anniversary! Coming on Sept. 27 only at Disneyland Resort, here's a first look at a new canteen by Corkcicle, pins and even a T-shirt celebrating the seasonal attraction!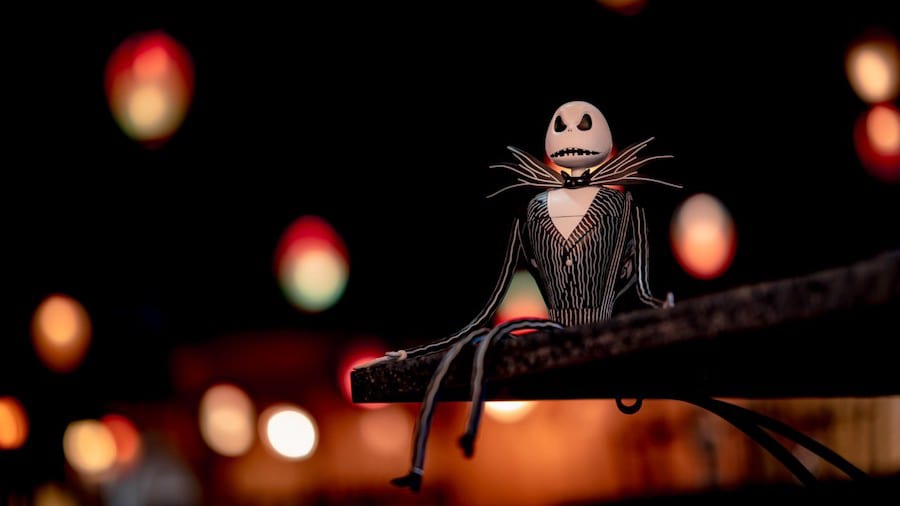 For this week only, in celebration of the 20th anniversary of Haunted Mansion Holiday, fans can get their hands on a Jack Skellington sipper at French Market and Harbour Gallery in Disneyland park NOW through July 18.
RELATED ARTICLE: New Orleans Square at Disneyland Park – What You Need to Know
Walt Disney once said, "Disneyland would be a world of Americans, past and present, seen through the eyes of my imagination — a place of warmth and nostalgia, of illusion and color and delight." This idea can be seen in New Orleans Square at Disneyland Park. Learn more about this amazing land below.
1 – Overview of New Orleans Square
New Orleans Square evokes the energy, elegance, colorful culture, music and architecture of the French Quarter, where guests can celebrate the spirit of this Dixie-loving land. It features the classic Disneyland Park attractions, Pirates of the Caribbean and Haunted Mansion, along with distinctive boutiques and restaurants that give guests a little taste of the Big Easy in the 1800s. From swashbuckling pirates to hitchhiking ghosts to street musicians, New Orleans Square certainly has character.
2 – Can't Miss
Each year, Jack Skellington gives the Haunted Mansion a Christmas makeover, complete with jack-o-lanterns and wreaths, a real gingerbread house and kooky characters from "The Nightmare Before Christmas." Haunted Mansion Holiday is open throughout the Halloween and holiday seasons at Disneyland Park.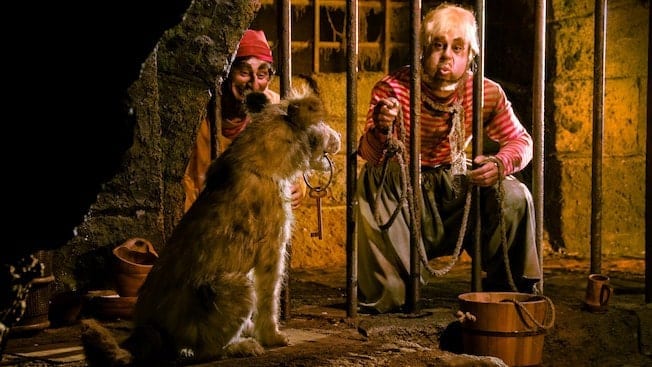 3 – Attractions in New Orleans Square
New Orleans Square has two indoor attractions: Pirates of the Caribbean and Haunted Mansion. In Pirates of the Caribbean, guests set sail as Captain Jack Sparrow attempts to plunder the town's treasures. Ghosts and ghouls await guests who choose to take a tour of the Haunted Mansion. The land also includes New Orleans Square Station, from which guests can embark on a circle tour of Disneyland Park aboard the Disneyland Railroad.
4 – Entertainment
New Orleans Square buzzes with jazz and blues of the French Quarter, with regular performances from live entertainers such as the Royal Street Bachelors, The Bootstrappers and Jambalaya Jazz.
5 – Dining
New Orleans Square is home to the famous Blue Bayou Restaurant, where guests can dine on Cajun and Creole specialties, like the Blue Bayou Bouillabaisse, inside the Pirates of the Caribbean attraction. Cafe Orleans also offers delicious table-service options along the Rivers of America. Guests may grab quick Southern favorites like jambalaya at the French Market Restaurant and gumbo in a bread bowl at the Royal Street Veranda. Guests may even choose to plan ahead and use the mobile ordering feature on the Disneyland app to order their favorite food and beverages from the Royal Street Veranda and Mint Julep Bar.
6 – Imaginative Landscaping
The landscaping in New Orleans Square evokes grace, beauty and history. Towering trees provide shade and seem to have stood there for a century. In fact, some predate Disneyland Park itself. When Pershing Square in downtown Los Angeles was being re-landscaped in the 1960s, Imagineer Bill Evans salvaged some of the park's trees to be replanted in the developing new land.
7 – Fun Facts About New Orleans Square
The Haunted Mansion celebrated its 50th anniversary on August 9, 2019.
Guests can interact with the mysterious pirate Fortune Red (located outside the Pieces of Eight shop and adjacent to the exit of Pirates of the Caribbean) through the Play Disney Parks mobile app, without inserting a quarter. His treasure chest is packed with dozens of fortunes, and a series of tall tales from his adventures on the high seas. Using the app, guests may collect one fortune and a piece of the fortune teller's story each day they visit the park.
The mast of a ship can be seen just over the rooftops of the buildings along Orleans Street, giving the area the feeling of a port town.
Pirates of the Caribbean features more than 120 Audio-Animatronics figures.
New Orleans Square is filled with relics brought back from New Orleans by Walt Disney and his wife, Lillian.
The upper stories of the New Orleans Square buildings are private areas, home to the membership-only Club 33 and 21 Royal, a residence once envisioned by Walt and Lillian Disney as a luxurious oasis for hosting celebrities and dignitaries. Guests who are seeking a one-of-a-kind, unforgettable epicurean experience may book an evening at 21 Royal, complete with fine dining and exquisite service. For details, visit 21RoyalDisneyland.com.
If you look up at the ironwork on the 21 Royal balcony, you'll see the initials W (Walt Disney) and R (Roy Disney, Walt's brother) in the design.
8 – Cast Member Tips
A favorite snack in New Orleans Square is the Mickey-shaped beignets found at the Mint Julep Bar.
The courtyard between French Market Restaurant and Haunted Mansion is a quiet, shady spot – great for relaxing and taking a break.
Guests may plan their visit to the French Market Restaurant around a performance of the Royal Street Bachelors to enjoy great music while dining.
The merchandise locations in New Orleans Square, such as Le Bat En Rouge and Mlle. Antoinette's Parfumerie, are great places to find unique souvenirs and gifts.
Dining reservations are recommended for Cafe Orleans and Blue Bayou Restaurant, as these locations are very popular.
For a no obligation, FREE Quote on a Disney vacation package, please contact our travel partner Magical Vacation Planner at 407-442-0227 (407-442-0215 for Spanish). You can also request a FREE quote online by Clicking HERE.