Disney Springs has quickly become one of our favorite destinations on Walt Disney World property. As if the theme parks, water parks, and resorts aren't captivating enough – Disney has kicked the former Downtown Disney into high gear with the absolute best of the best available at Disney Springs. The best shopping, best entertainment… and the VERY best food. While quick service options at Disney Springs seem limitless, this doesn't mean you should overlook the table service restaurants here. The only difficult question now is where to eat? Check out what we think are the top ten table service restaurants at Disney Springs.
10 – Planet Hollywood
Are you grumbling at our list already?! So, many people associate Planet Hollywood with bad taste. Yes, we totally agree that the old Planet Hollywood was, well, gross. If anyone went to dine at the new Planet Hollywood with a bad taste in their mouths… it was us! To our delightful surprise, however, we've eaten at this new location over five times now and have been incredibly impressed each time. Exceptional service, a vibrant atmosphere (massive screens and awesome music), and yes – shockingly great food is what's happening! Menu favorites for us include the Bacon Mac-n-Cheese (Chef Guy Fieri's award-winning burger), Slow-roasted Chicken, and the L.A. Lasagna. Partner your meal with a specialty cocktail or any favorite beverage from their full-service bar. 
9 – STK Orlando
If you're tired of that same old steakhouse feel – look what we have in store for you! STK Orlando's atmosphere and trendy vibe are what put it on our top ten list. Open for brunch, lunch, or dinner, you'll find that while children are welcome, STK Orlando has a very "adult dining" feel. Modern-elegant (dare we say sexy) touches are everywhere from the sleek seating to the high-end up lighting. We've learned that if dining here, request to be on the second floor outside terrace if at all possible. The inside is beautiful, but the outside is stunning. The food is delicious, but a bit expensive If you've never eaten here, we still recommend it! Enjoy a few appetizers such as the Blue Iceberg, some lively drinks, and of course, the desserts such as the Warm Baked Cookie or Bag O' Donuts on the outside patio for a relaxing evening.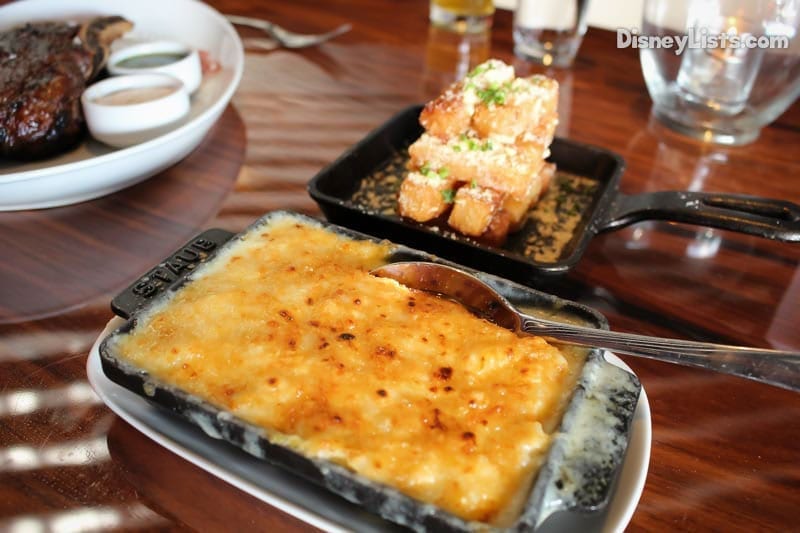 8 – Maria & Enzo's Ristorante
Italian foodies – this one is for you! Disney's theming might seem strange on this one, but they somehow pull it off. It's a culmination of Italian with an airport theme, which makes describing this restaurant rather tricky. The idea is that a 1930 airline terminal has been transformed by Maria and Enzo with touches of elegance. There is no doubt you'll likely notice the 50-foot high ceilings at first, but don't forget to look for the aviation details in the mix. Almost everything on the menu holds an Italian twist with pasta, parmigiana, and fresh vegetables. No worries if you aren't the Italian cuisine type as items like seafood aren't forgotten. Slurp up your last noodle to order the ravioli and gelato. Finally, slip away to Enzo's Hideaway to find a full-service bar!
7 – Paddlefish
Paddlefish can either be a perfect date spot with fantastic views of the water while enjoying the full-service bar, or a fun family dining location to board a boat and dine! The menu also holds excellent variety from a light lunch to a heavy dinner. So, whether you're in the mood for the Crab Cake BLT or a full-on Whole Maine Lobster meal, you'll be able to have it here. While this is definitely a spot for seafood fans, there are options for those that prefer food from above the sea such as a burger or chicken. Dessert highlights are the Key Lime Pie or New York-style Cheesecake.
6 – Jaleo
Chef Jose Andres is the chef behind Jaleo. Named one of Time's "100 Most Influential People" and "Outstanding Chef" by the James Beard Foundation, José Andrés is an internationally-recognized culinary innovator, New York Times bestselling author, educator, television personality, humanitarian and chef/owner of ThinkFoodGroup. Jaleo at Disney Springs features an extensive menu of tapas reflecting the rich regional diversity of traditional and contemporary Spanish cuisine, as well as sangrias and a premier selection of Spanish wines. When sitting down to eat at Jaleo, you might feel overwhelmed by the choices. There are a lot of them. However, your very knowledgeable server will help you understand the menu (it's in Spanish), and will make recommendations. The food is delicious, and dining at Jaleo is an experience that you'll want to set aside time for. This signature restaurant isn't for everyone, but we love so much we think it should be on your dining bucket list!
5 – Morimoto Asia
Cheers to Chef Morimoto from Iron Chef America for unleashing his Pan-Asian cuisine on the Disney Springs scene! Taste your way through the innovative menu with Chinese, Japanese, and Korean dishes boasting filling flavors. Whether you are a chopstick or spoon and fork kind of person, you'll find a way to scrounge up any last piece of rice left on your plate. Don't forget to save room for the unique desserts and even a couple of Chef Morimoto's famous beers. We will say if the Asian cuisine isn't your style, you may want to forgo dining here as that truly is most of the menu. We can't forget to mention that Morimoto Asia is a masterpiece inside with 2-stories and something to dazzle at from top to bottom. Just look at those chandeliers! While the space is large, you don't lose that intimate dining experience here, which is appreciated.
4 – The BOATHOUSE
Known for "Great Food, Waterfront Dining, Dream Boats," that is precisely what you'll find at Disney Springs BOATHOUSE. Enter the Boathouse to be greeted with fantastic views of the water for that ideal waterfront dining. Watch as Amphicars or Dream Boats (cars that are also boats!) take off into the water. All of this to look at, but you'll really be focused on the satisfying food on your plate! Much like Paddlefish above, you'll find seafood is the star here, but Boathouse also has a great selection of non-seafood dishes to choose from. The Dock Side Classics such as the Jumbo Lump Crab Cake really set the stage for the atmosphere you can expect…. casual, comfortable – a true surf and turf beach feel. Just be sure to end your dining experience with the Triple Chocolate Layer Cake or one of the yummy desserts!
3 – Raglan Road Irish Pub & Restaurant
As Disney Springs changes on what seems like a daily basis, we've noticed some restaurants rise while others fall. One restaurant, however, the oldest on this list actually, is Raglan Road. If you are on the hunt for a consistently incredible experience with top-notch food, THIS should be your go-to. Raglan Road seems to have somewhat of a cult following for all the right reasons. We aren't sure if it's the award-winning food, constantly flowing pub drinks, live entertainment, or the little piece of Irish trying to get out in all of us – but YES, Raglan Road has it! Try the Kiss Before Shrimp appetizer, the Worth the Wait Beef Sandwich, Sheperherd's to Die for Pie, or really anything on the menu, and you won't be disappointed. Let the bubbly flow and get ready for a memorable meal!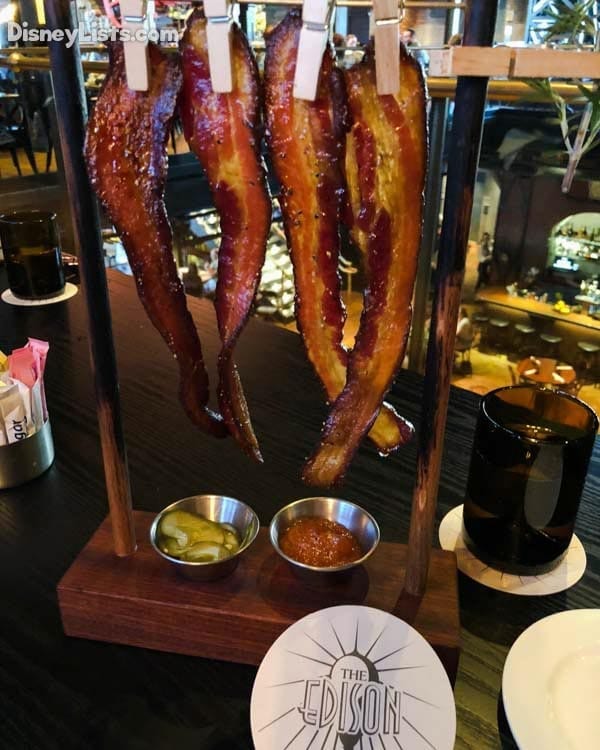 2 – The Edison
Trending as Disney Springs' place to be, The Edison is drawing in the crowds and for a good reason. Industrial-chic (if that's a thing) is how we'd describe the vibe here. Exposed pipes and bricks, metal, unique lighting, and gothic style industrial pieces decorate the restaurant's seven rooms – themed to look like a remodeled electric company from the 1920s. Don't be surprised to spot some exciting entertainment while dining here at any hour. Entertainers have been known to make appearances. It's a great experience to be sipping on a specialty cocktail while seeing aerialists at their finest! The DJ keeps the music going, and the bartenders and servers are very energetic… just adding to the nightly party. The menu at The Edison isn't huge but features primarily American cuisine such as burgers and salads. The highlights are definitely the interesting appetizers, a strong list of desserts, and of course, the full-service bar drinks.
1 – Chef Art Smith's Homecomin'
If you've ever eaten here or even talked with someone that has eaten here, chances are you aren't surprised Chef Art Smith's Homecomin' ranks number one on our list! Why? The FOOD. If you're looking for your taste buds to remember a meal and desire to visit on repeat so you can experience the great taste, again and again, stop off at Chef Art's. We know trends come and go, but we believe this restaurant will stick around for the long haul… becoming a Disney Springs classic that never tires with trends. The Florida grown ingredients, stately yet straightforward menu, peaceful atmosphere, and Shine Bar, set Chef Art's apart. Something about its simplicity is what makes it unique to other Disney Springs restaurants. Just let a few of these menu items speak to you: Church Lady Deviled Eggs, The Country Club, Addie Mae's Chicken and Dumpling Soup, Fried Chicken & Doughnuts, Shrimp and Grits, Braised Short Ribs, Momma's Mac and Cheese… now tell us this doesn't already sound like home! Partner these with a little Moonshine and YES – you'll be making your next reservation asap!
For a no obligation, FREE Quote on a Disney vacation package, please contact our travel partner Magical Vacation Planner at 407-442-0227 (407-442-0215 for Spanish). You can also request a FREE quote online by Clicking HERE.