When we visit Epcot, we can't help but go with the motto, "Life is short. Eat dessert first!" So, don't judge us, but we tend to prioritize desserts at Epcot. The attractions are amazing, the entertainment is superb, the architecture is beautiful, and the beverages can't be beaten! But – it's the desserts that we find ourselves craving. Taste your way through what we feel are the top ten desserts at Epcot… because life is short. Eat dessert first!
9 – Funnel Cake @ Funnel Cake – The American Adventure
You may be thinking this list is off to a bad start, but trust us, it's not. You can enjoy a delicious classic funnel cake and cookies and cream flavors all year round. However, what really sets this location apart is the seasonal offerings during the Epcot festivals. In the spring, the blueberry lemon funnel cake is to die for. In fall 2021, the Food and Wine seasonal flavor is a Mini Candied Bacon S'mores funnel cake with vanilla ice cream. Hello, bacon. Need I say more?
8 – Gelato @ Via Napoli Ristorante e Pizzeria
This dessert tastes as good as it looks! Visit Via Napoli in the Italy Pavilion of Epcot's World Showcase for an excellent table service restaurant known for its amazing Italian pizza. But the pizza here isn't the only mouthwatering dish to enjoy! The Gelato is an Italian-style ice cream that is delicious. Flavors include pistachio, chocolate, vanilla, cookies and cream, and lemon sorbet.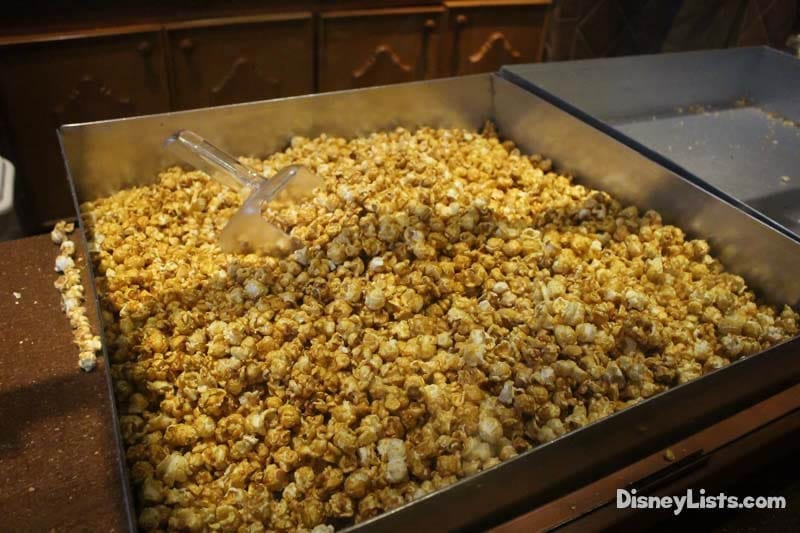 7 – Caramel Popcorn @ Karamell-Küche
If you're a fan of Werther's Original Caramel – you MUST stop in to visit Epcot's German Pavilion, where you'll find a cute bakery known as Karamell-Kuche. This quick-service spot is known for its tremendous desserts, with almost all of them boasting the Werther's Original Caramel. While you can go all out and get some wonderfully intricate desserts, or go to here is the simple Caramel Popcorn. It's ridiculously good and super easy to eat on the go!
6 – Churros @ La Cantina de San Angel
What's a dessert list without some churros, right?! Head over to Epcot's Mexico Pavilion, where you'll find La Cantina de San Angel, a quick-service spot favored among many. The Mexican food here is fantastic, plus if you can snag a seat – the views are spectacular. We are especially fond of the churros with caramel sauce (because what doesn't taste even better when dipped in caramel!)
5 – Maple Creme Brulee @ Le Cellier Steakhouse
We are doing our bodies a favor when we eat the maple creme brulee at Epcot's table service restaurant, Le Cellier Steakhouse. Just be sure to snag a reservation at this location well in advance (60 days if possible), as it is a popular Epcot restaurant for a good reason!
4 – School Bread @ Kringla Bakeri Og Kafe
Head on over to Kringla Bakeri Og Kafe located in Epcot's Norway Pavilion. Before you rush off to the Frozen Ever After attraction, don't pass up the sweet treats available here! One of our favorites (and very popular among many) is the School Bread. The sweet Cardamom bun is filled with a vanilla crème custard and topped with perfectly glazed and toasted coconut. We aren't typically fans of of custard fillings, but the School Bread is an exception. Maybe it's the bun or the coconut – but it all just goes together oh so well.
3 – Mousse au Chocolat @ Les Halles Boulangerie-Patisserie
EVERYTHING… we repeat… EVERYTHING at Les Halles Boulangerie-Patisserie in Epcot's France Pavilion is what makes up a dessert foodies heaven. While selecting just one dessert from this location is pretty much impossible, our usual pick has to be the Chocolate Mousse. We could eat literally five of these and still want more. The chocolate mousse is so smooth and creamy with a perfect dose of sweet-to-rich ratio. It feels like we single-handedly financially support Les Halles when on vacations at Disney! You just can't go here enough.
2 – A Variety of Desserts @ Sunshine Seasons
Getting a good dessert at a quick-service restaurant at Walt Disney World can be challenging. We always feel that Sunshine Seasons, the quick-service spot in The Land pavilion of Epcot's World Nature, is a rare exception. For years, I've enjoyed the Strawberry Shortcake, and it's a dessert I can always count on to be delicious. Other fantastic desserts rotate through on the menu, such as a Lemmon Chiffon, seasonal cupcakes, cookies, and more. During the 50th-anniversary celebration, you can get a very delicious Mini Chocolate Bundt Cake. There are so many fantastic options to choose from; you can't go wrong at Sunshine Seasons!
1 – Apple Strudel @ Biergarten Restaurant
Guten Tag dessert lovers! We've saved the very best for last. Grab your lederhosen and dance with us to Epcot's Germany Pavilion, where you'll find a favorite table service restaurant, Biergarten. The all-you-can-eat buffet is exceptional, with memorable German cuisine. Go right ahead and have dessert here FIRST if you can't resist the temptation of the fresh daily, hand-pulled Apple Strudel. Drizzle a little cream on it, and try to remember to stop and breathe while you're devouring it. Just remember – you can always go back for more. The runner-up at Biergarten would have to be the Bavarian cheesecake. Goodness awaits!