Epcot is full of fantastic attractions, incredible entertainment, and endless food and beverages. With some of the very best table and quick service restaurants on Walt Disney World property, it's a difficult task limiting down where and what to try to eat next. So, try it ALL (or at least as much as you can!) by snacking through Epcot. While most of our top nine snack selections are available at quick-service locations, we did mention a few table-service restaurants, so you'll have options if you decide to dine in. Without further ado… let's eat!
9 – Cookies n' Cream Funnel Cake
@ Funnel Cake Kiosk (Quick Service) – The America Adventure Pavilion, World Showcase
Let's kick this list off with a classic snack! No trip around Epcot's World Showcase is complete without a Funnel Cake from the Funnel Cake Kiosk located in the American Adventure pavilion. There are four fantastic Funnel Cake options on the menu here including: the Funnel Cake with sugar (the classic choice), Funnel Cake with chocolate sauce, Funnel Cake with vanilla ice cream, and last but not least… the memorable Cookies n' Cream Funnel Cake with sugar, vanilla ice cream, crushed cookies, and chocolate sauce. Go big or go home and enjoy the Cookies n' Cream option!
8 –  Jumbo Turkey Leg
@ Fife & Drum Tavern (Quick Service) – The American Adventure Pavilion, World Showcase
While we're talking about the American Adventure pavilion, let's chat about Fire & Drum Tavern. Well, this little kiosk holds the infamous Jumbo Turkey Leg you may notice someone snacking on from far away because of its sheer size. Don't be shy to snack on your Turkey Leg like a caveman as you enjoy the juicy meat and great seasoning. Even better – order a Frozen Lemonade Slushy to go with it.
7 – Scotch Egg
@ Rose and Crown Dining Room (Table Service) – United Kingdom Pavilion, World Showcase
Ok, this one may seem like an odd choice, but if you are a fan of eggs, the Scotch Egg appetizer at Rose and Crown table service restaurant is a must-try at Epcot. Expect a perfectly cooked, golden-fried hard-boiled egg wrapped in sausage with mustard sauce. Plus, the eggs at cage-free. This British Pub is calling your name!
6 – School Bread
@ Kringla Bakeri Og Kafe (Quick Service) – Norway Pavilion, World Showcase
If you've never been to Kringla Bakeri Og Kafe in Norway's Pavilion, you MUST visit on your next trip! Multiple snacks and desserts await, including the amazingly tasty School Bread. School Bread is filled with custard and dipped in coconut. Delicious!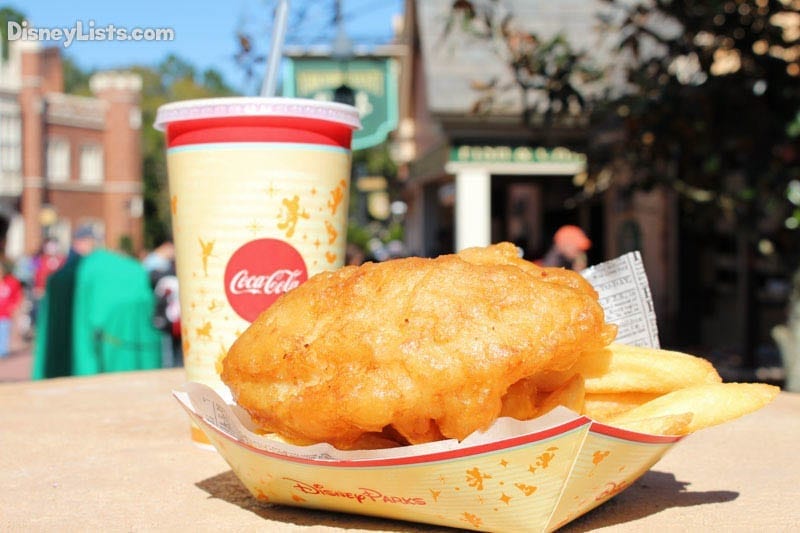 5 – Fish & Chips
@ Yorkshire County Fish Shop (Quick Service) – United Kingdom, World Showcase
Another seafood favorite to hit our favorite snack list! This time it's a wonderfully fried fish and what our British friends call "chips". So, look for the Yorkshire County Fish Shop kiosk located near Rose and Crown and be sure to pick up some Fish and Chips for the road. You'll receive two strips of fish served with chips (aka fries). It's a perfect salty snack that is extra yummy when dipped in tarter sauce.
4 – Pot Stickers
@ Nine Dragons Restaurant (Table Service) – China Pavilion, World Showcase
We can't help but take you back to China to a well-known table service restaurant called Nine Dragons. If you're looking for something filling enough to serve as a snack but not too much for a meal, we'd recommend the Pot Stickers. We can't get enough of these pan-fried chicken and vegetable dumplings. Dip them in the soy sauce it comes with and you'll likely want a round of seconds!
3 – Empanadas de Barbacoa
@ Choza de Margarita (Quick Service) – Mexico Pavilion, World Showcase
One word – Margaritas! YES, Choza de Margarita (which pretty much means Hut of Margaritas), is the place to be at Epcot. We absolutely love the margaritas here, and the options seem limitless. But with these refreshing beverages, you'll want a sustainable snack to go along with it. We'd recommend the Empanadas de Barbacoa. These empanadas are filled with barbecue beef and topped with chipotle sauce, crema Mexicana and queso fresco. They even come served with a side of corn tortilla chips. We love empanadas and we love barbecue, so the culmination of the two is perfect.
2 – Canadian Cheddar Cheese Soup
@ Le Cellier Steakhouse (Table Service) or Canadian Global Marketplace – World Showcase
If you are able to snag a dining reservation at the popular Le Cellier Steakhouse, you'll want to be prepared to try a variety of menu items. One option in particular that we'd have to recommend is the Canadian Cheddar Cheese Soup. If we could only snack on this Moosehead Beer and Nueske's Applewood-smoked bacon soup for our meal, we'd be totally fine with that! If you can't (or don't want to) snag that dining reservation and are visiting during the Food & Wine Festival (July-November), you'll be able to get the Canadian Cheddar Cheese Soup at the Canadian Global Marketplace.
1 – Seasonal Cupcake
@ Sunshine Seasons (Quick Service) – World Nature
Disney loves creating fantastic seasonal cupcakes. Over at The Land pavilion in World Nature, you'll find the quick-service location, Sunshine Seasons. Check out their bakery display cases to spot the latest trendy cupcake. It will likely look too good to eat, but trust us – in one bite, you won't be disappointed you're devouring this one! We've never been disappointed yet!
For a no obligation, FREE Quote on a Disney vacation package, please contact our travel partner Magical Vacation Planner at 407-442-0227 (407-442-0215 for Spanish). You can also request a FREE quote online by Clicking HERE.