There are so many delicious eats throughout the entire Magic Kingdom that it is extremely difficult to pick the top 10, but we went ahead and made our best effort to narrow it down. With so many options when you are looking for something quick, this may help you out! Here is a look at the ten best quick eats when you are at the Magic Kingdom:
10 – Dole Whip – Aloha Isle, Adventureland
The Dole Whip is one of the most popular treats in all of Walt Disney World.  This used to be the only location where you could find this refreshing treat, but it has since spread to other parks and resorts around Walt Disney World.  This pineapple soft serve is a treat that you don't want to miss out on trying!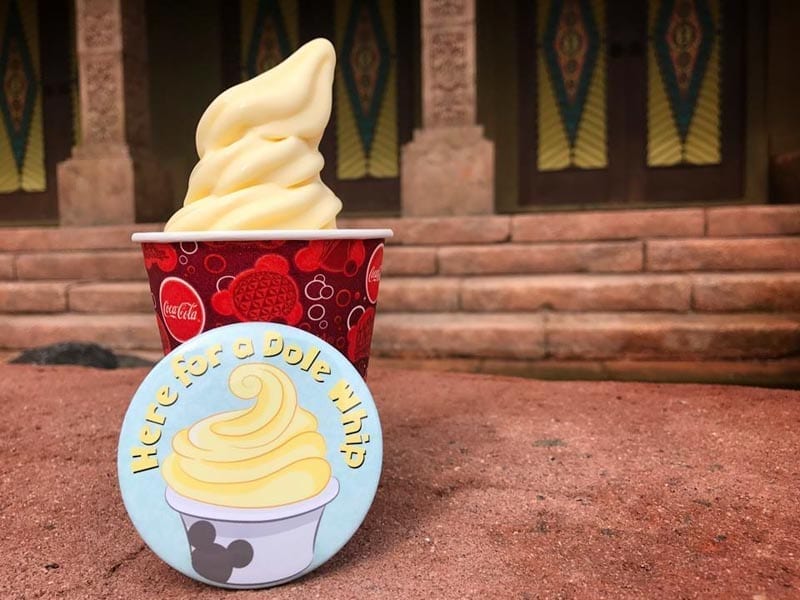 9- Walt's Chili-Cheese All-Beef Foot-long Hot Dog – Casey's Corner, Main Street, U.S.A.
Casey's Corner is home to some of the unique hot dogs you will experience. During the 50th Anniversary celebration, you can enjoy one of Walt Disney's favorites: a chili-cheese all-beef foot-long hot dog! This one features Walt's favorite chili recipe and cheese!
8 – Lobster Roll – Columbia Harbour House, Liberty Square
The delicious take on the lobster roll is made with chilled lobster with a touch of mayonnaise on a New England-style bun, served with house-made french fries. This perfect roll is an authentic taste of New England and unlike anything you would expect to find within a theme park.
7 – Cinnamon Rolls – Gaston's Tavern, Fantasyland
For the best cinnamon rolls ever, you have to head on over to Gaston's Taverns and have one of these. They are huge, warm and covered with icing. You can also try out the popular LeFou's Brew while there. It is a perfect spot to stop for a little treat to recharge so you can tackle the rest of your day at Magic Kingdom.
6 – Tots and Cheese Sauce – The Friar's Nook, Fantasyland
This tasty snack is a tray of crispy tots with cheese sauce. The combination of flavors is delicious and one you definitely must try.  Definitely consider this one when you are looking for a quick snack to enjoy.
5 – Fajita Platter – Pecos Bill Tall Tale Inn and Café, Frontierland
This delicious entrée is served with spicy barbacoa beef and seasoned chicken with yellow rice, beans, fajita vegetables, and flour tortillas.  It is a pretty hearty meal, so definitely make sure to come hungry for this one.
4 – Flatbreads – Pinocchio Village Haus, Fantasyland
There are a variety of different flatbreads that are offered, like the All-Meat Flatbread, Gourmet Cheese Flatbread, and Pepperoni Flatbread.  If you pick the right seat, you can even watch guests on It's A Small World while you dine, making the experience extra magical.
3 – Waffle Sandwiches – Sleepy Hollow, Liberty Square
You can't go wrong with any of the waffle sandwich options at Sleepy Hollow.  My personal favorite is definitely the Fresh Fruit Waffle Sandwich, which is a delicious fresh waffle that is topped with chocolate-hazelnut spread and fresh fruit.  There is also the Sweet and Spicy Chicken Waffle Sandwich, which is a tasty mix of sweet and savory flavors.
2 – Cheshire Cat Tail – Cheshire Café, Fantasyland
This sweet treat is as cute as it is delicious.  It is a delicious pastry topped with purple and pink icing stripes, making it the perfect themed treat to snack on. Do note this item may be offered seasonally and not all the time.
1 – Ice Cream Float – Auntie Gravity's Galactic Goodies, Tomorrowland
An ice cream float is a favorite for adults and kids alike.  The ice cream float at Auntie Gravity's is a great way to cool down during a hot day in the parks.  With this ice cream float option, you get to choose your fountain beverage as well as what soft-serve ice cream you want. You can go for a classic float like root beer with vanilla or you can try something totally unique!
For a no obligation, FREE Quote on a Disney vacation package, please contact our travel partner Magical Vacation Planner at 407-442-0227 (407-442-0215 for Spanish). You can also request a FREE quote online by Clicking HERE.