Maya Grill is definitely a forgotten restaurant that is often overlooked because of the location.  Restaurants that don't reside within one of the theme parks or other popular areas around Walt Disney World are often overlooked, which is a mistake.  Here are 8 things you need to know about Maya Grill:
8 – Where is the restaurant located?
Maya Grill is located at Coronado Springs Resort in Walt Disney World. The resort is located close to Disney's Animal Kingdom theme park, which is also close to Blizzard Beach Water Park. Once you arrive at the resort and enter the lobby, you head directly to the left and down a hallway, and you will reach the entrance to the restaurant.
7 – Know your transportation options to get there.
Currently, bus transportation is the only transportation option to get to Coronado Springs. There aren't buses that go between resorts, so you will have to travel to one of the theme parks or Disney Springs and then catch a bus to Coronado Springs from there. You can also drive your own car there if you have one on property.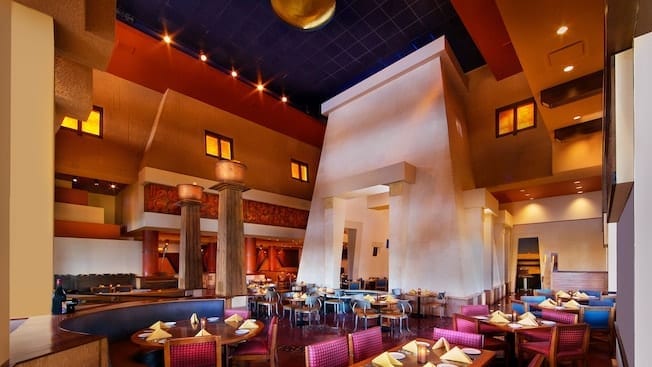 6 – The cuisine is inspired by Southwest American and Mexican flavors.
The cuisine at the restaurant is a delicious southwestern and Mexican influence that is absolutely amazing. The menu is a good mix of classic Mexican dishes and a few American Tex-Mex style dishes. This also carries into the atmosphere of the restaurant with Mayan design influences that tie in perfectly with the menu offerings.
5 – The restaurant is only available for dinner service.
Unfortunately, there are no breakfast or lunch services currently at this location. The location is only open for dinner. You can make Advanced Dining Reservations to dine there, and we always recommend that you do so. This restaurant is usually one where you can walk up and get in, but it is still advisable to try to get a reservation so that you don't have to worry about it.
4 – There is musical entertainment during the meal.
There usually is a musician/singer that makes their way around the restaurant during the meal. They will make their way around the restaurant performing during the meal and creating a fun atmosphere that is great for the family, an adult evening, or even a date night. The performer will serve as the host for the evening and also announce birthdays, anniversaries, and other celebrations throughout the evening.
3 – The menu experiences seasonal changes.
The menu at the restaurant offers seasonal favorites. Many of these menu selections are signature items with premium cuts of meat and seasonal options. The menus change based on the availability of the ingredients as well as the actual seasons. Many of the Disney restaurants like to update their menus to include items with seasonal flavors and ingredients, which help to keep the menus fresh and relevant.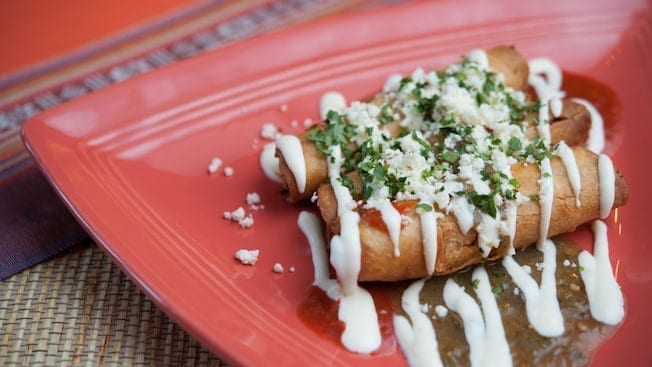 2 – Don't skip out on the alcoholic beverages.
There are fantastic drink options at this location. As you might expect, there is a nice sampling of unique margarita flavors. If you aren't sure which margarita flavor that you want to commit to, then you can also try the Margarita Flight. This will give you a shot glass sample of 3 different specialty margaritas. There is also a wide variety of wines and beers available, too. This is definitely an excellent place for a drink with dinner.
1 – The food is delicious!!!
If you didn't guess already, the food here is absolutely amazing. As a huge guacamole lover, I can't get enough of the fresh guacamole. We love the variety in the entrée selections so that no matter what you are feeling, you can find it. Sometimes I go fish tacos, while other times I go for the steak. Then be sure to save room for dessert, as a little bit of sweet goes perfectly after enjoying the Mexican spices. It will be tough to pick which dessert to try but all of the choices are frantastic. You will definitely want to come hungry to the meal so that you get to enjoy it all!
For a no obligation, FREE Quote on a Disney vacation package, please contact our travel partner Magical Vacation Planner at 407-442-0227 (407-442-0215 for Spanish). You can also request a FREE quote online by Clicking HERE.