The Japan pavilion in the World Showcase at Epcot is easily one of my favorite pavilions. I love shopping at the Mitsukoshi Department Store, and watching people pick a pearl. Katsura Grill is one of my go to quick service locations at Epcot, and I love just wandering through the pavilion taking in all the beautiful details and listening to the taiko drums. But my favorite thing to do at the Japan pavilion is eat at Teppan Edo. Here's why we love Teppan Edo.
1 – The Experience
The first thing that comes to mind when we think of dining at Teppan Edo is the experience. Teppan Edo isn't just a regular dining location (but nothing at Disney really is!) Teppan Edo really puts on a show.  It feels like an event when you eat here. From the moment you check in and the hostess seats you, right up until the moment before you leave, you have gotten a taste of the Japanese culture through the food, the people, and the décor, all of which play a part in the dining experience created for guests at Teppan Edo.
Depending on the size of your party, you may be seated with another group of diners, which adds to the communal style of the meal. The seating arrangement around the grill promotes chatting and socializing with new people and fellow Disney fans.
Besides the food, the real show and draw here is having a chef cook a traditional Japanese meal for you right in front of your eyes. The chefs here show off their talents and dazzle guests with their knife skills while they masterfully create your meal.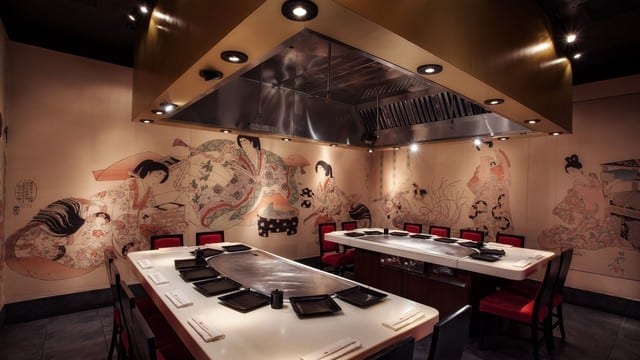 2 – The Food
One of the main reasons we love Teppan Edo has to be the food. They serve all your Japanese cuisine favorites such as edamame, sushi, and miso soup as starters. Entrees, which the chef at your table cooks, are served with udon noodles or steamed rice, and they are accompanied by a trio of delectable sauces. Entrees range from chicken, vegetables, seafood and steak; you can even combine some of these into one dish. Each is seasoned subtlety and cooked to perfection. Teppan Edo can also be very accommodating to those with dietary restrictions, such as dairy, nuts, or gluten.
Although the menu might not be what some guests are accustomed to, the food is very accessible and the perfect restaurant for someone to try who is looking to branch out in their culinary adventures.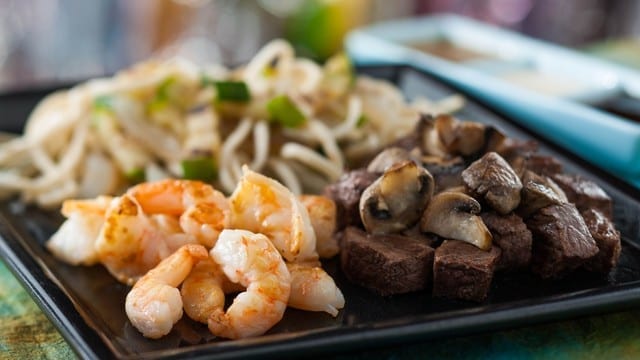 3 – Indulgences
The desserts at Teppan Edo are not to be missed. They have some really unique offerings that compliment the entrees very nicely. Currently, they are serving three varieties of mousse cakes. There's Chocolate Ginger Cake, Yuzu Mousse Cake, and Mango Mousse Cake. Each cake has several layers, featuring sponge cake and a wonderful topping, be it a delicate glaze, whipped cream, or frosting. They are delicious, and you should try them all! Ordering one of each and sharing it among your party is a great way to sample each mousse cake. They also serve soft serve ice cream. There's vanilla for the ultimate classic dessert or green tea soft serve, or get the best of both worlds and order a vanilla green tea swirl!
Teppan Edo also has beer from Japan, sake that can be served warm or cold, or sake cocktails. Teppan Edo has some interesting and amazing menu items to choose if you want to indulge in a sweet treat or an alcoholic beverage.
4 – Those Magic Moments
Although you won't find any Disney princesses or characters here, Teppan Edo is not void of magical moments or those Disney details. The hostesses, servers, and chefs do a wonderful job of making the dining experience memorable for guests. The chef's best magical moments usually come during the 'show'. I've seen one chef who delicately wrote Disney in the iconic font using oil as he prepared the grill for cooking. It was a little detail that surprised all the diners and sprinkled a little extra pixie dust over our meal. The chefs often create characters, like Goofy and Mickey, out of onions as they cook them on the grill. It's great fun watching the chef work and build something piece by piece and try to guess just what he's doing! I have also seen the chefs pose for photos with people who are celebrating an engagement or a birthday. And, of course, there is always the onion volcano, which erupts with steam! These are little extras that the cast members add to the dining experience to make it a magical and memorable one.
The atmosphere, culture, and food at Teppan Edo all come together to create a totally unique dining experience: part lunch/dinner and part show. If you haven't been to Teppan Edo yet, put it on your must-do list for your next Disney trip and experience the Japan pavilion at its finest.
For a no obligation, FREE Quote on a Disney vacation package, please contact our travel partner Magical Vacation Planner at 407-442-0227 (407-442-0215 for Spanish). You can also request a FREE quote online by Clicking HERE.