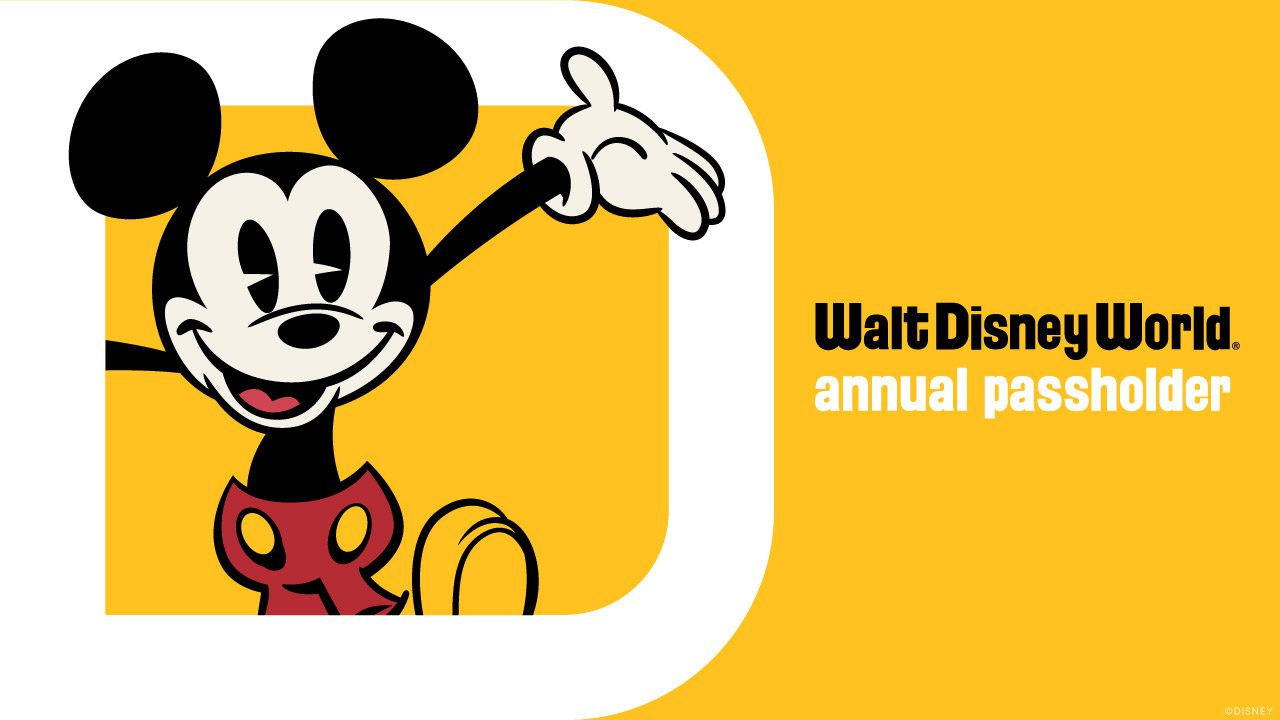 This week Disney announced details on new annual pass ticket options. The annual pass program at Walt Disney World has a new logo along with new ticket names and benefits. Not surprisingly, prices were increased. What disappointed most people was the realization that some popular benefits were removed along with the price increase. As a result, there have been many questions and confusion regarding the new ticket options and programs. We've got the eleven things you need to know and our thoughts about the new passes below.
1 – New Ticket Options and Names
Available to All Guests:

The Incredi-Pass is the only pass available to non-Florida residents. Previously, out-of-state guests could choose between the Platinum and Platinum Plus passes, but the Platinum Plus level pass has essentially been eliminated.
One HUGE change here is the elimination of the Florida Resident discount for the top-level annual pass. The Incredi-Pass now costs the same for all guests, regardless of where they live. We'll have more on how much more the new passes cost below.
Only Available to Florida Residents and DVC Members:
Only Available to Florida Residents: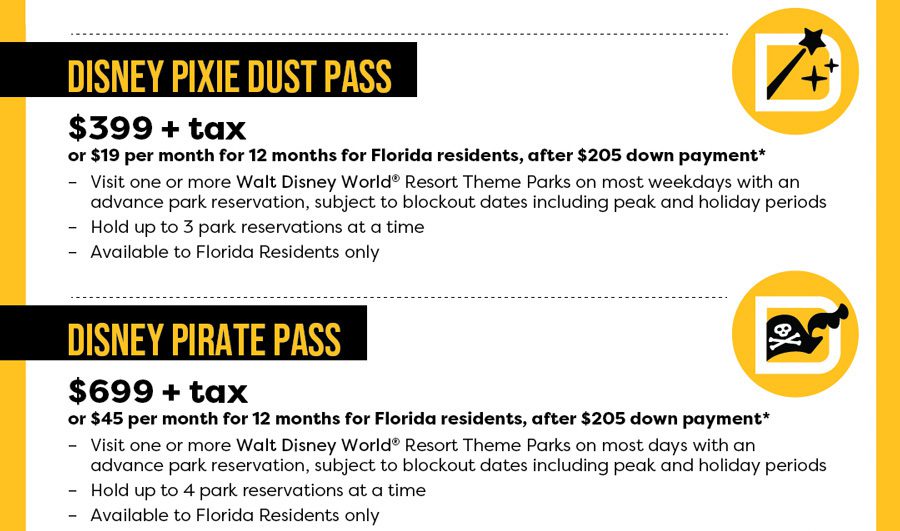 2 – Are All the Old Passes Available Just with Different Names?
No. Comparable passes to the Platinum Plus Pass, Theme Park Select, and EPCOT After 4 passes are no longer available.
3 – A New Benefit
Depending on your pass level, guests will be able to make up to five park reservations at a time. This seems to indicate that the park reservation system, first introduced as a way to manage park capacity when the parks reopened in July 2020, is here to stay. The Incredi-Pass and Sorcerer passes allow for five park reservations. Pirate passes allow four park reservations at a time. The Pixie Dust Pass offers guests three park reservations at a time. Previously, annual passholders were only allowed three park reservations, and at times that was very limiting, so more park reservations are welcome.
Please note, current passholders will receive more park reservations beginning September 8, depending on your pass level (for more on current passholders, see #10).
4 – Free Parking and Merchandise Discount Remain
With all the changes and new fees we're seeing at Walt Disney World, one benefit we were worried about was free parking at the theme parks. Thankfully, the free parking benefit is still included. This really is a huge deal since theme park parking is $25 a visit. If I had to pay $25 for every visit, I would not renew my pass, and we suspect many other passholders wouldn't either. Thankfully, the free parking benefit lives to see another year!
Another benefit we're thrilled to see sticking around is the 20% off merchandise discount. Considering for many years (until recently) the discount was only 10%, we're very happy to see that not only a discount is included but is staying at 20%. So if you purchase a lot of merchandise throughout the year, that discount really does help offset the cost of the pass.
Finally, if you collect passholder magnets, then you'll be happy to hear that Passholders will receive a magnet with the new logo. But, honestly, a free magnet, which happens to get thinner and flimsier every year, isn't exactly a fantastic benefit.
5 – One Benefit is No Longer Included but Can be Purchased at a Discount
For several years, annual passholders received unlimited PhotoPass downloads for free as part of their annual pass benefits.  Unfortunately, that benefit has been eliminated. Passholders now have the option to add Disney PhotoPass to their annual pass for $99 for the year. Considering that guests visiting on vacation pay $169 in advance and $199 for their PhotoPass downloads, the discounted price does offer savings. However, it's hard to be excited about paying for a benefit that used to be free. If there is a silver lining to this, do note that "Family and Friends" can share photo download benefits. So, if you are a family of five, only one person needs to add the PhotoPass option to their pass. As long as the rest of your family (or friends) are included in your list on the MyDisney Experience app, that one person can download the photos. This is the policy at least for now. We wouldn't put it past Disney to remove the ability to share "Family and Friends" photos in the future.
6 – What About Water Parks?
This change is actually a good one for guests considering an annual pass, and (unlike Genie+) actually does provide guests more flexibility and choices. Admission to Blizzard Beach and Typhoon Lagoon was previously only included in the Platinum Plus Pass. In order to include the water parks, guests had to purchase the most expensive pass.
Now, the water park option can be added on to any level pass. This actually does give you flexibility and choice based on your needs and allows more people to enjoy the water parks without needing to purchase the top ticket. So, if you want to purchase the Pixie Dust pass and add the water parks, you can do that. Granted, you could have just purchased a Water Park annual pass in the past, but it was $140, and then you had two different tickets. Water Park annual passes have not been available since Blizzard Beach reopened in March 2021, and there is no indication they will return, so the add-on option is the only option to get a water park annual pass at the moment.
7 – How Much More are the New Passes?
Are you sitting down? Good. Because ticket prices did jump quite a bit. The last time we saw a price increase was in 2019, and prices jumped substantially then as well. New annual passes have not been available since the parks reopened in July 2020, so we were expecting a big jump, and they did jump (more than we would have liked, but less than we feared). Take a look at the chart below:
Pass Name
New Price/ Renewal Rate
Price of previous comparable pass
Difference
Disney Incredi-Pass
$1,299/$1104
$1,195 (Platinum-Out of State)

$899 (Platinum-Florida Resident)

+ $104 (out of state)

+ $400 (FL resident)

Disney Sorcerer Pass
$899/$764
$719 (Gold pass)
+ $180
Disney Pirate Pass
$699/$594
$539 (Silver pass)
+ $160
Disney Pixie Dust Pass
$399/$339
$369 (Weekday select)
+ $30
To get the similar benefits of the old Platinum Plus pass, guest will now have to pay $1,499 ($1,299 + $100 (photos) + $100 (water parks) = $1,499). That's a $394 increase for out of state guests and a $499 increase for Florida residents. Ouch.
I renewed my Gold Pass in March of this year for $594. When it's time for me to renew, I'll need to pay an extra $170 just to get a pass with comparable blockout dates, and I will need to cough up another $100 for photos, so a total of an extra $270 to get the same benefits. That's a lot too.
8 – Don't Forget About Blockout Dates
Blockout dates used to be pretty straightforward with the old passes. The top two pass options had no blockout dates. The Gold Pass had restrictions around Easter and Christmas. The Silver added summer dates to the holiday restrictions. Finally, the Weekday Select pass allowed for most weekdays. That generalization and simplicity are now gone. Popular dates, like October 1, other holidays like Columbus Day weekend, Thanksgiving, etc., are now blocked out for the Pirate Pass. When considering what level you want to purchase, be sure to look at the blockout dates for the pass. You don't want to be surprised and upset that you can't visit when you want.
There is a lot of outrage with the new blockout dates. My sister and her family moved to Orlando in July 2020 and have eagerly been waiting for the day they could purchase annual passes. They were planning on purchasing the Gold Pass since most of us locals don't want to be in the parks during the busiest times of the year anyway (Easter and Christmas weeks). Based on the 2019 prices, they were planning on spending about $720 per pass. With the new tickets, the $720 budget now only gets them the Pirate Pass (comparable to the old Silver Pass) with a lot more blockout dates. If they want the pass with blockout dates that were comparable to the old Gold pass they would have to choose the Sorcerer pass at $899. And she would need to pay $100 for the photos. Much more than the $720 they were planning on paying. For a family of five, spending an extra $179 per person is a really big deal.
Click here for Blockout dates for the Sorcerer Pass.
Click here for Blockout dates for the Pirate Pass.
Click here for Blockout dates for the Pixie Dust Pass.
 – What About Current Passholders?
Current annual passholders will continue to hold the same benefits and blockout dates of their current pass through their expiration date. Guests will have to choose a new pass option when (and if) they renew their pass. Do note that if you are in your current renewal window, you CAN choose to renew into one of the current annual passes through September 7, 2021 (and we highly recommend that you do that!) On September 8, all renewals will have to choose from one of the new passes. Again, if you are a current annual passholder and have the option (and desire) to renew before September 8, we highly recommend doing so to retain the old pricing and benefits for an extra year!
Current passholders will also be receiving more park reservations allotments beginning September 8. Here are the new numbers:
Platinum Plus, Platinum and Gold Annual Passes: Up to 5 reservations held at a time
Silver Pass: Up to 4 reservations held at a time
Like before, if you are a Disney Resort guest, park reservations made during your resort stay are on top of your normal annual pass park reservations.
Disney has also stated that beginning September 8, current annual passholders may receive "bonus reservations" on select days that do not count as a reservation hold. Since capacity limits have been greatly increased this summer and reservations are not really hard to come by, this doesn't exactly have us jumping up and down, but we'll take whatever we can get.
10 – The Bottom Line
New tickets go on sale on September 8, 2021. We know a lot of people are trying to figure out what pass is right for them. My sister is trying to figure out how much she wants to stretch her budget. Unfortunately, we're seeing more and more people being priced out of going to Walt Disney World. Ticket prices have jumped, benefits are being taken away, and more fees are coming. It's getting harder and harder to justify spending the amount of money needed to visit Walt Disney World. There will be plenty of people who will pay no matter what it costs, but more families than before will choose not to go because of these price increases, and that is really unfortunate.
We've been annual passholders since 2005 and have seen a lot of changes with the program, and we expect regular price increases (Yes, prices go up. It's how the world works.). We are Disney shareholders, so we understand that Disney is a business, and we want Disney to be profitable. However, with big price increases AND many benefits taken away, this latest round of changes hurt more than most. Add to this the fact that we now have to pay for Disney Genie+ for Lightning Lane access (and pay even more if we want access for the really popular rides), and we are left with a very bad taste in our mouths.
For a no obligation, FREE Quote on a Disney vacation package, please contact our travel partner Magical Vacation Planner at 407-442-0227 (407-442-0215 for Spanish). You can also request a FREE quote online by Clicking HERE.