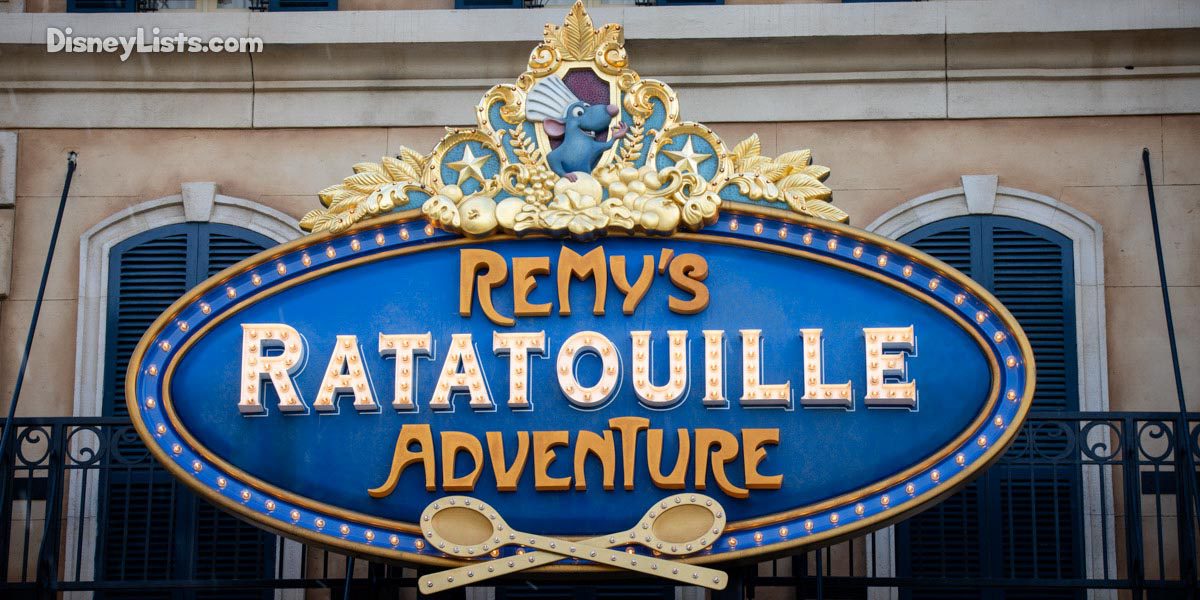 The expansion to the France pavilion in World Showcase is now open. Anchoring this expansion is Remy's Ratatouille Adventure, a new family-friendly attraction inviting guests into the larger-than-life world of "Ratatouille." Catch our review of this attraction and what you need to know below.
1 – Remy Comes to the France Pavilion
Remy, the "Little Chef" from Disney and Pixar's award-winning "Ratatouille" film, has a passion for food that goes well beyond good taste, and he's on a continual quest for creativity and innovation. This makes Chef Remy the ideal inspiration for a new mini-land in EPCOT, the Walt Disney World Resort theme park that invites guests to explore the magic of possibility. As a result, the France pavilion has expanded. New offerings include Remy's Ratatouille Adventure and La Creperie de Paris, a new restaurant offering authentic French cuisine in both table- and quick-service options, and a menu from celebrity chef Jérome Bocuse. Click here to learn more about the France pavilion expansion and La Creperie de Paris.
2 – Crookedology
After passing La Creperie de Paris, guests walk under an ornate, cast-iron arcade that serves as the transition from real-world France to the fantastical vision of Paris from "Ratatouille." Pixar artists coined the term "crookedology" to describe the fanciful interpretation of the "City of Light" in their film, and Disney Imagineers applied this aesthetic to Remy's Paris at EPCOT. Imagineers worked with Pixar to design buildings in the pavilion that evoke the whimsical, handmade architectural style seen in "Ratatouille," where lines become a bit less straight, colors are bolder. Other exaggerated details create the feel of an animated film.
3 – Ratatouille Fountain
The theme continues with a "Ratatouille"-inspired fountain as the focal point of this fanciful area of the pavilion; the three-basin structure features rats holding bottles and flutes of champagne as water shoots out of the bottles toward the top basin. There Remy stands atop the fountain wearing his classic French toque (hat) and holding a cooking spoon.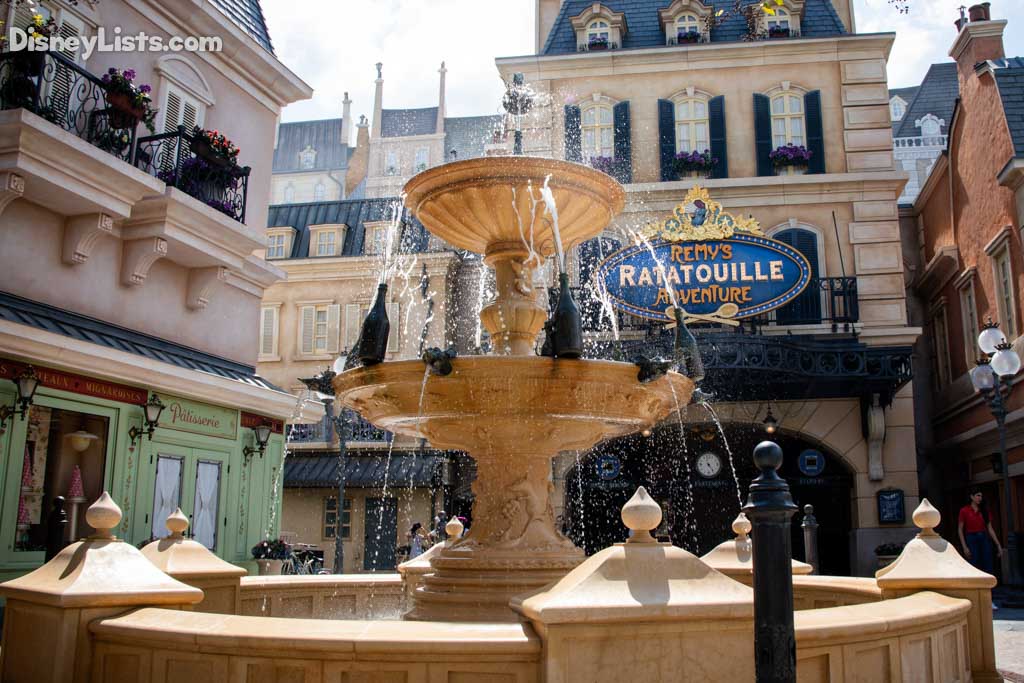 4 – Parisian Theater
Remy's Ratatouille Adventure is a family-friendly attraction where guests feel as if they shrink to the size of a rat and race through Gusteau's restaurant, joining the "Little Chef" in creating a culinary masterpiece. The attraction's entrance, located at the end of the pavilion's new plaza, looks like a Parisian theater and features a classic marquee with hand-laid gold leaf and nearly 200 lights that is 10 feet tall and more than 14 feet wide. Guests enter the theater for the attraction queue.
5 – Fanciful Queue
After entering the theater, guests move along from the theater to the rooftops of Paris. When guests enter the queue, they see the sign up close and receive a special magical message from Gusteau reminding them, "anyone can cook." Next, guests enter a French artist's loft created especially for the EPCOT attraction, modeled after the art studio seen briefly in the film. As they pass through the room, guests see French-inspired paintings, cupboards filled with art supplies, and two magical canvases that come to life. Finally, guests will enter the boarding area.
 6 – Join the Rat Race
Guests board colorful rat-shaped vehicles and then don 3D glasses to begin their adventure, seeing everything from a "rat's-eye view." Imagineers worked with Pixar artists to create animated 3D scenes that feel as if the film has come to life right before guests' eyes, blending with oversized sets to provide an immersive environment full of sights, sounds, smells, and other effects celebrating "Ratatouille."
From falling through a skylight to scurrying through Gusteau's kitchen to hiding out in the restaurant's pantry, guests feel as if they're right alongside Chef Remy. At times they may dodge a mop, avoid being trampled by giant feet, or marvel at massive pieces of food all around them.
7 – Inspired by the Film
The attraction finds inspiration in several scenes from the film, including Remy's first view of Paris, his fall through a skylight into Gusteau's kitchen, the pantry where he hides from Chef Skinner, and the leafy restaurant Remy creates for himself and his family and friends. Many of the oversized products seen throughout the attraction call back to the film, including olive oil named for Linguini and sparkling wine named for Gusteau.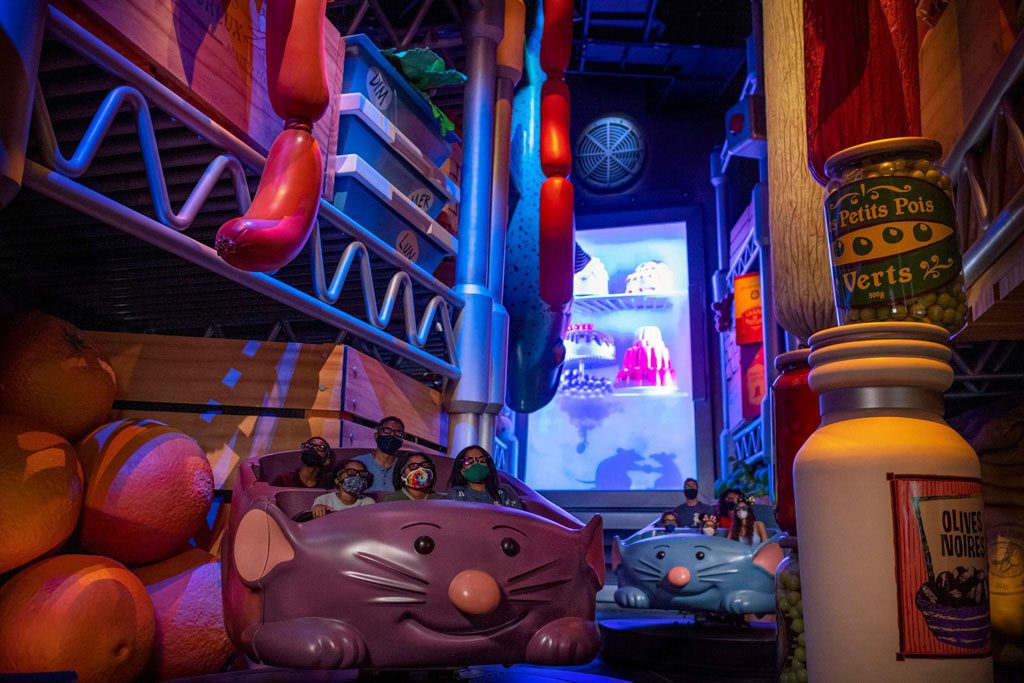 8 – Trackless Vehicles
The trackless vehicles travel in groups of three and move forward and backward while spinning, tilting, and bouncing along as the rats scamper from one scene to the next. Depending on which vehicle guests board, they may take a slightly different path through the attraction and notice new details if they experience Remy's Ratatouille Adventure multiple times.
9 – Ride Experience
This attraction is a lot of fun, especially for younger riders. The movements, along with some surprise moments, bring a lot of laughter. If you have a Remy fan, they will absolutely love it!
Motion sickness warning! I (Cindy) suffer from motion sickness and especially have a problem watching things on a screen while moving in a vehicle. I can't ride Star Tours at all and had a strong reaction to Flight of Passage (another one I can't ride). Most of Remy's Ratatouille Adventure has screens. Add to that the 3D glasses, and you'll need to decide if this attraction is one you can manage. My first time riding it, I was able to watch and (mostly) enjoy the attraction, but towards the end, I was feeling sick. I had the opportunity to ride it multiple times, and each subsequent time, I watched less and less and had my head down and eyes closed for the screen parts. While I don't want anyone to get sick, I encourage you to try this one since it has parts where you don't look at a screen. But likely, if you a prone to motion sickness, this will be a one and done.
Take a ride with us and see scenes from the new attraction. This is not a full video of the attraction but does contain some spoilers.
10 – Individual Lightning Lane Attraction
If you wish to pay to "skip the line" you can purchase access to the Lightning Lane for this attraction. Remy's is one of two a la carte attractions at EPCOT. Lightning Lane selections for the top-tier individual attractions are made on the same day of your visit. Access to purchase Lightning Lane for the individual top-tier attractions is available to all guests at park opening. However, guests staying on Disney World property receive the benefit of early access to top-tier reservations and can make their purchases at 7:00 am on the day of their visit. Access to the Lightning Lane can hit capacity and will sell out, so we highly recommend you purchase access right at 7:00 am as a resort guest or right at park opening for others if you plan to purchase access. Prices will vary by date, attraction, and park. We've seen prices range anywhere from $7-$17 per person, per attraction.
11 – Ride Merchandise
Remy's Ratatouille Adventure inspires a new line of merchandise available at the newsstand in the new France pavilion expansion and other select retail locations at EPCOT. Guests can purchase fashionable finds perfect for Remy-inspired looks and the "Little Chef" in everyone from apparel to accessories. Highlighting this collection is a new Interactive Chef Hat that looks as if Chef Remy is cooking alongside the wearer, just as he did with Linguini in the film. Check out some of the merchandise in our Instagram post below.
For a no obligation, FREE Quote on a Disney vacation package, please contact our travel partner Magical Vacation Planner at 407-442-0227 (407-442-0215 for Spanish). You can also request a FREE quote online by Clicking HERE.