There's a restaurant at EPCOT that is out of this world! Space 220 Restaurant opened in 2021 and quickly skyrocketed to be one of the most popular restaurants on property. Space 220 serves guests delicious food and beverages from a lunch and dinner prix fixe menu. We were there on opening day to check out the restaurant. Learn what you need to know below.
1 – Dedication Ceremony
Celebrating its inaugural mission, a dedication ceremony featured executives from Patina Restaurant Group, Delaware North (Patina Restaurant Group's parent company), Disney, and very special guests Mickey Mouse and Minnie Mouse. Mickey and Minnie helped wish travelers a magical "flight" during their maiden voyage to Space 220. Following the ribbon-cutting, media guests were given a tour of the restaurant and the opportunity to sample signature menu items.
"At Space 220, we hope to take guests on a culinary journey with our signature prix fixe menu that will let them customize the perfect meals for their crew and expedite their trip to space and back, allowing them ample time to enjoy all that EPCOT has to offer," said Patina Restaurant Group Marketing Director Kyle Collins.
"With Space 220, we now have a fine dining experience in our World Discovery neighborhood of the Park – and a chance for our EPCOT guests to experience a restaurant that is truly out of this world!" added Walt Disney Imagineering Creative Portfolio Executive Tom Fitzgerald.
2 – 220 Miles Above Earth
Space 220 is next to Mission Space, which perfectly carries the space theme. You check in with the hostess when you enter, and you'll be given a space elevator boarding pass. The boarding pass is needed because the restaurant is actually 220 miles above Earth in the Centauri Space Station!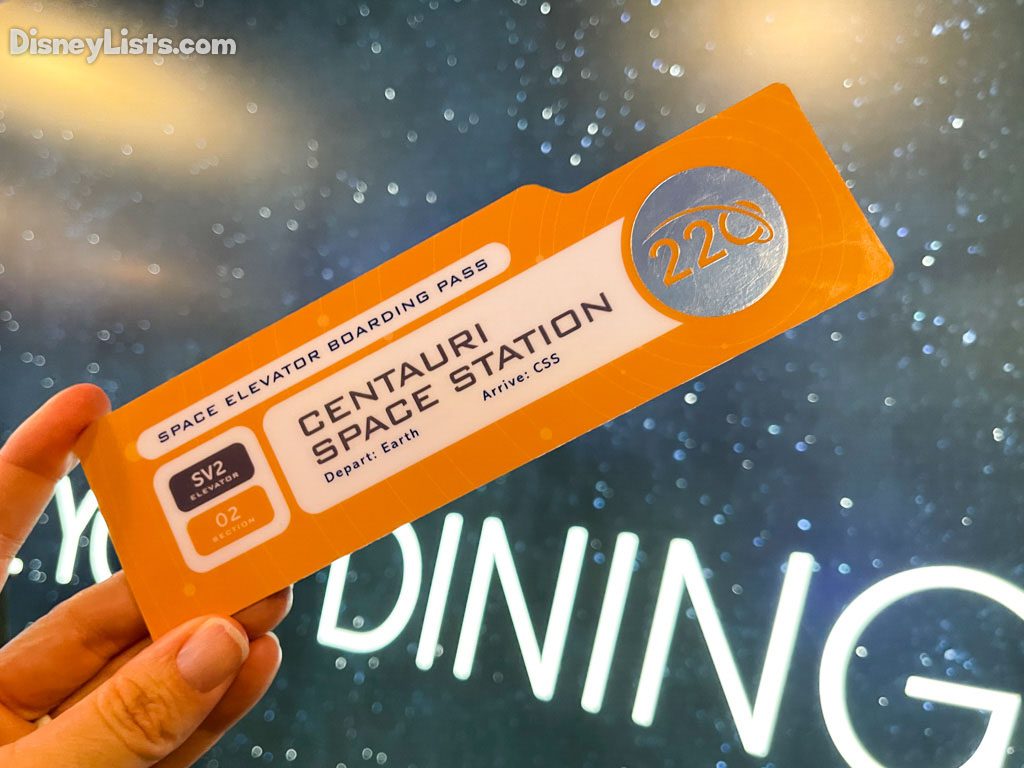 Once in the elevator, you'll see EPCOT drop away under your feet and look up to see the rapidly approaching station. The scenic journey is fun for the whole family and phase one of Space 220's immersive dining experience, providing guests with stellar views of Earth by day and night.
3 – Space Station Dining
Phase two begins once you step off the space elevator. You'll walk past a Grow Zone of spinning produce representing the fresh ingredients on the menu.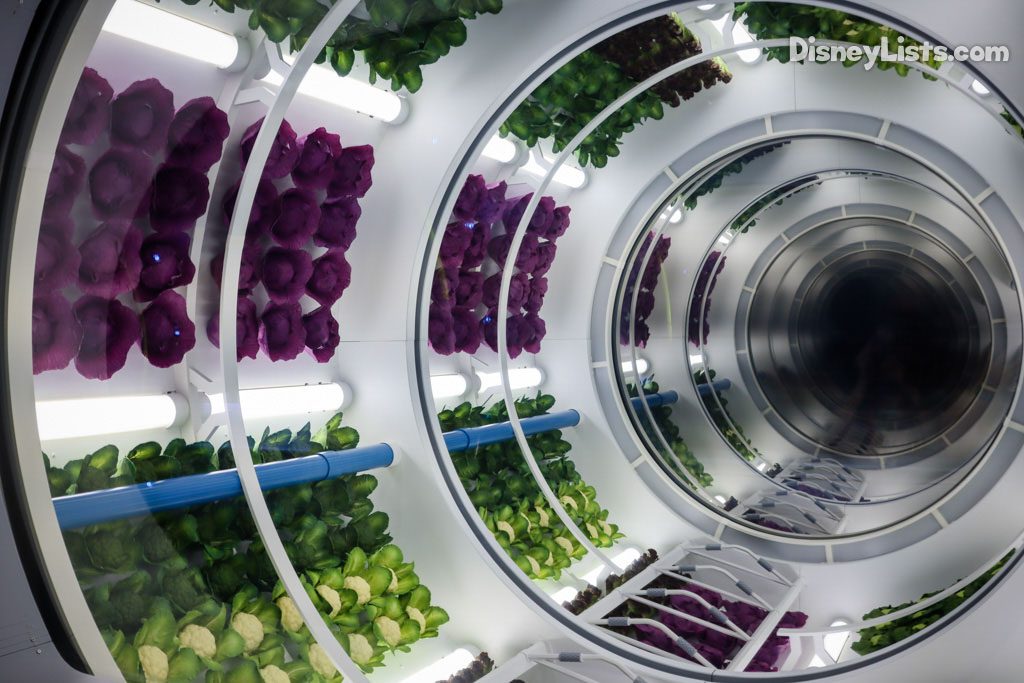 Next, a Space 220 crew member will guide you to your table. Once seated, all guests will have panoramic views of Earth as the backdrop to an out-of-this-world dining experience.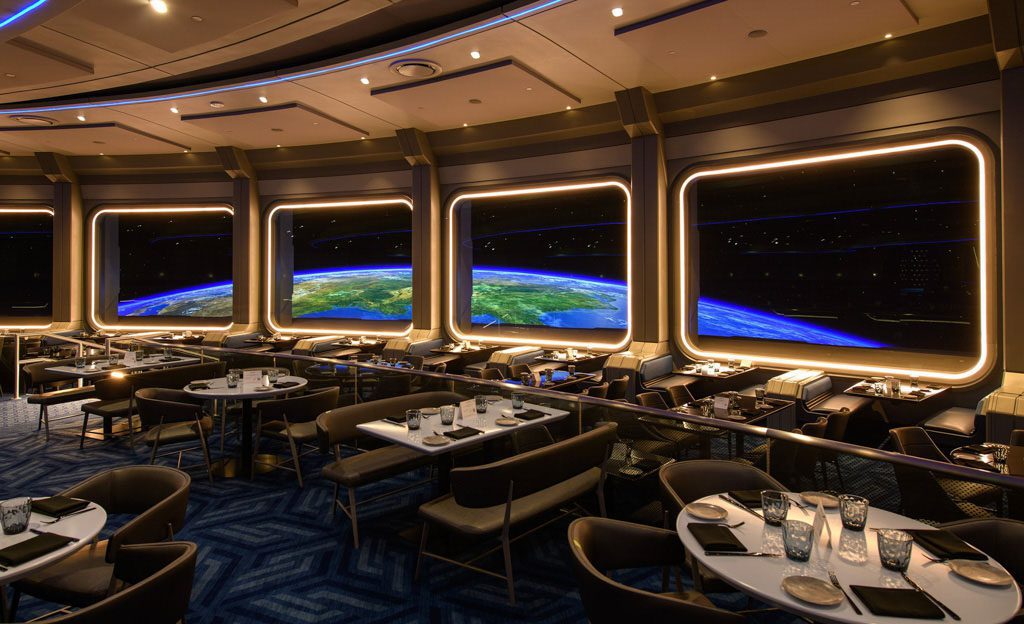 4 – Lunch and Dinner Prix Fixe Menu
The restaurant is open daily for lunch and dinner at Space 220, beginning at 11:30 am. With Executive Chef Marc Kusche at the helm, the restaurant serves upscale, contemporary fare, featuring a two-course prix fixe menu for lunch and a three-course prix fixe menu for dinner. Guests can enjoy a selection of lift-off appetizers, star-course main entrees, and a choice of supernova sweets for dessert. Satellite sides will also be available a la carte. In addition, visitors can expect unique beverages with a colorful lineup of atmospheric spirits, zero-proof (non-alcoholic) cocktails, big dipper brews, and worldly wines.
Some crew favorites include the following signature menu items:
Two-Course Lunch – $55
Includes one Lift-Off appetizer and one Star Course entrée
Lift-Offs
Big Bang Burrata
Starry Calamari
Blue Moon Cauliflower
Neptuna Nicoise
Centauri Caesar Salad
Space Greens
Roasted Beet Salad
Star Course
Rocket Flame Seared Tuna
Galactic Salmon
Steak Salad
Gemini Burger
Quinoa Burger
Steak & Frites
Roasted Chicken Breast
Stuffed Jumbo Shells
Spaghetti & Shrimp
Three-Course Dinner – $79
Includes one Lift-Off appetizer, one Star Course entrée, and one Supernova Sweet
 Lift-Offs
Big Bang Burrata
Starry Calamari
Blue Moon Cauliflower
Neptuna Nicoise
Centauri Caesar Salad
Space Greens
Roasted Beet Salad
Coconut Curry Lobster Bisque

Scallop Ravioli
 Star Course
8 oz. Filet Mignon
Slow Rotation Short Rib
Supreme Chicken Breast
Space Glazed Duck Breast
Galactic Salmon
Florida Red Snapper
Stuffed Jumbo Shells
 Supernova Sweets
Carrot Cake
Gelato and Sorbet
Pistachio and Citrus
Peanut Caramel Comet
Chocolate Cheesecake
 Zero Proof Cocktails
Lightyear Lemonade – Made with butterfly pea tea
The Milky Way – Served with a fun-size "Milky Way" garnish
Moon Rocks – Served with a pack of popping candy garnish
With the purchase of any zero-proof (non-alcoholic) cocktail or children's meal, guests will receive a pack of Space 220 Collectible Trading Cards. Designed exclusively for and only distributed at Space 220, these limited-edition packs of cards feature custom illustrations and trivia facts about space exploration, food in space, and the sky-high innovations at Space 220.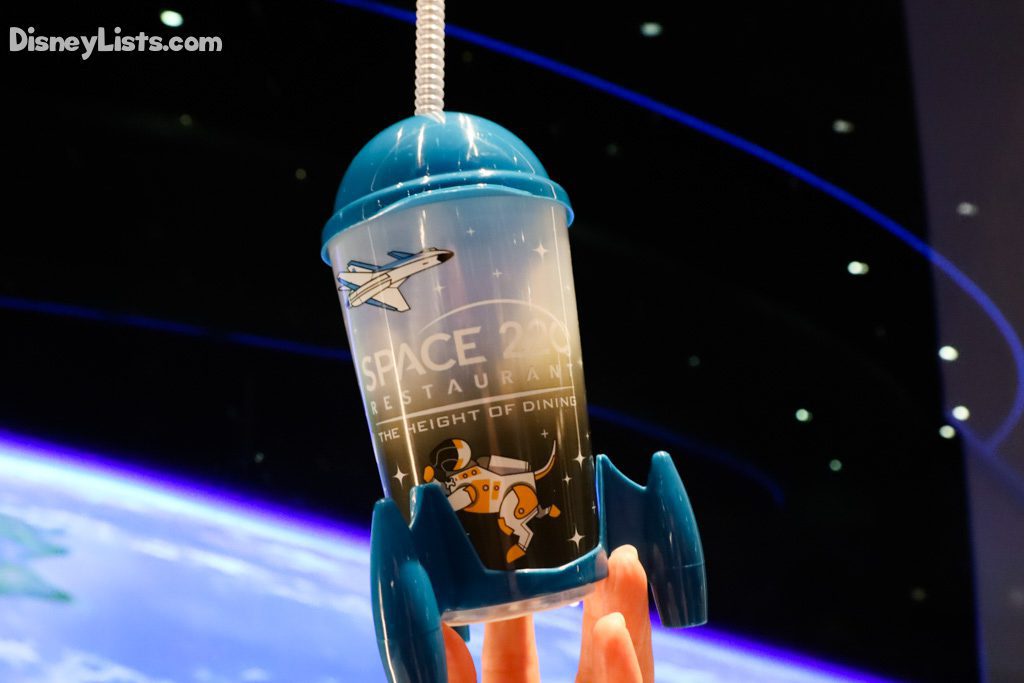 5 – Our Lunch Review
I thoroughly enjoyed my lunch at Space 220. The drinks were unique and tasty, and the appetizer and entrée were filling. The Flat Iron Steak was cooked perfectly, and the potatoes were absolutely amazing. I spoke with others about their meals, and no one had any complaints. The food is fantastic.
The space atmosphere adds to a terrific dining experience. The elevator ride up (and down) set the stage perfectly for the story and are a great touch. Views of space are also interesting and entertaining. Be sure to look for spaceships, dancing astronauts, and more. It's a lot of fun.
We are eager to return to the restaurant for dinner. Reservations are now available to book. Note that reservations are now required for the popular lounge as well — click here to book. Reservations for this restaurant fill up in seconds, and getting a reservation in the next few months will be a challenge. If you want to dine at this restaurant, be sure to set an alarm for 6:00 am, 60 days before your visit.
Space 220 is a fantastic addition to EPCOT. We've only heard good reviews and know why. The food and drinks are fantastic, and the dining experience and theming are terrifically done. We expect Space 220 to be very popular and be the place to dine for some time!
Editor's Note: The Patina Restaurant Group provided us a complimentary lunch and restaurant tour that included media-specific events. However, as always, the thoughts and opinions contained in this article are entirely our own.
For a no obligation, FREE Quote on a Disney vacation package, please contact our travel partner Magical Vacation Planner at 407-442-0227 (407-442-0215 for Spanish). You can also request a FREE quote online by Clicking HERE.