Chef Art Smith's Homecomin' is one of the most highly-rated restaurants in Disney Springs, and this past weekend I finally got to find out why. It's especially hard now choosing somewhere to eat in Disney Springs, with all the abundant offerings and varieties of food, but here are the reasons why I would recommend Homecomin' to everyone:
7 – The Chef Has a Cool Background
Chef Art Smith is a native Floridian who completed a culinary internship with Disney in 1981 while attending Florida State University. As someone who is also a native Floridan, I think it's pretty neat that he decided to return to his roots and open a restaurant that celebrates the state of Florida and his background with Disney (hence the name, Homecomin'). The menu features local ingredients and focuses on Florida's agricultural heritage. Art Smith is also known as being Oprah's personal chef, as well as the chef for two Florida governors in Tallahassee.
6 – It's Good for an Awesome Night Out or a Casual Lunch
The first time my husband and I ever tried to eat here, it was dinner time, and we had no reservations. We walked up and the wait was over an hour, even for the bar. So, we decided to skip it, and we returned a few months later for lunch, where it was a lot less crowded! I spotted lots more couples sitting around the tables and bar during dinnertime, dressed in their best- but during lunch, I noticed that it was a lot more casual, and filled with more families. Homecomin' isn't exactly a fancy place, but the atmosphere of a bar, open kitchen, deck seating, and the trendy location of Disney Springs makes this a restaurant that can serve as a cool date night idea or a laid-back lunch spot.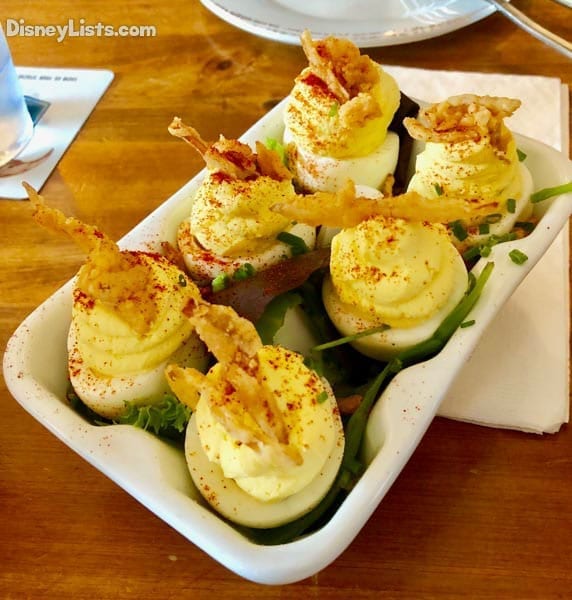 5 – The Church Lady Deviled Eggs are Amazing
I'm not really an egg person- it sounds weird, but I hardly ever eat them, not even during breakfast. But these deviled eggs were so delicious, and were the perfect appetizer! They were recommended to us by our server, and I'm so glad we got them. They were the perfect size to pop in your mouth and they came in a cute, ceramic egg carton. They come with prosciutto on top and are so flavorful and creamy. This dish really brought home the farm-to-table theme that the restaurant advertises, and I saw plenty of other tables ordering the deviled eggs as well. I can't wait to come back and try them again- they were perfect for my husband and me to share, even though we each wanted our own!
 4 – Everything is Local to Florida
This is one of the only restaurants I've been to that makes me proud to be a Floridian- everything, down to the décor, is local to Florida. First is the food, which comes from local farms, ranches, and fisheries. The cakes are all made at Chef Art Smith's bakery in Jasper, Florida. The artwork on the walls are from Florida artists, the furniture and ceiling beams are made in Florida, and the mural on the wall projects a nice, warm, Sunshine State feeling. Eating here does feel like you're dining in someone's Tallahassee kitchen, and it's nice to see the Chef's passion for his home state reflected in the food and the décor.
3 – They Offer Familiar Food Served in a Unique Way
I'll be honest- nothing on the menu is terribly exotic. They have items you'll find in any Southern-style restaurant: catfish, fried chicken, shrimp and grits, mac and cheese, and pimento cheese. However, the way they serve and flavor everything makes the trip here worth it. The mac and cheese is incredibly creamy, with a nice crusty top. The mashed potatoes and deviled eggs are topped with chives, which give it a nice fresh flavor. You can get a moonshine-soaked slice of cake for dessert with a side of ice cream. The whole menu is full of Southern favorites, and you won't encounter anything too unique. And yet, I still recommend this to everyone who is looking for a nice, hearty, flavorful meal.
 2 – A Moonshine Bar
Homecomin' prides itself on their moonshine, and half of their menu is devoted to drinks and cocktails with moonshine in it. I'm not a big drinker, but everything looked really tasty- they have a Moonshine Margarita, a Sweet Tea Shine, moonshine over apple pie and fruit, and White Peach Sangria- just to name a few. They also have a moonshine flight, if you want to sample all the different flavors. If you're into regular drinks, they have plenty of draft beers and house wines available as well. The bar offers grab and go items, so if you can't get a reservation but still want Homecomin' food, you can take some fried chicken back to your hotel.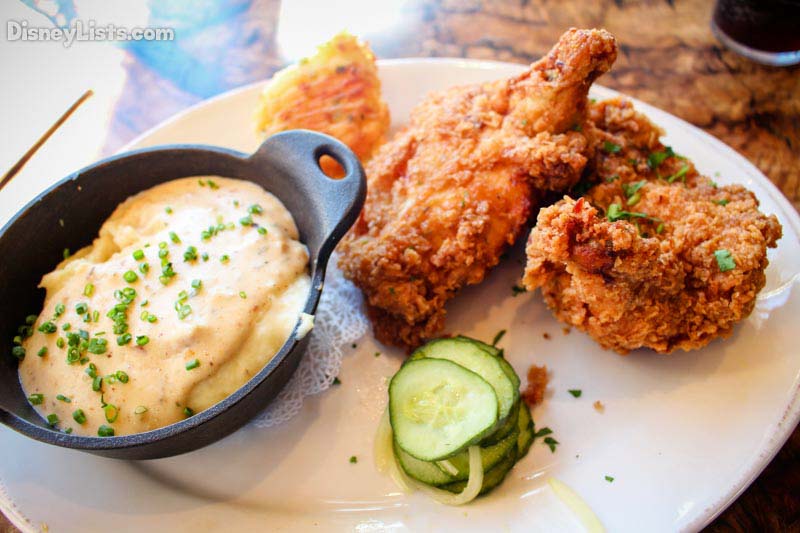 1 – The Fried Chicken
The Art's Famous Fried Chicken, served with a side of mashed potatoes and a cheddar biscuit, is the most recommended item on the menu- and for good reason! My husband ordered this, yet substituted his mashed potatoes for the mac and cheese. His dish came garnished with house-made hot sauce and pickles, and the two of us scarfed down every last bite (I couldn't help but steal some of his food). I will definitely come back to Homecomin' just for this dish- it wasn't dry at all, which I find common with fried chicken at Disney. It was very juicy and tender. I highly, highly recommend this dish!
For a no obligation, FREE Quote on a Disney vacation package, please contact our travel partner Magical Vacation Planner at 407-442-0227 (407-442-0215 for Spanish). You can also request a FREE quote online by Clicking HERE.