The fun also extends to food in Toy Story Land, at Disney World's Hollywood Studios. Here, mealtime comes with a heavy helping of nostalgia, as Woody's Lunch Box serves up classic on-the-go menu items with a creative twist. We've had a chance to eat at this quick-service restaurant many times and see for ourselves if it lived up to expectations. Catch all the details and our thoughts below.
1 – The Only Quick Service in Toy Story Land
Toy Story Land is one of the newer lands to be added to Walt Disney World. It comes in at a rather small 11- acres. The neighboring Star Wars: Galaxy's Edge is quite a bit larger at 14 acres. Because of this size, there is only one place to get food inside Toy Story Land, and that is Woody's Lunch Box. Since it is the only quick-service place to eat, you should expect long waits to order food, to receive your food, and to find your table. More on that in a bit.
2 – Theming and Size
In Andy's imagination, even toys have to grab a bite to eat now and then. He took a vintage Woody-themed lunch box and propped it open with a giant thermos to create a picnic for his Green Army Men. While Andy's away, Woody's Lunch Box serves up tasty meals and old-fashioned soda floats. Guests may even spot Sarge in a nearby lookout tower, standing watch for Andy's return.
The whole area is filled with bright colors, lots of Army Men, and chairs made out of cheese! It's all very creative. The theming is excellent and fits in very well with the rest of the land. Our only complaint is that the seating area is outdoors, and it is very small. But since we're having a picnic in Andy's backyard it makes total sense that the seating would be outdoors. Disney has added umbrellas to the seating area to help with the lack of shade in the area. We visited Woody's Lunch Box on the second day, the land was open for dinner. Every table was full, and we had to wait a while to grab a table. I also noticed that they added many tall tables that people could stand at to eat. This is necessary because outside of the seating area, while there are a few creative benches (made out of popsicle sticks and dominos), it is usually a challenge to find a comfortable place to sit and eat. This is out biggest complaint. So, when coming to dine here, be prepared that you might have to stand to eat, and you'll have to deal with whatever weather Central Florida is throwing at you.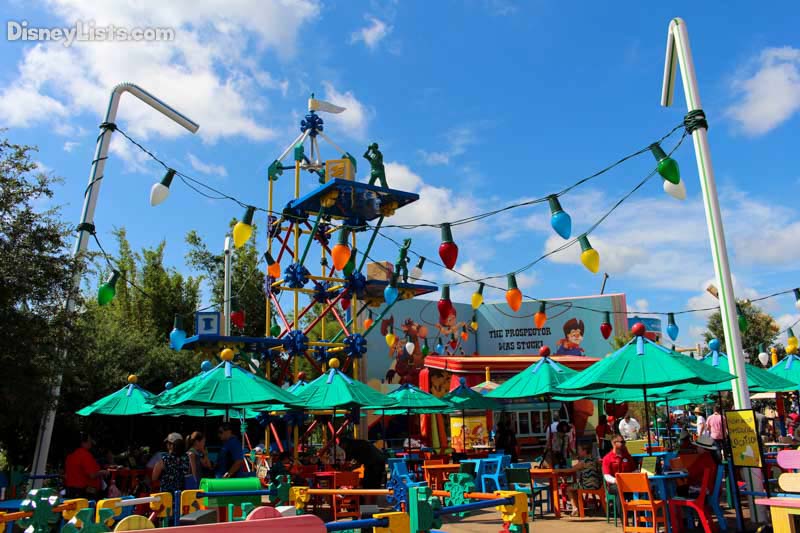 3 – Ordering & Logistics
Another surprise is that there are only two ordering stands. This makes the whole ordering process very slow. You'll want to use the Mobile Ordering on the MyDisney App to skip the whole in-person ordering process. This will allow you to order your food ahead of time and then get your food when you arrive at Woody's Lunch Box. However, getting your food from Mobile Ordering still takes quite a bit of time. We decided to wait in line to get the full picture of the service.
The wait time for this popular restaurant is usually 10-20 minutes. Two people in our party made special requests to their sandwiches (no mustard). We were told it would take about ten extra minutes to receive our food because of the special order. We will not do that again. It actually took about 15-20 minutes to receive our food. We recommend picking something on the menu that you feel you can enjoy without any special modifications. Even without the requests, most guests waited 5-10 minutes to get their food. Chad said it best when he said it might be counter service, but that doesn't mean it's "quick" service. Be forewarned that you may need to give yourself and your party extra time to eat here.
4 – Awesome Food Choices
Even with the wait, the good news is the food was delicious and unique to anything else you can find on property. There is a lot of variety, and the sandwiches are surprisingly large with a lot of meat. The sides are quite small, but everyone in our party was too full to finish them.
"Everyone has a special food memory, so it can be tricky putting a modern spin on the favorites," explained Lenny DeGeorge, Concept Development Culinary Director for Walt Disney World. "We honored these classic dishes by using the best ingredients to elevate the flavors. How we constructed the sandwiches was important, such as layering the ingredients in a specific order to maximize textures and flavors. Why have a cold sandwich when you can have a toasted, hot, gooey, cheese-filled one?"
5 – Menu Highlights
Grilled Three-Cheese Sandwich: To ensure a soft gooey middle, Disney chefs created a sharp cheddar cream cheese spread, layered in provolone and cheddar, and wrapped the sandwich in garlic butter-grilled French bread. This was delicious and is probably our favorite sandwich on the menu!
BBQ Brisket Melt: With a nod to cowboy Woody, this Texas-style smoked brisket features cheddar, Monterey Jack, pickles, BBQ sauce, and garlic butter-grilled sourdough. This sandwich was also excellent.
Totchos: This bite-sized treat combines potato barrels, corn chips, chili, and queso.
Lunch Box Tarts: A modern interpretation of a breakfast toaster pastry as a hand-held dessert, these feature a uniquely delicate crust. Layer in high-quality ingredients for fillings, add a decorative garnish, and these tasty tarts beat anything Mom ever packed. Choice of Raspberry Lunch Box Tart garnished with Icing, and Dried Fruit or Chocolate-Hazelnut Lunch Box Tart garnished with Icing and Caramelized Bacon. We have to note that these tarts are the best items on the menu. The Chocolate-Hazelnut Lunch Box Tart is absolutely our favorite. It's nothing like a Pop-Tart! The crust is soft and crumbly, and the flavor throughout is excellent. These tarts are available as a breakfast item or a dessert on the lunch and dinner menu. From time to time, one of these may be replaced by a seasonal option. Be sure to be on the lookout for limited-time seasonal tart offerings.
6 – Other Menu Items
Smoked Turkey Sandwich – The quintessential lunch-box staple with tomato and lettuce on multigrain bread; to give it a kick, Disney chefs add a creamy Dijonnaise. We didn't get a chance to try this one, but it's next on our list. We saw some at other tables, and the amount of turkey on the sandwich was impressive!
Kids' Menu – Grilled cheese or turkey sandwich with potato barrels and mandarin oranges.
Sides – Tomato basil soup, potato barrels, A Cuties Mandarin, Cheese Sause, and Mini Babybel snack cheese, the Official Snack Cheese of Walt Disney World Resort.
In addition to fountain drinks and refreshing lemonade, beverage offerings include a classic Barq's root beer float and a Frozen Mystic Portal Punch (PowerAde Mountain Berry Blast with flavors of lemon-lime and tangerine). There's a Grown Up's Lemonade with cherry vodka, Blue Moon Belgian White Ale, and Angry Orchard Crisp Apple Cider for the big kids.
7 – Overall Thoughts and Recommendations
Overall, we really enjoyed our dinner at Woody's Lunch Box. The food choices are great, and this is our go-to place for quick service at Disney's Hollywood Studios. We'll be using Mobile Ordering from now on, which will really help cut down on the wait. We highly recommend Woody's Lunch Box.
For a no obligation, FREE Quote on a Disney vacation package, please contact our travel partner Magical Vacation Planner at 407-442-0227 (407-442-0215 for Spanish). You can also request a FREE quote online by Clicking HERE.