It is no secret that Walt Disney World is an extremely popular vacation destination. The parks can get extremely crowded, as well as Disney Springs. Don't worry, though, you can definitely navigate the crowds. Here are our top ten ways to survive a crowded day at Disney Springs:
10 – Go for a balloon ride over all of Disney Springs.
You can take a ride in the Aerophile Balloon Flight at Disney Springs. The balloon is a helium-filled balloon that takes you hundreds of feet into the sky above all of Disney Springs and Walt Disney World. You get some of the most amazing views. This is a fantastic experience during the day time or at night, so we definitely recommend that you try both. Only a set number of people are allowed on the balloon, making it a great way to get away from the crowds.
9 – Grab a Starbucks beverage.
A little dose of caffeine is always calming for me. I love to grab a drink from Starbucks and sip on it while strolling through Disney Springs. You can also take a seat and do a little bit of people watching to relax while you enjoy your treat. It will definitely help make the crowds more manageable.
8 – Go bowling at Splitsville.
Splitsville is a fabulous, retro-themed bowling alley that is also equipped with high-end technology. You can get a nice break from all of the craziness in the area by having a couple drinks, maybe a few snacks, and enjoying a game of bowling. It is fun for the whole family, and even the smallest kids and bowl with the bumpers and guides to get the balls down the lane. It's also fully in the air conditioning, so it's definitely a great opportunity to cool off and enjoy a break from the sun and heat.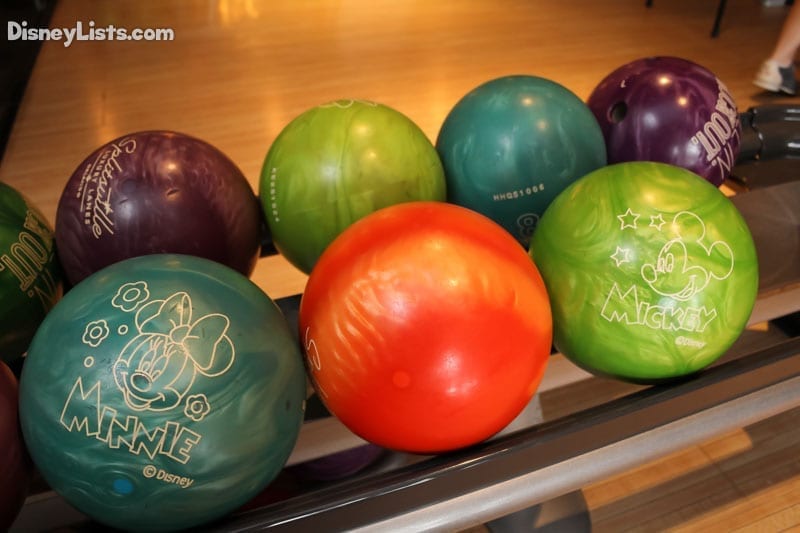 7 – Enjoy an adult beverage from one of the many lounges.
There are many different lounge options around Disney Springs. A cocktail can definitely help you relax and take the edge off of a crowded day. The lounges are all uniquely themed, with some of them being part of larger restaurants. Jock Lindsey's Hangar Bar is probably one of our favorites, so we definitely recommend that you go and check that one out.
6 – Check out the street entertainment.
There is a variety of entertainment around all areas within Disney Springs that perform throughout the day and night. You will see different sets and entertainment, so there is never a dull moment. Stop and enjoy the music, dancing, and other performances. You don't have to be in a rush to get to the next store, you can just enjoy what is going on right in front of you.
5 – Go and see a movie at AMC.
Going to see a movie is a nice break from the sun and heat, as well as from the crowds of people. The AMC theater in Disney Springs is huge and offers a wide variety of movies. If you are hungry, you could also check in the dine-in theater options at the theater. This is definitely one of our favorite things to do on a crowded day, so we can get a little break from it all.
4 – Take in all of the scenery, shops, and displays.
Even if it is crowded, you can still have fun strolling around the area and checking out all that there is to see. Just set your expectations that your stroll may be on the slower side, but this just means that you can check out more of the amazing detail in the area.
3 – Enjoy a delicious meal.
There are so many amazing restaurants and meals in Disney Springs that it would take a long time to try them all. You should definitely make a reservation for one of the table service locations. You can get a nice break from the crowds while also enjoying a delicious meal, unlike what you might be able to experience back home.
2 – Cut loose and play at the splash pad.
There is a fun splash pad, which is extremely refreshing on a hot day. Kiddos love the opportunity to play in the water (and adults, too), so you can bring a change of clothes or come dressed to get in the water and just enjoy the splash pad area. It is a nice break from the crowds in all of the shops.
1 – Take lots of pictures.
When it starts to feel like the area is extremely crowded, and you aren't moving as quickly as you like, then just take a step back and remember why you are there. You are there to be immersed in the experience and enjoy time with your loved ones. There are many amazing photo opportunities and backdrops. Commemorate the amazing time with your loved ones by taking lots of pictures and enjoying your surroundings.
For a no obligation, FREE Quote on a Disney vacation package, please contact our travel partner Magical Vacation Planner at 407-442-0227 (407-442-0215 for Spanish). You can also request a FREE quote online by Clicking HERE.