Sanaa is one of our favorite restaurant experiences.  It is truly unlike any other on property and is an experience that everyone in the family will be amazed by.  If you are considering Sanaa, then here are 7 things that you definitely need to know before you visit:
8 – It's a great excuse to visit Disney's Animal Kingdom Lodge.
Disney's Animal Kingdom Lodge is located extremely close to Disney's Animal Kingdom and close to many of the animals that you might see at the theme park. If you decide to go and dine at Sanaa, you have a great excuse to tour and enjoy the resort. The resort is stunning with indoor fire pits, authentic African art and décor, storytellers, and so much more. You could spend a few hours just touring and enjoying the events at the resort, so you might as well enjoy a delicious meal and then make an afternoon of it.
7 – The cuisine is an authentic African influence.
The menu items are inspired by African dishes, and they are delicious! The dishes that are offered include chicken, shrimp, steak, and so much more that are inspired by African and Indian spices and over beds of basmati rice. The desserts are even authentic and desserts inspired by items that you might have from these locations. Disney consulted natives of the areas for every detail of the resort, including the restaurants and menu items. It is meant to give you an experience, unlike any other, and we feel like it delivers.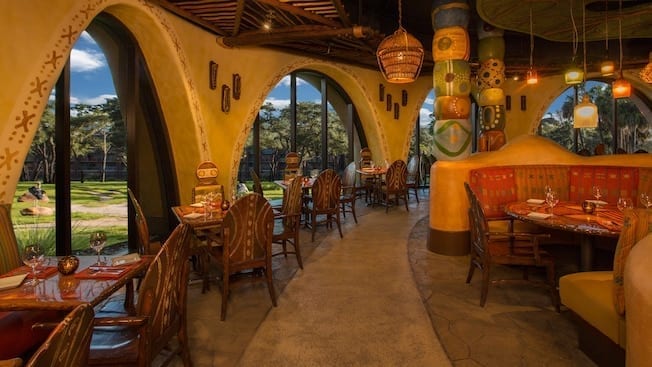 6 – You have amazing views of the savanna.
The restaurant is located right on the savanna at the resort. Outside of the windows, you see giraffes, antelopes, and many other animals that inhabit the savanna. It is one of the most unique experiences that you can have at Walt Disney World. Where else can you watch African animals outside while you dine on delicious food? It is a truly fantastic experience, and it is one that you definitely need to experience at least once when you have the chance.
5 – The prices are reasonable.
The cost of meals at Walt Disney World can be quite expensive, but when it comes to table service restaurants, this one is actually pretty reasonable. The prices for entrees run from $19-34, which is toward the middle of the road as far as table service prices go, especially given the unique atmosphere of the restaurant. The added experience makes the meal an even greater value than you may receive at other restaurants.
4 – A Breakfast Option is Now Available
Editor's Note: At this time, Sanaa is not offering breakfast.
The Sanaa Kuamsha Breakfast is served from 7:00 am – 10:00 am. No reservations are required. For breakfast, Sanaa transforms into a casual, quick-service restaurant. Options include grab 'n' go options like yogurt parfaits, fruit plates, boerewors sausage, egg bobotie pie, banana bread with house-made African chocolate hazelnut spread, African breakfast cereal, and more.
3 – You have to try the bread service.
The naan service at the restaurant has become a Disney food favorite among guests. The restaurant has a real tandoor oven where the naan bread is cooked on the walls of the oven to form the delicious flatbread that drives guests crazy. The breads come in different flavors to choose from, and then it is served with various sauces, jams, and spreads to enjoy the bread with. It is absolutely delicious and can almost be a meal in itself. The service is only $13, so it won't break the budget to experience this treat!
2 – You can dine with an animal specialist for lunch.
There is a special lunch that you can reserve where you can have lunch with a real animal specialist that will share information and answer all kinds of questions about the animals at the resort and their care. If you are an animal lover or have an interest in learning more about these beautiful creatures, you will absolutely love this one. The lunch is a 4-course meal that includes the bread service, a salad, entrée, and desserts. After the meal, you also get to go and meet with radiated tortoises, which are one of the most endangered animals at Walt Disney World. It is definitely a one-of-a-kind experience and takes place right at Sanaa.
1 – You can also enjoy Sanaa Lounge.
If you don't have a reservation, then be sure to drop by Sanaa Lounge. You can still get the bread service and various other menu items along with themed drinks. You get all of the benefits of dining at the restaurant on a first-come, first-serve basis and still have a great experience. It is especially great if you need to grab a quick bite before heading out to enjoy your next activities.
For a no obligation, FREE Quote on a Disney vacation package, please contact our travel partner Magical Vacation Planner at 407-442-0227 (407-442-0215 for Spanish). You can also request a FREE quote online by Clicking HERE.