Did you know that studies show when drinking tequila in moderation, it is one of the best alcoholic beverages you can choose from for various reasons? Tequila is said to aid in digestion, has simple sugars that the body can easily break down, and even lower cholesterol! Plus, authentic tequila is known for being an alcohol that doesn't result in an uncomfortable morning after if used in moderation. It's practically a health drink (or so we're telling ourselves)! So, thirsty for tequila? Head to Disney's La Cava del Tequila, where these five points are helpful to know.
1 – Calling the Mexico Pavilion Home
Have you noticed crowds flocking to the Mexico Pavilion around Epcot's World Showcase? Inside the iconic Mesoamerican themed pyramid, which is the focal point of the Mexico Pavilion, you'll find some fantastic Mexican inspired gift shops along with the table service restaurant, San Angel Inn, and the attraction, Gran Fiesta Tour Starring the Three Caballeros. Amidst the hustle and bustle inside, you'll likely notice a line off to your right, entering what looks like a brick hole into a cavern of some sort. As if carved into the brick, La Cava del Tequila rests inside.
2 – "The Essence of Mexico"
Truly "the essence of Mexico" in its themed appearance, La Cava del Tequila is probably one of the simplest yet most extraordinary lounges to visit on Disney property. With exposed brick, curved architecture, unique lighting, rich wood tables, detailed chairs, and beautiful tequila making inspired wall art – we were immediately drawn to this lounge's comfortable atmosphere. When ready for a drink, line up to place your order at the bar. Or, you may just get lucky and have a chance to sit at one of the very few tables with booth seating on one side and chairs on the other. Here you will be waited on by servers, which helps with fighting the line to order drinks at the bar.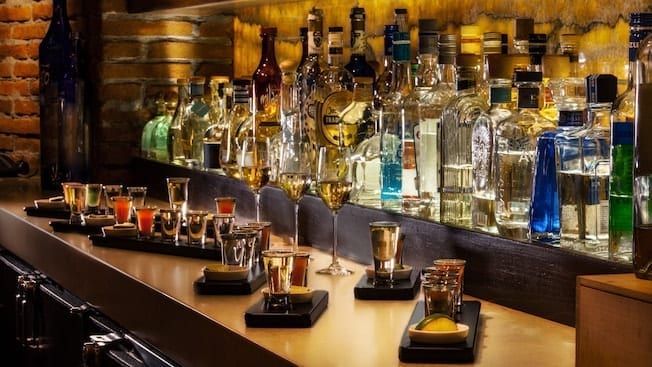 3 – Let's Take "Flight"
Boasting all things agave with around 200 tequilas, you are sure to find the perfect drink! Mexican beer and wine are also available as well as margaritas, of course. Specialty cocktails such as a Blood Orange might do the trick of entertaining your taste buds. Prices of the variety of drinks depend on the rarity of the tequila, as well as the age. Overall, we recommend the Tequila Flights, which give you a variety of five tequilas.
4 – Exceptional Staff
The Cast Members that staff La Cava del Tequila are fantastic, which is one reason outside of the excellent drinks and atmosphere that Disney guests keep going back for more. The bartenders are exceptionally knowledgeable. Despite the line out the door, they seem to remain calm, work fast and efficiently, all while keeping a positive attitude. Asking them questions about drink recommendations or what exactly goes into a drink is welcome and never feels rushed. The serving staff and hostess are busy but are also on point with their service. Even with Disney's already well-known top of the line service, La Cava del Tequila's staff still impressed us above what we would typically expect.
5 – Keep in Mind
We highly recommend that everyone be sure to check out La Cava del Tequila at least once while visiting Epcot. Even if you aren't a big tequila fan, with their vast drink choices, you'll surely find something that speaks to you. Here's the kicker – La Cava del Tequila's reputation carries it well. By well, we mean VERY well! Repeat guests and new visitors that have heard of the great drinks and comfortable atmosphere at this lounge, keep this place busy. If you don't arrive right at the noon opening, chances are you can expect to wait in line and may have to take your drink and keep walking. The line winds out into the gift shop area typically, and the seating inside for some 30 people gets taken almost immediately – especially if it's raining or nighttime. We do recommend when ordering, you plan to order your fill the first time around. This way, you don't have to worry about waiting too long for round two, especially if you weren't able to snag seating.
Have you had the opportunity to dine at La Cava del Tequila? We'd love to hear about your experience!