Dining
5 Best Out of the Way Restaurants for a Relaxing Meal at Disney World
Walt Disney World is filled with countless dining options for guests to enjoy throughout the parks, Disney Resorts, and Disney Springs. Dining locations range from convenient quick service options to decadent full-service locations and everything in between. With so many dining options to choose from, it is no wonder why guests love to experience as many dining options at Walt Disney World as possible. But, as with any place in Walt Disney World, some of the restaurants can be extremely popular and very crowded. Guests who don't mind the crowds can enjoy those options, however sometimes a quiet meal is a nice break from the hustle and bustle of the parks. Thankfully there are plenty of quiet and off the beaten path dining options in Walt Disney World which are completely delicious in their own ways. Guests who are looking to enjoy a quiet and relaxing meal should consider visiting one of these restaurants which are scattered throughout Walt Disney World and cover both quick service and full-service locations. Here are the five best out-of-the-way restaurants for a relaxing meal in Walt Disney World!

1 – The Plaza Restaurant
The Magic Kingdom is home to many dining options for guests to enjoy while exploring the park. However, most of these locations are popular with guests and tend to be very crowded at mealtimes. Guests who are looking for a quieter location to enjoy lunch or dinner can stop by the full-service Plaza Restaurant. Found on the end of Main Street across from Casey's Corner, The Plaza Restaurant features an elegant Victorian theme with gold touches and beautifully mirrored walls. Even though the restaurant is beautiful, many guests tend to overlook it in favor of visiting either a quick service location or saving their full-service meal for Be Our Guest Restaurant's dinner. Those guests are totally missing out on the beautiful and relaxing atmosphere.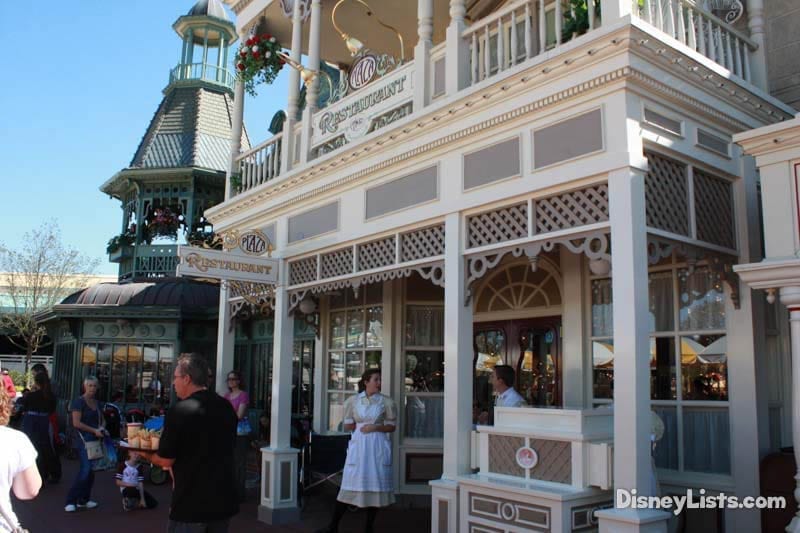 2 – Boatwright's Dining Hall
Guests who are looking to enjoy a visit to a Disney Resort should head over to the relaxing and beautiful Disney's Port Orleans Riverside Resort where the charm of the south is brought to life. Found at the resort is a full-service restaurant that serves up delicious options with beautiful rustic décor. Boatwright's Dining Hall features a massive ship suspended above tables and plenty of charming details that will make guests feel right at home.
3 – Yak & Yeti Restaurant
Disney's Animal Kingdom is a favorite park of many guests and features several unique dining locations which make guests feel transported to different places around the world. The Asia section of the park is home to a full-service restaurant which is often overlooked in favor of the Tusker House Restaurant which is usually crowded thanks to its character meals. The Yak & Yeti Restaurant is open for lunch and dinner daily and brings guests into a beautifully themed dining room where there are countless authentic pieces of art and artifacts from Southeast Asia. Guests who enjoy a meal at the location can take in the beautiful and peaceful décor.
4 – Restaurant Marrakesh
Epcot's World Showcase is home to perhaps the most restaurants in all of Walt Disney World. The location features eleven different countries from around the world each with at least one quick service and one full service dining location serving up cultural traditions. While many restaurants in World Showcase are popular and tend to be crowded, there is a location in the Morocco Pavilion which is located off the beaten path and tends to be quiet. Restaurant Marrakesh can be found in the rear of the pavilion and features a beautiful dining room with vaulted ceilings, beautiful mosaic details, and live entertainment.
5 – The Friar's Nook
Guests who are enjoying a day in the Magic Kingdom and want to dine on a quick meal in a quiet location can head over to Fantasyland for a great option. The Friar's Nook is a quick service location near The Many Adventures of Winnie the Pooh that features easy ordering counters. Guests who visit the location for either lunch or dinner can enjoy fast and delicious meals like Bacon Macaroni & Cheese, Loaded Buffalo Chicken Tots, or Hot Dogs. While Fantasyland can be very busy and the area around The Friar's Nook might seem crowded, it is guaranteed to be less crowded and quieter than nearby Pinocchio's Village Haus.
For a no obligation, FREE Quote on a Disney vacation package, please contact our travel partner Magical Vacation Planner at 407-442-0227 (407-442-0215 for Spanish). You can also request a FREE quote online by Clicking HERE.