The Mobile Food and Beverage Ordering option available at Disney World has been around for several years now and has gone from a hidden gem that most guests didn't use, to one that almost all guests use. Because of that, Mobile Ordering can be both awesome and terribly frustrating. Check out what we feel you need to know about Mobile Food and Beverage Ordering.
1 – What Exactly Is Mobile Ordering?
If you've ever visited Disney World pre-pandemic and eaten at a quick-service restaurant for a meal, chances are you've experienced long lines to order your food and pick up your food. We, too, have experienced this and grudgingly make it work. Disney introduced Mobile Order Service to help guests skip the line and order food and beverages at quick-service restaurants right from the My Disney Experience app. This service allows guests to totally bypass the regular line for ordering and waiting for food. Pre-pandemic, Mobile Ordering was a great way to skip the line because, for whatever reason, most guests simply preferred to stand in the traditional line and order in person.
When the parks reopened in July 2020 after a four-month closure, Disney basically required all guests to use Mobile Order for quick-service restaurants in an effort to reduce physical contact. When capacity limits were in place, the system still worked relatively well and was able to handle all guest orders through the app. However,  with capacity limits no longer in place, the system is most often totally overwhelmed with all of the Mobile orders. While most restaurants now have a regular line again, not all do, and Disney is still strongly encouraging guests to use Mobile Order. Wait times to get food are can range anywhere from 5-20 minutes on a good day to up to 45 minutes to an hour on a really bad day.
2 – Simple Steps to Ordering
The process of using Mobile Food and Beverage Ordering is surprisingly simple. You should already have the My Disney Experience App downloaded. So, under "My Plans" or under "Dining," just tap the "Order Food" option. A list of quick-service restaurants offering Mobile Ordering will appear on your screen. Simply select a restaurant, select an arrival window, browse the menu, and add the food and beverage items you want to your cart. Allergy-Friendly menus have been added for guests with certain allergies or dietary restrictions so they can better discover the options that may meet their needs at participating locations. However, you may need to order in person if you have a certain food allergy that isn't listed.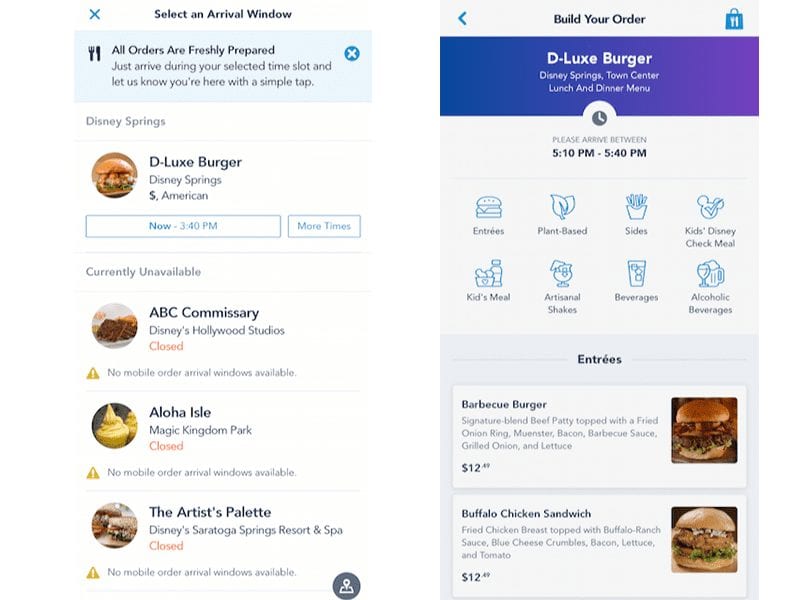 3 – Order From Anywhere
Whether you are headed over on a bus, waiting in line for an attraction, or off Disney property… you can place your Mobile Order via the My Disney Experience App. With this flexibility, Mobile Order will allow you and your party to take time to review the menu.
4 – Candy Kitchen Locations
Guests can now use Mobile Order for candy kitchen locations as well. You can Mobile Order at the following locations:
Candy Cauldron, located at Disney Springs
Karamell-Küche featuring Werther's Original Caramel, located at EPCOT
Zuri's Sweets Shop, located at Disney's Animal Kingdom Theme Park
Goofy's Candy Company, located at Disney Springs
Main Street Confectionery, located at Magic Kingdom Park
5 – Arrival Windows – Order Early!
As we noted above, when you tap "Order Food" on the My Disney Experience app, you'll be given a list of restaurants to choose from. You will also select an 'arrival window' to pick up your food. Arrival windows are 30 minutes long, and a new window opens every 5 minutes. In spring 2021, Disney updated the system and set aside a select number of orders per 'arrival window,' so once a time slot is full, no more orders for that time will be accepted.
Prime arrival window time slots will fill up on particularly busy days. So, if you go to order your food at 12 noon, the first arrival window you can choose may not be until 2:00 pm. For example, I park-hopped to Disney's Hollywood Studios from EPCOT on the Disney Skyliner. On my trip over, I decided I wanted to get a lunch box tart from Woody's Lunch Box. It was about 2:20 pm, and the first 'arrival window' available wasn't until 3:50 pm. I was quite surprised. Even though you may be able to simply get in line, if you are trying to avoid a long delay, you'll want to get your order in early. For this reason, we strongly suggest that you order and choose your 'arrival window' early in the day and place your order for lunch and/or dinner as soon as you have an idea of where you'll be dining. You can always modify and cancel your order if needed, so there is no risk in getting that order in early!
6 – Payment 
Finish your order by reviewing your order summary. You will be prompted to make a payment which can be done with the form of payment you've set up in your My Disney Experience account or with the debit/credit card in hand. Disney has now added the ability to pay with Disney Gift Cards, Disney Rewards Redemption Cards, and Apple Pay. There are now plenty of convenient payment options available for the service. Note that you will not be charged until you press "I'm Here" (see #8).
7 – You Can Modify or Cancel Your Order
You can easily cancel your order at any time. To see your order, at the bottom of the My Disney Experience app, you'll see three lines on the right-hand bottom of the app. Click on that, and you'll be given a menu screen. Click on "Mobile Food Orders," and you'll see your orders for the day. There you'll have the option to modify or cancel your order.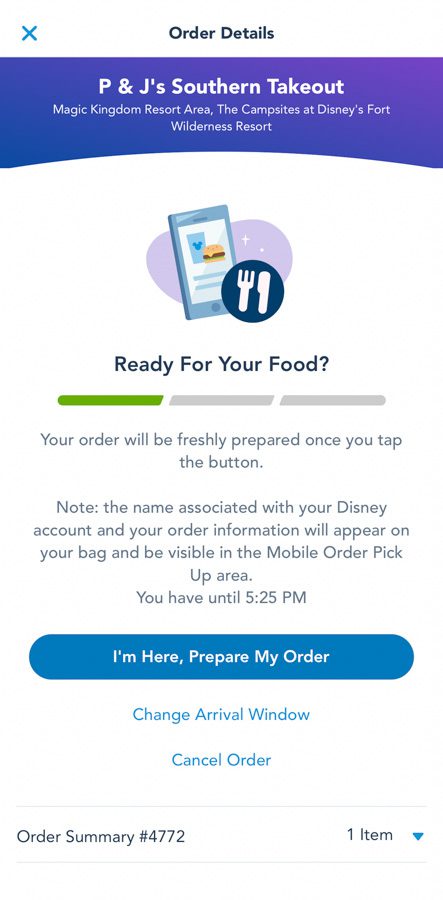 8 – "I'm Here, Prepare My Order"
When the time comes for your Arrival Window, you'll need to press "I'm Here, Prepare My Order" to start the order. Do note that the system will allow you to start your order five minutes early. So if your Arrival Window is at 12:00 pm, at 11:55 am, you can press "I'm Here." Even if you are nowhere near the restaurant, we highly encourage you to press "I'm Here" because you'll likely have plenty of time to get there before your order is ready.
After you press "I'm Here," you'll see a screen saying, "We're Preparing Your Order." In the past, this step would only take a few minutes, and you really did see a benefit in using the service. That is no longer the case. As we mentioned above, while you may sometimes get lucky and only have to wait a few minutes, guests are now reporting very long waits to get the coveted "purple screen" that says your order is ready. It's not unusual for guests to wait anywhere from 15 minutes to over an hour to get to the purple screen. So be prepared that you are not actually saving any time using this service. We recommend sacrificing one person in your party to wait while the others in your party enjoy a close-by attraction. Also, Disney has stationed Cast Members outside of quick-service locations. Most will not let you enter the restaurant until you have the purple screen. So be prepared to wait outside in the hot sun.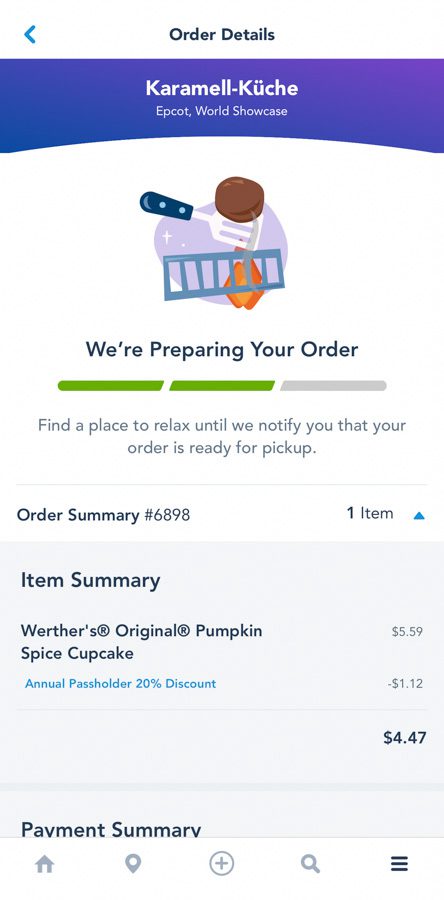 9 – The Purple Screen & The Fact That Your Order May Not Actually Be Ready
Once you receive the purple screen, you'll show the Cast Member that your order is ready, and you'll be able to walk up to a pick-up window. At certain restaurants, that is the case. When ordering quick-service meals like at Flame Tree Barbecue, Backlot Express, and Cosmic Ray's, once you get to the purple screen, your food is prepared and ready for you. Once in the pick-up window, you'll have a relatively short wait and receive your food while it's (hopefully) still hot.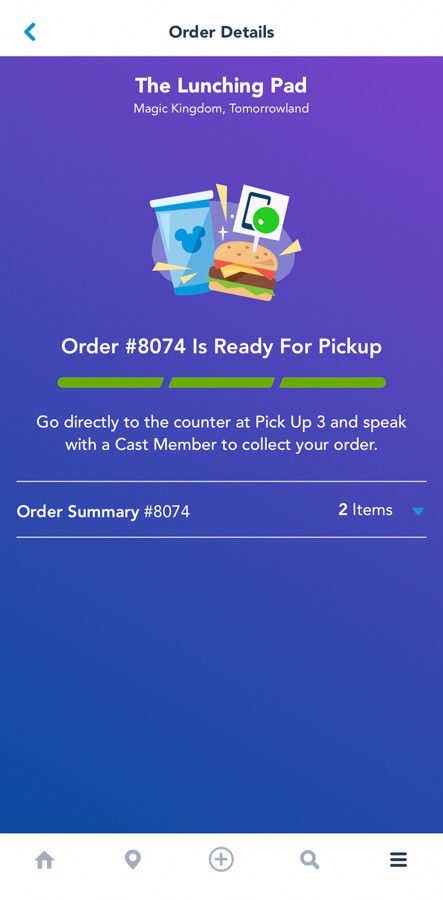 However, do note that at certain locations, such as Aloha Isle and Sunshine Tree Terrace, getting a purple screen does not mean your Dole Whip is ready and waiting (and melting). Because they don't want Dole Whips just sitting there, getting a purple screen actually only means that now you get to wait in a line to get your ice cream. And because the system can get so overwhelmed with orders, you may wait just as long to get it. Let me give you an example.
Once, I wanted to get a Dole Whip from Aloha Isle. I placed an order early, and then five minutes before, I pressed on the "I'm Here" button while walking over to the restaurant from Tomorrowland. After waiting about 20 minutes, I got the purple screen and was directed to wait in the Pick Up 1 Window line. After another slow 20 minutes, I got up to the window, and my Dole Whip was made right then and there. I waited over forty minutes in total to get my Dole Whip. The lady in front of me had been waiting for over an hour for her treats. This was and is typical for Aloha Isle during really busy times. Guests were hot and frustrated. Many people with purple screens tried to walk past the line because they assumed it meant they could go straight to the window. The people in line had to explain that we all had purple screens and we all were waiting! Tempers flared, and there was no magic. It is unfortunate because people still believe the service will save time. Instead, guests are now regularly losing precious park time waiting for food. It shouldn't be this way!
10 – Our Mobile Order Wish List
While I'm obviously glad that my Dole Whip isn't sitting there melting, there are some dream features we wish Disney would implement to improve the process. Here are some of the things we'd love to see to improve the service.
Include "estimated wait time for food preparation" on the screen when you tap "I'm Here." Pre-pandemic, when we visited a quick-service restaurant, we could see how long the line was and then determine whether we wanted to wait in that line. This is no longer the case. When we tap "I'm Here," we have no idea how many others are also waiting. Including the estimated wait time for food, prep gives guests control over their experience in several ways. First, guests can choose to cancel the order. If the estimated wait is thirty minutes, the guest can choose for themselves if they actually want to wait that long. Second, it gives the guest proper expectations. Most guests expect their food within five minutes. But the longer they wait, the more frustrated they become. If they know they'll be waiting about thirty minutes, they can watch a cavalcade, hop on an attraction, or just have a better idea of when the food will be ready so they are not disappointed. In short, their time will not be wasted waiting for food; they know what they are in for.
Limit the number of orders per arrival window by lowering capacity. While we noted and have seen Disney letting Arrival Windows fill up to a certain capacity, that capacity needs to be further capped. We know it's a hard decision for Disney, with either option seeming to not be a good option–have angry guests because there are no time slots left or have angry guests because they wait a long time to get their food. However, something needs to be done. If the kitchens can't handle all of the orders in a particular period, then they need to reduce the number of orders. Again, this wasn't a problem when you could see how many people were in line ahead of you. If lines were really long at noon, you could find a snack and wait. Guests naturally helped control the flow of orders at any given time by passing by and waiting. Not so anymore.
Open more table-service restaurants. The fact is that several table-service restaurants have not reopened, leaving more guests needing to eat at quick-service restaurants. That adds to a restaurant's inability to handle the number of orders it receives.
Open more tills! Whether it's staffing or some other issue, Disney should open more regular lines and let people order as they did before the pandemic. While many have reopened regular lines, it's usually just one or two registers that are open. Again, by allowing more regular lines, guests can decide if they want to wait in a line they can see to order their lunch.
We used to love Mobile Order and happily encouraged guests to use the service. It really is hit or miss now. Sometimes you get your food fast, and sometimes you'll wait a long time for it to be ready. While we still use it (because we have to), we now wait to see if the restaurant has a regular line where we can order in person. If they offer it, we use it because it is often faster than using Mobile Order. We want to love the service again and hope that Disney will work on it. Dining has become one of the biggest negatives to a Walt Disney World vacation, and it shouldn't be. We hope we've given you the information you need and the proper expectations for when to use the service on your next vacation.
DisneyLists.com authors Matt and Kim also contributed to this article. 
For a no obligation, FREE Quote on a Disney vacation package, please contact our travel partner Magical Vacation Planner at 407-442-0227 (407-442-0215 for Spanish). You can also request a FREE quote online by Clicking HERE.