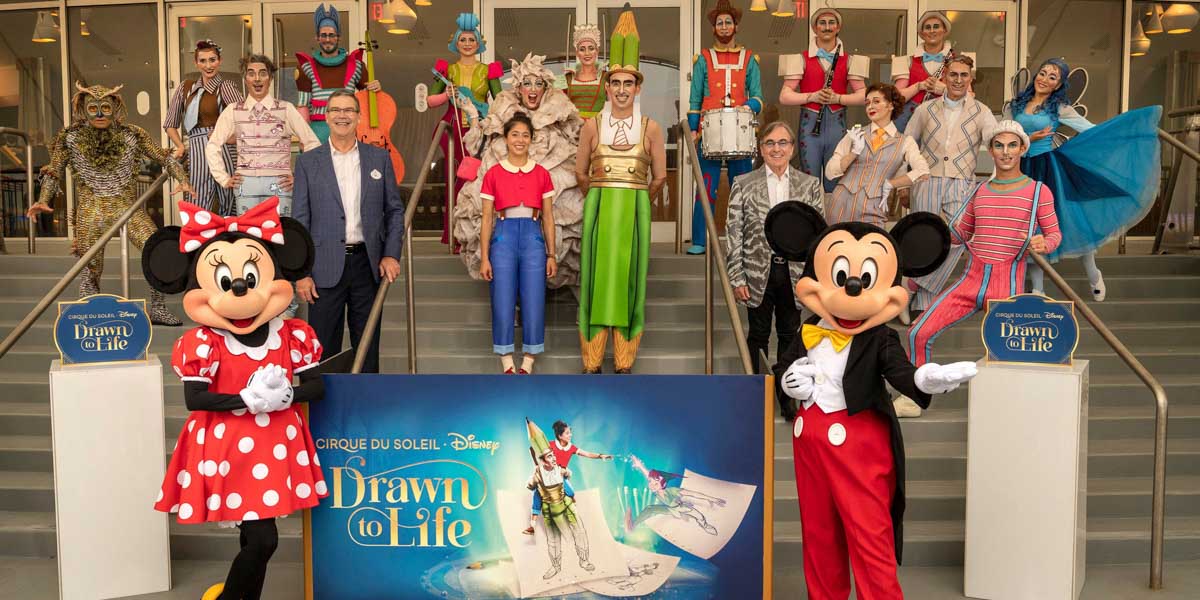 A first-of-its-kind creative collaboration between iconic memory-makers Cirque du Soleil and Disney has debuted at Disney Springs at Walt Disney World. Drawn to Life is a love letter to Disney Animation interpreted through Cirque du Soleil's acrobatic performances, dazzling choreography, innovative design, and eclectic costuming alongside all-new characters created by Disney Animation artists and an original score inspired by timeless Disney music. We were there on opening night and were blown away by the show. Keep reading below for our review and what you need to know.
1 – Drawn to Life Tells a Story
Drawn to Life is a live acrobatic journey telling the story of Julie, a courageous and determined 12-year-old, who discovers an unexpected gift left by her late animator father: a letter urging her to complete a drawing he left unfinished. From his cluttered desk, Julie is suddenly whisked through a vortex into a world of wonder where comforts of her childhood have come alive and beloved Disney Animation characters serve as her guides. Throughout her quest to complete the animation, Julie learns to erase any self-doubt, imagine new possibilities, and animate her future story. At the heart of the story is the love of family and the universally unshakable bond between parents and children that remains undimmed by loss or the passage of time. 
2 – How Drawn to Life Was Brought to Life
Drawn to Life is Cirque du Soleil's 50th production, and it celebrates Disney's extraordinary legacy in the art of animation, from the earliest pencil sketches to the spellbinding spectacles of today. In addition, it marks the first-ever theatrical collaboration of three creative icons: Cirque du Soleil, Walt Disney Animation Studios, and Walt Disney Imagineering.
Years in the making, the show resulted from extensive visits Cirque du Soleil teams made to Disney theme parks, Walt Disney Animation Studios, Walt Disney Animation Research Library, Walt Disney Archives, and The Walt Disney Family Museum in San Francisco. As a result, the show pays homage to classic Disney Animation techniques and many trailblazing Disney Animation artists, including Mary Blair, Ollie Johnston, and Frank Thomas.
"This show has been in the works for years and to finally share it with the world is a dream come true," said Daniel Lamarre, President, and CEO of Cirque du Soleil Entertainment Group. "This collaboration has been unlike anything we've done before. We hope it will mean as much to our fans as it has to us – it's not just our show now, it's theirs too."
"Seeing a Cirque du Soleil show at Disney Springs has long been a cherished experience for our guests," said Jeff Vahle, President of Walt Disney World Resort. "Combining the rich legacy of Disney Animation with the incredible artistry of Cirque du Soleil, Drawn to Life is pure magic."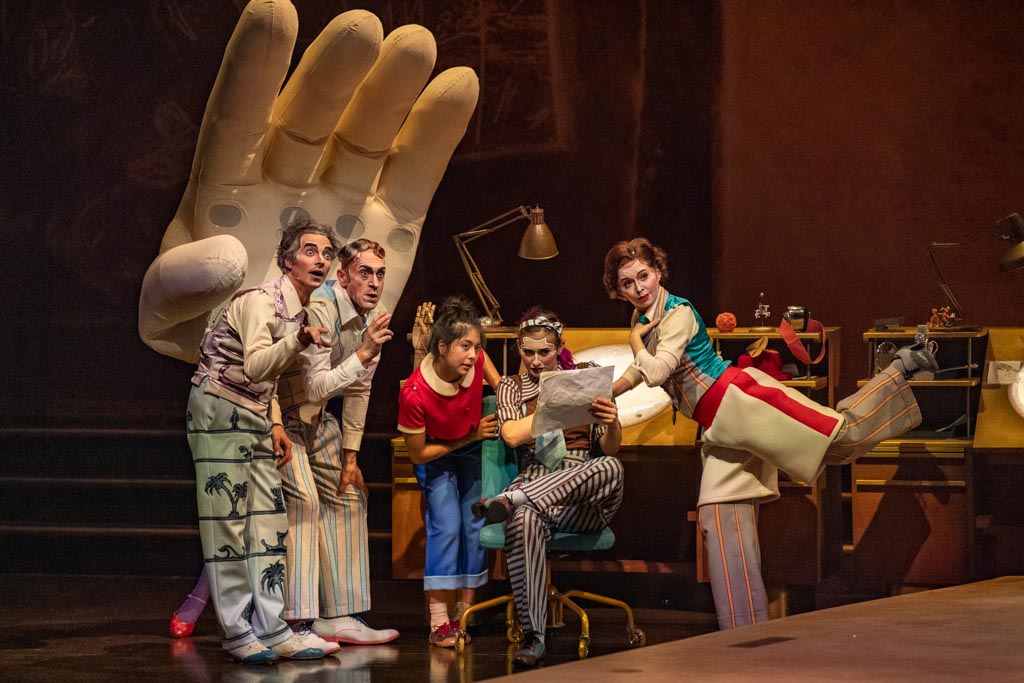 3 – Celebrating Disney Animation
Drawn to Life also features animation from beloved Disney films as well as all-new animation created by Disney artists led by Eric Goldberg, best known for characters such as the Genie in the animated classic "Aladdin."
Animation and acrobatics are the perfect pairings. Animation is fascinating from the moment life appears in the drawings. Characters and moments from Disney Animation take form in Drawn to Life via extraordinary projections that transform regular-seeming set pieces into striking, moving artwork.
"Our show uses new technologies and art forms to portray the innate physicality of animation," says Michel Laprise, Show Writer & Director. "During a number of the acts, classic Disney animation sequences come alive via contemporary projections, complementing the spectacular feats of our acrobats.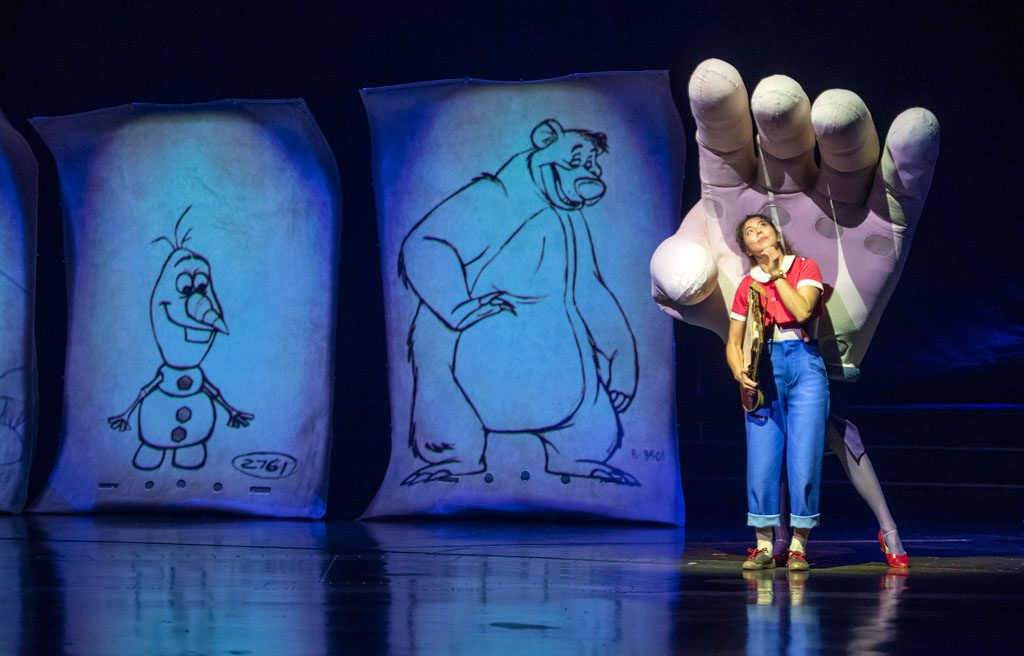 4 – Eye-Catching Set Design
Audience members of all ages will not only be enthralled by the unbelievable talent and strength of the acrobats of Drawn to Life but by the stunning stage and props as well. Stéphane Roy, the show's award-winning Set Designer, managed to create a fully immersive world for Julie's journey inside the world of animation with no detail overlooked. Drawn to Life plays out on a vast stage made to look like an animator's desk; sheets of paper surround the stage resembling the stacks of drafts that an animator inevitably sifts through during their creation process while a colossal version of an animator's lamp towers overhead.
"Every aspect of the set design has been meticulously crafted by Stéphane, who left no detail of the animator's world untouched. The size and scope of props used in the show are spellbinding,'' says Fabrice Becker, Creation Director.
5 – Costumes and Makeup
The imaginative costume and makeup design of Drawn to Life reflect both a real and animated world, as there are real characters—like Julie—alongside pencils, paintbrushes, crumpled paper, and other inanimate objects that come alive. The design of many costumes represents the line sketchings of animations and showcases their movement when set in motion. Makeup must connect seamlessly to the costume for each look to be complete. As with any Cirque du Soleil show, facial makeup completes each costume and helps portray the characters' emotions—especially the non-human ones. Exaggerated lines, highlights, and shadows showcase movement that nods to certain principles of animation.
6 – Music
Drawn to Life plays to an all-original score of new music pixie-dusted with playful snippets of melodies from classic Disney Animation feature films. Benoit Jutras, the world-famous musical composer whose projects include the beloved La Nouba soundtrack, returned to the Central Florida theatre to craft the score. Music was cast to merge into the story, to capture the emotion of each moment. Drawn to Life is a show of acts that take differing themes and music versus one narrative with a singular musical theme threaded through it. A small but immensely talented group of musicians performs from a space elevated in the wings of the proscenium. Their costumes are styled to represent the instruments they play, further personifying inanimate objects inside a whimsical animated world.
7 – Ten Amazing Acts
Ten unique acrobatic acts drive the ninety-minute show (with no intermission). An eye-filling show of gravity-defying acrobatics, captivating choreography, new musical arrangements, whimsical characters, unique set design, and playful costuming, Drawn to Life reconnects adults to their childlike selves. It introduces a new generation to the wonders of Cirque du Soleil and hand-drawn animation.
Below is a listing of the different acts of the show, along with a short description.
Prologue, Basement, Through the Table

After her father's death, Julie rediscovers his animation desk in the basement, cluttered with pencils, papers, and other objects. Her most important find: a page of unfinished animation her father challenged her to complete. Suddenly, the scene illuminates as she transitions through the table into another dimension set upon a giant animation desk. Characters of her childhood and comforting objects stir to life. Julie is off on an amazing journey into the whimsical world of animation.
The Inner World of Animation

Animation meets acrobatics as the physicality of the art form is captured dramatically by the Waku Waku. A group of rhythmic gymnasts execute flips, jumps, and bounces with extreme precision and torque to represent movement through pages of drawings that make up mere seconds of animation.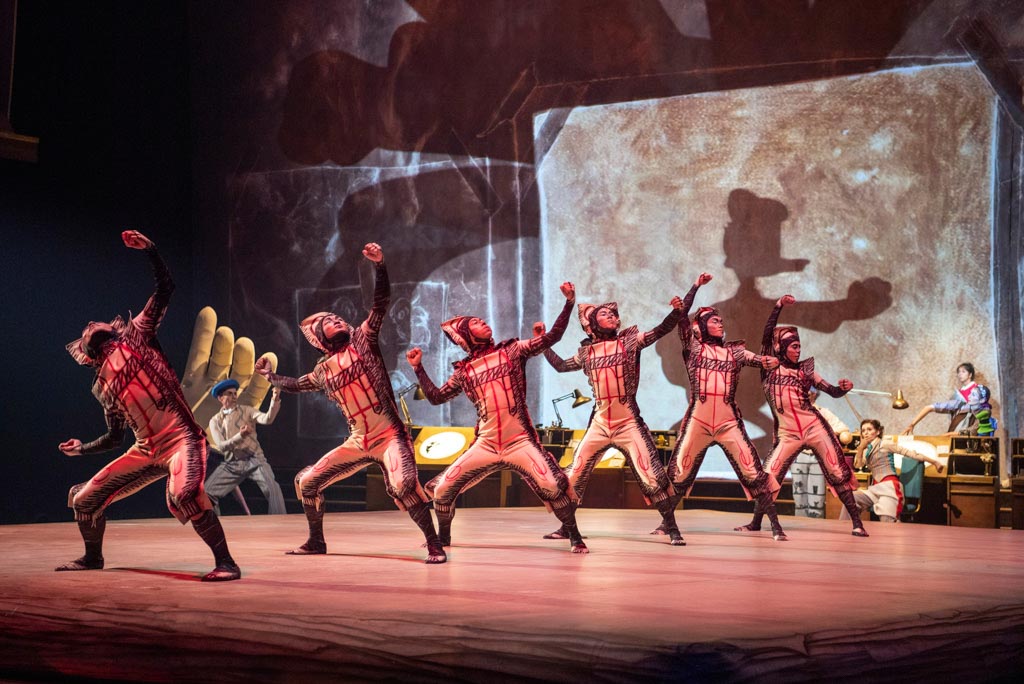 Aerial Pencil

Celebrating the "pencil test," the moment when life first appears upon the animator's paper. An acrobat guides an aerial pole, stylized as a giant pencil, across the stage to create their own animation before propelling dramatically into the air.
Forest and Stilts

As Julie experiences fear and self-doubt, colossal pencils summoned by Mr. Pencil leap from their pot to lend Julie encouragement and guide her through a forest of familiar faces. The larger-than-life movements of the Stilt Walker are skillfully made via the three-meter extensions of their body.
Animating a Ball

If you can animate a ball, you can animate the world. A juggler performs tricks with unbelievable skill and ease. The task of animating a simple ball becomes a step in Julie's journey to complete her father's animation.
Dream of Colors

Julie's dreams become a palette of colors as Mr. and Mrs. Paintbrush are awakened by the live drawings of an artist who sits painting at her own animation table. High above the stage, two artists silhouetted in a suspended giant wheel execute a number based on mutual trust. The catcher turns into a human trapeze and flings their partner into the air to perform increasingly complex flips and somersaults.
Garden of Lines

Playing with friends stirs the inner child in an homage to cherished tales that inspire an animator. Five playful unicyclists representing the Blue Fairy of the classic Disney Animation film "Pinocchio" appear to effortlessly float across the stage, performing synchronized stunts and individual tricks with pinpoint precision.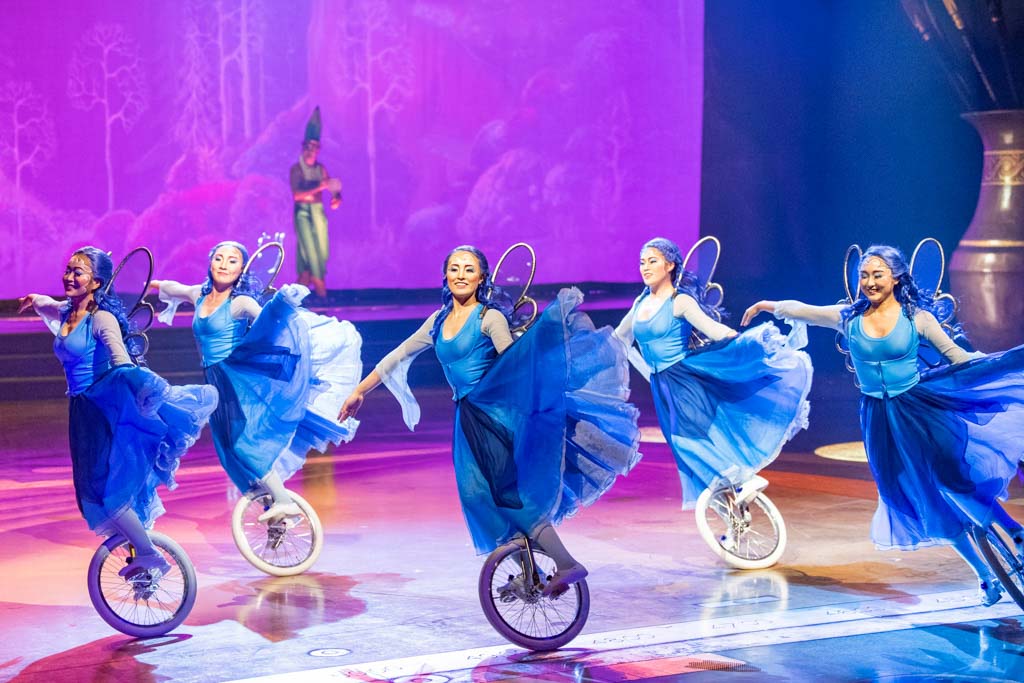 The Old Mill

Owls dreamed up by Julie's imagination weather a storm using teamwork and courage to carry them through the powerful wind and rain that threaten their windmill home. The Old Mill, recalling Walt Disney's groundbreaking 1937 animated short of the same name, inspires this amazing act and is seen in projections throughout. The windmill of the film is represented in a spectacular, churning, fast-moving double-wheel structure. Gravity-defying acrobats are in constant motion with the turning wheels, riding their rise and fall—at times airborne—with astonishing balance and agility.
Hand to Hand Love

Julie envisions her parents as an iconic fairytale couple, dancing like a prince and princess across the ballroom floor. Two artists connect through tender yet intense movements that defy both strength and gravity.
Squash & Stretch

Fun, explosive movements honor the playfulness of the animator, who often recalls their inner child when creating. Inspired by objects that shot from stretched rubber bands, acrobats spring from a teeterboard to dizzying heights.
Swing to Swing

Encouraged by feminine energy and spirit, Julie finds the strength to complete her animation before flying into the arms of her father and saying goodbye. The celebratory finale is an all-female Swing to Swing act—a first in Cirque du Soleil's history. Russian acrobats take flight between two arcing swings swaying, pendulum-like, in a breathtaking show of grace and precision.
8 – Drawn to Life Fun Facts:
The cast is comprised of 62 artists from 15 countries around the globe, including Japan, Russia, Togo, Colombia, and Peru
There are ten unique acrobatic acts in Drawn to Life
The show features many references to the history of Disney Animation, a few of which are:

The four animators who befriend Julie on her journey are Cirque du Soleil's bow to Walt Disney's Nine Old Men, icons of Disney Animation.
Throughout the show, there are references to the 12 principles of animation outlined in the book Disney Animation: The Illusion of Life by iconic Disney animators and Disney Legends Ollie Johnston and Frank Thomas.
In the Dreams of Colors act, the kaleidoscope of colors pays homage to the genius of Disney Animation artist Mary Blair. Tribute is also paid to the Women of Ink and Paint, unsung heroes whose brushstrokes gave life to early animation celluloids.
The Old Mill act is inspired by Walt Disney's groundbreaking 1937 animated short of the same name.
The Squash & Stretch act was inspired by the rubber band fights Disney Animators were known to have during their breaks.
9 – Showtimes & Tickets
Two shows run nightly at 5:30 pm and 8:00 pm. Tickets are offered in four categories and are priced at $85, $119, $149, and $185. Children's tickets rates are for children aged 3-9 and are priced at $63.75. $89.25, $111.75, and $185. Children two and under are free as long as they sit on their parent's lap.
Below you'll see the theater layout and where the different categories are placed inside the theater. The theater is really quite intimate, and we don't think there is a bad seat in the house.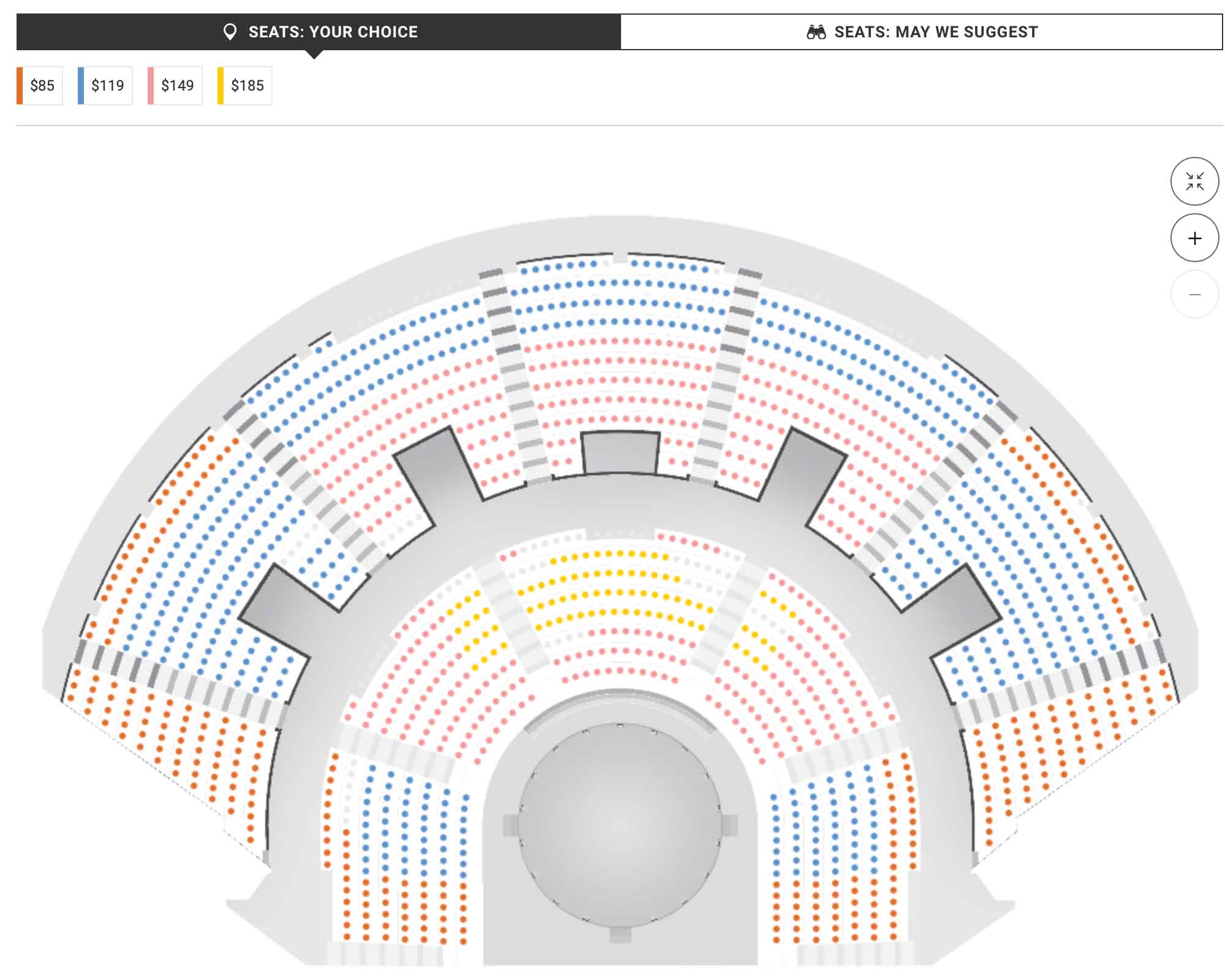 Click here to purchase tickets. 
10 – Our Thoughts on The Show
We really enjoyed the show. We've seen many Cirque du Soleil shows and are always impressed by the artistry and acrobatics that these shows consistently deliver. It's great to have a Cirque du Soleil show back at Disney Springs and unlike La Nouba (which was also great), Drawn to Life is the perfect blend of Cirque and Disney. The show will bring out all the emotions. At times, I cried, laughed, and held my breath, watching the amazing stunts. I also loved how the show rekindled the joy and love for Disney animation. Our show debuted on Mickey Mouse's birthday, and Jeff Vahle, President of Walt Disney World, reminded us that "It all started with a Mouse." While watching the show, I thought that actually, it had all started with animation. When vacationing at Walt Disney World, we get to experience all of the amazing advances that the Walt Disney Imagineering has delivered over the years in the different attractions we get to enjoy. Still, it was so nice to celebrate where it all started—Disney animation.
We feel the pricing is just about right for a show of this caliber, and prices are what you would expect to pay in New York City or Las Vegas. In addition, because this show celebrates Disney characters, children will be able to feel connected and enjoy seeing their favorite characters in sketch form. We heard many children giggle during the performance, and it was great to hear.
We gladly recommend this show for anyone looking for a fantastic evening full of artistry, incredible acrobatics, and Disney magic.
Editor's Note: Disney Parks, Experiences and Products provided us complimentary tickets for Drawn to Life. However, as always, the thoughts and opinions contained in this article are entirely our own.
For a no obligation, FREE Quote on a Disney vacation package, please contact our travel partner Magical Vacation Planner at 407-442-0227 (407-442-0215 for Spanish). You can also request a FREE quote online by Clicking HERE.