Just ahead of the first in-person race at Walt Disney World since February 2020, Disney has announced the theme for the all-new spring race, runDisney Springtime Surprise Weekend. Catch all the details below.
Here are all the details from Disney Cast Member Sarah Harris:
We're about four months from the debut of our new runDisney Springtime Surprise Weekend and I'm excited to share details about the "surprise'' part of this unique event, whose theme will change each year.
This inaugural event borrows from some all-time favorite runDisney events and combines them with exciting new twists and turns for a totally unique experience.
When March 31-April 3, 2022 rolls around, runners will embark on a nostalgic four-day race weekend that will have them reliving wonderful past runDisney memories while creating new ones during the Walt Disney World Resort 50th anniversary celebration.
The inaugural Springtime Surprise Weekend will feature:
Expedition Everest 5K (March 31, 2022) – The race will once again feature a nighttime 5K combined with a scavenger hunt, but this time the hunt will be conducted during the 5K.
Race for the Taste 10K (April 2, 2022) – The event will mirror the 10K from the past, but now the race will celebrate the newest attraction at Walt Disney World Resort, Remy's Ratatouille Adventure at EPCOT.
The Tower of Terror 10-Miler (April 3, 2022) – The race will still be a 10-miler, but will be run in the morning instead of at night.
Runners who sign up for the Springtime Surprise Challenge, can test their endurance by participating in all three events – 19.3 total miles – and earn a special "challenge'' medal while perhaps also reminiscing throughout the weekend.
And if you're in the mood for more relaxation, there will also be a sunrise yoga event in front of Cinderella Castle at Magic Kingdom Park to kick off the weekend, similar to the recently announced yoga event that leads off the Disney Princess Half Marathon Weekend in Feb. 2022.
Registration for the Springtime Surprise Weekend begins Dec. 9th at rundisney.com. The runDisney Springtime Surprise Weekend is the last in the 2021-2022 race season following the Disney Wine & Dine Half Marathon Weekend (Nov. 4-7), the Walt Disney World Marathon Weekend (Jan. 5-9, 2022), and the Disney Princess Half Marathon Weekend (Feb. 24-27, 2022). To sign up for a race or to get more information about runDisney events, visit rundisney.com.
RELATED ARTICLE: The Best Places to Run at Disney World
by Mike and Jamie Sylvester
Who says you can't keep that waistline in check at Disney – even though it is rather tricky! Good news… if you've accidentally eaten a couple of turkey legs and Mickey ice creams, Disney has excellent places to go running. Here are the best places to stretch those running legs while at Disney.
Editor's Note: At this time, not all of the Disney resorts are open therefore not all running routes may be available. 
1 – Epcot Resort Area
Arguably one of the best and most beautiful running paths would have to be through the Epcot Resort area. Whether you begin at Disney's Boardwalk, Yacht Club, or Beach Club Resort, you will enjoy the path that travels by these gorgeous resort areas around Crescent Lake. Particularly in the early morning, the sun rising over Crescent Lake makes the sweat all worth it! Maybe you're feeling extra energetic and can continue through the path that connects to the Swans and Dolphin Resort area. You could also follow the longest stretch and start running towards Hollywood Studios by following Epcot Resorts Boulevard and Buena Vista Drive. There is also a fantastic path that guests at Disney's Riviera Resort and Disney's Caribbean Beach Resort can enjoy. With so many options for distance and scenery, the Epcot Resort Area gets our vote!
2 – Seven Seas Lagoon
With magic under your feet, another great place to run at Disney would be around the Seven Seas Lagoon with a view of Magic Kingdom and Cinderella Castle. Start at either the Grand Floridian Resort or the Polynesian and follow the path between the two for roughly a 1-mile run one way. Not only will you have spectacular views, but you will even get to run by Disney's Wedding Pavilion next to the Grand Floridian Resort. Hopefully, you'll have a chance to watch a ferry boat cruise by or, better yet, the monorail!
3 – Art of Animation Resort
Disney and Pixar come to life right in front of your eyes. Hopefully, that doesn't mean you're dehydrated and hallucinating, but rather you're simply checking out the Art of Animations jogging trail. We put this trail up on the best places to run list because it reminds you that you are still within the Disney World realm! Along this 1.38-mile path, you'll get to pass several Art of Animation's courtyards, which are filled with bright colors that seem to come to life! Cars, Nemo, The Little Mermaid, and scenes from the Lion King may just appear along your trek through animation.
4 – Fort Wilderness Resort Area
Take a deep breath and enjoy the fresh air! With the forest surrounding you, you can take a quick jog or long run through the beautiful trails. Pass by the cabins, campsites, and nothing but nature as you run through gorgeous loops and along the canal. Just don't trip over Chip n' Dale along the way!
5 – Lake Buena Vista Golf Course
Maybe you're not the golfing type, but enjoy the lush greens and wide-open views a golf course has to offer. Take a jog around and throughout the Lake Buena Vista Golf Course that surrounds Disney's Old Key West and Saratoga Springs. Old Key West offers a 1.75-mile-long path while Saratoga Springs has a 1.44-mile or 0.8-mile loop. Not only will you enjoy checking out the golf course, but the beautiful scenery and waterways either resort has to offer. Tip – if you hear someone yelling, "FORE!" duck!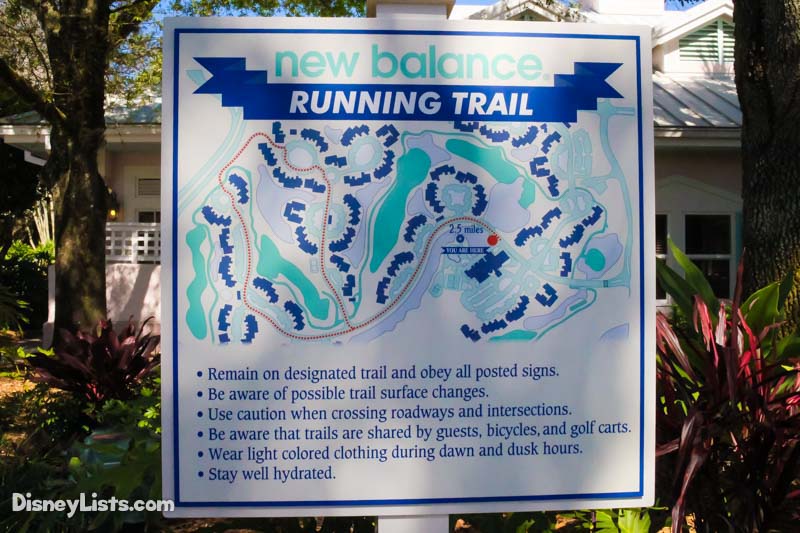 6 – And More!
Looking to burn off that Jambalaya you for enjoyed at Port Orleans Boatwright's? Head out for a run on the Port Orleans jogging path that stretches across the Riverside and French Quarter along the Sassagoula River on a 1.7-mile path. Disney's All-Star Resort has a 1-mile jogging trail connecting 3 resort areas (Movies, Music, and Sports) with one path. Disney's Coronado Springs also has a 0.75-mile-long trail with scenic views of the wetlands. Caribbean Beach Resort offers a 1.2-mile trek around Barefoot Bay. The Contemporary has a 0.9-mile path circling Bay Lake Tower and the South Garden Wing of the resort. Pop Century even gets in on the running action with a 1.1-mile or 1.38-mile loop around Hourglass Lake. With so many running trails, there really is no excuse… well, except for maybe you're on vacation!
Don't forget to check with Guest Services at your Disney Resort for a jogging path map. Some folks may decide to take a break from running while on vacation at Disney. However, Disney didn't forget about you go-getters! Pick a path, and enjoy your run. If you find yourself struggling, just look around for some Pixie Dust to get you to your finish!
For a no obligation, FREE Quote on a Disney vacation package, please contact our travel partner Magical Vacation Planner at 407-442-0227 (407-442-0215 for Spanish). You can also request a FREE quote online by Clicking HERE.