Many guests love to spend plenty of time in Epcot on a Disney World vacation. Guests can explore the four neighborhoods for attractions, dining, shopping, and entertainment. With so many amazing experiences to enjoy in Epcot, no day there is complete without enjoying a nighttime show, which brings World Showcase Lagoon to life. "EPCOT Forever" is the current fireworks show at EPCOT. A new show is set to debut in fall 2023.
Despite World Showcase Lagoon being massive, guests often line up as early as an hour before showtime to guarantee the perfect view. While there are plenty of places to enjoy "EPCOT Forever," some spots are not so great, and some are just okay. Guests who are looking to have the perfect view of the fireworks on their next visit to Epcot should choose one of the spots listed below and get there at least an hour before showtime! Here are the six best viewing spots for EPCOT fireworks
1 – Japan's Balcony
The Japan Pavilion in World Showcase features beautiful traditional architecture, including many tall buildings with blue slanted roofs. Guests who are looking to find a unique and amazing viewing spot for "EPCOT Forever"  should head into the pavilion and climb some stairs for the perfect location. The largest building in the Japan Pavilion is home to the Mitsukoshi Department Store on the first floor, which sells a variety of souvenirs, including kimonos and stuffed animals. The second floor of the building is home to the popular Tokyo Dining Restaurant, a full-service location open for lunch and dinner that serves traditional Japanese cuisine. Guests who head up to the second level of the building near the entrance to Tokyo Dining can enjoy a beautiful balcony that offers sweeping views of the fireworks.
2 – Rose & Crown Pub Fireworks Dining Package
Located in the United Kingdom, Pavilion is a full-service restaurant that offers up both delicious cuisine and an amazing view of "EPCOT Forever." The Rose & Crown Pub & Dining Room is open daily in Epcot for lunch and dinner and is right up against the shores of World Showcase Lagoon. In the warmer months and good weather, a back patio is attached to the restaurant, where several tables are set up overlooking the water. Disney now offers a Rose & Crown Fireworks Dining package where guests can enjoy a delicious dinner on the patio and have fantastic views of the fireworks. Click here to learn more. 
3 – Spice Road Table Fireworks Dining Package
Spice Road Table is located in the Morocco pavilion and offers a fantastic viewing location to see the fireworks just like Rose & Crown. This dining package is priced lower than Rose & Crown, making it a more budget-friendly option. Click here to learn more. 
4 – La Cantina de San Angel
The Mexico Pavilion in World Showcase is the first location that guests can enjoy when entering the area from the Test Track Presented by Chevrolet side. Nestled along the shores of World Showcase Lagoon in the Mexico Pavilion is a quick-service dining location serving delicious Mexican cuisine along with beautiful water views. La Cantina de San Angel is open daily for lunch and dinner, and guests who are lucky enough to find a table against the railings are sure to have a wonderful viewing spot for "EPCOT Forever."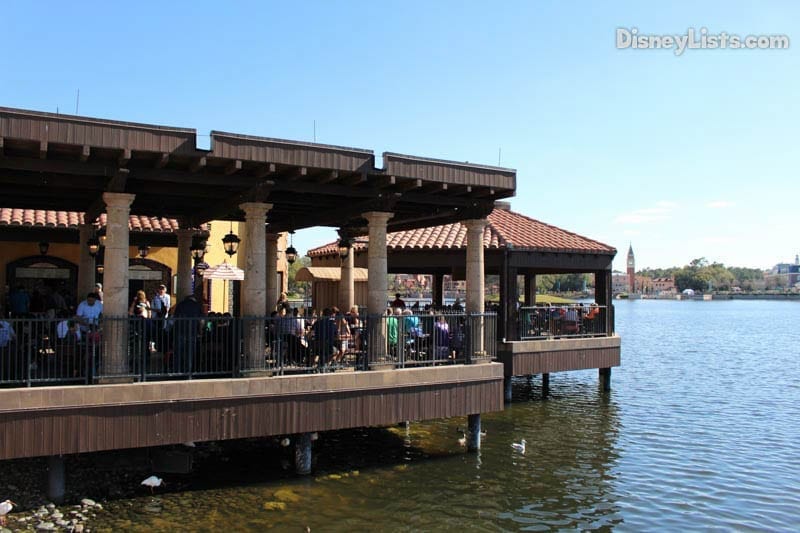 5 – Showcase Plaza
Editor's Note: At this time, dessert parties are temporarily suspended.
When guests head towards World Showcase, they approach Showcase Plaza, where they choose to either head left towards Mexico or right towards Canada. When show time arrives for "EPCOT Forever," Showcase Plaza becomes the dessert party viewing area, offering centered and perfect views of the show. Even if guests have reservations for the dessert party, they should still plan on arriving at the Showcase Plaza at least an hour before the show is set to begin to secure spots in the front of the area.
6 – Italy's Bridge
The Italy Pavilion in World Showcase is located almost directly across World Showcase Lagoon from Showcase Plaza and features an area that offers amazing views of the fireworks. A small area of the pavilion is located along the water, which features several bridges and a gently bobbing gondola. Guests who arrive early enough to the location can score a spot up against the railings and enjoy a phenomenal view of "EPCOT Forever."
For a no obligation, FREE Quote on a Disney vacation package, please contact our travel partner Magical Vacation Planner at 407-442-0227 (407-442-0215 for Spanish). You can also request a FREE quote online by Clicking HERE.