The Epcot Festival of the Holidays celebrates holiday traditions from around the world through storytelling and music presented throughout World Showcase. The highlight of the festival is the Candlelight Processional. The processional features a 50-piece orchestra, mass choir, and twelve different celebrity narrators. This event is held in the American Adventure Pavilion and debuted at Walt Disney World in 1993. Enjoying the processional is one of our family's must-dos during the holiday season. Here are five things you need to know about the Candlelight Processional.
1 – What is it?
The Candlelight Processional is a holiday favorite at Walt Disney World. Each evening a celebrity narrator tells the biblical tale of a savior born to a virgin in Bethlehem. It is accompanied by the Walt Disney World Orchestra and a mass choir, which includes a special Cast Member. What is truly special about the Cast Member Choir is that they are not all Entertainment Cast Members. Cast from around Walt Disney World who work in any department can audition and volunteer their time to perform in this event! The choir is joined by the Voices of Liberty, who wear red. In years past local high school choirs have also joined in, but this year due to safety concerns, only Cast Members will be taking part. The choir sings traditional Christmas songs that are woven into the retelling of the Christmas nativity story. This event is offered at no additional charge. The processional lasts for about 50 minutes to an hour.
2 – Dates and Times
During the 2022 EPCOT Festival of the Holidays, The Candlelight Processional is offered each evening from November 25 to December 30.  There are three showtimes each night; 5:15 pm, 7:00 pm, and 8:30 pm.  The performances are held in the American Gardens Theater at the American Adventure Pavilion.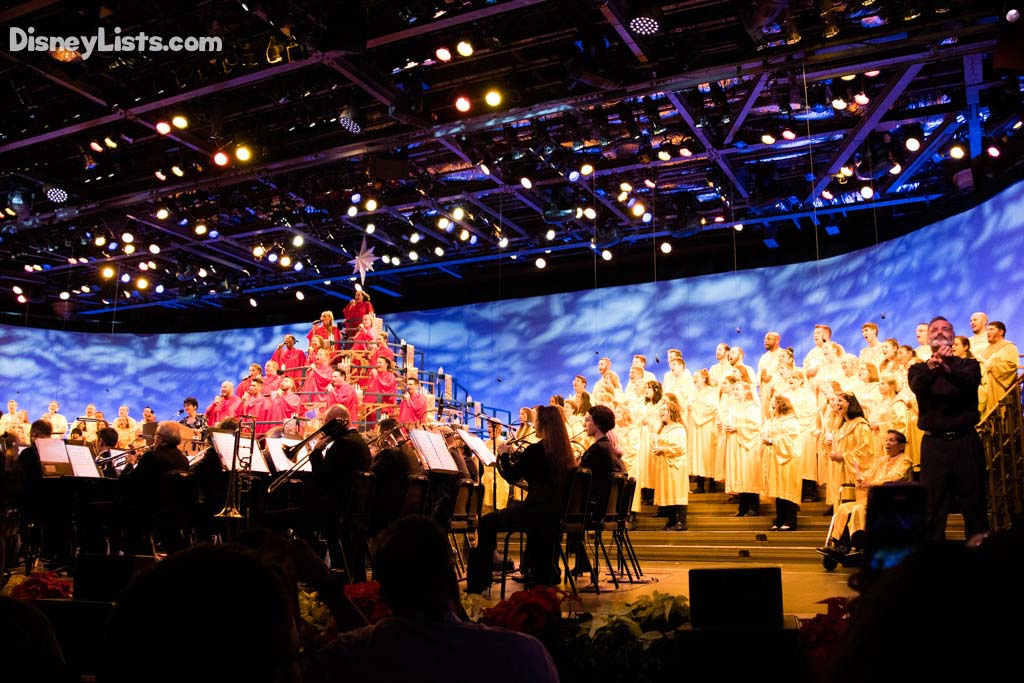 3 – Celebrity Narrators
Each year celebrities are invited to narrate the Candlelight Processional. Like all entertainment offerings, it is subject to change at any time. The first celebrity narrators are usually announced in the summer. The full schedule is then finished and announced in the fall. The 2022 narrators are as follows:
Here is the lineup.
Simu Liu
November 25 and 26, 2022
Chita Rivera
November 27 through 29, 2022
Raul Esparza
November 30 and December 1, 2022
Whoopi Goldberg
December 2 and December 3, 2022
Isabella Rossellini
December 4 through December 6, 2022
Daymond John
December 7 through December 9, 2022
Josh Gad
December 10 through December 12, 2022
Gloria Estefan
December 13 and December 14, 2022
Neil Patrick Harris
December 15 through December 18, 2022
Mariska Hargitay
December 19 and December 20, 2022
Cal Ripken Jr.
December 21 through December 23, 2022
Marie Osmond
December 24 through December 26, 2022
Courtney Vance
December 27 and December 28, 2022
Angela Bassett
December 29 and December 30, 2022
Be aware that the celebrity narrators, dates, and other entertainment are subject to change or cancelation without notice. No matter who the narrator is, the show is fantastic!
4 – Get in Line Early
The Candlelight Processional is a top-rated show during the Holiday season.  All three performances each night will fill to capacity. If you want to view the show, it is recommended that you get in the standby line at least one hour before showtime or even more for the very popular narrators. A good strategy is to grab some snacks and relax while waiting for the show.
5 – Or Book a Candlelight Dining Package
Another option, instead of waiting in line ahead of time, is to book a Candlelight Dining Package. These packages allow you to dine at one of Epcot's many restaurants for lunch or dinner. Candlelight Processional Dining Packages are available for lunch or dinner—each meal includes an appetizer, entrée, dessert, one full buffet (where applicable), and a non-alcoholic beverage. The package also gives you reserved seating for specific showtime. This will eliminate your need to wait in the standby line for the show, but you still will need to arrive approximately thirty minutes before show time for seating. The reserved seating area for the dining package is located in the front of the theater, nearest the stage. Handicap seating is available in the reserved area as well. These seats will give you a great, unobstructed view of the entire performance.  Most locations will offer preset menus, and prices vary based on location and meal period. You can book the package online or by calling the dining reservation line. The Candlelight Dining package is strongly recommended if you are looking to see a specific celebrity narrator or show. Click here for more information.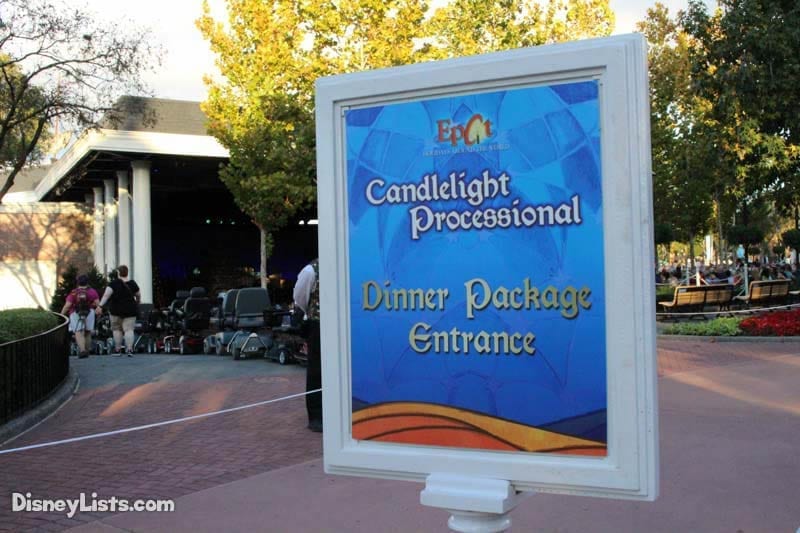 The Candlelight Processional at Epcot is a must-do for the Holiday season! The beautiful music and the Christmas story is sure to fill your heart with joy! Be sure to get in line early or book a Candlelight Dining package for the best experience, as the theater will fill to capacity. Don't forget to check out all the other great holiday offerings at Epcot's Festival of the Holidays during your visit!
For a no obligation, FREE Quote on a Disney vacation package, please contact our travel partner Magical Vacation Planner at 407-442-0227 (407-442-0215 for Spanish). You can also request a FREE quote online by Clicking HERE.