Walt Disney World has become a food lovers paradise, and that is particularly true at Disney Springs. Wolfgang Puck, Guy Fieri, Art Smith and Masaharu Morimoto are just some of the celebrity chefs who have opened restaurants at Disney Springs. Recently, chef Jose Andres was added to the list when he opened Jaleo, which brings the authentic flavors of Spain to Disney. We were invited to a special media lunch where we got to enjoy a fantastic meal. Our thoughts on the meal and why you should have a meal a Jaleo during your next Walt Disney World Vacation are below.
1 – Chef Jose Andres
Chef Jose Andres is the chef behind Jaleo. Named one of Time's "100 Most Influential People" and "Outstanding Chef" by the James Beard Foundation, José Andrés is an internationally-recognized culinary innovator, New York Times bestselling author, educator, television personality, humanitarian and chef/owner of ThinkFoodGroup. A pioneer of Spanish tapas in the United States, he is known for his avant-garde cuisine and his award-winning group of 30 restaurants throughout the country and beyond. His innovative minibar by José Andrés earned two Michelin stars in 2016 and with that, José is the only chef globally that has both a 2-star Michelin restaurant and 4 Bib Gourmands. Andrés' work has earned numerous awards including the 2015 National Humanities Medal, one of 12 distinguished recipients of the award from the National Endowment for the Humanities.
2 – Jaleo
Since its debut in Washington D.C.'s Penn Quarter in 1993, Jaleo has evolved to represent modern Spain at every moment. With each extension in Maryland, Virginia, and Las Vegas, it embraces the local community while staying true to its roots: providing a comfortable, welcoming space in which to explore, discover and share the incredible spirit of Spain. Renowned for its award-winning assortment of tapas, the traditional small plates of Spain, as well as savory paellas, sangrias and a fine selection of Spanish wines and sherries, Jaleo celebrates these flavors in a festive, inviting atmosphere. Jaleo is located in Washington, D.C.; Bethesda, Maryland; Arlington, Virginia; and Las Vegas, and now Disney Springs in Orlando, Florida.
Chad and I have eaten at the Jaleo in Las Vegas, and it was the highlight of one of our vacations there. Chad also eats at the Washington DC location whenever he visits the city. We were so excited when it was announced that a Jaleo was coming to Disney Springs. It is such a fantastic restaurant.
3 – Jaleo at Disney Springs
Jaleo at Disney Springs features an extensive menu of tapas reflecting the rich regional diversity of traditional and contemporary Spanish cuisine, as well as sangrias and a premier selection of Spanish wines. Highlights include a variety of authentic paellas cooked over a wood-fired paella pit, Spanish specialties like hand-carved Jamon Iberico de Bellota and signature dishes like Gambas al ajillo, shrimp sautéed with garlic, and Croquetas de Pollo, tradictional chicken fritters. There really is something for everyone at Jaleo!
The building itself is very large. Designed by renowned Spanish designer Juli Capella, the architectural form of the building housing both Jaleo and Pepe (quick service next door) is inspired by the bold, playful nature of Spain featuring petals that organically open, inviting guests to enter and experience the very best of Spanish cuisine. The petals themselves form pergolas, which extend toward the outdoors, allowing light to flow in and out.
4 – Dining at Jaleo
When sitting down to eat at Jaleo, you might feel overwhelmed by the choices. There are a lot of them. However, your very knowledgeable server will help you understand the menu (it's in Spanish), and will make recommendations. Each tapas or plate is designed to be shared. The great thing about this is that you get to have multiple dishes and get a wide variety of food. Our favorites include the croquetas de pollo (traditional chicken fritters), pan de cristal con tomate (toasted slices of ethereal bread brushed with fresh tomato), and of course one of the paella varieties. There are five paellas; however, only two are available each day. If you would like a specific paella for your visit, call them 24 hours in advance to place your order.
Jaleo at Disney Springs is the first Jaleo to have a kid's menu. Your children will be able to experience some of the great Jaleo dishes in smaller portions. There are also unique options for children including sandwiches and chicken fritters. So, don't worry about leaving your kids behind. They can enjoy fantastic food as well.
If you're not sure what to order you might want to consider ordering one of the Chef's Tasting Menu options. One option is, "The Jaleo Experience," which is a tour of Spain with Jaleo's favorite traditional and modern tapas for $95 per person. Don't let the price scare you away. You'll enjoy the best of what the restaurant has to offer. If you were to order each item separately, it would cost almost three times as much! It's a great value, and it will be a night you won't forget!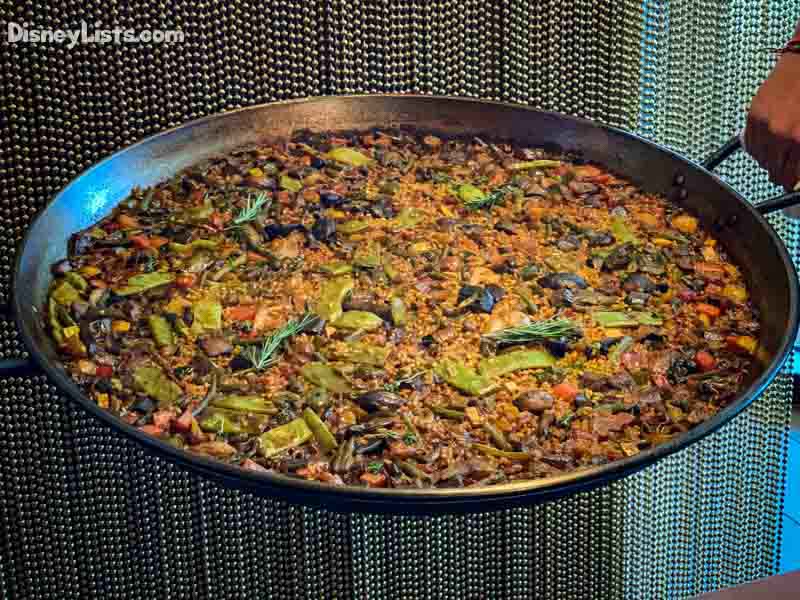 5 – Take Your Time
Dining at Jaleo is an experience that you'll want to set aside time for. We highly recommend planning on at least one and a half to two hours for your meal, especially if ordering off the Chef's Tasting Menu. Trust us, this is not something you want to rush. A more extended meal will allow you to fully enjoy everything that is brought to you.
That being said, if you don't want to take that much time for a meal, don't let that scare you away from coming. Jaleo can be a great spot to visit for a one or two tapas and drink at the bar. Also, if you just want to sample a few tapas, you can enjoy a meal that will not take as long. Your server will guide your menu selections if you are in a time crunch. So, while we recommend giving a few hours to dining here, you can still enjoy the restaurant in any time frame.
6 – Extensive Drink Options
Jaleo also offers an extensive cocktail and wine menu. If you're a margarita fan, you'll want to try the Salt Air Margarita. The wine selection has been chosen by Jose Andres and his sommeliers for their amazing quality and authenticity. The wine menu includes a guide to help you select and includes food pairing suggestions.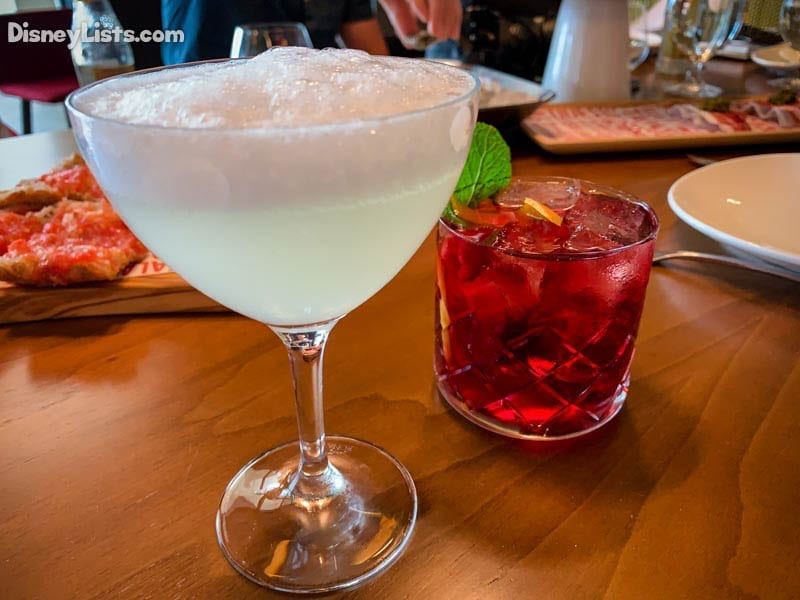 7 – Final Thoughts and Recommendations
There are so many fantastic restaurants at Disney Springs and Walt Disney World, but Jaleo is our favorite. Jaleo has been Chad's favorite restaurant for years! The quality, flavor, and selection are amazing. We really feel you can't go wrong by dining at Jaleo! Jaleo is open for lunch and dinner. Reservations can be made through the My Disney Experience App and through Open Table. Currently, Annual Passholders, Cast Member, and Military discounts are accepted.
Check out more photos below:
For a no obligation, FREE Quote on a Disney vacation package, please contact our travel partner Magical Vacation Planner at 407-442-0227 (407-442-0215 for Spanish). You can also request a FREE quote online by Clicking HERE.