News
BREAKING NEWS: Disney Announces Dates & Details for 2022 Flower & Garden Festival at EPCOT
Time to get out those calendars! Disney has announced the dates and details on the 2022 EPCOT International Flower and Garden Festival. Catch all the details below.
Here are all the details from Disney Cast Member Jeremy Schoolfield:
The official start of winter is still a few days away, but spring is already in the air because our horticulture team at Walt Disney World Resort is busy producing topiaries, hanging baskets, flower towers and more in preparation for the 2022 EPCOT International Flower & Garden Festival. This popular and fragrant festival springs to life March 2 and runs through July 4. That's 125 days to enjoy fresh cuisine, colorful gardens, playful topiaries and vibrant entertainment.
Since the festival is taking place during the Walt Disney World Resort 50th Anniversary celebration, a new main entrance topiary display will feature Goofy and a 50th-themed birthday cake. Other favorite Disney Character topiaries will include Snow White and the Seven Dwarfs at the Germany pavilion or Lumiere and Cogsworth welcoming you to the recently expanded France pavilion.
Gardeners will marvel at thousands of blooms forming colorful, living panoramas all around EPCOT, and the entire family can experience the Health Full Trail presented by AdventHealth along the Imagination walkway to learn tips for staying well.
Fresh flavors are on the menu at the festival's 18 Outdoor Kitchens as well as other food and beverage locations around EPCOT, offering a fresh selection of springtime fruits, vegetables, desserts and more.
The popular Garden Rocks Concert Series will return in 2022, featuring favorite tunes at the America Gardens Theatre. More details about the musicians playing at EPCOT during the festival will be released soon.
You'll also find blooming keepsakes including vibrant apparel, drinkware, accessories and more with new merchandise collections launching just in time for the event.
To experience the EPCOT International Flower & Garden Festival, you must have both valid admission and a park reservation for EPCOT on the same date.
RELATED ARTICLE: 8 Things We Love About the Epcot Flower and Garden Festival at Disney World
by D.W. Noonan
Epcot now hosts four fabulous festivals every year drawing countless visitors to celebrate those seasons with special programming. Many events and activities return to Epcot every year, but festival planners also like to create new things for visitors to enjoy. This coming spring, the Epcot International Flower and Garden Festival runs from March 2 to July 4, 2022. There are a lot of things about the Flower and Garden Festival, but the following nine tops the list.
8 – The Weather
While the days in Florida generally range from warm to hot all year long, the springtime days perfectly fall in the middle with temperatures averaging in the mid-70s to low 80s. During the festival, you're not likely to suffer from relentless heat beating down upon you or cool breezes giving you the shivers. Also, Florida's dry season occurs from March to May, meaning that during the festival, you'll usually find clear skies, low humidity, and not much precipitation. These nearly perfect days enhance your experience of the blossoming flowers of Epcot. Any summer guest at Walt Disney World has certainly endured sweltering humidity and heavy thunderstorms that drive them indoors, but we love the fact that we can avoid them during the Flower and Garden Festival.
7 – The Floral Variety
The diversity of flowers that Disney horticulturalists display during the Epcot International Flower and Garden Festival is mind staggering. Disney achieves this through intensive preparation that requires more than a year of work and around 24,000 cast members. The stunning colors draw a multitude of pollen-carrying insects, melodious songbirds, and photo-snapping humans to the festival. Be sure to bring a quality camera to capture the spectacular images that you're not likely to find elsewhere.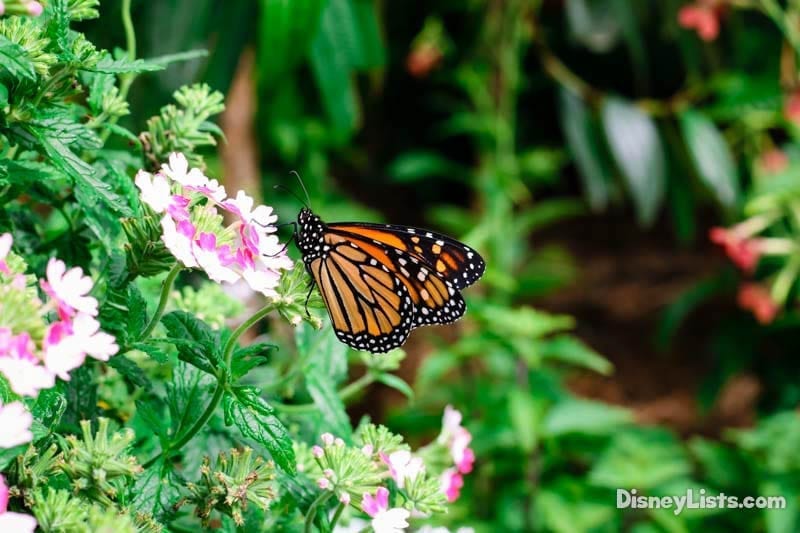 6 – The Fragrances
Naturally, the great floral variety will produce the most pleasant aromas you'll ever smell. Delight your olfactory senses with fragrances from over 30 million blooms as you stroll through lively gardens, linger among the flower towers, and visit purple martin and butterfly habitats. The experience draws you closer to nature and helps you to appreciate all the tools that flowers employ to attract insects to carry their pollen. Festival attendees love the freshness of nature's perfume, and you'll be sure to enjoy it, as well.
5 – The Gardening Tips
There are many gardens to explore throughout both Future World, Showcase Plaza, and World Showcase. Here you'll find gardening tips on the various signs throughout the gardens. Use what you learn to plant your first garden or to improve your current gardening skills.
4 – The Scavenger Hunts
Special themed scavenger hunts encourage guests to explore the festival and provide a fun way for families and friends to spend their day at the park.
Spike's Pollen-Nation Exploration – Gardeners of all ages follow Spike on his pollination trail, where he will be busy as a bee collecting nectar and pollinating gardens throughout EPCOT. (Map purchase required, available while supplies last at select retail locations.)
Egg-stravaganza Scavenger Hunt – Guests set out on a delightful hunt across the park for decorative eggs inspired by Disney characters. (Map purchase required, available while supplies last at select retail locations for a limited time.)
Garden Graze – Guests who purchase five festival menu items from select locations receive a complimentary commemorative keepsake; guests can pick up a Festival Passport to get started.
3 – The Character Topiaries
By far, we find the topiaries created for the Flower and Garden Festival to be nothing short of amazing. Disney's horticulturalists become plant sculptors as they transform shrubbery into three-dimensional depictions of popular Disney movie characters. The staple characters appear all over the place, but the festival planners also add new characters and motifs each year. You'll see everything from Anna and Elsa to Winnie the Pooh, so make sure you snap lots of photos of these incredible topiaries to add to your vacation albums and scrapbooks.
2 – The Outdoor Kitchens
Disney vacationers love Epcot for its variety of cuisine and libations. During the Epcot International Flower and Garden Festival, the diversity of food and drink increases with the installment of booths around the World Showcase. These Outdoor Kitchens feature garden-fresh-inspired food and craft brews, ciders, and wines from the nations and regions represented. These creative recipes extend beyond the already delicious cuisine at each pavilion, so you're bound to find something new. The Outdoor Kitchens serve as reason enough to love the festival, especially for foodies.
1 – The Music
While the Garden Rocks Concert series may be on hold this year, there is still plenty of music to enjoy! Fans of live entertainment will have plenty to enjoy this year as music springs to life around World Showcase.
New this year, featured musical groups from the Orlando area perform songs of yesterday and today at America Gardens Theatre every Friday through Monday of the festival.
Voices of Liberty perform an all-American a cappella showcase at America Gardens Theatre, celebrating the landscape, heart and human spirit of America.
Mariachi Cobre takes the America Gardens Theatre stage for performances of world-famous Mexican folk music.
The Jammin' Gardeners play rhythmic beats with inspired backyard percussion on the Mill Stage at the Canada pavilion.
In World Showplace, the EPCOT Pianist plays a selection of popular songs ideal for springtime.
For a no obligation, FREE Quote on a Disney vacation package, please contact our travel partner Magical Vacation Planner at 407-442-0227 (407-442-0215 for Spanish). You can also request a FREE quote online by Clicking HERE.