Visiting Disney Springs? Well, we hope you're hungry! With over 60 eateries, we are sure you'll find the food you're craving among the vast shopping and entertainment available at Disney Springs. If you don't want to take the time for a table service restaurant or simply didn't get the dining reservation you were hoping for, check out the over 25 quick-service venues offered. This is a perfect way to get your meal quickly, but take time to savor the deliciousness! While it's tricky to narrow the list down – check out our top eight picks for quick service restaurants at Disney Springs.
8 – The Basket at Wine Bar George
Wine Bar George is a fairly new table service restaurant to The Landings area of Disney Springs. But, if you're looking for the quick service version of this European eatery, The Basket should be on your dining list. Bites To-Go take the taste buds to the next level such as the Crispy Mac and Cheese Bites or Charcuterie. It's a quick service stop that will have you feeling like you are at a marketplace in Europe!
7 – The Polite Pig
No worries, you don't have to be polite with your appetite here! Let that growling stomach have it with some Florida-inspired barbecue. Located in Town Center, you'll smell The Polite Pig before you see it. Barbecue is what's on the menu, and it ranges with all sorts of meats onto your plate in a sandwich, salad, and even side form. The barbecue here has a southern taste where low and slow cooking is ready for your indulgence. Oh, and let's not forget to mention the Bourbon Bar because barbecue and bourbon are the new peanut butter and jelly!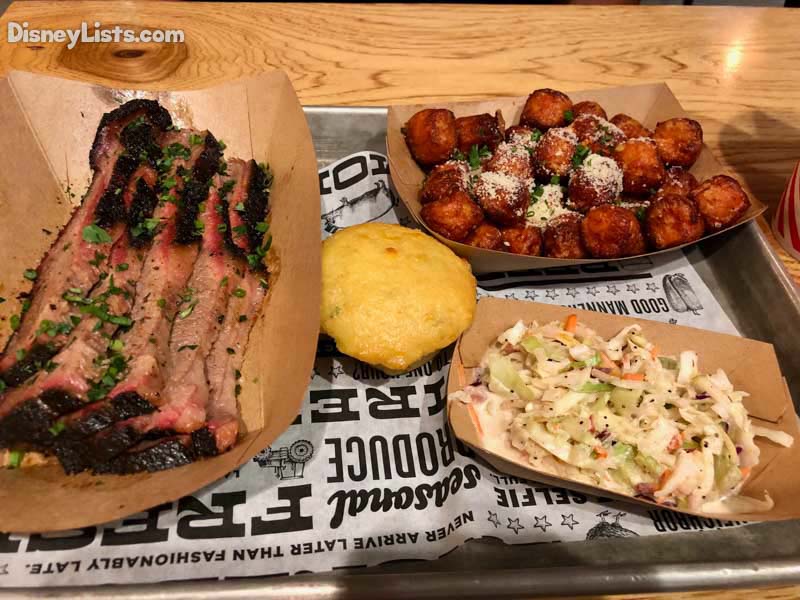 6 – Morimoto Asia Street Food
Chances are if you've strolled through Disney Springs, you've spotted the stunning Morimoto Asia Restaurant located in The Landing. While this table service restaurant is one worth snagging a reservation for, sometimes you just need to eat on the move. Get your Pan-Asian dishes at the Morimoto Asia Street Food. Ramen, egg rolls, and noodles – you're sure to get that Asian flavor fix in a quick-service way.
5 – Earl of Sandwich
One of the oldies on this list… Earl of Sandwich has been located at Disney Springs Marketplace before it was known as Disney Springs! You know it's an incredible quick service restaurant when it's been around for this long yet still draws a crowd. Standing the test of time, the hot and cold sandwiches, and easy grab-and-go sides and drinks at Earl of Sandwich make it a place we stop at regularly when visiting Disney Springs. Have some breakfast, lunch or dinner on the go, or take a break at one of their many tables located inside or outside. Earl of Sandwich remains a family favorite of ours for taste, variety, and convenience.
4 – D-Luxe Burger
Any burger fans out there? Located in Disney Springs Town Center, D-Luxe Burger is a burger fan's place to be. The meat is fresh, seasoned, and cooked perfectly every time we eat at D-Luxe. Our only complaint here is trying to select which burger to throw down! The burgers are obviously the stars here, but the fries and shakes are worth enjoying as well.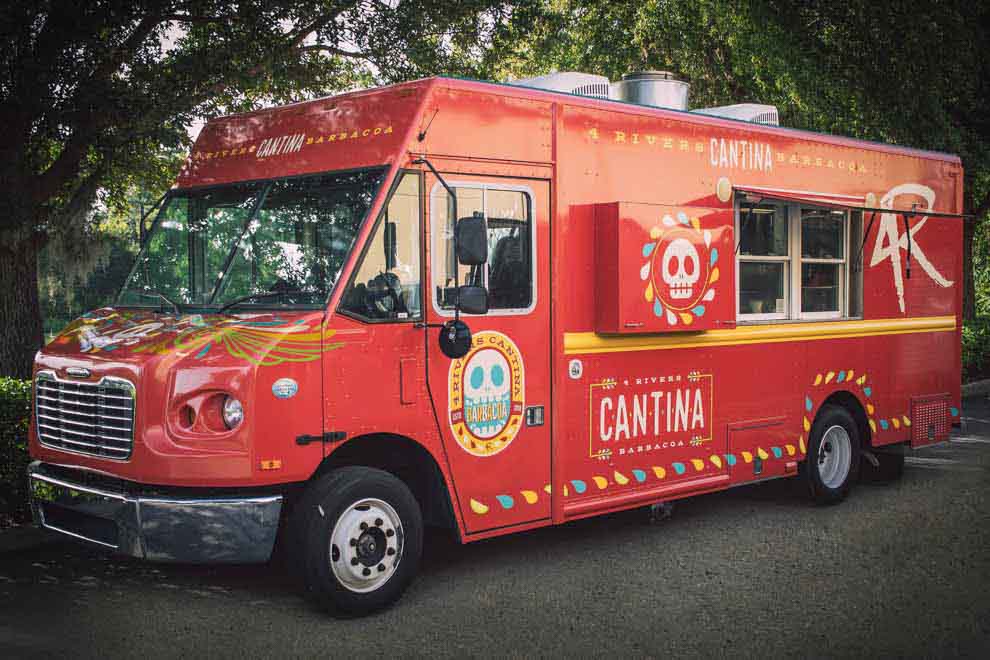 3 – 4 Rivers Cantina Barbacoa Food Truck
Food trucks are what's trending right now! Thankfully, Disney Springs has upped their food truck game with the addition of 4 Rivers Cantina Barbacoa Food Truck. 4 Rivers is located on the West Side of Disney Springs and can't be missed with their vibrant, red-colored truck. If you get anything here, we'd recommend trying the Taco Cone! You read that right. It's a taco shaped in a cone for easy holding. You pick your fillings, and they create the masterpiece. If the Taco Cone is too much of a challenge, enjoy their quesadilla or bowls. Someone put a boot on this truck – we want 4 Rivers to stay around for a long time!
2 – Blaze Fast-Fire'd Pizza
Wait, what? Yep – a pizza joint is our number one pick for quick-service restaurants at Disney Springs. Of all the cuisines available, we narrow our top pick to Blaze Fast-Fire'd Pizza in Town Center for numerous reasons. First, this pizza is GOOD… and we mean, really, extremely, good! Fresh ingredients and a wide selection of toppings and sauces offered, it's all about the taste here. Build your own pizza or choose from one of their signatures like their yummy Art Lover! If the taste isn't enough of a reason – it's truly fast, a filling meal on a budget, and the atmosphere is on point. This isn't your everyday pizza joint, so step in and get your fill!
1 – Chicken Guy
Why, hello, Guy Fieri! The Food Network Channel Star and Chef has stepped into Disney Springs with a bang. Not only are we fans of what he's done with the Planet Hollywood renewal, but we must also say he hit it out of the park with Chicken Guy located just below Planet Hollywood in Town Center. "Welcome to flavor town" as Chicken Guy is the place for all things chicken and the opportunity to mix and match flavorful sauces along the way. The sandwiches, chicken tenders, and salads are on the affordable side as well, which surely makes it all taste even better. We especially love the Sauce Boss sandwich and always feel a need to wrap up our meal with one of Chicken Guy's Triple Double Mint shakes.
Happy eating Disney Springs travelers!
For a no obligation, FREE Quote on a Disney vacation package, please contact our travel partner Magical Vacation Planner at 407-442-0227 (407-442-0215 for Spanish). You can also request a FREE quote online by Clicking HERE.