News
15 Things We're Looking Forward to in 2022 at Walt Disney World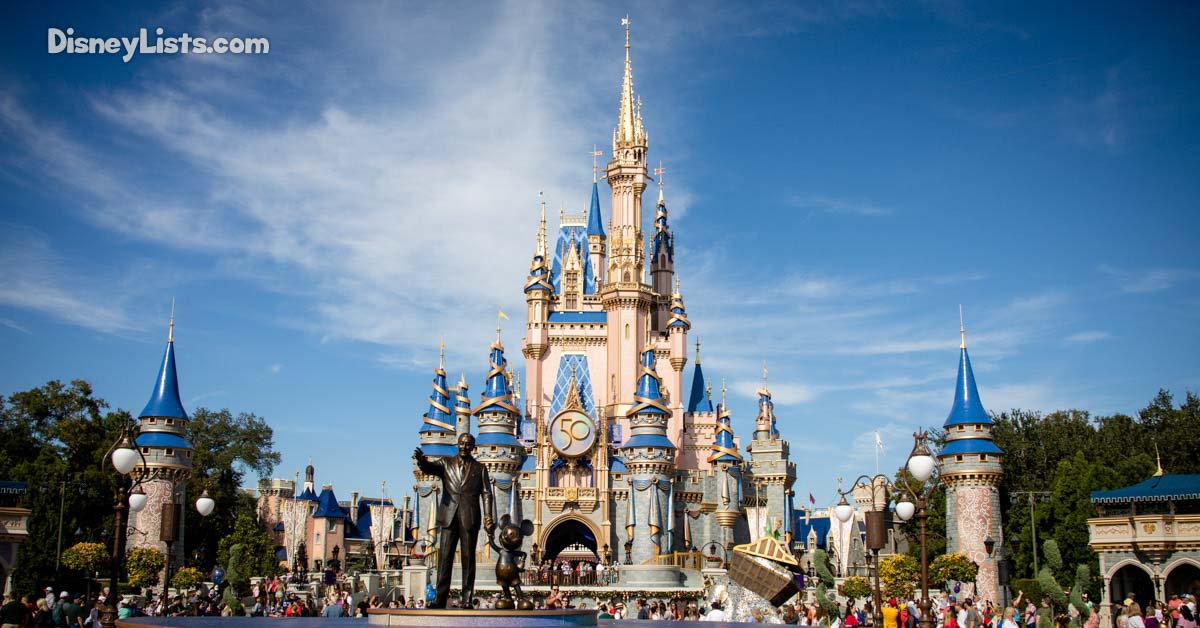 We've turned the page on another calendar year! A lot of things happened at Walt Disney World in 2021, and 2022 is shaping up to be another busy year with a lot of new offerings. While Disney has kept quiet on new announcements, we do know a few things we can expect to see this year! Keep reading for the fifteen things we're looking forward to in 2022!
1 – January 2, 2022 – Typhoon Lagoon Reopened
Disney's Typhoon Lagoon Water Park reopened on January 2, 2022. Offering tropical family fun for all ages, the park's reopening marked the return of favorite attractions and the debut of new menu items and other commemorative culinary features.
Known for its immersive storytelling, thrilling water attractions and family fun, the Typhoon Lagoon tells the fabled tale of a rogue storm and its ensuing tidal wave that wreaked havoc on a formerly pristine waterside paradise. From topsy-turvy architecture and storm-strewn nautical gear to the stranded shrimping ship, Miss Tilly, impaled upon the summit of Mount Mayday, each detail brings the legend to life for guests in different ways.
Note: Blizzard Beach is now closed for refurbishment.
2 – February 2022- Select Fan-Favorite Tours Returned
Since the Walt Disney World theme parks reopened in July 2020, one of the offerings that have been missing are behind-the-scenes tours. The Keys to the Kingdom, Caring for Giants, Wild Africa Trek, Up Close with Rhinos, and Savor the Savanna tours returned in February 2022. Click here to learn more.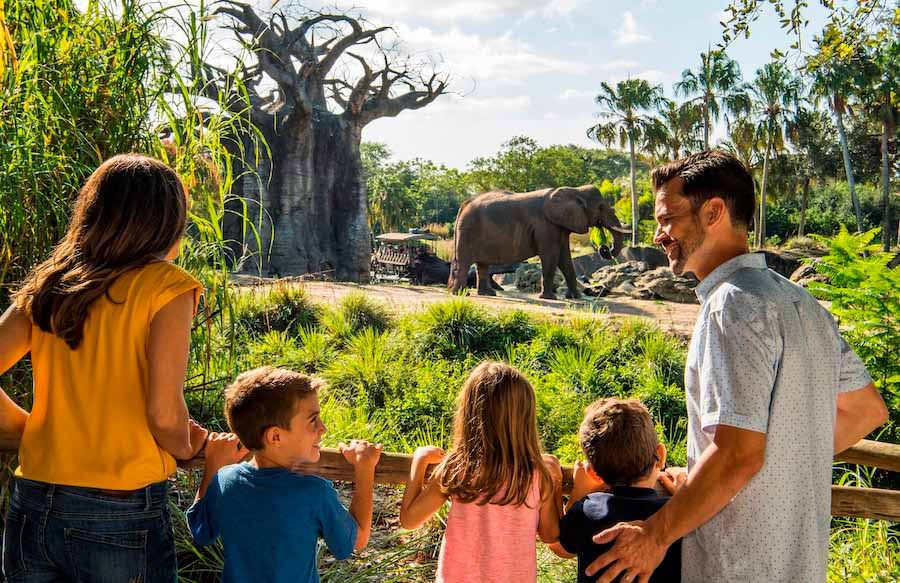 3 – February 11 – New Character Cavalcade Now at Magic Kingdom
Character cavalcades have been the primary way guests have been able to see and interact with their favorite Disney characters since the parks have reopened in July 2020. Even with the announcement that the Festival of Fantasy parade is coming back, and with some characters offering "individual time" with guests, Disney has confirmed that cavalcades will continue to be part of park entertainment into the future. A new cavalcade is now at Magic Kingdom, and features "the most characters of any cavalcade to date," including Nick and Judy from "Zootopia," Baloo and King Louie from "The Jungle Book," José Carioca and Panchito from "The Three Caballeros," Miguel from "Coco," plus Merida, Moana, The Incredibles, and so many more!
4 – February 25 – Daytime Stage Show to Returned to Magic Kingdom
Mickey's Royal Friendship Faire, the stage show at the Cinderella Castle Forecourt Stage, was absent at Magic Kingdom from March 2020 to February 25, 2022. The show has returned with a new title and new opening and new finale with a 50th-anniversary theme. "Mickey's Magical Friendship Faire" still has scenes from the previous version of the show but will feature Mickey and his friends in their EARidescent outfits. It will also include an all-new, original song entitled "Where the Magic Feels Like Home." Catch it daily at the park.
5 – March 1, 2022 – Star Wars: Galactic Starcruiser Opened
On March 1, Star Wars: Galactic Starcruiser will immerse its first official guests in a galaxy far, far away by going beyond anything Disney has created before. As part of this first-of-its-kind vacation experience, guests become the heroes of their own stories during a two-night adventure where they see, feel and live Star Wars.
6 – March 9 – Festival of Fantasy Parade Returned to Magic Kingdom
Many guests have really missed a full daytime parade at Magic Kingdom. The Festival of Fantasy parade has been missing at Magic Kingdom since March 2020. Thankfully, the parade returned on March 9 and it was fantastic to see it again! Click here to learn more. 
7 – March 31, 2022 – All-Stars: Sports Resort Opened – All Resort Now Open Again
It took over two years for all of the Walt Disney World resorts to reopen since the pandemic shut down the resort for four months in 2020. All-Stars: Sports Resort was the last resort to reopen on March 31, 2022.
8 – May 27, 2022 – Guardians of the Galaxy: Cosmic Rewind to Open
The new Guardians of the Galaxy: Cosmic Rewind coaster will open officially on May 27, 2022. Guardians of the Galaxy: Cosmic Rewind will be the park's first "other-world" showcase pavilion. This thrilling new family-friendly coaster matches the "grandosity" and fun of the blockbuster "Guardians of the Galaxy" films, featuring those lovable cosmic misfits – Rocket, Groot, Drax, Gamora and Star-Lord. It also features a new storytelling coaster that rotates 360 degrees to focus guests on the action, including the first reverse launch on a Disney coaster. Guests will learn more about the treasures Xandar has to share – until the moment when the Guardians of the Galaxy arrive, and an intergalactic chase through space and time begins! The attraction is another major milestone in the ongoing transformation of EPCOT and debuts as part of the Walt Disney World 50th Anniversary celebration.
9 – 2022 – Salt & Straw Ice Cream Coming to Disney Springs
America's favorite artisan ice cream company, Salt & Straw, is coming to the "Most Magical Place on Earth" with the debut of its scoop shop at Disney Springs at Walt Disney World Resort in 2022. This location marks the third location in Florida, and the 27th location nationwide. Salt & Straw is a family-run company founded by cousins Kim and Tyler Malek. Opened in Portland, OR in 2011, 2021 marks Salt & Straw's 10-year anniversary. Best known for its cult-favorite ice cream, Salt & Straw offers innovative, taste-provoking flavors that connect fans to food narratives and provide ongoing taste adventures. Salt & Straw presently has scoop shops in Portland, Los Angeles, the San Francisco Bay area, San Diego, Seattle, Miami, and the Downtown Disney® District in Anaheim, California.
Fans of the brand can indulge in an everchanging menu of its small-batch, hand-churned ice cream as the company creates unique menus in each city that change every four to six weeks. The curiously delicious flavors that will be available at Salt & Straw's Disney Springs location include all-time favorites like Honey Lavender and Chocolate Gooey Brownie, alongside unique flavor collaborations specific to its Florida locations including The Salty Donut Guava & Cheese and Panther Coffee Chocolate Tres Leches.
10 – 2022 – MagicBand+
The next-generation MagicBand+ will debut at Walt Disney World in 2022, adding new functionality to unlock experiential moments of magic.
After a guest enters a Walt Disney World theme park, MagicBand+ will come alive at various times with color- changing lights, haptic vibrations and gesture recognition. The wearable will allow guests to engage with favorite Disney moments in new ways and discover new interactive experiences, including:
Play like a bounty hunter in a galaxy far, far away and find virtual bounties throughout Black Spire Outpost in Star Wars: Galaxy's Edge at Disney's Hollywood Studios.
Interact with the "Disney Fab 50 Character Collection," the golden sculptures spread throughout the Walt Disney World theme parks.
Experience nighttime spectaculars in a new way as they see their bands light up and complement the magic in the skies, including the new "Harmonious" at EPCOT and "Disney Enchantment" at Magic Kingdom Park.
More details about MagicBand+ and its capabilities will be revealed in the future. Current MagicBands will continue to be available, as well, along with the complimentary Disney MagicMobile service that extends MagicBand features, such as park entry, to smart devices.
11 – 2022 – Fantasmic! to (finally) Return to Disney's Hollywood Studios
While nighttime spectaculars have returned to Magic Kingdom and EPCOT, Disney's Hollywood Studios has not offered a major nighttime spectacular since March 2020, when the parks shut down because of the pandemic. That's changing in 2022 when Fantasmic! returns to the park. When it returns, the show will incorporate an all-new sequence featuring life performers, stunts, special effects, and more!
12 – 2022 – "Finding Nemo – The Musical" to Return
Since the parks reopened in July 2020, not all live entertainment shows have been available. In fact, it took over year for the return of the Festival of the Lion King (May 2021) and Beauty and the Beast Live on Stage (August 2021) to return. One show that has not returned is "Finding Nemo – The Musical." Rumors had been swirling that the show would be closing permanently. Thankfully, those rumors were not true. Disney has confirmed that an "updated" show would return sometime in 2022. Learn more at the link below.
Click here for more on the return of "Finding Nemo — The Musical" at Disney's Animal Kingdom.
13 – 2022 – 'Hey Disney!' Adds Magic to Amazon Alexa and Echo 
Disney is creating its own custom voice assistant using Alexa technology for supported Amazon Echo devices. Called "Hey Disney!", it will work alongside Alexa to respond to vocal prompts, bringing Disney characters and stories to life in magical new ways to make guest stays at Walt Disney World Resort more convenient, engaging and enjoyable. "Hey Disney!" will begin rolling out in Disney Resort hotel guest rooms across Walt Disney World in 2022. "Hey Disney!" will also be available for purchase for supported Amazon Echo devices via the Amazon Alexa Skills store, inviting Disney fans to make every day at home more magical. Learn more at the link below.
Click here for more on "Hey Disney" Coming to Walt Disney World in 2022.
14 – 2022 – Roundup Rodeo BBQ Restaurant
A new table-service restaurant inside Toy Story Land was set to open in late 2020. Obviously, the pandemic pushed back the opening, but you can still see construction near the location of the upcoming Roundup Rodeo BBQ Restaurant. The restaurant will invite guests to a rootin', tootin' rodeo right in Andy's backyard. Guests will be immersed with all their favorite toy pals in the Western atmosphere of Woody's Roundup, providing a fun, family-friendly dining experience that appears to be constructed from Andy's favorite larger-than-life play sets and games – something that could only happen in Toy Story Land! Disney has confirmed that this restaurant and a new shop will open in 2022!
Honorable Mention – Coming in 2022?
15 – Unknown – Disney Dining Plan
Another Walt Disney World offering that many people have missed is the Disney Dining Plan. The plans, while not always saving you money, offer an easy way for guests to enjoy dining throughout the resort. Disney confirmed in August 2021 that the plans will return, however, there has been no update since then. Not all restaurants have reopened and some are still operating at reduced capacity, so we're guessing we'll need to see all restaurants reopen before they can bring the plans back. Hopefully, they will return in 2022.
For a no obligation, FREE Quote on a Disney vacation package, please contact our travel partner Magical Vacation Planner at 407-442-0227 (407-442-0215 for Spanish). You can also request a FREE quote online by Clicking HERE.