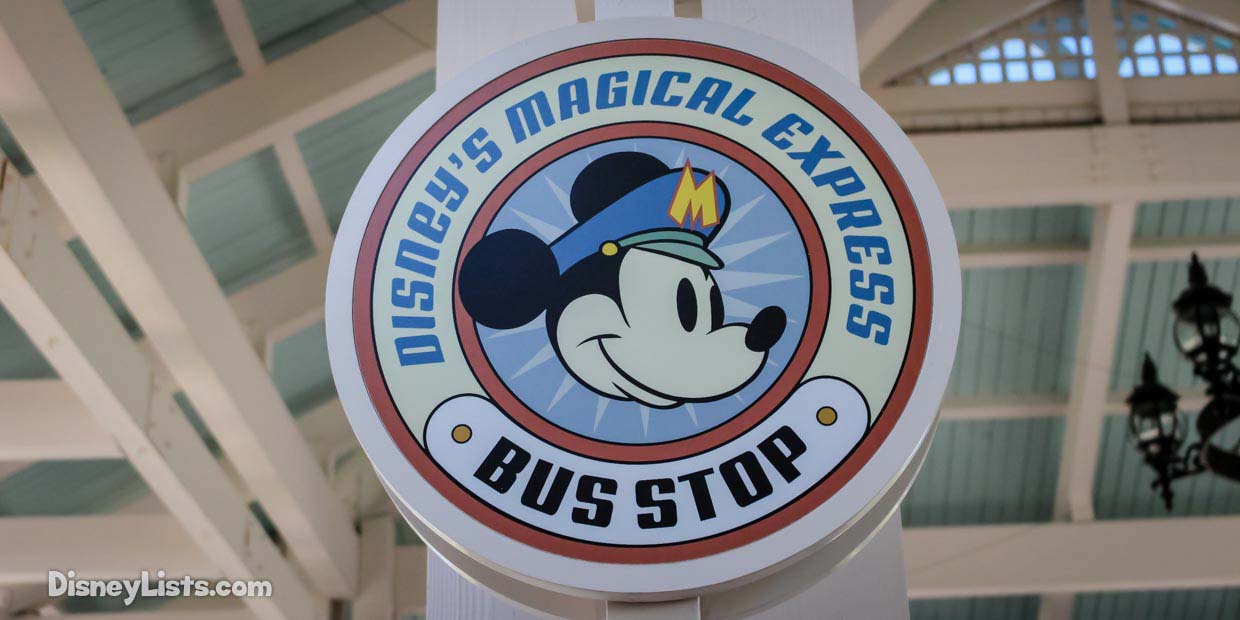 In early January 2021, Walt Disney World shocked guests with the announcement that the very popular Disney's Magical Express would be retired at the end of the year. Now that the program has retired for guests moving forward, guests are now looking for alternatives for transferring from Orlando International Airport to Walt Disney World Resort. Learn more below.
1 – Mears Connect
Mears, the company that operates Magical Express, has announced, Mears Connect, a new shuttle service that is now operating. The service offers connections to Orlando International Airport to the Disney Resort Area, offering "the same reliable, safe, express service" guests have come to know and expect over the year. Since Mears is the current operator, we expect that other than guests having to sign up for the service separately, guests won't notice much difference in how the shuttles are operated. We do expect the buses to be Mears ones and not Disney-themed ones.
2 – Mears Connect Options
Two options are available. The Standard Service is a shared-ride service. You'll make a limited number of stops before your own. Once checking into Mears Connect reception area, you'll be on your way within twenty minutes. The Express Service is a direct service to your resort and back. You will be guaranteed the first stop with a limited wait time. Note that Express is not a private service, you may be the shared service, you'll just be the first stop.
3 – Mears Connect Resorts
Here is the current list of Disney Resort Hotels Serviced by Mears Connect. They do state they are working on expanding.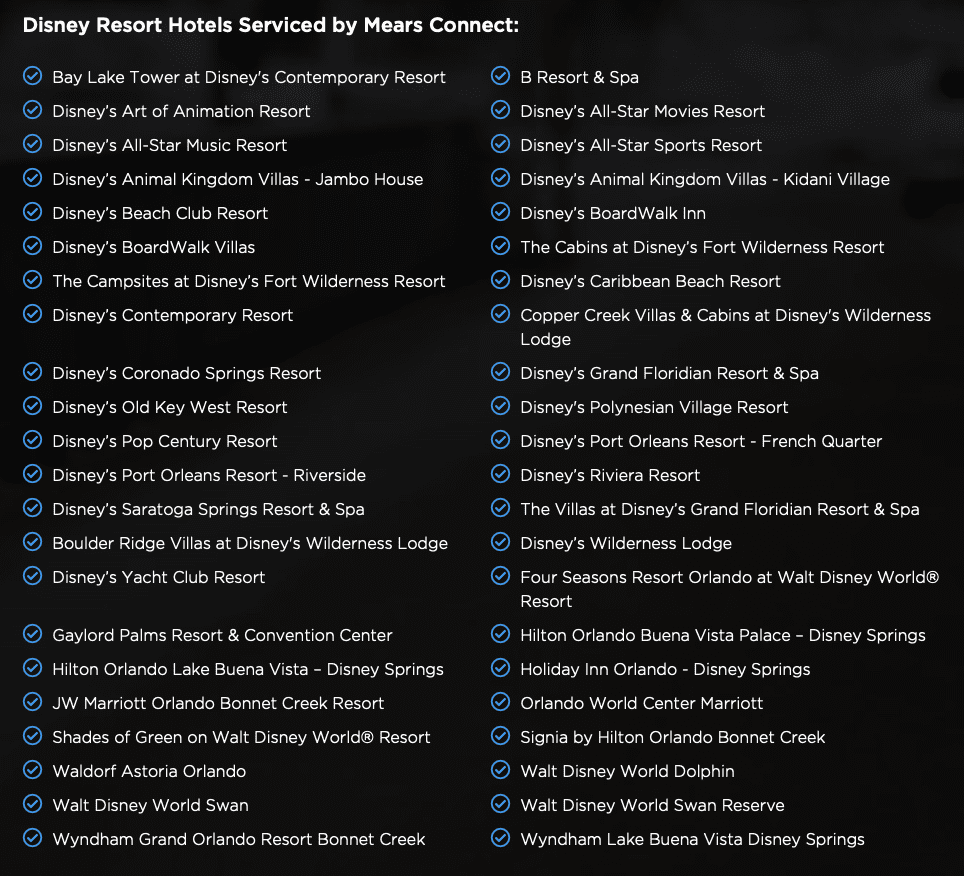 4 – Where to Find Mears Connect
You can find Mears Connect on Level 1, ground transportation level, in terminal B at Orlando International Airport. Look for the Mears Connect reception area. On your return trip, you will board Mears Connect at your resort, just ask the front desk personnel where Mears Connect picks up at your hotel.
For return trips, For Standard Service, your scheduled return will be up to three hours in advance of your domestic flight's departure time or up to four hours of your international flight's departure time. Your confirmation email and 24-hour notification will supply you with the time of pick up. For Express Service, your transportation will be scheduled to meet you, at your resort, two hours before your domestic flight or three hours before your international flight.
5 – Mears Connect Reservation Information
Reservations for the new service are open and can be made by clicking here.  Pricing details are below.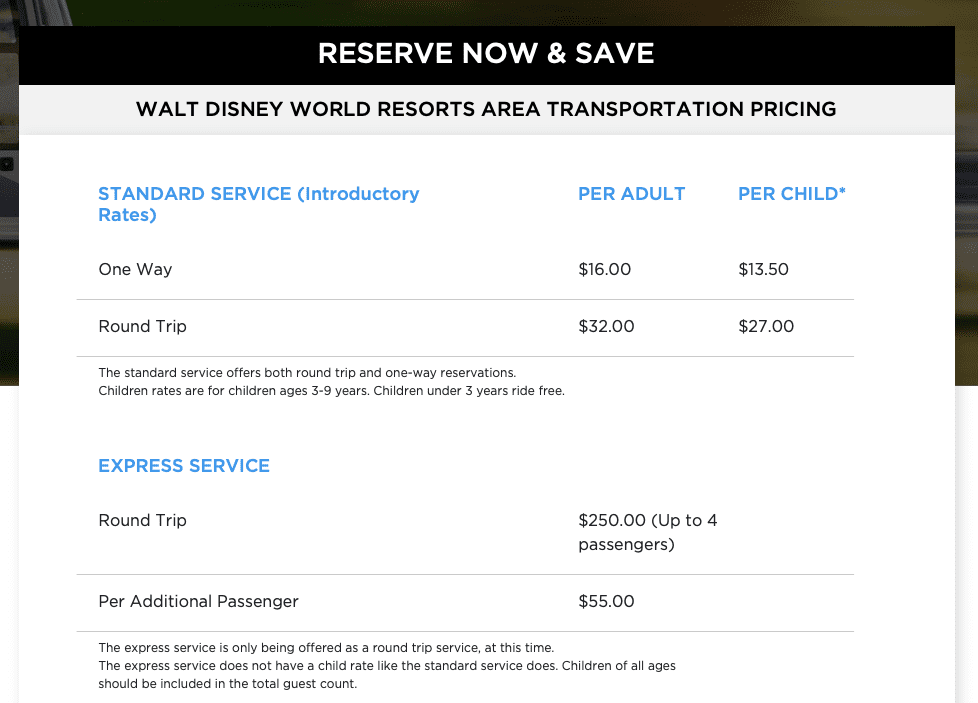 6 – Sunshine Flyer
In late December 2021, Transportation Management Services (TMS) announced the launch of The Sunshine Flyer, a themed motorcoach bus experience that will transport guests from the Orlando International Airport (MCO) to Walt Disney World Resorts. Offering a convenient and cost-effective mode of transportation, The Sunshine Flyer will allow guests to start the magic of their Disney vacation from the moment they step off the plane.
The buses are late-model, premium motorcoaches with themes that center around old-fashioned passenger cars and train engines. From the bus designs to staff dressed as 1920s rail conductors and engineers, the motorcoaches effectively serve as time machines, offering a glimpse into 1920s rail travel.
7 – Sunshine Flyer Standard Service
The Sunshine Flyer offers standard service for guests. The website states once guests enter the Sunshine Flyer staging area, guests will not wait more than twenty minutes to board the bus. Also, the ride to the resorts is scheduled, so the last stop will not take more than 65 minutes.
8 – Sunshine Flyer Resorts
The Sunshine Flyer offers transportation to all Walt Disney World Resort destinations in Orlando, including Disney's Grand Floridian Resort & Spa, Disney's Wilderness Lodge, Disney's Contemporary Resort, Disney's Pop Century Resort, Disney's All-Star Movies Resort, Disney's Caribbean Beach Resort, Disney's Animal Kingdom Lodge and more.
9 – Where to Find Sunshine Flyer
Sunshine Flyer is in the Main Terminal Building on Terminal B, Level 1, in the Ground Transportation area. Once you check in at Sunshine Flyer, we will direct you to your motorcoach.
For your return trip, you will receive a scheduled motorcoach departure time. The return departure time will be approximately three hours prior to your scheduled departure time for domestic flights and four hours prior to your scheduled departure time for international flights.
10 – Sunshine Flyer Reservations and Pricing
Reservations are highly recommended. See the pricing below.

11 – Uber or Lyft
If you don't want to skip a motorcoach experience, you can always book with Uber or Lyft. You'll want to choose an XL vehicle since you'll need room for your luggage. Pricing varies by date, demand, and vehicle.
One advantage of using Uber or Lyft is that plenty of drivers are waiting to pick up guests, and you shouldn't have to wait too long. In fact, you'll probably wait much longer for your luggage. You'll also enjoy private service where you don't need to share the vehicle and go directly to your resort. Scheduling a return trip will also save time since you won't need to get there as early (although we still recommend arriving at the airport at least two hours early).
For a no obligation, FREE Quote on a Disney vacation package, please contact our travel partner Magical Vacation Planner at 407-442-0227 (407-442-0215 for Spanish). You can also request a FREE quote online by Clicking HERE.