Disney Springs still holds "hidden" gems that we can't get enough of! One of these "hidden" gems and a new favorite of ours in dining options is Enzo's Hideaway. Check out these seven things to know about Enzo's!
1 – Always a Backstory
Opening at the start of 2018, Enzo's Hideaway has a fun backstory! Enzo's Hideaway opened along with two other dining options: Maria & Enzo's Ristorante and Pizza Ponte. These restaurants formed a trio of spectacular related theming and tastes. The story goes Maria and Enzo were a couple from Italy that decided to embark on a new adventure to Disney Springs. Enzo (a former pilot) and Maria wanted to share their delicious Italian cuisine with the people of Florida so they created a sit-down restaurant (Maria and Enzo's Ristorante) in an abandoned airport terminal in the 1930s. Maria decided she also wanted to offer a quick dining option so she opened Pizza Ponte in the airport lobby for quick and yummy pizza. Enzo got into the action and decided to open Enzo's Hideaway – a tunnel bar. This was made easy when they discovered a hidden cavern connected to the airport terminal. Once a former smugglers tunnel during the prohibition-era, this space was the perfect fit to serve both lively spirits and good food, hence creating Enzo's Hideaway Tunnel Bar. Got all that? Disney never goes short on theming!
2 – Hideaway Location
Well, if Enzo's is themed after a Prohibition-era tunnel, you can suspect the location to represent that. It's truly a "hideaway" in the greatest of ways! Head over to The Landing in Disney Springs and look for a small, round pillar-style entrance just before crossing the bridge. Located close to STK Orlando, you'll spot the illuminated, red "Enzo's Hideaway" sign on top of the structure. It's slightly off the beaten path, and we personally weren't sure if it was even open when we first entered. Don't be timid to enter as when we visited, there was no host/hostess at the entrance, so we walked in uncertain of where to go next and just decided to follow the tunnel. Once inside, you can connect to The Edison restaurant via a small hallway which is also where the restrooms are located.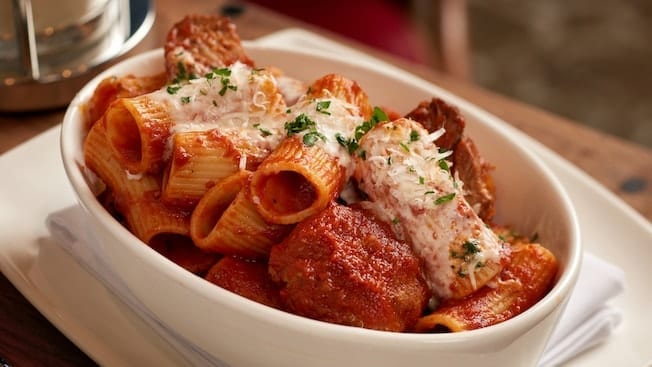 3 – Tunnel Atmosphere
Once inside, you'll enter through a tunnel to come to a medium-sized room with a feature bar that stands out amidst the concrete and stone walls. The walls have graffiti on them, which is super interesting to take the time to read. There's almost a cold feeling to the space, but we find this to be a fantastic change of environment when coming out of the Florida heat. Simple light fixtures and dim lighting set the scene for a perfect hideaway. Red half booths line the walls, tables, and chairs make up the middle of the room, and the bar has some stools if you prefer that option. There is also a unique wine room to the side that has a single table in it… perfect for VIPs or special requests. The atmosphere perfectly matches what you'd expect in a tunnel bar!
4 – Sipping on Spirits
Let's talk drinks before food because this is Enzo's specialty after all. Enzo's has a full bar, of course, so you can expect to sip on just about any concoction you can dream up! Enzo's specializes in its numerous aged specialty rum options. There is a vast list of wines, beers, and other specialty drinks to enjoy. Not in the mood for alcohol? Coffee, fountain beverages, and mock-tails await!
5 – "AND Restaurant"
Lunch and dinner are full of exceptional Italian options like pasta, salads, sandwiches, main entrees, and so on.  Menu items are refreshed regularly, so be sure to come back for new options. If you just want drinks and lounge-style food, that is also available while seated in the dining space or at the bar.
6 – Italian Desserts Of Course
As if drinks and hearty Italian food aren't enough, try your best to save room for dessert! True Italian dessert options await with Gelato, Cannoli, Tiramisu, and a chocolate ganache. Simple yet delicious Italian desserts worth saving room for!
7 – Reservations Accepted
While we didn't have reservations and were seated right away to dine at Enzo's, we will say that as it grows in popularity, we'd recommend reservations in advance – unless you're just planning to drop in at the bar/lounge side of things. The restaurant is open every day for lunch and dinner during the hours of 11:30 am-10:00 pm.
Have you sneaked in for a visit to Enzo's? It doesn't disappoint!
For a no obligation, FREE Quote on a Disney vacation package, please contact our travel partner Magical Vacation Planner at 407-442-0227 (407-442-0215 for Spanish). You can also request a FREE quote online by Clicking HERE.