Main Street, U.S.A., recreates the unique charm of small-town America at the turn of the 20th century, filled with hope and optimism for the future. Main Street, U.S.A. serves as a vast entrance corridor and the "opening scene" for the Magic Kingdom experience. It provides a transition between the outside world and the themed experiences of Disneyland Park, drawing guests in to discover more. Learn more about this iconic area below.
1 – Walt Disney on Main Street, U.S.A.
"Main Street, U.S.A. is America at the turn of the [20th] century – the crossroads of an era, the gas lamps and the electric lamp – the horse-drawn car and the auto car. Main Street is everyone's hometown . . . the heart line of America."
2 – Don't Miss
Main Street, U.S.A. features nine places to grab a bite to eat, fourteen merchandise shops, and four attractions. Food options range from the Main Street fruit cart to table service at Carnation Cafe. Attractions include the Opera House, where guests are treated to The Disneyland Story presenting "Great Moments with Mr. Lincoln," a historical salute to Walt Disney's dream of creating the "Happiest Place on Earth" and tribute to the 16th president of the United States. Guests on Main Street, U.S.A. may also hop on the Disneyland Railroad, inspired by Walt's passion for steam trains. The train is an authentic narrow-gauge railroad that carries passengers on a scenic circle tour of Disneyland Park. In the center of the Central Plaza Hub is the bronze "Partners" statue of Walt Disney and Mickey Mouse, dedicated in 1993. Designed and sculpted by Disney Legend Blaine Gibson, "Partners" became such an instant icon and popular photo location that it was added to Disney Parks in Florida, Japan, and France.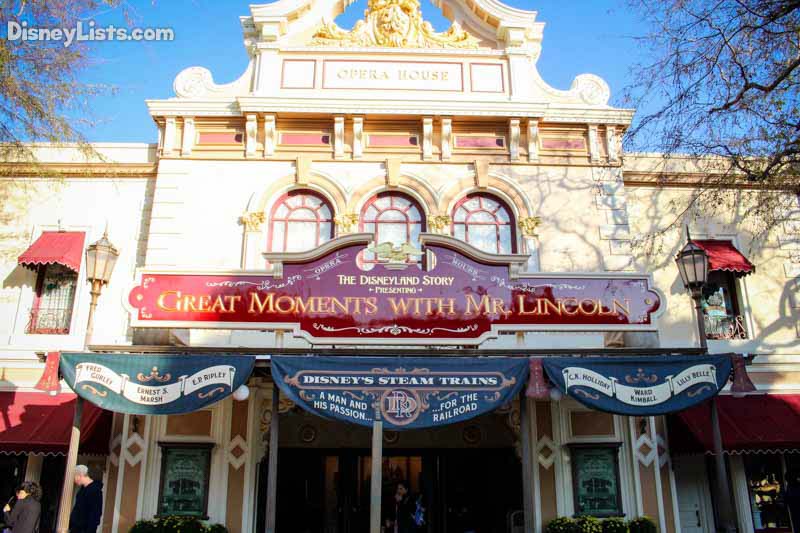 3 – Attractions
The Disneyland Story presenting "Great Moments with Mr. Lincoln"
Disneyland Railroad
Main Street Cinema
Main Street Vehicles

Jitney/Horseless Carriage Omnibus
Fire Engine
Horse-Drawn Streetcar
4 – Entertainment
Several musical groups entertain guests as they stroll along Main Street, U.S.A. The Dapper Dans barbershop quartet has performed at Disneyland since 1959. The Disneyland Band welcomes guests to Disneyland each morning and plays other performances throughout the day. Other entertainment includes The Straw Hatters and the evening Flag Retreat ceremony.
5 – Dining
Main Street, U.S.A. is home to some tasty food stops. In addition to mobile carts that offer fresh fruit, churros, turkey legs, popcorn, and coffee, guests may visit:
Carnation Cafe
Gibson Girl Ice Cream Parlor
Candy Palace and Kitchen
Refreshment Corner
Jolly Holiday Bakery Cafe
Plaza Inn
Market House, featuring Starbucks
Mobile ordering food and beverage service on the Disneyland app allows guests to plan ahead and order their favorite eats from select locations on Main Street, U.S.A., and across the Disneyland Resort. Guests may choose to place orders in advance through the app at three locations along Main Street, U.S.A.: Gibson Girl Ice Cream Parlor, Refreshment Corner, and Jolly Holiday Bakery Café.
6 – Shopping
Guests will find something for everyone in the stores of Main Street, U.S.A., from fun and fashionable apparel to seasonal and home décor items. The Emporium is a large variety store that features clothing, plush toys, hats, and Disney souvenirs. Candy makers can usually be found at work behind the big windows of the kitchen in Candy Palace. Gags and magic tricks are demonstrated in the Main Street Magic Shop, along with magicians' gizmos. Disneyana is home to art and collectible pieces and features frequent appearances by Walt Disney Imagineers and Disney-inspired artists who stop by to meet guests and sign their work. The shops on Main Street, U.S.A. are:
Emporium
Fortuosity Shop
Main Street Photo Supply Co.
Crystal Arts
Silhouette Studio
Disney Clothiers, Ltd.
Disneyana
20th Century Music Company
Main Street Magic Shop
Disney Showcase
The Mad Hatter
Plaza Point
New Century Jewelry
China Closet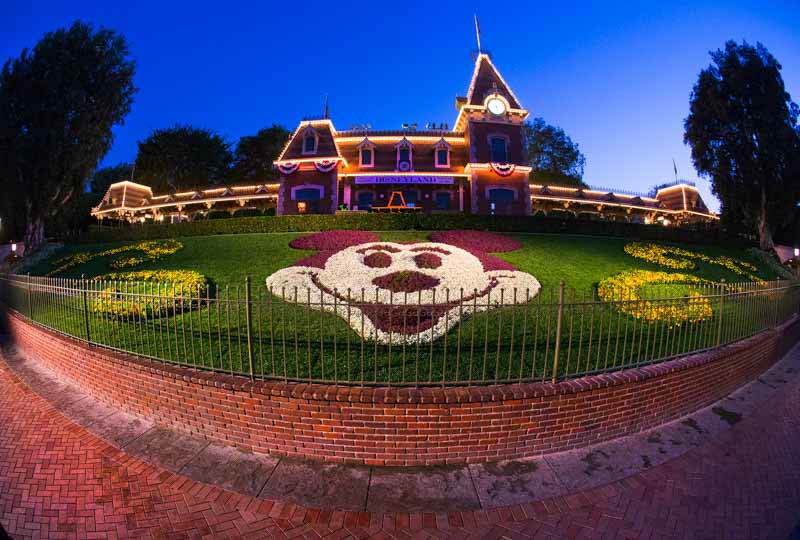 7 – Imaginative Landscaping
Upon entering the park, guests are treated to the Mickey Floral, a bright and cheerful welcome made entirely of flowers. It is one of the most popular photo locations in the world. The flowers are changed seven or eight times a year for the seasons and for holidays. The Mickey face holds approximately 32,000 individual plants.
Town Square is set in the Victorian Era of Middle America. The flowers and plants are changed to harmonize with the seasons: pastels in the spring, patriotic colors in July, bright summer colors in August, warm fall colors during Halloween Time, and bold reds and whites for the holidays.
8 – Fun Facts
Main Street, U.S.A., the only original land at Disneyland that has not been significantly altered, was inspired in part by Walt Disney's hometown of Marceline, Mo.
Above the Fire Station is Walt Disney's private apartment. A lit antique lamp in the window would inform staff when Walt was in residence. Today, the lamp remains lit as a tribute to Walt Disney and to symbolize his continuing presence at Disneyland.
The Grand Canyon Diorama featured along the scenic route of the Disneyland Railroad is the longest diorama in the world featuring a seamless background canvas 306 feet long and 34 feet tall, covered in 300 gallons of paint. The diorama is based on Walt Disney's Academy Award-winning 1958 live-action short, "Grand Canyon."
The windows on Main Street, U.S.A., not only serve to advertise attractions, stores, and restaurants; they also honor Disney cast members who have helped to make Disneyland a national treasure.
The information booth near the Plaza Inn has a list of showtimes, wait times for popular attractions, height and weight required for certain attractions, and maps in different languages upon request.
9 – Cast Member Tips
Before visiting the Candy Palace, guests may call 714-781-0112 to find out which treat is being made in the window that day.
The "Walk in Walt's Footsteps" tour invites guests to learn more about Walt Disney and his inspirations in creating a magical world for the whole family to enjoy. The tour is offered twice a day. Guests can visit City Hall to make a reservation for this tour as well as others including Welcome to Disneyland Tour, Disney's Happiest Haunts Tour (Halloween season), and Holiday Time at Disneyland Resort Tour (Holiday season).
Every silhouette created at the Silhouette Studio is created at a time rate of 60 seconds!
If a guest forgets or runs out of baby products, they may purchase diapers, formula, and bottles at the Baby Center. Mothers also find the Baby Center a quiet, restful spot to breastfeed their babies.
For a no obligation, FREE Quote on a Disney vacation package, please contact our travel partner Magical Vacation Planner at 407-442-0227 (407-442-0215 for Spanish). You can also request a FREE quote online by Clicking HERE.