Hungry? Well, Disney Springs is the place to be! From food trucks to fine dining, you can find just about anything your heart (and taste buds) desires. Some of our favorite new"ish" restaurants are in The Landing portion of Disney Springs. This leads us to one of the most popular restaurants here, The Edison, which opened in January 2018. While in The Landing, just look for the large Edison tower, as it can't be missed. Before selecting The Edison as a dining choice, however, here are eight things you'll want to know.
1 –  It's All In A Name
Disney restaurants never seem to fall short of extraordinary theming! The Edison is no different. Need a theme clue? It's all in a name! The Edison (as in Thomas Edison – inventor of the light bulb and 1,000 other patents) is designed after a 1920's electric company. With unique and exposed lighting, featured metal designs, and gothic sophistication, the "Old World" charm really shines through.
2 – Seven Themed Rooms
While the theme sequences together beautifully, different sections within The Edison stand out in their own unique ways. Themed areas include The Ember Parlour, Telegraph Lounge, The Patent Office, The Tesla Lounge, The Radio Room, Waterfront Patio, and The Lab. This should tell you that it's a rather large restaurant with 35-foot ceilings and two levels of seating. With multiple rooms, multiple bars are just as detailed in theming. Each room boasts slightly different surroundings, but all smoothly playing into that gothic sophistication, as mentioned above.
3 – Dinner and Live Entertainment!
The Edison is open for lunch and dinner. We highly recommend dining reservations no matter what time you decide to dine to keep from having to wait. Late in the evening, you'll find entertainment here with a DJ, dance floor, aerialists, live cabaret, and even contortionists!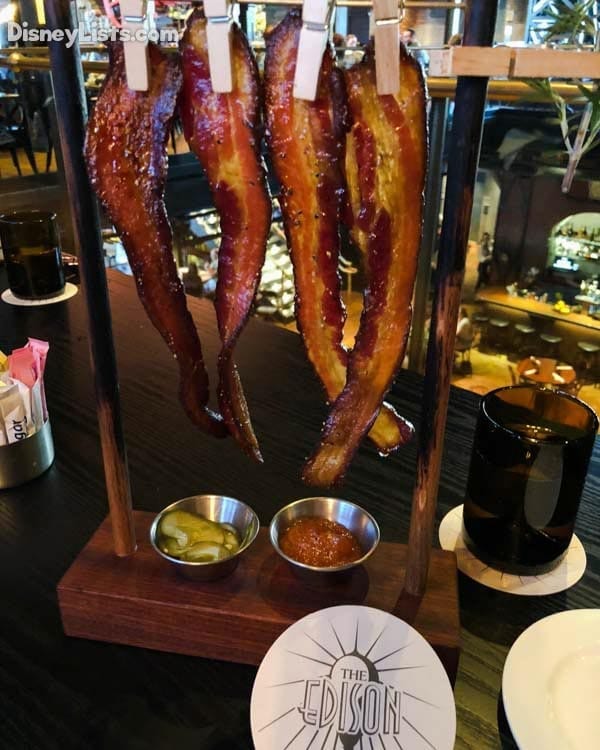 4 – The Popular BACON Appetizer
Most importantly, let's talk FOOD! American cuisine is on the menu and is in no shortage of deliciousness! Come hungry because you'll want to plan to tackle an appetizer (or what The Edison calls "Shares & Nibbles"). The most popular and Instagram-worthy appetizer is the DB Clothesline Candied Bacon. It's exactly what it sounds like… heavenly bacon comes out on a clothesline with perfected dipping sauces. Besides that appetizer star, you can also enjoy apps like electri-fries, fried calamari, and even guacamole and tortilla chips.
5 – Dinner – "Patented Specialties"
Some of the items available on the lunch menu are also on the dinner menu, but the dinner menu does have a shift from more of a burger and sandwich stop to Chicken and Short Rib. There are also "Patented Partners" on the dinner menu for great sides like hand-cut fries, mashed potatoes, and the day's vegetables.
6 – Have A Drink… or Two
Whatever your drink of choice may be, The Edison bartenders can whip it up with their full-service bars. Or, check out their specialty drinks, such as the Samantha Sterling with grey goose vodka, Lillet rose, watermelon, lime, and cinnamon cordial. There are also plenty of beers on tap, by the bottle, or can. You can even try one of the many glasses of wine available. No shortage of adult beverages to wet your whistle.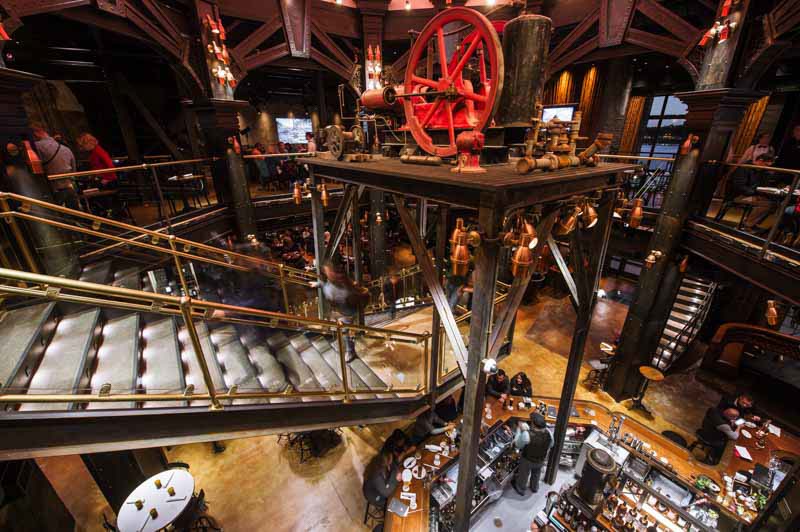 7 – Our Experience with the Service
We must say we are incredibly pleased with the service! The hostess greeting us did a great job showing us to our table right away. Her roaring 20's style dress was an instant match to the overall theme of The Edison. Our server (Amber) came over immediately and was very pleasant and eager to help. Her outfit was different from the hostess, with a white top and slim black dressy overalls… again matching the 20s perfectly. Our drinks came out very quickly, but we were slightly surprised at the length of time it took for our food to come out, especially since it didn't seem too busy. Nothing that kept us from happily sipping on our drinks, however. When the food did come out, it was exceptional – worth the wait! Amber was sweet, menu knowledgeable, and checked on us regularly… a fantastic server!
8 – Tunnel To Enzo's
Last but not least, feel like you're back in the prohibition era by checking out the Tunnel Bar knowns as Enzo's Hideaway. The relation here with The Edison? You don't have to leave the restaurant to reach Enzo's. Head to the restroom hall. Once there, you'll see a seemingly simple door that takes you right underground (under the Disney Springs walking path). It's a pretty impressive design and worth checking out.
We'll definitely visit The Edison again and highly recommend it to those that love American cuisine and are curious to experience a theme that will transform you into the '20s!
For a no obligation, FREE Quote on a Disney vacation package, please contact our travel partner Magical Vacation Planner at 407-442-0227 (407-442-0215 for Spanish). You can also request a FREE quote online by Clicking HERE.