Editor's Note: Epcot Experience has now closed permanently.
At Walt Disney World Resort, Epcot has begun the largest transformation of any Disney theme park in history. Future plans promise groundbreaking attractions, magnificent new landscapes, and unforgettable entertainment spectaculars. Now when guests visit Epcot, they can catch an enticing preview of this future when they visit Walt Disney Imagineering presents the Epcot Experience. This is an engaging and immersive new showcase of exciting changes on the way for this beloved theme park. Catch all the details below.
1 – In-Depth Look at Epcot's Transformation
The Epcot Experience provides the first in-depth look at the park's transformation, blending cutting-edge technology and fun with personal moments to create an environment that honors everything guests love about Epcot. Located inside the Odyssey Events Pavilion – between Test Track and the Mexico pavilion – the Epcot Experience invites guests into a multi-faceted celebration of the past, present, and future of the park.
Click here for an in-depth look at what's coming to the new Epcot.
2 – 360-Degree Film Presentation
When you enter the Epcot Experience, you'll first want to head to the middle room for an amazing presentation. You'll find a large, circular, darkened room where you are surrounded by a seamless, 360-degree, floor-to-ceiling screen showing a continuous 12-minute film celebrating the past, present, and future of Epcot.
Learn more about the film from the video below:
The immersive presentation displays archival footage going back well before Epcot opened in 1982, taking guests on a journey to present day and beyond. It showcases new pavilion icons that will integrate into the park, and previews experiences in development with vignettes featuring:
Sensational new attractions based on popular films
In the center of the room, a three-dimensional artfully designed model of Epcot appears to continuously change in time with the film, as projection-mapping technology highlights different areas of the park in unique ways. Altogether, the space uses 30 projectors to bring the experience to life and take guests along on the journey of this ambitious next chapter in Epcot's legacy.
The whole experience is fantastic. Be sure to watch the entire film! I got chills the first time I viewed it. It really does help you envision the new park, and it really is so exciting!
3 – Display Cases Showcasing Special Items
Throughout the Epcot Experience, display cases feature artifacts, memorabilia, and other fascinating items showcasing the past, present, and future of Epcot. Pieces include:
An Epcot park map and medallion from opening day, Oct. 1, 1982, plus a commemorative opening day park ticket

Epcot pin sets from 1982 and present day

Models and concept art for future Epcot experiences
4 – Attraction Posters
The Epcot Experience also features attraction posters from throughout the park's history, plus experiences still on the horizon. These posters are so cool, and everyone I've talked to is hoping that Disney sells them!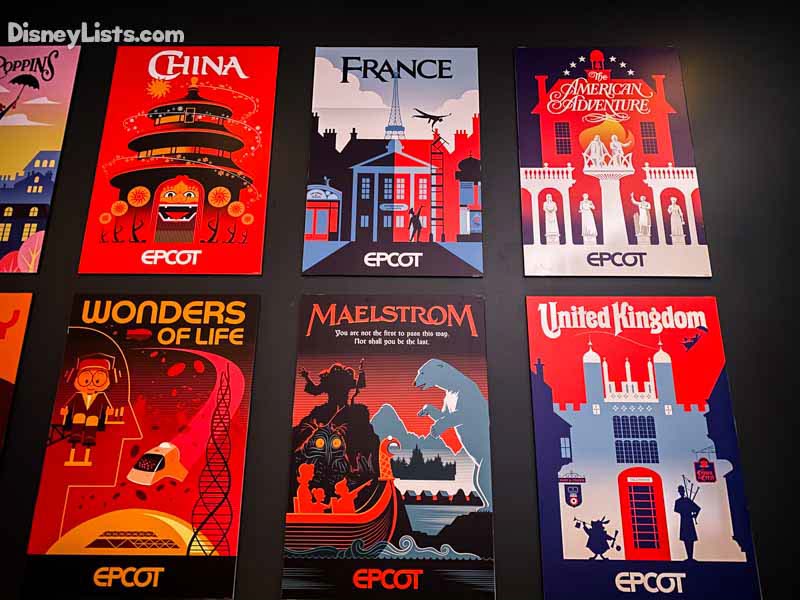 Grab-and-go food and drinks are available inside, as well, along with tables and seating. This is a great space just to take a break from the heat and enjoy the surroundings.
For a no obligation, FREE Quote on a Disney vacation package, please contact our travel partner Magical Vacation Planner at 407-442-0227 (407-442-0215 for Spanish). You can also request a FREE quote online by Clicking HERE.