Does anyone else look back at their family photos and realize most of them were taken at Disney? As you snap photos from one park to the next, you'll want to be sure to have your camera ready for Disney's Hollywood Studios! This may be Disney World's smallest park, but it packs in excellent photo opportunities not to be missed. From the classics to the Instagrammable #disneywalls, get ready to smile big at these top 13 photo spots at Hollywood Studios.
13 – Chinese Theater – Mickey and Minnie's Runaway Railway
Let's start the list off with a classic! The former home of the Great Movie Ride and the home of Mickey & Minnie's Runaway Railway, the Chinese Theater is a Hollywood Studios icon that sits majestically in the center of the park in Echo Lake. The Chinese Theater replicates the Grauman's Chinese Theater in Hollywood, California and has been a focal point for Hollywood Studios since the park opened in 1989. Since then, there were 14 years where it sat in the shadow of the large, blue Sorcerer's Hat. Once the hat was removed in 2015, the Chinese Theater took center stage again. It is now very visible and used as a background to Hollywood Studios' nighttime spectaculars. Smile because you're in "Hollywood"!
12 – The Twilight Zone Tower of Terror
You can't miss The Twilight Zone Tower of Terror as it towers above the park. You could also listen out for the screams down Sunset Blvd as guests shoot up and down their elevator! There are a few great photo ops here including at the standby line sign with the full tower in view. The lobby area where guests enter different rooms is also a great place to take a photo. Lastly, and probably the best photo here is the actual ride photo where you'll likely be caught in mid-scream. A "chilling" good place for a photo.
11 – Pixar Ball (#pixarball)
When Toy Story Land opened, we weren't too sure how the theme of "shrinking down to a toy" in Andy's backyard would work. As always, Disney didn't disappoint! There are quite a few fun photo spots in Toy Story Land, but we start off with the huge yellow, blue and red star Pixar Ball. This massive ball is planted between the entrance of Toy Story Mania and Woody's Lunch Box. You can't miss it, so be sure to snap a photo here for Instagram with #pixarball.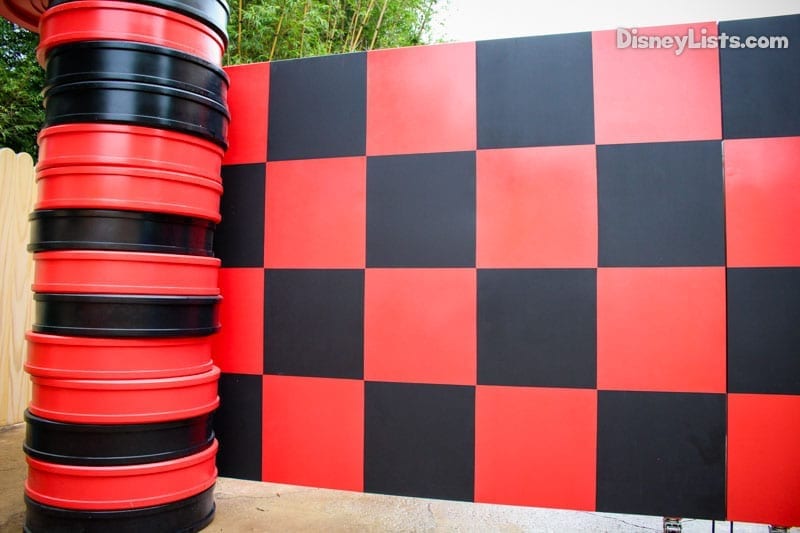 10 – Checkerboard Wall (#checkerboardwall)
In case you haven't heard – Disney Walls (#disneywalls) are ALL over Instagram. Disney is putting featured walls up around every corner with a new one joining the fun what seems like every other day! The first of our "walls" for a fun photo at Disney's Hollywood Studios is in Toy Story Land. Here you'll find the Checkerboard Wall which is hitting Instagram as #checkerboardwall. Just head to the exit queue of Toy Story Mania, and you'll spot the black and red squared wall. This is an especially great wall when sporting the classic black with red bow Minnie ears or black and red Mickey hat as it matches perfectly! Don't forget to post on Instagram with #checkerboardwall.
9 – Buzz Lightyear Selfie
"To infinity and beyond!" Who doesn't love the brave and fearless Buzz Lightyear! So, let's continue in Toy Story Land where you'll find the extremely large Buzz Lightyear in front of the Alien Swirling Saucers attraction. Since he's so tall, it's not the perfect selfie, but if you angle it just right, you'll snap a good one. If you're not a selfie fan, have someone take a picture of the family in front of Buzz to remember your Toy Story Land experience by.
8 – Mickey & Minnie Starring in Red Carpet Dreams
Time to walk the red carpet! Join the Disney stars – Mickey and Minnie, as they are presented in their finest on Mickey & Minnie Starring in Red Carpet Dreams off Commissary Lane. As you strut the red carpet, you'll first come to the glamourous Minnie Mouse as she's dressed in her finest pink gown for a night in Hollywood. As you continue down the red carpet, you'll come to the Disney star – Mickey Mouse. Mickey is dressed in our personal favorite outfit as Sorcerer Mickey. These are two stunning photos that are worth the wait.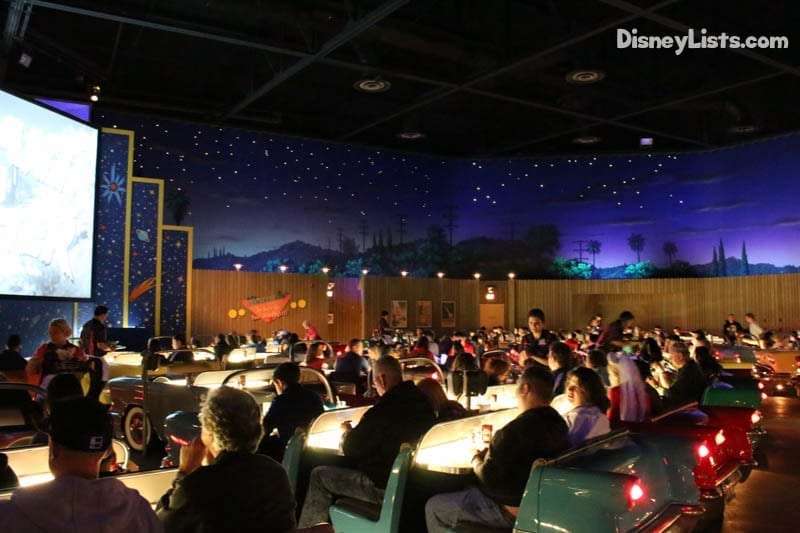 7 – Sci-Fi Dining Selfie
Just across the way from Mickey & Minnie is the Sci-Fi Dine-In Theater Restaurant. Put this restaurant on your must-do list as it's a fun one for all ages. Themed after a 50's drive-in movie theater with sci-fi clips playing on the big screen, you'll want to have your camera ready to capture the atmosphere. While sitting in your car with your loved one, this is a sweet spot with dimmed lighting to snuggle up and snap a photo.
6 – Toy Story Block Wall (#toystorylandblockwall)
You guessed it, we are back in Toy Story Land for another one of the #disneywalls! Oddly enough, you'll want to head to the restroom in Toy Story Land for this photo. Between the men and women's restrooms, you'll spot the Instagrammable #toystorylandblockwall. The bright solid colors of the Block Wall (including red, green, blue, yellow, and orange) make the photographed person pop with color all around them. Only Disney would build a wall near the bathroom a memorable one!
5 – Rock 'n' Roller Coaster Starring Aerosmith
We had you snap photos earlier at Tower of Terror, but its neighbor – Rock 'n' Roller Coaster is another hot spot for great photos. Check out the upside-down car on the track above as you enter the Rock 'n' Roller Coaster area. Or how about a family photo in front of the massive red guitar that can't be missed. And then, of course, the best for Rock 'n' Roller Coaster is the ride photo. Disney brilliantly takes the photo the second guests are being shot out from 0 to 60 mph in their stretch limo! So basically, this photo almost always ends up with mortified-looking faces for a hilariously fun and unforgettable photo.
4 – Star Wars Selfies
Where do we start with this one? There are several excellent places to take an "out of this world" Star Wars photo! First, head to Star Tours – The Adventures Continue attraction in the Echo Lake portion of the park. Here you'll find a massive AT-AT that is great to have in a family photo. You'll then want to head over to the Star Wars Launch Bay in Animation Courtyard, where there are several Star Wars props you can pose with. Our favorite photo here, however, is taking a selfie with the sweet Chewbacca. (For spots inside Star Wars: Galaxy's Edge, see #1)!
3 – Toy Story Land Entrance with Woody
Howdy, Partner. When you enter Toy Story Land, you'll be greeted by a larger-than-life Sheriff Woody standing next to the Toy Story Land sign. It's a picture-perfect photo spot that usually has a Disney PhotoPass photographer available to take photos. Of course, it's also the perfect spot to snap a selfie with our favorite toy!
2 – Popsicle Wall (#popsiclewall)
Our personal favorite wall in all the #disneywalls in Toy Story Land is the Popsicle Wall. Something about the wooden popsicle sticks floods back childhood memories. You'll always feel like a kid at Disney, but this wall pretty well sums up the youth in the south – particularly during the hot months. The easiest way to find this wall is as you exit Toy Story Mania, although you can also go in the exit queue to find it. It's right next to the Checkerboard Wall mentioned above. The purple, yellow, green, and red-stained popsicle sticks are lined up next to each other as a perfect backdrop – just waiting for you to take a photo. Go ahead and let that inner child out!
1 – Star Wars: Galaxy's Edge
There are plenty of amazing photo spots inside Star Wars: Galaxy's Edge. This immersive land has droids, ships, and plenty of Star Wars characters with which you'll want to take photos. The most iconic photo you'll want to get is with the most famous hunk of junk in the galaxy, the Millennium Falcon, behind you! There are also a number of Disney PhotoPass Magic Shots available. Just look for those Disney PhotoPass photographers and they'll make sure you get a photo that is out of this world!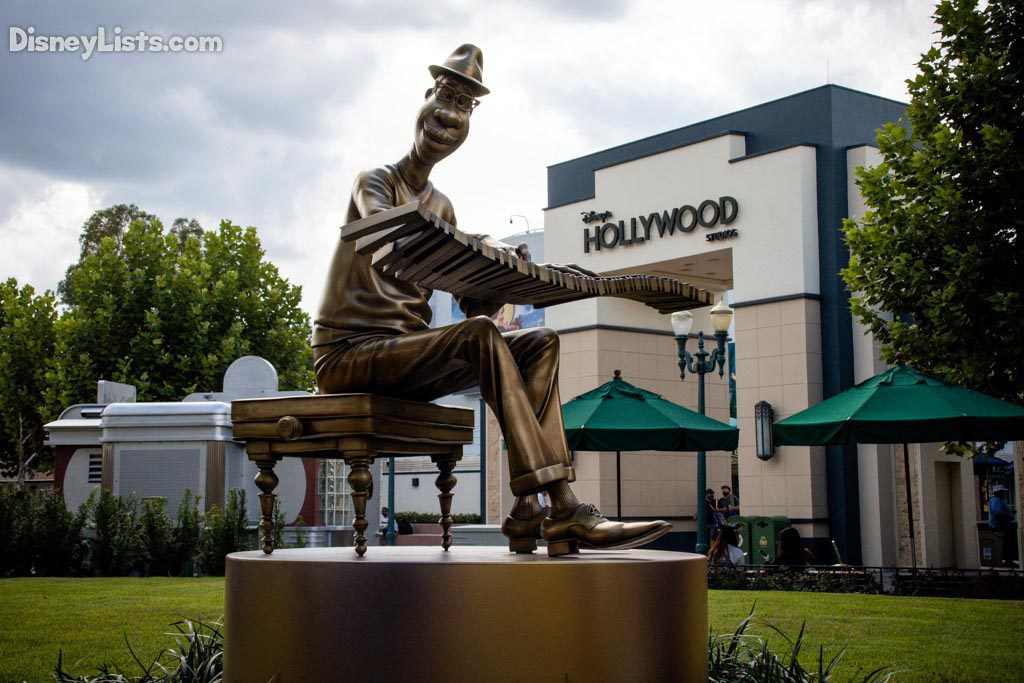 Bonus – During "The World's Most Magical Celebration"
During the eighteen-month 50th-anniversary celebration of Walt Disney World, at Disney's Hollywood Studios you'll find golden statues that are a part of the Disney Fab 50 collection! See below for where to find the statues! They make awesome photo spots!
Near Hollywood Brown Derby:
Near Dockside Diner:
There you have our top photo picks at Hollywood Studios! We hope you're ready to smile!
For a no obligation, FREE Quote on a Disney vacation package, please contact our travel partner Magical Vacation Planner at 407-442-0227 (407-442-0215 for Spanish). You can also request a FREE quote online by Clicking HERE.