Let's head to the place where "Hakuna Matata" is the motto, colorful creatures are around every corner, and that inner wild child can roam free! We're talking about Disney's Animal Kingdom, of course! If you've never been or if you haven't been in several years, don't let this incredible park overwhelm you. Before you fly off into Animal Kingdom's jungle, let's run through a few basic tips every first-timer or long-since visitor needs to know.
1 – Only a One Day Park? Try Two!
When Disney's Animal Kingdom opened in 1998, it was known to be a half-day park experience. With early closing hours and limited experiences, it was easy to leave shortly after lunch and head off to the next big thing at Disney. Animal Kingdom is no longer a half-day park, but dare we say one day isn't even enough anymore?! With later closing hours and multiple attractions and venues not to be missed – two days is the ideal amount of time needed to explore all Animal Kingdom holds.
2 – Know When to Go
Did you know Animal Kingdom is known as the hottest (temperature-wise) of the four Disney parks? With the lush, foliage surroundings, it's easy for humidity to sit in one spot despite a few shade areas here and there. For this reason, we encourage guests to visit Animal Kingdom in the late fall or winter, if possible. Not only will you avoid the late spring and early summer heat, but you'll also avoid the summer crowds. Crowds are inevitable just about any time you visit Disney, but there are some weeks during the late fall and winter (non-holidays) that are less crowded than others.
3 – Understand the Lay of the Land
Study up because this one will pay off when you're standing in Animal Kingdom! Check out the park map well before arrival and be aware of how the lands connect and which attractions are in which part of the park. There are defined lands in Animal Kingdom, including the Oasis, Discovery Island, Dinoland U.S.A., Asia, Africa, and Pandora – World of Avatar. Do your best to understand the lay of the land to alleviate any stress as to where to go next or how to get there. The My Disney Experience (MDE) App makes for a great map right in the palm of your hand!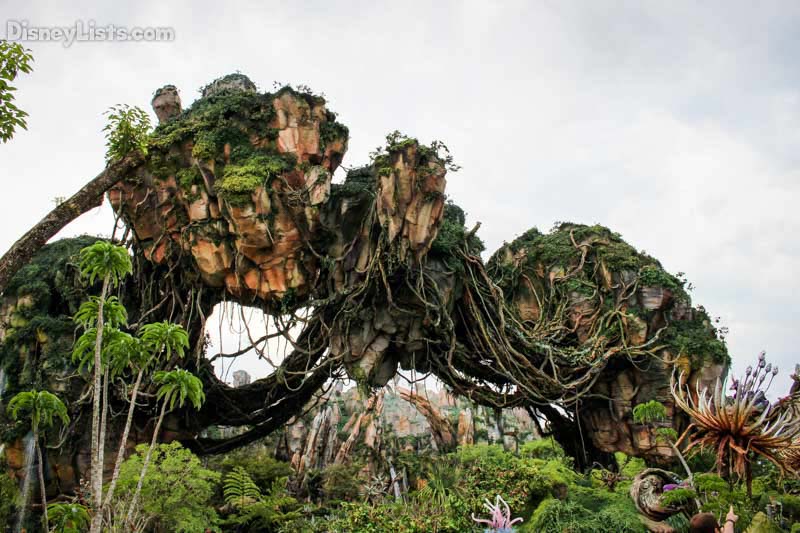 4 – Rise & Shine, Then Go Right
Whenever you decide to go, waking up early and waiting as the park opens is key! Make the most of the early morning cool weather and smaller crowds. As most of the crowd goes left towards the newest and most popular land, Pandora – World of Avatar, head right. You'll have an opportunity to tackle much of Asia and Dinoland U.S.A well before the rest of the crowd gets to those areas of the park.
5 – Must-Do Attractions
There are several attractions not to be missed at Animal Kingdom, but we'll list our top five:
We start off with 

Kilimanjaro Safaris 

as this attraction is what Animal Kingdom is all about! Head over to Africa to take an 18-minute expedition aboard a safari vehicle to get up close and personal with many of the 34 species available on Animal Kingdom's wildlife reserve. This is an unbelievable attraction that spans 110 acres!

If you're a thrill-seeker, 

Expedition Everest – Legend of the Forbidden Mountain 

in Asia is the attraction for you. Take a ride through a mountain that the Yeti calls home on this fast and thrilling roller coaster. Watch out as the Yeti is sure to cause trouble with your track.

Have you ever wanted to fly? This is the closest simulation we have yet to experience! Take a ride on the back of the banshee on 

Avatar Flight of Passage

 

located in Pandora. Soar through some of the most beautiful scenery while feeling the banshee breathe beneath you.

Also located in Pandora, you'll find the 

Na'vi River Journey

– a visually appealing and calming boat ride through what the Na'vi people call home.

To finish off our personal must-do attractions, we end with 

DINOSAUR 

located in Dinoland U.S.A. Head back in time on a time rover vehicle that will have you being chased by dinosaurs as a giant meteor is about to crash down!
6 – Must-Do Entertainment
If you're looking for entertainment, you've come to the right park! Animal Kingdom has two Broadway-style shows and plenty of other entertainment options for you to enjoy. Here are our top three recommendations for Animal Kingdom entertainment:
Hands down – The 

Festival of the Lion King 

in Africa is our absolute must-do. This 30-minute show boasts live entertainers, including vocalists, dancers, acrobats, and more. Relive the story of The Lion King through the beauty of music, performance, and costuming. A stunning performance!

Another incredible live performance is 

Finding Nemo: The Big Blue… and Beyond 

in Dinoland U.S.A. This is an updated 25-minute show that takes guests through the story of 

Finding Nemo 

with live performers, puppetry, and a vibrant set.

Our third must-do entertainment is 

Feathered Friends in Flight! 

located in Asia. Join an animal behavior specialist and meet several exotic bird friends that fly in and around the outdoor arena. This entertainment will have you up close and personal with stunning birds.
7 – Consider Purchasing Lightning Lane Access
On busy days, you might want to consider purchasing access to the new Lightning Lane (formerly FastPass lane). There are two Lightning Lane paid options that include different attractions. First, you can purchase Disney Genie+ for the day of your visit. This costs anywhere $15-29 per day, per person, depending on the day you visit. With Genie+, you can access the Lightning Lane at eight Disney's Animal Kingdom attractions. See the list below for the Genie+ attractions at the park.
Disney Genie+ Attractions:
The Festival of the Lion King

Dinosaur

Expedition Everest
Finding Nemo: The Big Blue… and Beyond!

It's Tough to be a Bug!

Kali River Rapids

Kilimanjaro Safaris

Na'vi River Journey

The Animation Experience

Feathered Friends in Flight!

Meet Favorite Disney Pals at Adventurers Outpost
A second option for purchasing Lightning Lane is the a la carte method. The attraction below is NOT included with your Genie+ purchase and must be purchased separately. Lightning Lane selections for the top-tier individual attractions will also be made on the same day of your visit and can be made across multiple theme parks (great for those who have the Park Hopper Option). Access to purchase Lightning Lane for the individual top-tier attractions is available to all guests at park opening. However, guests staying on Disney World property receive the benefit of early access to top-tier reservations and can make their purchases at 7:00 am on the day of their visit. Access to the Lightning Lane can hit capacity and sell out, so we highly recommend purchasing access right at 7:00 am. Prices will vary by date, attraction, and park. We've seen prices range from $7 to $25 per person per attraction.
Individual A la Carte Lightning Lane Attraction:
Avatar Flight of Passage
Keep in mind that you do not have to purchase either of these options to enjoy these attractions. Most of the attractions listed above have moderate wait times, and some regularly have low wait times. Using our other tips, such as arriving at park opening, you may be able to avoid having to purchase these options. 
8 – Must-See Characters
Editor's Note: At this time, while up-close character greetings have returned in many spots around Walt Disney World, not all characters have returned to their greeting locations. You'll still see some characters come through on special cavalcades throughout the day on the Discovery River. Check the My Disney Experience app for greeting locations and times. 
Animal Kingdom has some of the most unique characters, many of which you can't see anywhere else. Our top picks here are the characters from UP, including Russell, Dug, and their bird friend, Kevin. We also recommend seeing Pocahontas, the only Disney Princess available for a meet and greet at Animal Kingdom. Plus, Donald and friends are available for meet and greets in Dinoland U.S.A. for Donald's Dino-Bash. If you're lucky enough, you may catch a view of DiVine – a beautiful woman/vine that blends in with her surroundings so well you might just miss her. Lastly, don't forget about Mickey and Minnie together at Adventures Outpost in their Safari gear. Be sure to check your My Disney Experience (MDE) App for character availability.
9 – So Much Good Food!
There is a fantastic supply of tasty food at Animal Kingdom. If you want a character dining experience, reserve a meal at Tusker House, where you'll see friends like Donald, Mickey, Goofy, and Daisy. We also enjoy the Yak and Yeti restaurant for a great meal. Just be sure to book these restaurants 60-days in advance as they do book up! Besides table-service restaurants, we'd recommend Flame Tree Barbecue for quick-service dining as well at Satu'li Canteen. Both have great menus! Plus, you can Mobile Order off your MDE App at both of these locations, so you don't have to worry about the lines. Snacks are plenty, as are alcoholic-specialty beverages. If you've never had a Dole Whip outside of Magic Kingdom, you can do this at Animal Kingdom… and even have the option of adding rum to it!
10 – Stay for the Nighttime Entertainment
Animal Kingdom comes to life at night, so stick around! Look for the Tree of Life Awakenings. You'll see the Tree of Life dances with an impressive projection display. On your way out, be sure to drop by Pandora – World of Avatar to see how it transforms into a bioluminescent land once the sun goes down. Truly a remarkable park at night!
Enjoy your wildly unforgettable visit to Disney's Animal Kingdom!
For a no obligation, FREE Quote on a Disney vacation package, please contact our travel partner Magical Vacation Planner at 407-442-0227 (407-442-0215 for Spanish). You can also request a FREE quote online by Clicking HERE.