"It's the most wonderful time of the year!" Winter for many of us means cold weather, snow, and a lack of Vitamin D. Forget all that and make this winter one to remember by visiting Disney! Walt knew what he was doing when he decided to place Walt Disney World in the heart of Florida. He knew it would be that perfect place to visit year-round – and boy, are we thankful for that. As you start to plan your winter season vacation (between December 21 and March 20), check out these ten things to know before you visit Disney World in the winter.
1 – It Does Get Chilly
All the northerners are laughing at us southerners, but it does, in fact, get chilly even at Disney World. There have been some visits where we had to wear hats, mittens, and scarfs as Elsa froze things in the Sunshine State. Sure, it might not be as cold as wherever back home is for you, but typically jackets, pants, and maybe a hat are essential to have just in case. Now, let's turn that around and let you know that we've also visited during winter when it feels like Hades is breathing down our necks. Tank tops, shorts, and bathing suits aren't out of the question. We also must mention that Disney's pools are heated! The bottom line is to check the weather in advance. Average temperatures can range between the low 40s and go into the upper 70s, and even in the low 80s.
2 – Watch the Crowd Levels
Winter holds four major holidays, including Christmas, New Year, Martin Luther King Jr., and Valentine's Day. You'll want to know that anytime there is a holiday, Disney gets flooded with people. Christmas Day and New Year's Day are the two busiest times to visit Disney World with regular park closures due to max capacity. If you are planning to visit during these holidays, you can expect mass crowds. If you are interested in lower crowd levels, late January, early February, and early March are ideal times!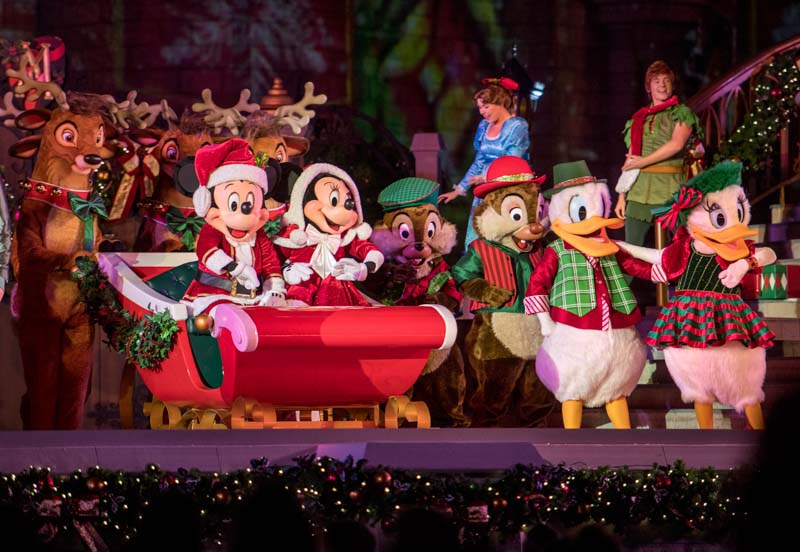 3 – Mickey's Very Merry Christmas Party at Magic Kingdom
After winter rolls in and Christmas is in full force, Magic Kingdom flourishes with Christmas decorations and music around every corner. It's really a beautiful time to see the park! The best way to get the most out of Christmas at Magic Kingdom is by purchasing a special event ticket. Parties are held on select nights after Halloween through Christmas. This is a great way to get the early start to your winter season rolling!
4 – Epcot Is the Place to Be!
While Magic Kingdom rocks the Christmas season, winter at Epcot is amazing! During the winter season, Epcot has two memorable festivals. The first one that starts to wrap up in early winter is the Epcot International Festival of Holidays. Stroll around the World Showcase to experience what holidays are like in multiple different countries by hearing storytellers, tasting holiday food, and drinking special holiday beverages. You'll also want to catch the Candlelight Processional. Once this festival is over after the Christmas season, Epcot launches the International Festival of Arts. This is the perfect winter season festival with artistry everywhere, including visuals, entertainment, music, and tastings.
5 – Hollywood Studios Gets in the Spirit
Editor's Note: At this time, Jingle Bell, Jingle BAM! will not be offered in 2022, but we hope it does return.
Hollywood Studios also gets in the spirit early in winter and through the Christmas Season. Guests will have a chance to watch special fireworks and projection display on the Chinese Theater known as Jingle Bell, Jingle BAM! Sunset Blvd comes alive with Sunset Seasons Greetings, where it snows on Sunset Blvd, and there is a fantastic projection show on the Twilight Zone Tower of Terror.
6 – Disney Springs Fun
No admission or park ticket is needed! Disney Springs has more shopping, dining, and entertainment now than ever. This is a great place to visit anytime, but we especially enjoy the winter season here. The weather is perfect, so you aren't melting as you move from shop to shop. Plus, in the early winter season (Christmas Season), you'll have the opportunity to explore the Christmas Tree Trail, which has numerous Disney-themed Christmas trees on display. You can also meet Santa Claus! After the year wraps up, some of the shops offer discounted merchandise, particularly if it's Christmas-themed or has the old year on it.
7 – Resort Hop
One of our favorite things to do in the winter season is to resort hop! Disney Resorts have their Christmas decorations up until roughly a week after the New Year. Take the Monorail loop and visit resorts like Disney's Grand Floridian with the massive gingerbread house and Contemporary's large outdoor tree. Take a boat ride over to the Wilderness Lodge Resort to see their lovely Christmas decorations. It's an experience not to be missed!
8 – Make it a Memorable Valentine's Day
What better way to celebrate your sweetie than to take him or her on a memorable Valentine's weekend to Disney World? There are so many excellent places to spoil your loved one. Dine at one of Disney's many signature dining restaurants, take a horse-drawn carriage ride, set sail on a fireworks Cruise, taste your way through a dessert party, or simply act like kids again and ride all the rides until your heart is content. Remember that you'll want to book any special reservations for dining and/or events well before arrival, as restaurants sell out for the special holiday.
9 – runDisney Events
The winter season holds not only one but two special runDisney events! This is especially great because the weather is perfect for a run. If you're the running type or just want to try out your running/walking legs, sign up to take part in one of the races within either Walt Disney World Marathon Weekend (usually the second week in January) and/or Disney Princess Half Marathon Weekend (late February). Both are extremely fun experiences. Plus, this is a great way to keep that New Year's Resolution alive and well!
10 – Seasonal Goodies
Last but not least, Disney's winter season offers the chance to check out their seasonal goodies! It all starts with their winter and Christmas season merchandise, which changes from year to year. From special Minnie ear headbands to that perfect t-shirt, there is winter merchandise available for just about all your needs. And of course, you don't want to forget about your taste buds! Try one of the many seasonal treats located in the different parks, Disney resorts, and even Disney Springs. From that perfect Christmas beverage to the Festival of Arts pop treats and sweet Valentine's inspired chocolate-covered strawberries… enjoy until your appetite is content!
So, who's up for a winter visit to Disney World?! We'll see you there!
For a no obligation, FREE Quote on a Disney vacation package, please contact our travel partner Magical Vacation Planner at 407-442-0227 (407-442-0215 for Spanish). You can also request a FREE quote online by Clicking HERE.