Yachtsman Steakhouse is one of the most popular steak locations at Walt Disney World.  It is a great restaurant for dates and special occasions, especially for the steak snobs out there that want the utmost quality in their steak and preparation.  Here are nine things that you definitely need to know about dining at Yachtsman Steakhouse:
9 – The location and where to find the restaurant.
The restaurant is located at Disney's Yacht Club Resort.  The restaurant overlooks the water and beach area of the resort.  The resort is accessible via bus from one of the theme parks or by boat service from Hollywood Studios or the World Showcase entrance of Epcot.
8 – The atmosphere and views are beautiful.
I absolutely love the inside of the restaurant.  It is a very high-end New England-decorated restaurant with high ceilings.  There is an area of windows that overlook the water and beach area of the resort that almost leave you feeling like you really are dining at a fine restaurant in New England.  I also feel like the restaurant is a little more spacious than some of the other restaurants, which is nice for creating a more intimate feel.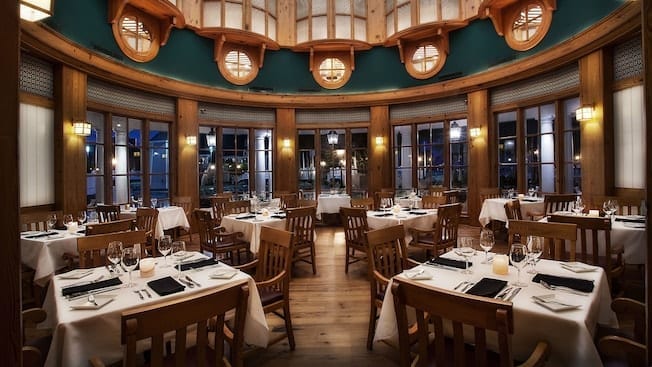 7 – The restaurant is a Disney Signature dining experience.
Editor's Note: Disney Dining Plans are temporarily suspended. However, Disney has confirmed that they will return for vacation packages beginning January 9, 2024. Those packages are now on sale.
The Yachtsman Steakhouse is in the Disney Signature Dining collection.  This means that the location is staffed with some of the finest culinary talent.  This also means that the restaurant is on the pricey side, too.  Most steaks are in the $50 range. This doesn't include drinks, appetizers, accompaniments, and desserts.  If you are on the Disney Dining Plan, the restaurant will cost two table service entitlements per person, but it is well worth it.
6 – The menu and theme for the restaurant is right out of New England.
The New England and nautical feel is prevalent right when you walk into the restaurant.  The menu is also a perfect New England steak house menu with high-quality beef cuts, lobster, and other seafood options available to accompany the meal.  You will absolutely love this extensive menu.
5 – There is a dress code.
Reviewing and understanding the dress code before heading out for your reservation is important.  According to Disney's website, men are expected to wear khakis, slacks, jeans, or dress shorts with a collared shirt.  Women are expected to wear capri pants, skirts, dresses, jeans, or dress shorts.  The restaurant also does not permit tank tops, swimsuits, swimsuit cover-ups, hats for gentlemen, cut-offs, torn clothing, and offensive t-shirts.
4 – You need to make a reservation as far in advance as possible.
Advanced Dining Reservations can be made 60 days in advance of the vacation.  It is definitely a good idea to make your dining reservations as early as you can so that you can get into the restaurant and get the desired time for dining that will work within your plans. This restaurant is extremely popular, and can book up in advance.
3 – The beef that is used and prepared is high quality.
The beef that is used at the restaurant is grass-fed beef.  It is aged in-house to perfection and then cooked in an open kitchen.  The oak-fired grill is in an open kitchen type of area where guests can get views of the chefs hard at work preparing the amazing cuts of meat.  It will make your mouth water just thinking about it.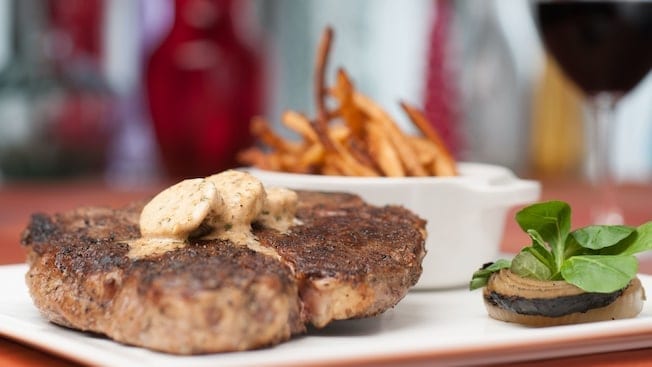 2 – The location is only open for dinner service.
There are currently no breakfast or lunch services available at the restaurant.  Dinner is the only service, so if you want to enjoy this location, you will need to plan to dine there for dinner one evening.
1 – Come hungry and save room for dessert.
There are so many delicious menu items that you will want to try everything.  We cannot help but get a shrimp cocktail and then our entrees.  I have to have the House-made Truffle Fries as a side since it is one of my favorites.  Then you definitely don't want to skip dessert, either.  The chocolate cake is to die for and a great mix of sweet and salty to end the evening.  We always try to skip lunch before we go. That way, we have plenty of room to enjoy the delicious dinner.
For a no obligation, FREE Quote on a Disney vacation package, please contact our travel partner Magical Vacation Planner at 407-442-0227 (407-442-0215 for Spanish). You can also request a FREE quote online by Clicking HERE.