Wild Africa Trek is a premium tour at Disney's Animal Kingdom. This 3-hour tour allows guests to view animals on the safari like never before. Guests must be over the age of 8 and at least 48 inches tall. Children under 18 years of age need to be accompanied by a paying adult. Guests need to be ambulatory and are required to be between 45 and 300 pounds while wearing the provided gear. Additional requirements will be detailed at the time of booking. The price varies depending on the time of day, with afternoon treks being cheaper and the time of year. The experience now has a fixed price of $199. This is an expensive experience, as the price does not include your admission ticket and park admission will need to be purchased separately. However, there are many great reasons why this experience is worth the extra cost. Here are five reasons that the Wild Africa Trek is worth the price.
5 – Photos are included
Wild Africa Trek participants receive digital access to high-quality photos taken of the Trek. These photos will include individual and group photos as well as photos of the many different animals seen on the encounter. This is a huge value for guests participating in the experience as personal cameras and cellphones are not permitted unless they can be fastened to the gear due to safety reasons. Guests will still be able to have those great photographs without the risk of losing their personal camera or phone.
4 – Gourmet Snacks
This tour includes a sampling of African-inspired snacks. Check out a list of items you may be able to enjoy below.
Sample Menu
Chicken curry salad
Sun-dried tomato hummus and mini pita
Marinated tandoori shrimp
Smoked salmon roulade with dill
Air-dried beef and prosciutto
Fresh fruit marinated in mint and ginger
Please note: Menu items are subject to change without notice.
3 – Knowledgeable and passionate guides
Wild Africa Trek guides are highly trained and love to share their passion for animals, education, and conservation with the guests. These guides love their jobs and love sharing this amazing experience with their guests. Feel free to ask your guide anything about the animals you encounter, questions about food and veterinary care, and of course about the samplings of food you enjoy. These guides know it all!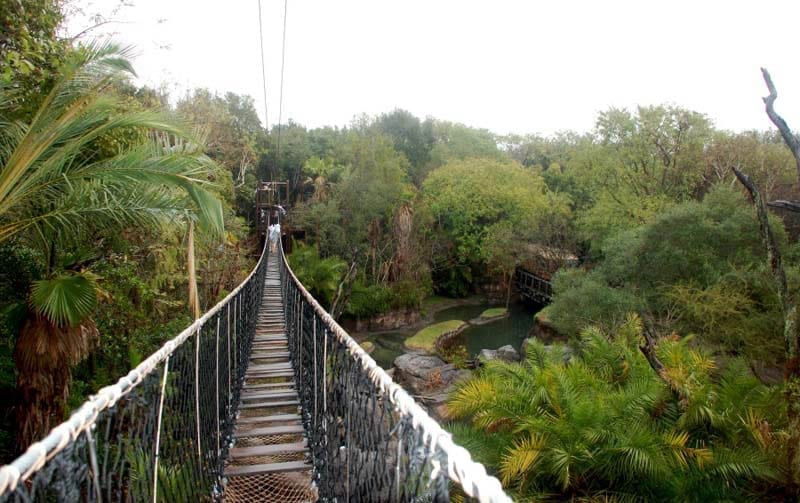 2 – Private Safari truck
Guests will also have the opportunity to board an exclusive safari vehicle during the trek; this vehicle is permitted to make stops throughout the Harambe Wildlife Reserve, while the attraction vehicles are not. When the truck is stopped guests are permitted to stand and move around the truck for better views and photographs. Because each trek has a maximum of 12 guests, there is plenty of space on this truck. This allows guests to get magnificent views of many different areas of the attraction, as their trek guides provide information on the animals and their habitats.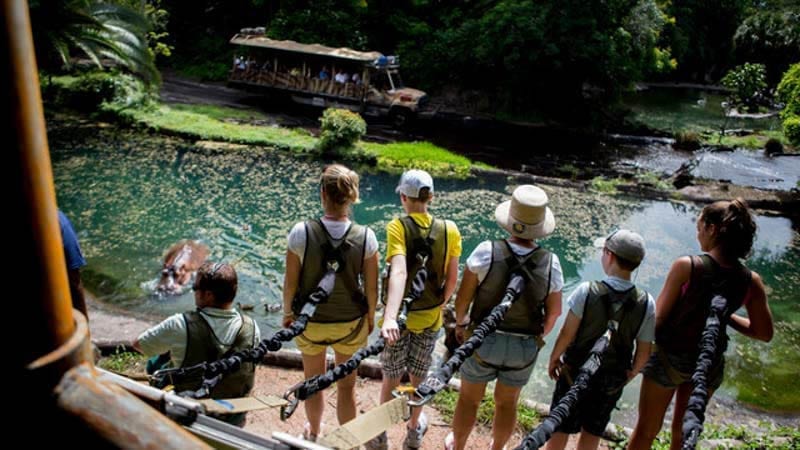 1 – Unique and up-close animal encounters
Wild Africa Trek gives guests the opportunity to explore the Harambe Wildlife Reserve in ways that cannot be experienced from the Kilimanjaro Safari attraction. This premium experience allows guests an up-close and personal view of Hippos and Nile Crocodiles. If you have been on Kilimanjaro Safaris, you may have seen rope bridges, or witnessed guests crossing these bridges. Guests on the Wild Africa Trek will get to these cross rope bridges while wearing harnesses and get a closer look into the habitats of these animals. You will look down into the Hippo and Nile crocodile pools. You'll also get a chance to see other animals up close on the safari.
Like many of the tours offered at Walt Disney World the price of Wild Africa Trek is often a deciding factor for guests who are thinking about booking. This is one of the best premium experiences on property and provides guests with a fantastic experience and memories to last a lifetime. What really makes this tour worth the cost is the up-close encounters with the animals, the knowledgeable guides, African-inspired snacks, and the hundreds of photos included with the price of the tour.  If you have the opportunity, this tour is worth the extra cost!
For a no obligation, FREE Quote on a Disney vacation package, please contact our travel partner Magical Vacation Planner at 407-442-0227 (407-442-0215 for Spanish). You can also request a FREE quote online by Clicking HERE.