The Disney Princess Half Marathon Weekend presented by Children's Miracle Network is one of the largest women-focused running events, featuring runners from across the nation and more than 28 countries. Though not as large as Disney's Marathon Weekend, it's an exciting race filled with lots of colorful tutus, tiaras, and pixie dust! We've compiled the seven things you need to know about how to make the most of this unique runDisney event!
7 – There Will Be Lots of Runners
The Disney Princess Half Marathon Weekend presented by Children's Miracle Network is one of the largest women-focused running events. After being held virtually in 2020, the race returns to Walt Disney World resort for in-person running. In past years, the race has seen up to 56,000 runners. The 2022 sold-out races will surely see a lot of smiling racers returning to the resort. This means that you will experience the typical runDisney race: crowded, busy, and sometimes insane!
6 – Who Runs the World? Girls!
As you might expect, this race is dominated by female participants. This race is all about the ladies, and it's about celebrating women's achievement in the sport of running. Princes (men) are allowed to race. However, their participation is downplayed, and they are not eligible for awards. In fact, in years past, a man had the best time in the half marathon but was not the official winner. You'll find a lot more men running the 5k since that race is more family-focused. Uring runners from across the nation and more than 28 countries. Though not as large as Disney's Marathon Weekend, it's an exciting race filled with lots of colorful tutus, tiaras, and pixie dust!
5 – runDisney Health and Fitness Expo
The weekend kicks off Thursday, February 24, at the ESPN Wide World of Sports Complex with the runDisney Health & Fitness Expo. The Health and Fitness Expo is your first stop race weekend to pick up your race packet. The event features celebrity runner appearances, you'll see and experience the latest in running and fitness equipment, and you'll have the opportunity to attend seminars on training, racing, and nutrition. Finally, you'll have the chance to purchase official runDisney merchandise and other sports-related products offered by exhibitors.
All runners must attend the Expo to pick up their race bib, shirt, and gear bag. Without the items in this packet, you cannot race. Disney no longer allows others to pick up the packet for you. A valid ID and completed waiver is required. Adults will be allowed to pick up participant packets for runners under age 18. As a reminder, Packet Pick–Up will not be available on race morning. You'll also need an Expo Check-In pass so volunteers can easily find your packet. Your Expo Check-in Pass will be available to you beginning February 21, 2022, through your runDisney account.
The Official runDisney Merchandise store is located in the Arena located just as you enter the ESPN Wide World of Sports complex. In addition to the store, pre-purchased commemorative item pick-up and character meet and greets take place in the Arena. If you want the best selection of merchandise, go ahead and get in the merchandise queue first and then pick up your bib and race shirts after your shopping is completed. You'll find your race bib pick up in the HP Field House and the race shirt pick up in the Visa Athletic Center. See the Event Guide for maps of all of the areas at the Expo.
Many runners underestimate the time needed for the race expo. Include travel time, waiting to pick up your packet and commemorative items, time for shopping, and time for any seminars you want to attend. The Expo will be open Thursday, Friday, and Saturday. We recommend you get there as early as you can for the best selection of race merchandise. Merchandise always sells out at runDisney races. The earlier you get there, the better chance you'll have of getting what you want!
Tip: if you are wavering on a decision about purchasing a specific item, our suggestion is to go ahead and buy the item. Many do not know it, but if you change your mind, you can return any items at any Disney World merchandise location. So, if you buy a shirt and then realize you actually don't want it, you can return it at your resort store. I've even returned merchandise weeks after the event. If you can swing the extra cost, it is better to buy it and return it if you change your mind. If you wait until a later time to purchase it, likely, the item will not be there.
Many exhibitors sell running-related items. Be sure to check with each exhibitor for their return policy before you make any purchase with them. Often, these stores will have Expo reduced prices. While this may be the perfect time to purchase that excellent new product, be careful if you have never trained with the item. Best rule of thumb is to never, ever do, or use something new on race day.
runDisney Health and Fitness Expo Hours – ESPN Wide World of Sports Complex
Thursday, February 24, 2022 — 10:00 a.m. – 8:00 p.m.
Friday, February 25, 2022 — 10:00 a.m. – 7:00 p.m.
Saturday, February 26, 2022 — 9:30 a.m. – 3:30 p.m.
4 – Disney Princess 5k
The Disney Princess 5k will kick off Friday, February 25, at 5:00 a.m. This race is more friendly towards male participants as it is geared towards princesses ages five and older and their families. You'll begin at Epcot, race through Epcot's neighborhoods including a run around World Showcase. There will be one water stop along the 5k course. Note that the 5k is a fun run and is not timed. No race results will be posted. Disney 5k races are a great place to introduce your daughter to the fun of running!
View the 2022 5k course by clicking here. 
3 – Disney Princess Enchanted 10k
The Disney Princess Enchanted 10k will start Saturday, February 26, at 5:00 am. This race journeys through Epcot, Disney's Hollywood Studios, and the Epcot Resort area, including the Boardwalk. Note that the Boardwalk can be rather slippery early in the morning, so do be careful! This is also the beginning of the race weekend for those ladies participating in the Fairy Tale Challenge. The 10k is a great distance for those who want a step up from the 5k, but they may not be ready to tackle a half marathon. The popularity of the 10k race at Disney has skyrocketed. Typically, the 10k races are the first to sell out. There will be three water stops along the 10k course.
View the 2022 10k course by clicking here.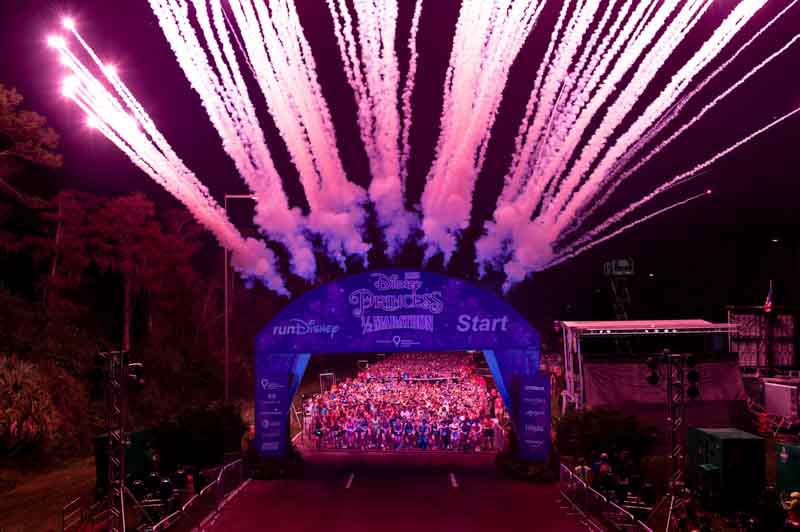 2 – Disney's Princess Half Marathon
Finally, the half marathon will kick off on Sunday, February 27, at 5:00 a.m. Be prepared for a sea of princesses! Never before have I seen so many tutus and tiaras! It's a great race to run and feel empowered as a woman. The comradery is excellent, and most women are supportive and encouraging of other runners during the race. The Walt Disney World Half-Marathon in January and the Princess Half are the only two half marathons to run through Magic Kingdom. I've raced every half marathon they have at Walt Disney World, and this one is one of my favorites. Any female runners pondering this race should sign up because it's a great race that celebrates the athletic achievements of female runners!
The half marathon course has a total of nine water, and Powerade stops located along the route every 1.5 miles. There will be one food stop at mile 7.8. If you want water on your own schedule or more fuel, you'll need to bring your own with you.
View the 2022 half marathon course by clicking here.
Parking Note for Those Self-Driving to the Half-Marathon Race on Sunday!!
For Runners participating in the Princess Half Marathon on Sunday, Self-parking will be at Disney's Hollywood Studios followed by bus transportation to EPCOT where the race will start. Bus transportation begins at 2:30 a.m. and runners must be on a bus from either Disney's Hollywood Studios or Walt Disney World Resorts, Shades of Green, and the Swan and Dolphin Resorts by 4:00 a.m. If not, runners could miss the access to Start or experience significant delays getting to their Start Group. Self-parking will not be available at Epcot on Sunday for any runners or spectators.  As a reminder, face coverings are required on all Disney transportation.
For Runners participating in the 5K and 10K, parking is available at Epcot.
1 – Smile for the Camera!
Professional photographers from Disney's PhotoPass will be positioned at multiple race locations before the event, on the courses, and at the finish and post-finish areas. On each course, there are multiple spots with Characters. Please note that these are Disney photographers and are included in Disney PhotoPass or Memory Maker packages–an even better reason to purchase that Memory Maker package. Annual Passholders will also have free access to the race pictures since Memory Maker is included in their pass benefits. After the event, you'll need to manually add these pictures into your MyDisney Account using your bib number. Clear instructions are included in the Event Guide and on the back of your race bib. You may add up to 5 bibs per account. If you are running with a group, only one person needs to purchase the package. Runners are welcomed and encouraged to take pictures during the race. However, remember that selfie sticks are prohibited by runners and spectators on Walt Disney World property.
For more information about Memory Maker be sure to read our article here.
For a no obligation, FREE Quote on a Disney vacation package, please contact our travel partner Magical Vacation Planner at 407-442-0227 (407-442-0215 for Spanish). You can also request a FREE quote online by Clicking HERE.