When my mom and I decided to do a mother-daughter weekend in Walt Disney World, I knew that one of the main things she had to do was see the Magic Kingdom fireworks. I knew she would love the fireworks, but knowing how popular that show is, I didn't want her to have to fight the crowds and stand in a spot for over an hour. So, I researched firework dessert parties!
The Magic Kingdom Firework dessert party has a few options: Magic Kingdom Fireworks Pre-Party, Magic Kingdom Fireworks Seats & Treats, and the Magic Kingdom Fireworks After-Party. After much deliberation (because I'll be honest, each option is very expensive), we decided on the After-Fireworks Dessert Party. This gave us time to enjoy the park before checking in to the event, and we never felt as though we were rushed. Plus, we still had something to look forward to after the fireworks were over!
Here are a few tips to help you decide which dessert party is right for you (also, spoiler alert: it was totally worth the price)!
7 – Research Viewing Locations
There are two options for viewing the fireworks during one of these parties. One is the reserved Plaza Garden viewing, which is located on the side of Main Street (closer to Tomorrowland- not dead center in front of the castle, but still a spectacular viewing spot). The other option is viewing at the Tomorrowland Terrace. It is worth noting that the Terrace is off to the castle's side and farther away. You may have trees blocking your view and may not see all of the projections. With a show like Happily Ever After, the projections on the castle play a big part, so it's essential that you get to see some of them. However, at the Terrace, you are comfortably seated and protected from the elements, whereas in the Plaza Garden, you are out in the open and standing for the show. I highly recommend researching pictures of each viewing area online before the show or, if you have the chance, scoping them out in the parks beforehand.
For me, having a good view of the fireworks was more important than the desserts. The After-Fireworks party includes Plaza Garden viewing, which, in my opinion, was far superior.
6 – Do You Need a Seat?
Another tip for choosing a party is determining whether you need to sit for the show. During the dessert portion, you will be seated, but during the fireworks, you may have to stand, depending on which option you choose. For the Plaza Garden, you will be given a wristband and escorted by a cast member to this exclusive location. It is a rather large garden with space to spread out, and while you can sit while waiting for the fireworks, you must stand for the show. You get a great view of the castle but will still have people standing in front of you in the central hub.
As mentioned, you are seated while enjoying the fireworks for the Tomorrowland Terrace. True, your view may be slightly obstructed, but if members of your party can't stand for long periods, this may be the better option. Remember that you have to check in an hour before showtime, and the fireworks themselves last about eighteen minutes. That can be a lot of standing for someone with mobility issues or for someone who is mainly interested in desserts.
Though my mom and I did get to sit in the Plaza Garden while waiting for showtime, we were on the hard ground and open to the elements. It wasn't the most comfortable, but we made it work for us. Once the show started, we were so fascinated by the fireworks and weren't worried about having to stand.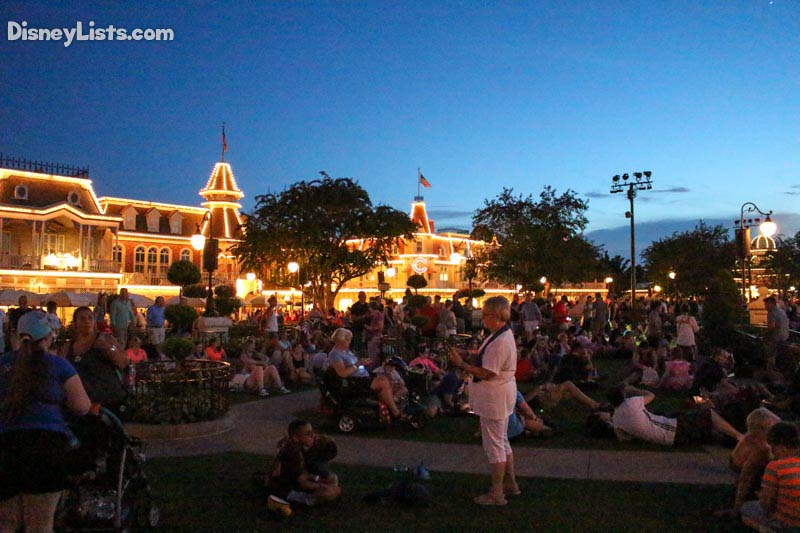 5 – Determine Crowd Levels
Depending on what time of year you visit, the dessert parties may be more crowded. Advance reservations are strongly recommended, and they only let a certain number of people attend. My mom and I went in late August when most locals were returning to school. The crowds were minimal, and our dessert party wasn't even near capacity. The Plaza Garden viewing area held a mix of those who were served desserts before the fireworks and those who were eating desserts after. Once the show was over and we returned to the Tomorrowland Terrace, only about a third of the tables were filled. We had all the desserts practically to ourselves and were the last ones to leave. During the busy seasons and holidays, there is a good chance the dessert parties will be sold out, and both the viewing areas and dessert sections will be packed.
Either way, you will get a great view of the fireworks and will be treated to yummy desserts. However, keep in mind that depending on the time of year, the crowds may be denser than others. If the fireworks are very important to you and your party, I highly recommend reserving a dessert party, especially during peak times of the year.
4 – Will the Timing Work With Your Plans?
When booking a dessert party, it's good to check when the fireworks show starts that evening. Recheck the times' guide on the day of the party since fireworks showtimes are subject to change. Check-in time is ninety minutes before the fireworks for the Pre-Party and sixty minutes for the After-Party. For us, the fireworks started at 8:55 pm. That meant we checked in at 8:00 pm, got seated in our area at 8:10, and finally walked over to get our desserts at around 9:30 pm (we were waiting for the crowds to disperse a bit and enjoyed the last of our private viewing area). By the time we were totally done with dessert, it was 10:00 pm, and the park was emptying out; we had an hour left to walk on a few attractions before exiting the park.
Keep your plans in mind for the day of the dessert party. Are you leaving the next day and want to get a good night's sleep? Are you traveling with young kids who can't stay out too late? Depending on you and your needs, you may want to choose an option where you leave right after the fireworks. We had no obligations for the rest of the night or the next day and were able to enjoy the late desserts at a leisurely pace. For others, you may need to feed your party early and wish to have more free time after the fireworks end. It's up to you; remember to check when the fireworks start on the night of the party!
3 – Getting Fresh Desserts
Though all the desserts were delicious, by the time my mom and I finished the show and made our way back to the Tomorrowland Terrace, you could tell that they had been sitting out under heat lamps for a while. If you are eating desserts before the party, everything will be fresh. And for us, while all the desserts were replenished and tasted good, it just didn't feel too grand. The brownies and cookies were lukewarm, as was the "hot" cocoa. Luckily, the ice cream and sparkling cider were kept cold, but everything else felt like leftovers (which, technically, they were). If the fresh desserts are essential to you, definitely choose a party where you eat before getting escorted to your viewing area or where you eat while watching the show.
2 – Which is More Expensive?
Okay, honesty time – all the party options are expensive. But, if you're willing to sacrifice a few table-service meals or budgeted this into your plans, go for it! It's truly a great time (even if my wallet is considerably lighter)! Full payment is due at the time of booking. 
The After-Fireworks Dessert Party and the Pre-Party Fireworks Party with Plaza Garden Viewing (desserts before the meal) are $99 a person. The Seats and Treats Dessert Party with Seated Terrace Viewing costs $114 a person. Note that park admission is separate and not included in the price. You'll also need a park reservation! If the fireworks are canceled due to inclement weather, you will not be refunded- this event is rain or shine (meaning, you'll still be getting your desserts even if you can't see the show). That's a risk I was willing to take, but it may also be a good idea to check the weather forecast the night of the party (even though the weather in Florida is crazy and can change very quickly).
I'll say it again- for me, the party was worth the price. My mom and I had an absolute blast! It was SO worth not having to stand and be stuck with the commoners- I mean, the crowds.
1 – All Parties Offer the Same Menu
No matter what party you choose, you will most likely get the same desserts (give or take a few seasonal changes). These often include brownies, cheesecakes, Oreo treats (which taste eerily similar to the "grey stuff" at Be Our Guest), chocolate-covered strawberries, pineapple parfaits, red velvet cupcakes, a Smore's station, a make-your-own cookie, and ice-cream decorating station, fruit, and a few savory options such as cheese, crackers, and cheeseburger eggrolls with special sauce. There are also numerous drinks, such as coffee, juice, milk, tea, cocoa, water, iced coffee, and sparkling cider (the cider is the only item that is not restocked, so make sure to grab one early). As I mentioned, items may not be as hot or cold as you'd like depending on whether you eat desserts before or after the party. All the treats are bite-size, and cast members are there to help serve the food. Note that menu items are subject to change at any time. 
All in all, there are many factors to consider when choosing a dessert party option. Don't stress over the desserts themselves too much- there are plenty to go around for everyone, no matter how crowded the party is. I reloaded my plate numerous times! I've never attended a fancy event in a Disney Park, but these dessert parties certainly felt exclusive and special.
For a no obligation, FREE Quote on a Disney vacation package, please contact our travel partner Magical Vacation Planner at 407-442-0227 (407-442-0215 for Spanish). You can also request a FREE quote online by Clicking HERE.