A dining experience that sums up every fairy-tale dining dream – Cinderella's Royal Table is the perfect place to snag one of those hard-to-get advanced dining reservations. So what makes us wish upon a star to get a reservation at this restaurant? Here are our four reasons why we love Cinderella's Royal Table enough to want to go back time and time again!
1 – INSIDE the Cinderella Castle
Let's be honest. Disney World has some spectacular restaurants and dining locations – but it's impossible to beat location when dining inside the iconic Cinderella Castle at Magic Kingdom. Cinderella's Royal Table will always have a head above the rest for its' superb location! The atmosphere inside is precisely as one would expect in a Medieval-themed castle. Chandelier lighting, stained glass windows, beautiful tables and chairs, and colorful royal flags make for a beautiful setting – and of course, let's not forget about the stairwell leading guests to this magical place (an elevator is also available). Cinderella's Royal Table truly is fit for all princesses and princes.
2 – Princesses Everywhere!
Upon entrance to Cinderella's Royal Table, guests are welcomed by Cinderella with a keepsake photo and a special meet and greet moment (currently from a distance). Once upstairs and seated, Princesses seem to be just about everywhere, greeting guests at every table. Princesses such as Snow White, Jasmine, Aurora, Rapunzel, and Ariel have been known to stop by for a visit! On the rare occasion, the Fairy Godmother and even Prince Charming have stopped by to say hello! It's a great experience sitting and enjoying a meal while the Princesses come to you for photos and autographs.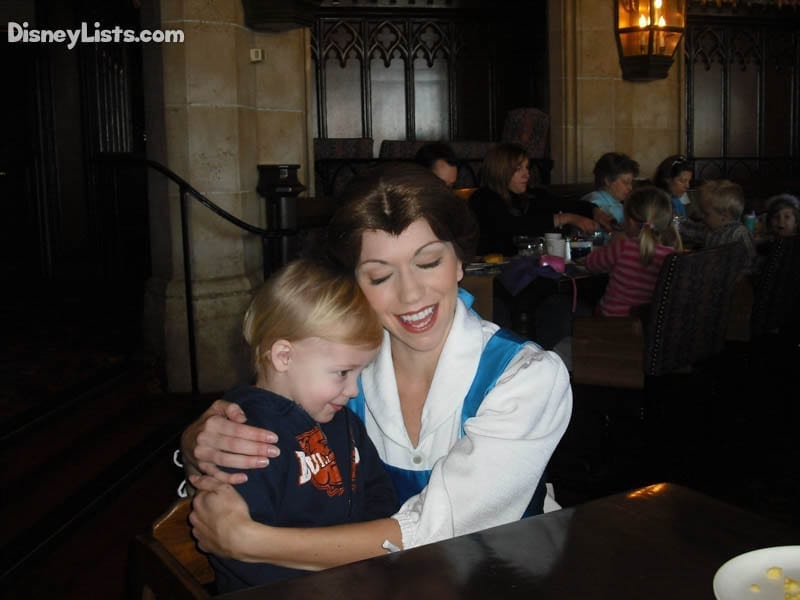 3 – Meal Options with Perks
We especially love that Cinderella's Royal Table serves all three main meals of the day – breakfast, lunch, and dinner. Each meal is a slightly different experience from the other. For example, breakfast is probably our favorite meal in the Castle because it provides guests with a fantastic start to the day. You'll have an opportunity to walk Main Street, U.S.A., on the way to breakfast! Take all the photos you'd like – and sometimes PhotoPass Cast Members are available to catch your quiet moment in Magic Kingdom before the park opens. At lunchtime, guests have the benefit of getting out of the heat in a central location above the crowds. Dinner time, especially during the Happily Ever After, is fun because you'll have an opportunity to see a glimpse of some of the fireworks from the windows.
4 – Tasty Food Selections
It's no wonder Cinderella invites guests inside the Castle to enjoy her Chef's meals – the food is delicious! The breakfast options vary, with some of our favorites being the Caramel Apple Stuffed French Toast and the Beef Tenderloin and Egg. Lunch and Dinner offer plenty of meat choices and Chef's Fish of the Day. Top off your meal with a delicious dessert such as Gus and Jaq, which is a seasonal cheesecake! You're sure to get your fill at Cinderella's Royal Table.
The clock will strike twelve soon enough! Plan well in advance and book a fairy-tale dining experience inside Magic Kingdom at Cinderella's Royal Table. When it's time to leave, be sure you don't lose your glass slipper!
For a no obligation, FREE Quote on a Disney vacation package, please contact our travel partner Magical Vacation Planner at 407-442-0227 (407-442-0215 for Spanish). You can also request a FREE quote online by Clicking HERE.