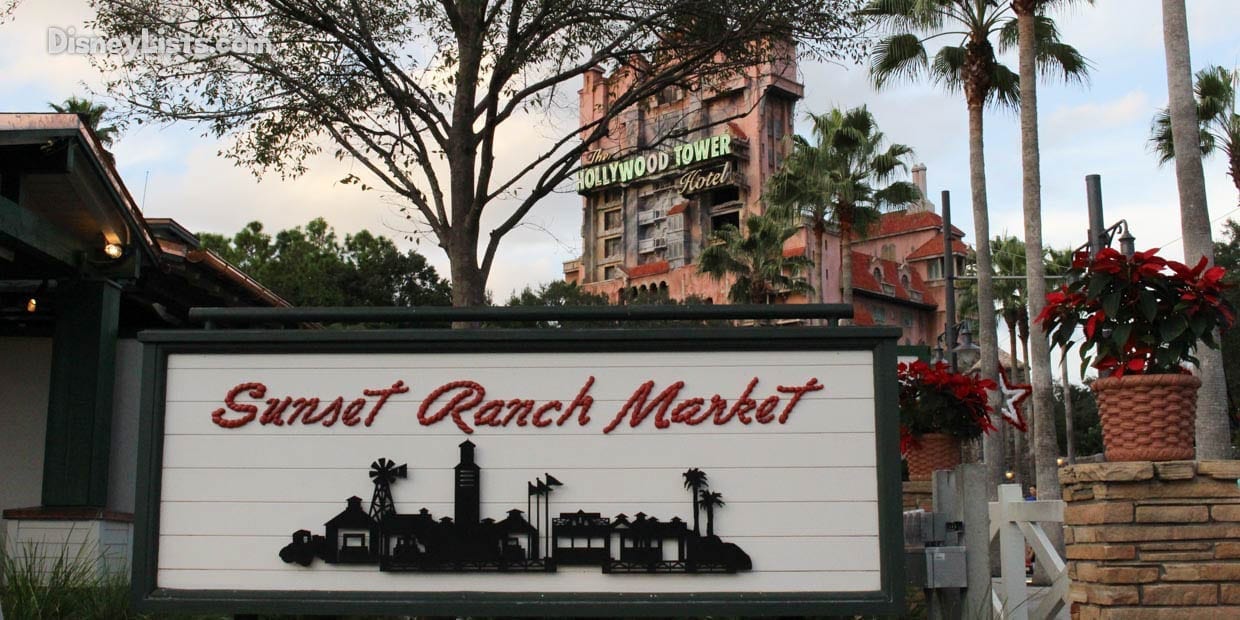 There is something for everyone at Disney's Hollywood Studios. You'll find thrill rides, attractions for the whole family, shows, and entire areas based on popular franchises. You don't want to spend too much time eating once hunger hits because there is so much in the park to do! Fortunately, there are some great quick eats at Disney's Hollywood Studios. Use Mobile Ordering when available to save even more time! Here are seven places that feature delicious food and great atmosphere for when you want to eat in a hurry.
1 – ABC Commissary, Commissary Lane
If you've ever wondered what it might be like to dine in the cafeteria of a television studio, ABC Commissary is a good choice. There are nods to ABC shows throughout the dining area. There is plenty of seating, but it does get crowded at traditional meal times. The food isn't overly creative, with choices such as Shrimp Tacos and Chicken Club Sandwich, but you're sure to leave full. ABC Commissary will sometimes have special seasonal offerings such as cupcakes that you won't want to miss.
2 – Backlot Express, Echo Lake
The sign outside of Backlot Express states "a warehouse of good eating", and you do feel as if you're eating in a props warehouse. The space has a stripped-down feel to it, which is part of the fun. There are signs and props that, sadly, most people will not pay attention to. There are nods to several movies, including "Raiders of the Lost Ark" and "Star Wars". Backlot Express is the place to go if you're looking for a burger or a sandwich. "Star Wars" fans will want the Tatooine Two Suns Hummus for an entree and the Wookiee Cookie for dessert, if they aren't eating at our next option.
3 – Docking Bay 7 Food and Cargo, Star Wars: Galaxy's Edge
Star Wars: Galaxy's Edge is a "Star Wars" lover's dream come true. Every inch is themed so that you really feel as if you are in a galaxy far, far away. Docking Bay 7 Food and Cargo fits the theme well. From the chairs to the ship docked above you, it's easy to get lost in the immersion. Many people think that Docking Bay 7 is one of the best quick options at Walt Disney World. Chef Strono "Cookie" Tuggs has created a menu that sounds both out-of-this-world and familiar at the same time. Choices include Pirjanad Hot Chicken Tip Yip and Smoked Kaadu Pork Ribs. Felucian Kefta and Hummus Garden Spread is one of the most popular plant-based options at any of the theme parks. Docking Bay 7 Food and Cargo is worth a stop, even if you don't know a Jawa from an Ewok.
4 – PizzeRizzo, Grand Avenue
Muppet fans, PizzeRizzo is for you! The Rizzo in question is Rizzo the Rat, he is now running a pizza joint. The walls are filled with the type of puns that you'd expect from the Muppets. Grab a table upstairs, it tends to be quieter. This is one restaurant where you will want to visit because of the theme. The food at PizzeRizzo is average at best. Most of the menu is personal-sized pizzas, and this is not the finest pizza you will find at Walt Disney World. There are a couple of subs as well. Check the hours, because PizzeRizzo closes early
5 – Ronto Roasters, Star Wars: Galaxy's Edge
Another quick option in Galaxy's Edge is Ronto Roasters. The space is small, but it's still fun to see. A droid is "roasting" meat over a pod racer engine! Unlike the restaurants above, Ronto Roasters is open for breakfast. You can start your day with Rising Moons Overnight Oats, Ronto Morning Wrap, or Triple Suns Breakfast Wrap. The signature Ronto Wrap is available all day long, as is the non-alcoholic Tatooine Sunset. Ronto Roasters might have a small menu, but it is a must-stop for many Disney fans.
6 – Woody's Lunchbox, Toy Story Land
The toys in Andy's Backyard have to eat too, and that is why a Woody's Roundup lunchbox has been turned into a quick-service restaurant. There is no indoor seating and there are not a lot of tables, so be prepared to look for another place to sit down if Disney's Hollywood Studios is crowded. The food features creative twists on what you might expect to find in a lunchbox. Woody's Lunchbox is another place where you can grab breakfast, with a breakfast bowl served in the morning. You'll find several flavors of Lunch Box Tarts (think creative Pop-Tarts) all day long. There are also grilled cheese and other sandwiches, and the popular "Totchos". These are potato barrels smothered with chili, cheese, sour cream, and more. Woody's Lunchbox is popular with the meatless crowd, with plant-based versions of both "Totchos" and grilled cheese.
7 – Sunset Ranch Market, Sunset Boulevard
Sunset Ranch Market is not one single restaurant. Instead, it has several small options in one spot with central seating. The tables are outdoors, but they are covered. It's a great place for people-watching as they hurry to Rock 'n' Roller Coaster Starring Aerosmith or The Twilight Zone Tower of Terror.
There are three main choices at Sunset Ranch Market if you're looking for a quick meal. Menus here do change from time to time. Catalina Eddie's currently serves personal-sized pizzas and Caesar salads. Fairfax Fare has hot dogs with different toppings. Rosie's All-American Cafe has burgers, hot dogs, chicken nuggets, and the Plant-based Lobster Roll. Save room for dessert from Hollywood Scoops! The ice cream stand is also part of Sunset Ranch Market.
For a no obligation, FREE Quote on a Disney vacation package, please contact our travel partner Magical Vacation Planner at 407-442-0227 (407-442-0215 for Spanish). You can also request a FREE quote online by Clicking HERE.