Those small-town parades you've maybe experienced are fun – but trust us when we say the Magic Kingdom Parades will blow you away! Disney holds nothing back with spectacular floats, exciting music, and best of all – the numerous characters. At the present time, on a daily basis (weather permitting), Magic Kingdom offers one and sometimes two performances of the Festival of Fantasy Parade. Check out these do's and don'ts for Magic Kingdom parade viewing that we've marched onto this list.
1 – DON'T Let the Weather "Rain on Your Parade"
Oh, the puns… sorry, we'll stop now. Since we mentioned "weather permitting" above, we feel the need to give you the weather low down. Disney will cancel or potentially slightly delay a parade if it is raining when it is time for a parade to start. This is a huge bummer, especially if you've been waiting, but it does happen. If the parade floats have already started and then it starts raining – the parade will continue to its final destination as it's impossible to turn that sort of thing around! This will make for a shorter parade as entertainers and floats move at a brisk speed. The key here is to understand that it's Florida, which has exceptionally unpredictable weather patterns. Bring along a poncho to wear and maybe a cheap one to sit on if the rain does cease long enough for a parade, but the ground is still wet.
2 – DO Arrive Early
The early bird gets the worm when it comes to Magic Kingdom parades! Arriving roughly 30-45 minutes (depending on crowd size) before a parade typically ensures that you will be able to snag a spot on the curb to view the parade. TIP – if there are two parade times and Magic Kingdom is your first park of the day, and there are two parades offered, pick the one that is before 2:00 pm! Park hoppers will not be allowed into the park until 2:00 pm, so the first parade may be less busy since the park hoppers have not arrived yet!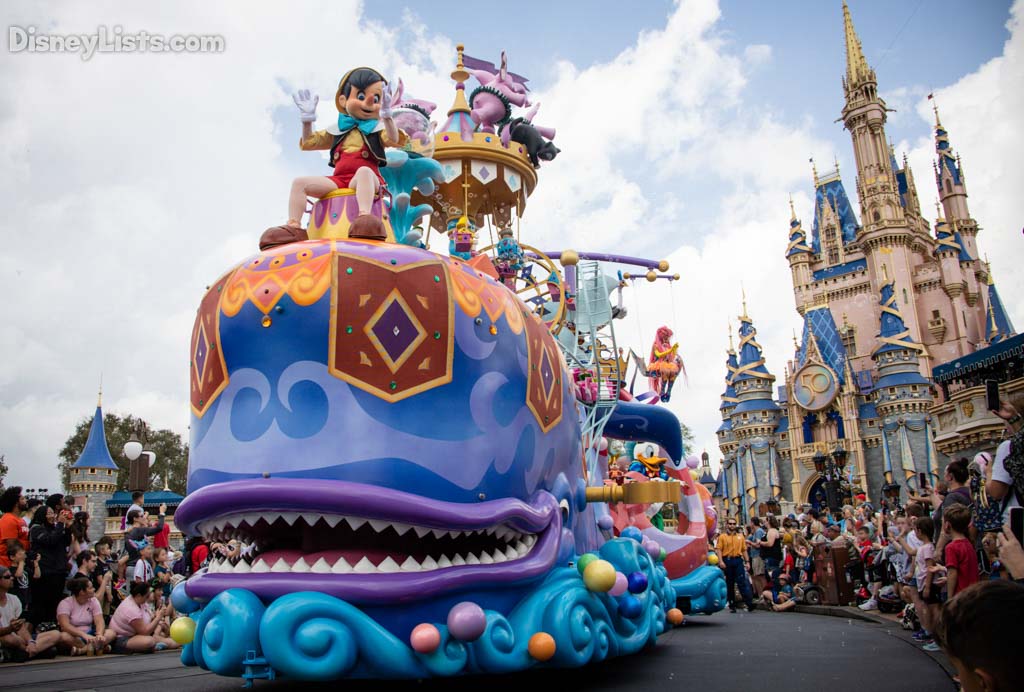 3 – DO Know the Parade Route
The Festival of Fantasy Parade stretches from Frontierland all the way to Main Street U.S.A. While it's fun to be in the middle of all the action on Main Street or in front of the beautiful Castle, we find ourselves selecting a spot to view the parade somewhere along Liberty Square and Frontierland. You'll notice the crowds are much slimmer, but they still have great viewing areas! 
4 – DON'T Ignore the White Tape, Ropes, or Trash Cans!
Prior to a parade, Cast Members begin to place white tape on the ground in specific areas. They also make barriers with rope in select areas. Do yourself and the Cast Members a favor, and stay behind the white tape or the rope. If you decide to sit on the white tape, you will be asked to move before the parade begins – hence losing your spot! This also goes for trash cans. Don't sit in front of a trash can as Cast Members will ask you to move — this includes strollers. You will be asked to move a stroller if it is blocking the route.
5 – DO Take Family Photos
Sounds odd enough, but some of our favorite family photos are when the parade is just about to start! It's cute to catch a picture of young and old squeezed in ready for the parade. You'll also notice PhotoPass Cast Members are typically in the street – especially near Main Street, snapping away until the parade gets close. This is a great time to have an empty street behind you in the picture! We only recommend this if the PhotoPass Cast Member is right in front of you on the street. It gets tricky because if the whole family goes for a picture, you'll want to use bags or something to save your spot for a moment. People push in and aren't shy about taking other folks' spaces!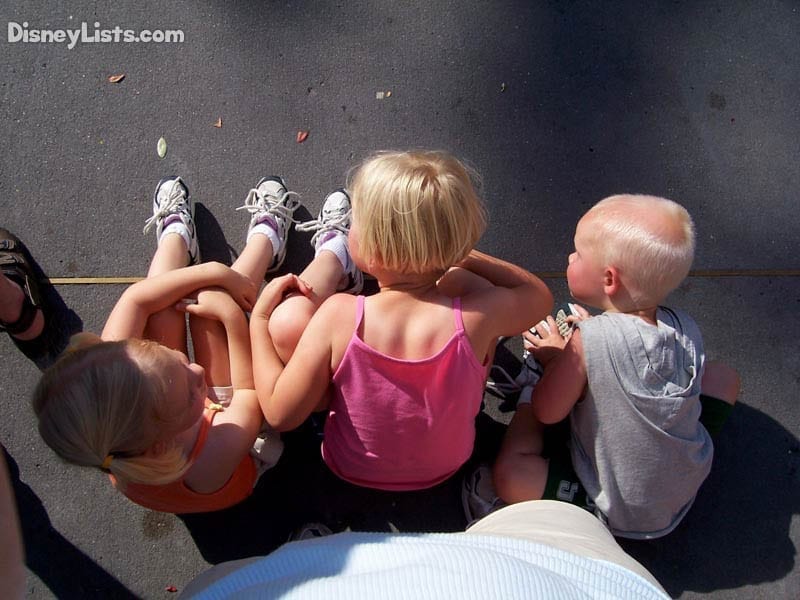 6 – DON'T Forget the Goods! 
Parades are fantastic – but parades with food such as Casey's Corner hot dogs, popcorn, or pretzel make the experience that much better! Grab a Mickey Ice Cream bar, frozen lemonade, or refreshing Coke, and you'll be glad you did. We also suggest for the night parade, during special events, visiting the dollar store before your vacation to pick up glow sticks and fun trinkets for the kids in your party. This will keep them entertained before the parade arrives and save you a little money from having to buy the Disney glow stuff that is carted by on the street.
7 – DO Wave and Get Excited
Well, of course! But really, if you want characters to notice you or your children, waving and getting excited is a great way to draw a character's attention. We aren't saying you have to do it obnoxiously, but even a simple wave might make a character spot you out of the crowd. Matching outfits and Mickey ear hats are also good tools to show your excitement and possibly be noticed.
What are some of your do's and don'ts for parade viewing at Magic Kingdom? We'd love to hear from you!
For a no obligation, FREE Quote on a Disney vacation package, please contact our travel partner Magical Vacation Planner at 407-442-0227 (407-442-0215 for Spanish). You can also request a FREE quote online by Clicking HERE.