Strollers… one of the greatest inventions for all those baby hip-hauling parents out there! But, before you "stroll" on into Disney World, here are a few tips and tricks you might find helpful as you embark on the most magical trip of all time!
1 – To Rent or to Bring?
The first question most people have about strollers is, do we rent one when in the park or bring our own? Based on our experience, if you have the capability, we highly recommend bringing your own. We've found the child's comfort level of having what they are familiar with is extremely beneficial in the long run – plus, you don't have to worry about renting one. When renting a stroller at the Disney Parks, plan for right around $15 daily or $13 for a multi-day/length of stay Single Stroller. They also have double strollers available. Disney tries to make the process as harmless as possible, but regardless it's still one more step to work through daily when the kids are ready to be on the move.
Another option for stroller rental that will save you money AND allow you use of the stroller outside the parks is to rent a stroller from a local rental company. Many will drop off and pick up the stroller at your resort.
2 – What to Expect with Disney Transportation
Disney offers a variety of ways to go to and from resorts, theme parks, water parks, Disney Springs, and even the airport. So, we find having a grasp on how each transportation works with strollers is helpful to know!
Prepare to Fold Your Stroller

: Disney Transportation that typically requires you to fold your stroller and place your child in your lap are the Tram (to and from parking lots to theme parks) and the Bus (throughout Disney property). 

TIP

 – think before you load your baby! For example, if you are getting out of the car and heading to the tram, don't bother with loading your child into the stroller because moments later, you'll have to take them out again to fold the stroller.

Child Can Remain in the Stroller

: With Disney's Monorail and Disney Skyliner, guests are welcome to leave their child in the stroller for the ride! If it's a tight squeeze, however, you may want to look at folding your stroller so more people can come aboard.

Depends on the Situation

: Disney's boats/ferry rides are the exception to a straight answer. With the large ferry boats, such as the one that goes to and from the Transportation Ticket Center (TTC) to Magic Kingdom, guests are welcome to leave the child in the stroller – just be sure the breaks are set, and you are close to your child. Some of the smaller resort boats, such as boats that may travel from a resort to Disney Springs, may ask guests to fold the stroller or take the child out and place the stroller in a designated area on the boat.
A Cast Member will let you know what needs to be done with strollers. Just listen for the instructions, and you'll be good to go.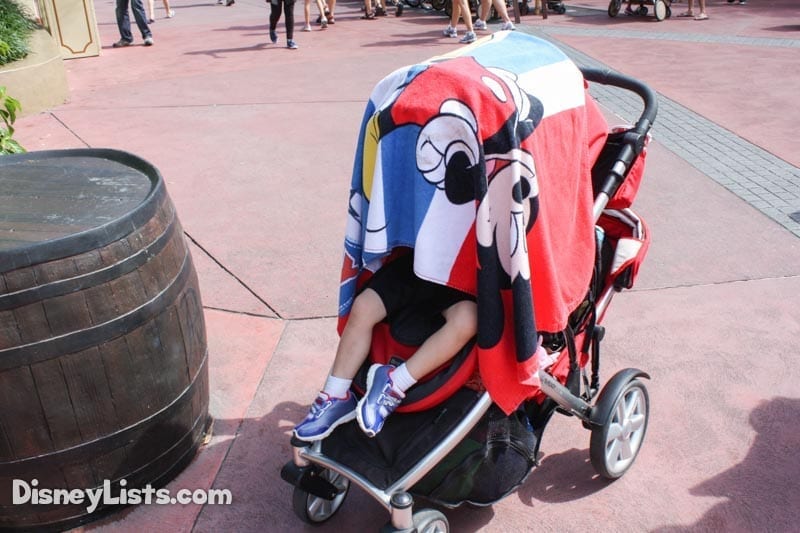 3 – Restaurants and Strollers
This one is a short tip, as most restaurants will tell you to park your stroller outside of the restaurant in stroller parking. If, however, you have a sleeping child… DON'T WAKE THE BABY. Based on our experience, restaurants will allow you to bring your stroller inside if the child is sleeping. The best part – you get to eat while the child gets some much-needed rest!
4 – Park the Stroller First
No need to head to an attraction with a stroller only to learn you need to go find stroller parking. If you are planning on taking your little one on an attraction, go ahead and look for the nearest stroller parking by the attraction first, then go ride. We see time and time again, families standing outside of an attraction trying to decide if they should go in. Then try to go in only to be told they need to go park their stroller. Then finally, they go back to board the attraction. Saving yourself even small amounts of time can really add up in the long run. Park the stroller first.
5 – Prep for Weather
The weather at Disney World is about as unpredictable as when your baby's next meltdown will take place! So, prep for the weather by being ready for whatever mother nature may throw your way. We always bring an extra poncho to cover the stroller. If we have to leave our stroller somewhere and expect even the slightest possibility of rain, we go ahead and cover the stroller with the poncho. This has saved us from having to sit our child in a wet stroller many times! We also recommend a stroller fan which can be purchased before arrival – or Disney stores have them too within the park if they aren't sold out. Bring extra batteries, clip the stroller fan on, and let your child have a refreshing breeze amid the Florida heat.
6 – Stand Out!
While we recommend the smallest stroller you can bring – we also recommend that you try to make your stroller stand out like a sore thumb! There are loads of strollers in stroller parking areas, and from time to time, Cast Members move strollers down to make room for others. It's like a game of hide and seek with your stroller! Unfortunately, this usually isn't a game we like to play when we are hot and want to put the baby down in their stroller. Colorful strollers, bright duct tape, even flags are helpful when trying to pick your stroller out of the crowd.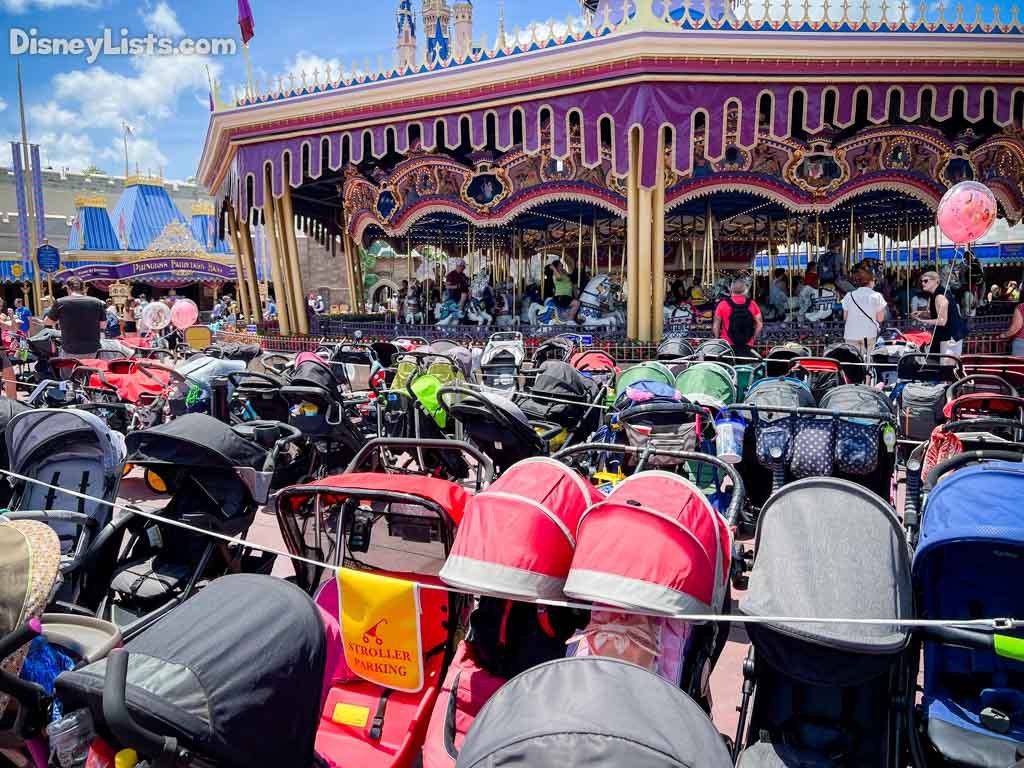 7 – Be Smart About It
It's super helpful to understand the park layout when maneuvering through it with a stroller. There are several paths in each park that might be the less popular paths, making it easy to dodge crowds with the stroller. Just be smart about it (and patient) and save yourself a little traffic time! Don't also forget to be smart about events such as parades. If you plan for enough time before the parade, you'll have the chance to roll your child right up to the curb and leave them in the stroller to watch the show!
8 – Surprise Distractions 
A little tip we've found to be fun and helpful when distractions are needed is to surprise your kiddo with hidden gems and/or toy that magically appears in their seat or in the storage bin behind the stroller. We like to tell our kids that Mickey must have put it there when we weren't looking! For example, we'll be waiting for a parade, and when the kids are distracted, we place a small/simple toy (such as glow sticks, car toy, etc.) in the stroller bin or seat if they are standing. With excitement, we announce – LOOK! TA-DA – you have bought yourself a good 10-15 minutes of fun distraction! TIP– buy a few small items from the Dollar Store in advance to bring along. It will save the wallet in the long run.
9 – Restrictions
Be aware that Disney World has restrictions on what type and size strollers are allowed in Disney parks. Disney requires strollers to be no larger than 31″ (79cm) wide and 52″ (132cm) long or smaller. The good news – many of the strollers on the market, including many double jogging strollers, fit within these size guidelines. Also, just a reminder that wagons are not permitted in the parks. Stroller wagons are also no longer be permitted. These updates are designed to help guest flow and ease congestion, making the parks more enjoyable for everyone.
What are some tips and tricks you find helpful at Disney World? We'd love to hear from you!
For a no obligation, FREE Quote on a Disney vacation package, please contact our travel partner Magical Vacation Planner at 407-442-0227 (407-442-0215 for Spanish). You can also request a FREE quote online by Clicking HERE.