If there is one place at Walt Disney World that feels like "home" for us, it's Disney's Fort Wilderness Resort and Campground. Over the years, we've stayed here over twenty times and have enjoyed multiple staycations with extended family. The resort is a 750-acre wonderland for lovers of camping and nature. And while we certainly have plenty of reasons for you to choose this resort for your accommodations, if you're not staying here, we highly recommend heading on over to the resort to enjoy its fantastic and unique recreation offerings that are available to all guests. Add in a meal, and you've got one fine day ahead of you. Here are nine reasons you should set aside an afternoon or evening on your next trip to visit Disney's Fort Wilderness Resort & Campground!
9 – Dine at Trails End Restaurant for a Great Meal at a Fantastic Value
We love dining at Trails End Restaurant! We've celebrated many birthdays here and believe it's a hidden gem. The restaurant features home-style American cooking. Usually, the restaurant offers a buffet, but at the moment, the restaurant currently features all-you-care-to-eat family skillets. While the food is just above average, we recommend Trails End because it's one of the cheapest all-you-care-to-eat meals on property, making it a fantastic value. Breakfast here costs only $23 per person, and dinner costs $32 per person. Considering that the cost of breakfast is less than half of what a character dining experience costs, and you get all the Mickey waffles you want to eat–that's a big deal. You're paying around the same price for dinner as a plated meal at other sit-down restaurants, and you get dessert included! Also, these meals are an even greater value when you consider non-alcoholic beverages are included in the total cost. The food is great, and the value is exceptional. Do note that the restaurant is closed on Tuesdays and Wednesdays, so plan to visit when the restaurant is open. Advanced reservations are recommended; however, you can usually find availability a few days or even a few hours before your visit.
8 – Horsin' Around
There's just something about horses. Walt Disney knew that, and they are featured prominently on stage in many Disney World attractions. But if you want to get up close and personal with them in their off-stage home, then head over to Tri-Circle-D Ranch, which offers a variety of horse-loving activities (pony rides, trail rides, etc.) for all ages! We've got all the details on how to "horse around" at Fort Wilderness – click here for the article.
7 – Canoe, Kayak, and Bike Rentals
Looking for a relaxing and inexpensive activity that gets your family enjoying nature in the water? Then head to the Bike Barn near the Meadow Trading Post in the middle of the resort. There you can rent either canoes or kayaks from 9:00 am – 5:00 pm. Rentals are $13 per hour. We've rented canoes on multiple occasions and have enjoyed it so much. The area you explore is beautiful and quintessentially Florida!
Another great way to explore the resort is on a bike! The Bike Barn also offers bike rentals. Adult and children's bikes, even with training wheels, are available. You'll be able to explore the loops and the entire campground while getting some light exercise.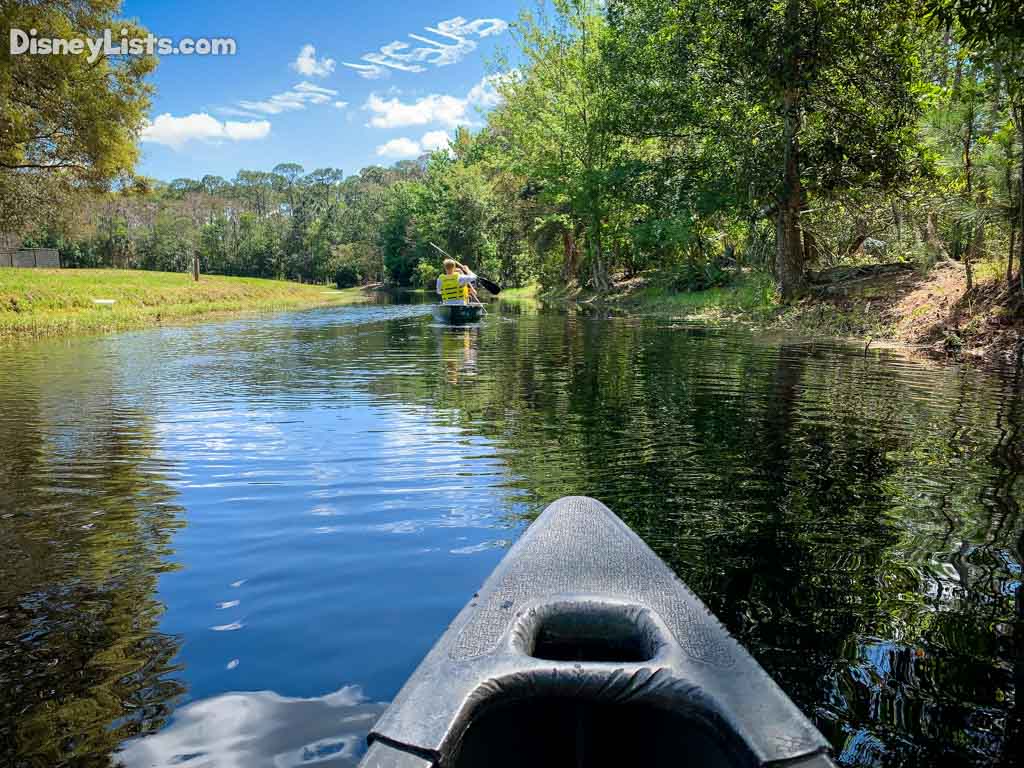 6 – Guided Fishing Excursions and Dockside Fishing
At the Fort Wilderness Marina, you can enjoy a guided fishing excursion that lets you experience bass fishing. There are two options: a 21-foot Sun Tracker pontoon boat that accommodates up to five guests and a tournament-style NITRO bass fishing boat that accommodates up to three guests. You can also choose between two and four-hour excursions.
All Walt Disney World Resort fishing excursions include:
An experienced guide
Rod and reel
Tackle
Artificial and/or live bait (NITRO boats will not offer live bait.)
Non-alcoholic beverages only (Guests may not bring alcoholic beverages aboard.)
Call (407) 939-FISH or (407) 939-3474 to make a reservation. Advance reservations are highly recommended.
If you enjoy fishing with a casting-rod, then you'll love fishing in the well-stocked waters at Fort Wilderness. Fishing gear can be rented from the Bike Barn on a walk-up basis. Note that all fishing at Walt Disney World is catch and release only.
5 – Fort Wilderness Archery Experience (age seven and up)
Do you have a budding Katniss Everdeen in the family? At the Bike Barn, archery guides teach guests ages seven and up to use a compound bow and arrow. Then there is plenty of time for practice! This 75-minute experience is mostly focused on firing at range targets. Class size is limited to 10 guests. With that small class size, you'll receive personalized advice from the guides to help improve your archery skills. The experience costs $45. Reservations are highly recommended. Call (407) WDW-PLAY to make reservations.
4 – Explore the Campground Loops and Sites During the Halloween and Holiday Season
During the Halloween and Holiday seasons, you'll want to spend some time driving through the different loops to check out the displays that campers enjoy putting out. In the past, we've seen some pretty impressive displays, including inflatables, lights, and more. The displays are excellent and well worth your time!
3 – Movies Under the Stars
Complimentary movie screenings are available to guests of Disney resorts. While most Disney resorts host their Movies Under the Stars poolside, the movie at Fort Wilderness is screened at the fantastic outdoor theater in the Meadow Recreation area. Stadium-type seating, a large movie screen, snack bar filled with ice cream and popcorn treats all make this an unforgettable evening for the whole family. Tip: you may want to bring a cushion for the seats as they are either metal or hardwood. Be sure to arrive early for …
2 – Chip 'n' Dale's Campfire Sing-A-Long
One of our family's favorite night activities is going to Chip & Dale's Campfire Sing-A-Long in the Meadow Recreation Area at Fort Wilderness. You'll be treated to favorite western tunes from a real cowboy! Chip 'n' Dale join in on the fun, singing and moving through the crowd for pictures. A campfire is also lit for roasting marshmallows. Don't worry if you don't have the supplies. Disney sells all the necessary s'mores items, including chocolate, marshmallows, and even roasting sticks! Times and movies vary each month.
1 – Watch the Magic Kingdom Fireworks on the Beach
Fireworks are a great ending to any evening, and Magic Kingdom fireworks are the best. Many guests of Disney World are unaware that you can get a fantastic view of Magic Kingdom's fireworks at the beach at Fort Wilderness. Not only do you have a great view, but Disney makes the experience complete by playing the music for the guests. This is a great option for guests who cannot make it into Magic Kingdom for whatever reason. You get to experience the fireworks without the admission costs! Limited beach chairs are available, but you'll need to get there early to ensure seating. We usually just bring a blanket or towels to sit on. I highly recommend viewing the fireworks on a special event night, such as the holiday event fireworks. You get the special firework display for free!
Whether you're looking for an out-of-the-ordinary Disney World experience or just need a midweek break from the hustle and bustle of the parks, an afternoon at Fort Wilderness won't disappoint.
For a no obligation, FREE Quote on a Disney vacation package, please contact our travel partner Magical Vacation Planner at 407-442-0227 (407-442-0215 for Spanish). You can also request a FREE quote online by Clicking HERE.